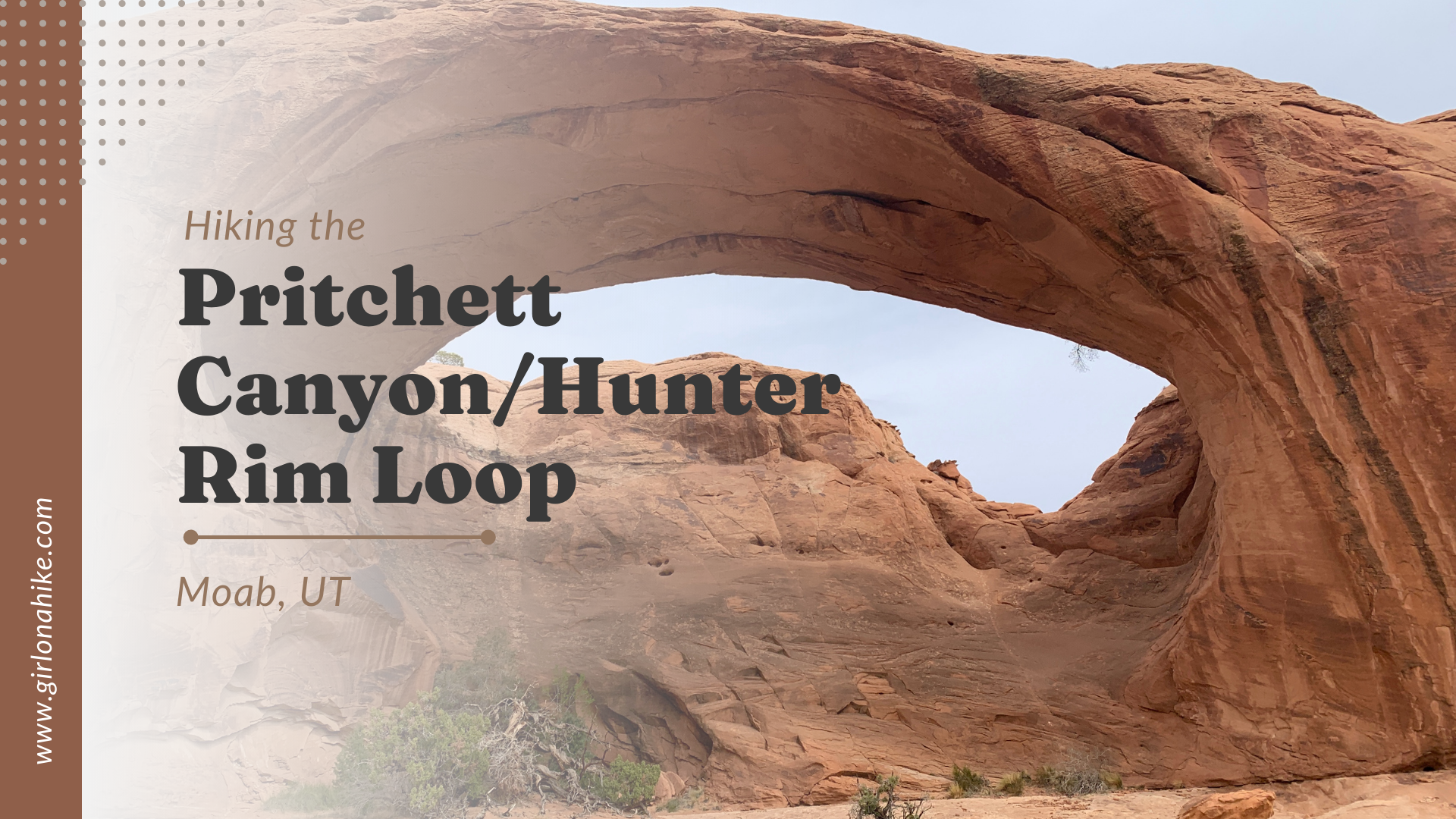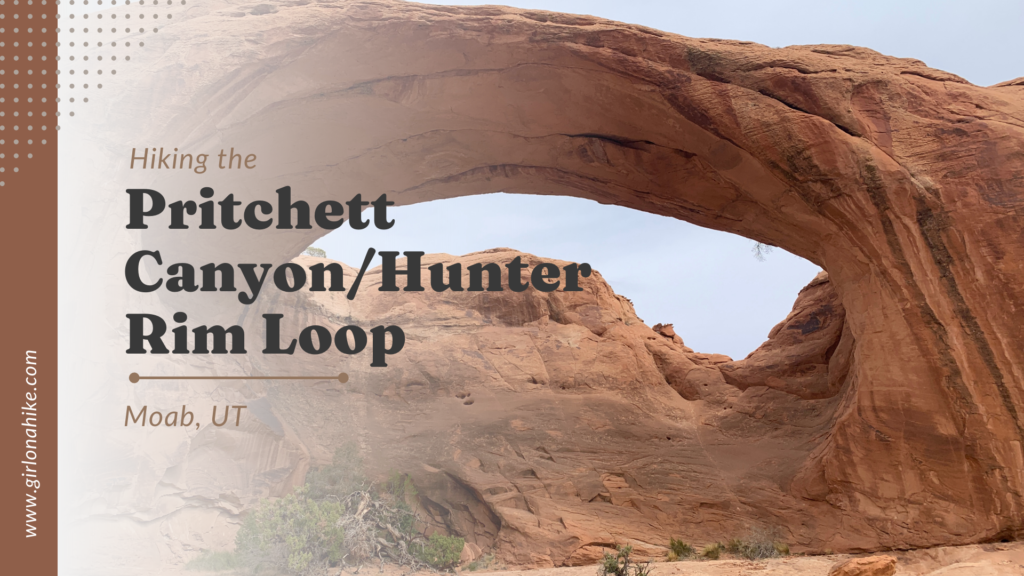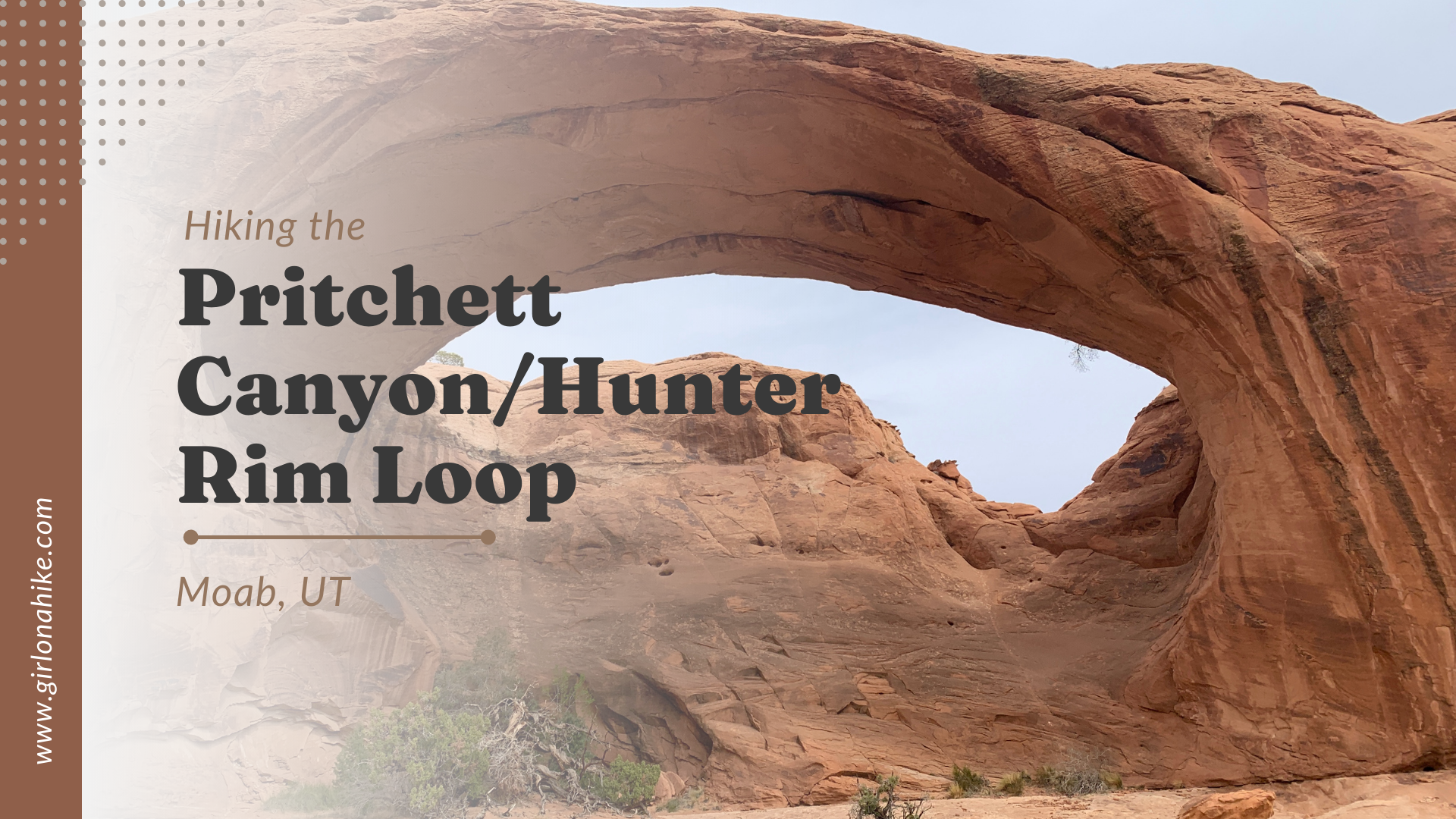 Hiking the Pritchett Canyon/Hunter Canyon Rim Loop in Moab, Utah is not only a 4×4 enthusiasts dream jeeping route, but its a great hike or trail run!
About
Pritchett Canyon & Hunter Canyon are both located just West of Moab, by about 15 minutes in the Kane Creek area. It's a popular area for camping, dirt bikes, ATVs, Jeeps, and hikers. Pritchett Canyon is home to one of the largest arches in the area, yet not many people are willing to make the 14.5 mile hike/run. It would come in second comparing it with Corona Arch, as the opening has a span of 121 ft! It's much more massive when viewing it in person. Hunter Canyon Rim, as the name sounds, takes you along the rim right above Hunter Canyon. When combining the two, you can connect them to make a big loop – perfect for a longer hike or run.
Because not many people are willing to hike this long, you'll likely have Pritchett Arch to yourself. In fact, on my entire 14.5 mile run/hike I saw a total of 6 other trail runners! This is also part of the course for the Moab Trail Marathon (they do the loop clockwise)!
The best time of year to do this is early Spring (March and April) before it gets too hot. Anything above 75F is too hot for me, and when I did this it hit 75F – boy did it feel HOT! There is zero shade the entire loop and no water source. Be sure to carry a minimum of 2 liters. I only carried 1.5 liters in my running vest and I took my last sip about 1/2 mile before reaching my car. I definitely ended the run dehydrated – not good. Be sure to start early to beat the heat, and bring sunblock and snacks.
Directions
From Moab, head West on Kane Creek Blvd. Drive 5 miles and park at the Kane Creek OHV Trailhead parking area. About 2 miles into the drive you will lose cell service for the rest of your time out there. Make sure you have satellite communicator like a ZOLEO in case of emergency or just to check in with friends.
Here's a driving map.
Trail Info
Distance: 14.7 miles RT (loop)
Elevation gain: 1600 ft
Time: If running, roughly 4 hours. If hiking, closer to 8-9 hours
Dog friendly? Technically they are allowed off leash, but I highly recommend NOT brining dogs due to the distance, no water source, & no shade
Kid friendly? No
Fees/Permits? $3 per person, no permit is needed
FAQs
The most common question is, which direction should I do the loop?
I did this loop counter-clockwise, however, looking back at my stats its the same elevation gain either direction. It does seem like you could knock out the gain faster by going clockwise. You could do the 1700 ft elevation gain in the first 4ish miles OR over the course of about 10 miles. There are small hills the entire time.
I also did this counter-clockwise to get the Kane Creek Road section out of the way, as well as the small scramble at the start of the Hunter Canyon Rim Loop trail. I was also worried I wouldn't have the energy to hike up to Funnel Arch on the way back, so I wanted to make sure I did that at the beginning as well.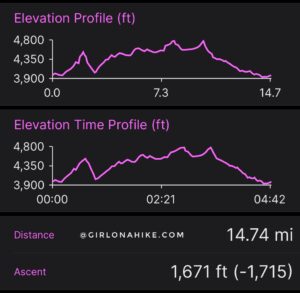 Let's Get to the Hike/Run!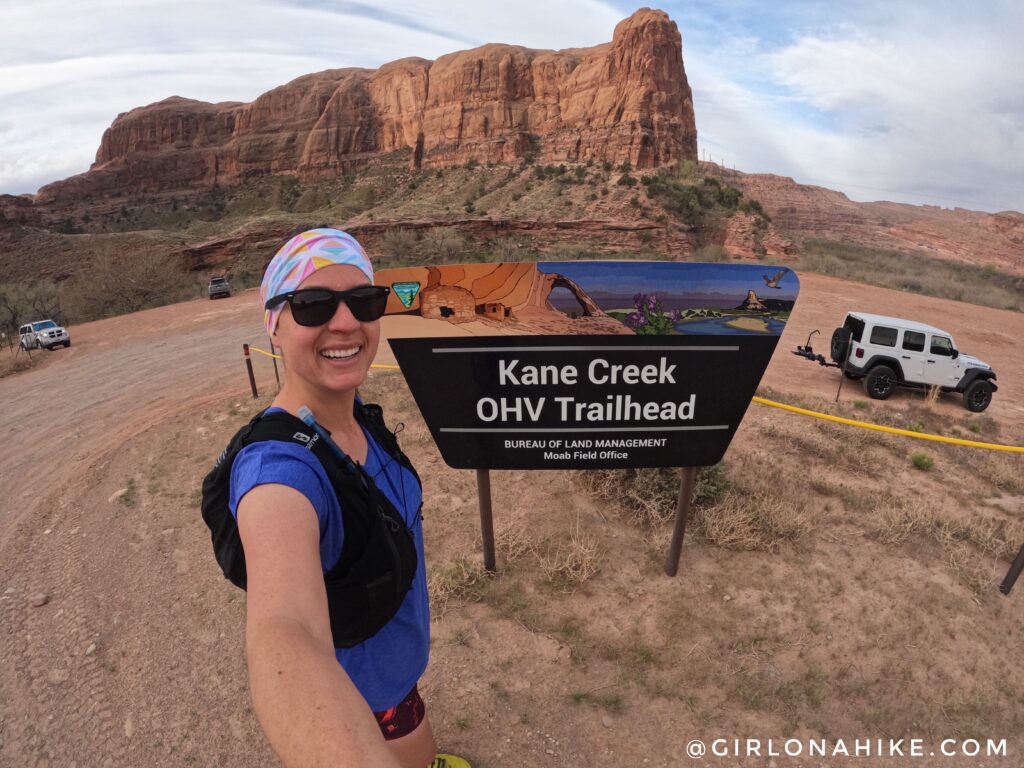 I parked at the Kane Creek OHV TH. This seemed like the best option for doing the loop with minimal road running. At 8am the parking lot was basically empty, but when I got back it was packed. There are no port-a-potties here. Parking is free. Begin by walking the Kane Creek road South, into the canyon.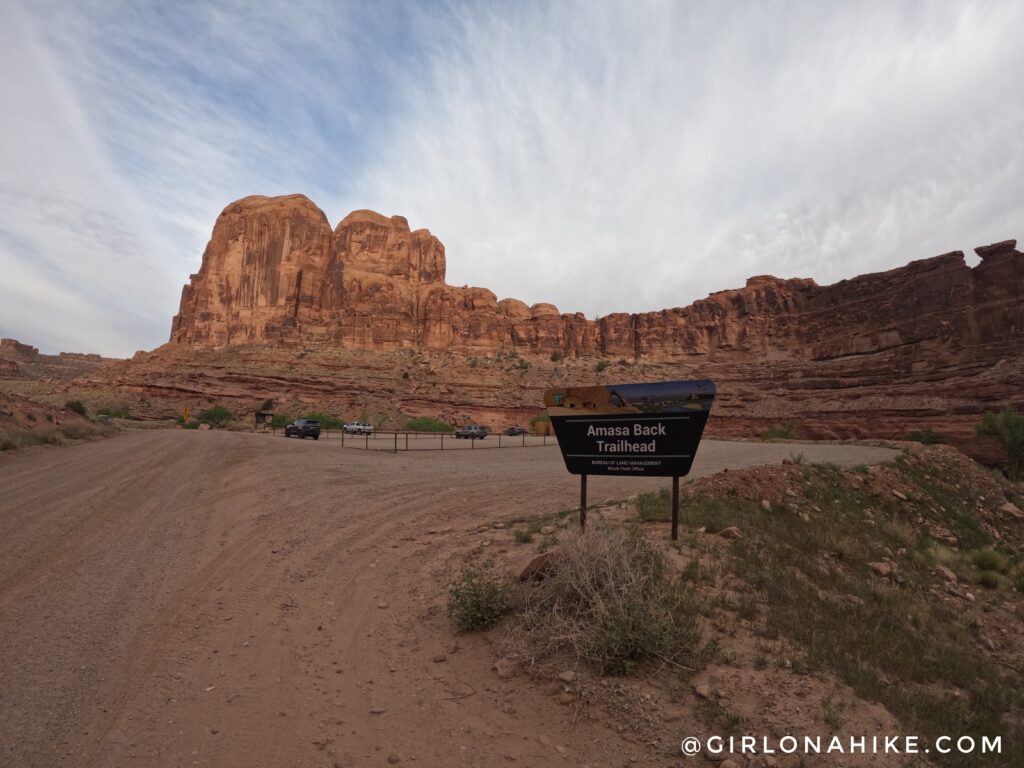 You will pass by the Amasa Back TH – this is another parking spot you could choose, and it also has a port-a-potty (these are important things haha!).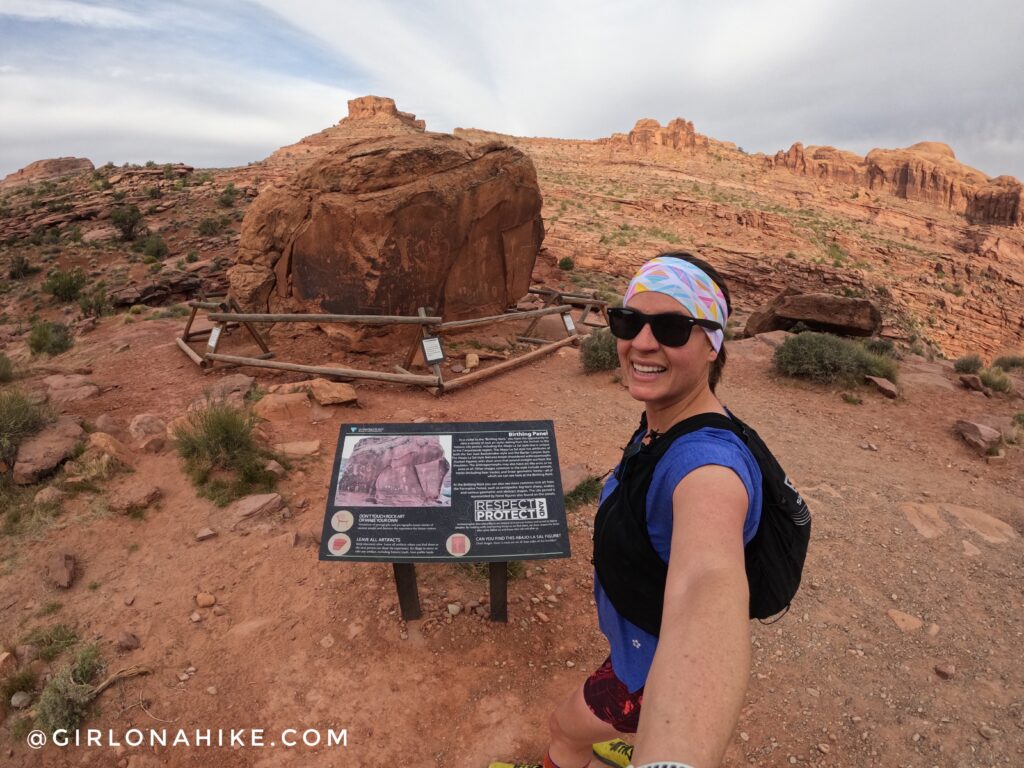 Next you will pass the Birthing Rock petroglyphs. So cool to see some history along the route!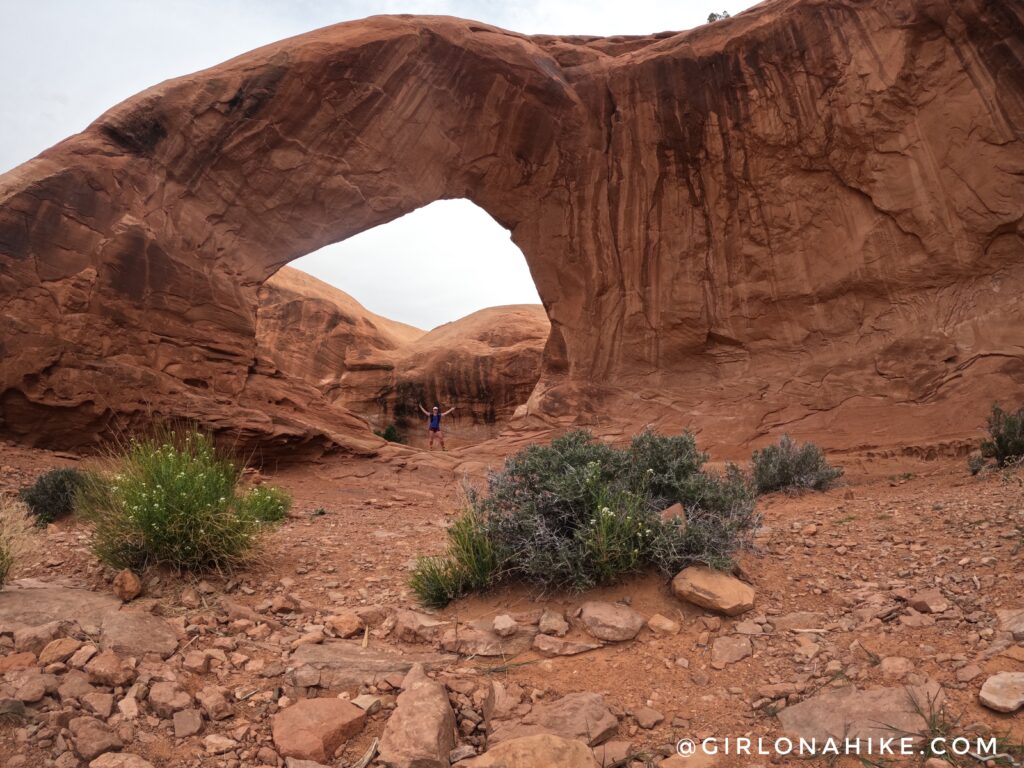 I have been to Funnel Arch a few years ago, so it was time to revisit. I had to all to myself in the early morning hours, but when I got mostly back down the little climb, a group of about 25 people with a tour climbing guide/group arrived to repel this arch.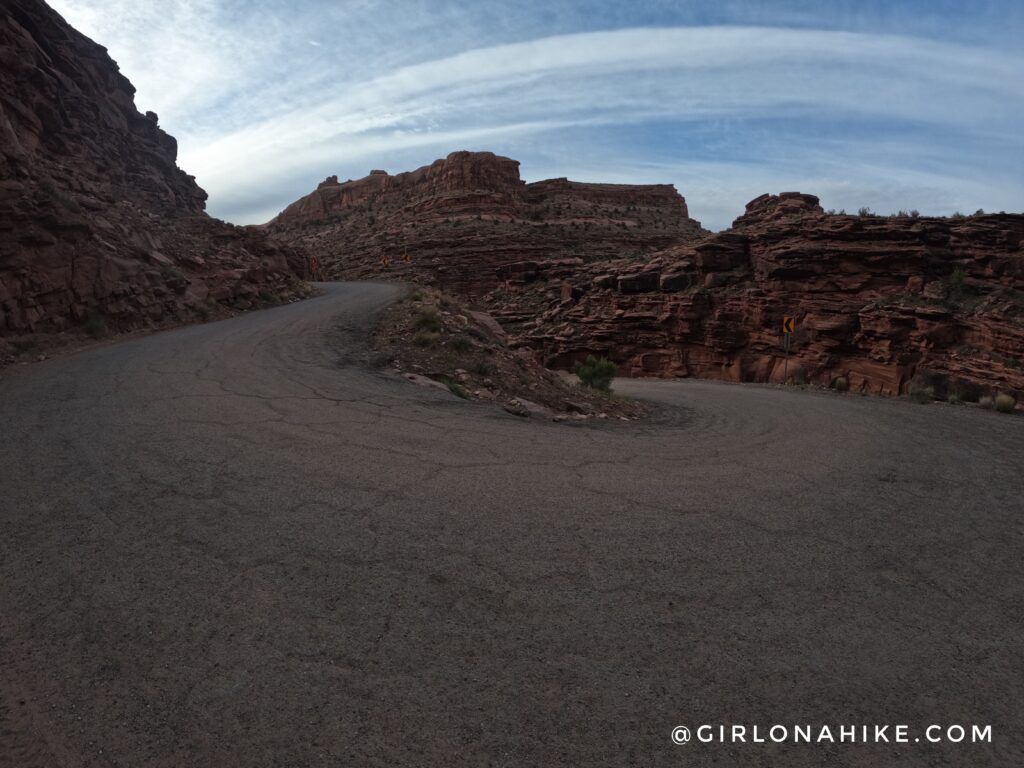 Keep following Kane Creek Road, past the sharp U turn in the road.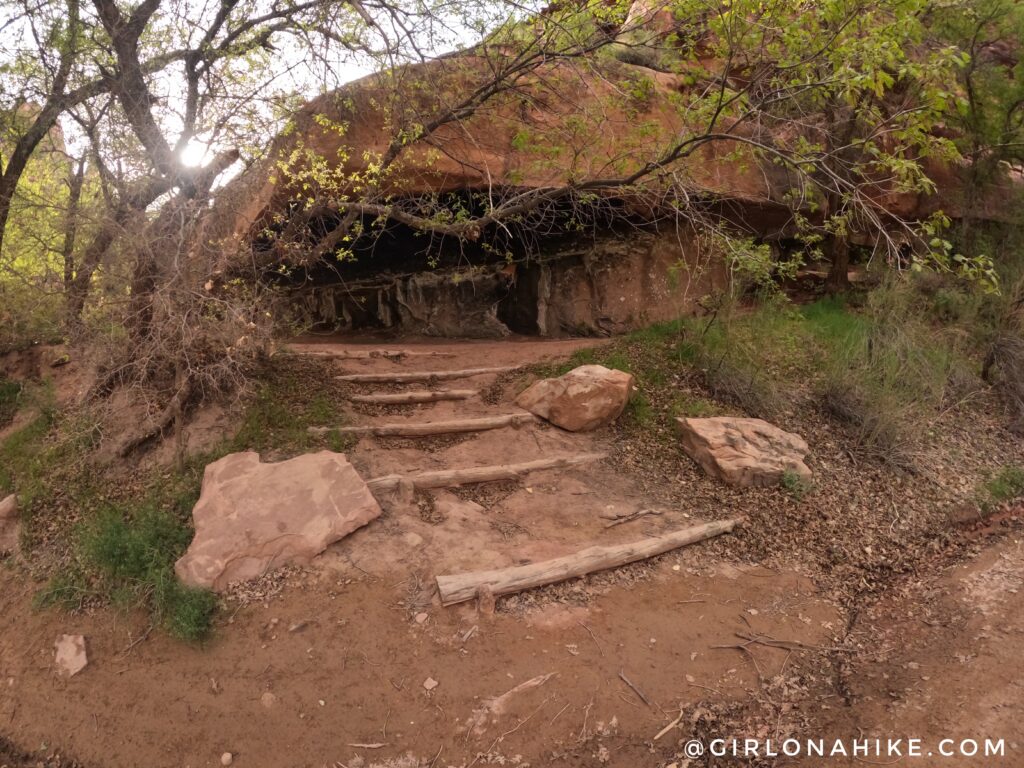 Just past the U-turn, you will see a spring on the left side of the rock wall, and then these wooden stairs. This is your turn for the Hunter Rim Loop.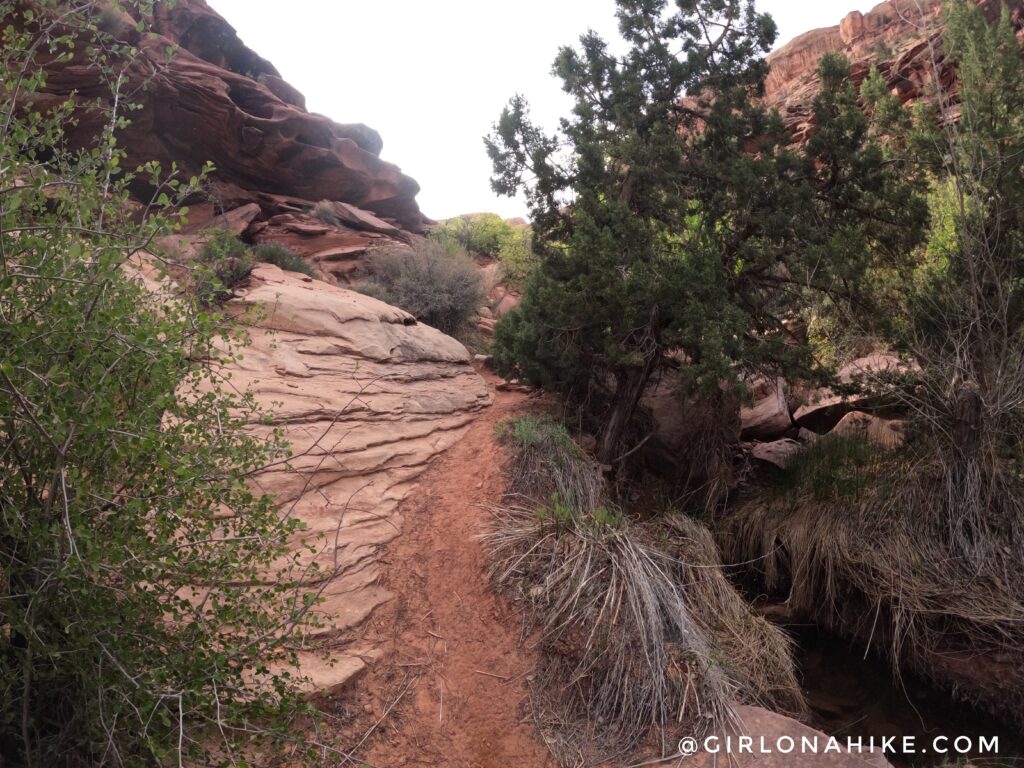 Follow the trail as best you can, and when you see a large pour off, look for cairns up and to the right (south). It's a little tricky to see them at first, but just keep climbing up until you see footprints and a faint trail.

You should now be up highly along a cliff and can see the road. I backtracked a few times because I felt like I wasn't on the right path, but just keep looking for cairns, bike tracks, and foot prints. Eventually it will wrap around the corner to the South,.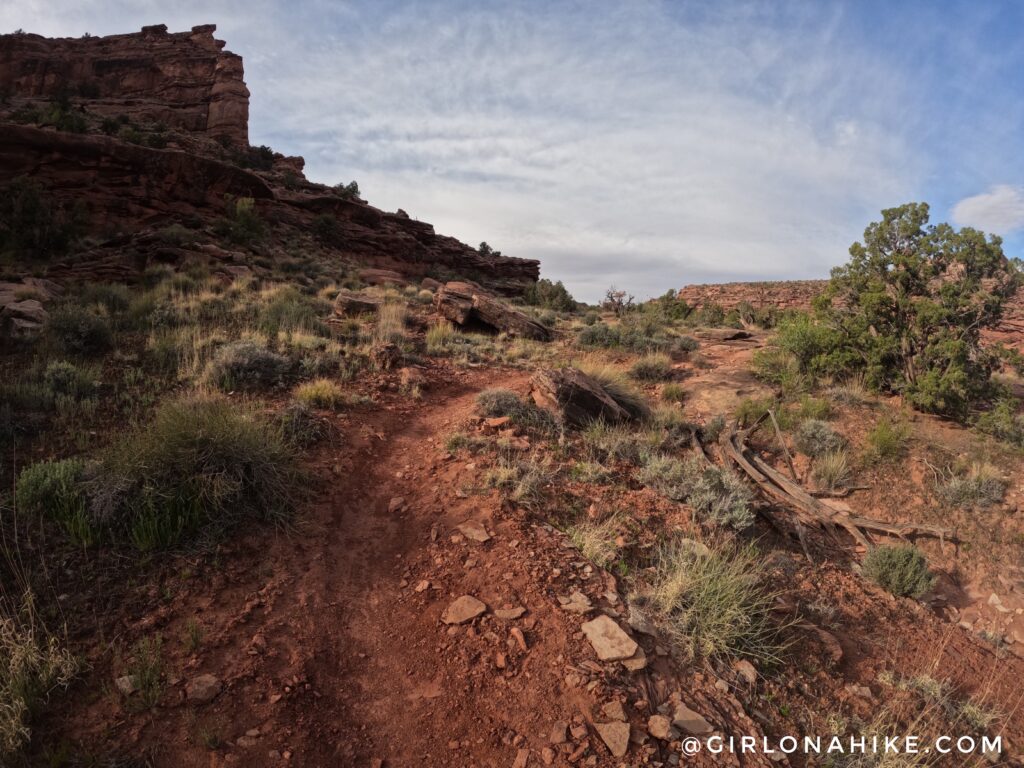 Ahh, finally a flat section. The trail is now a mix of dirt, slickrock, and small boulders.

Once you are above Hunter Canyon, keep an eye out for Hunter Arch. Can you spot it here?

The view of Hunter Arch is better from the Hunter Rim Loop, as opposed to the canyon floor. You can view my pics up close of this arch in my Hunter Canyon blog post.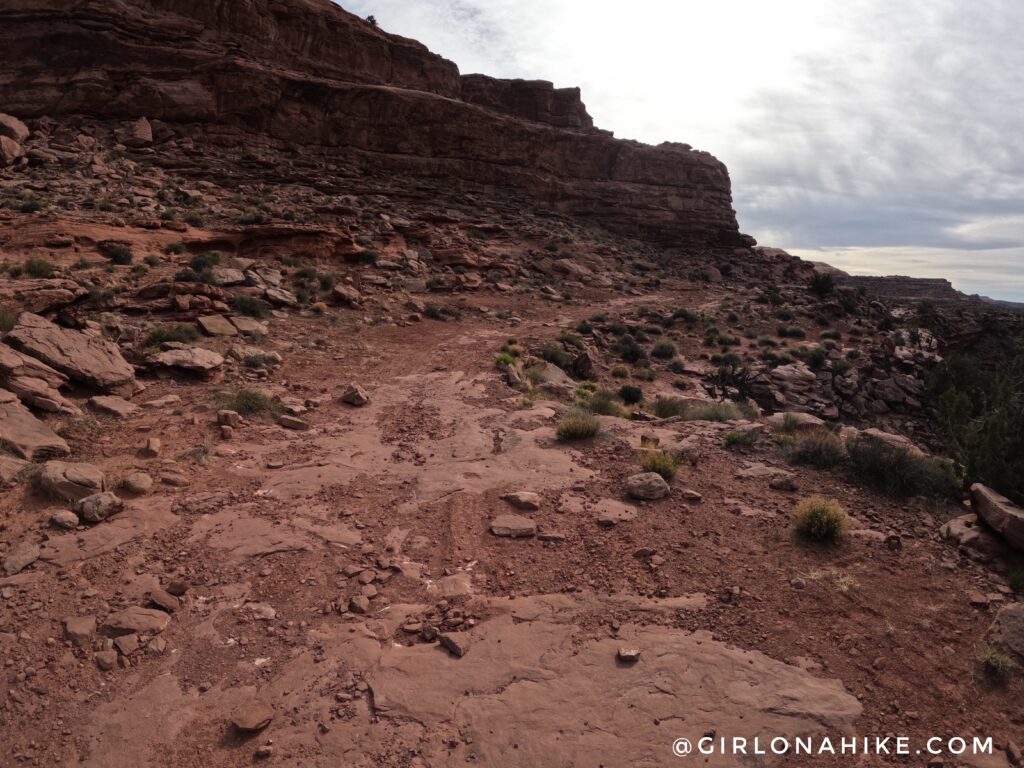 Now the single track trail ends, and there is a sign. You will now be on a 4×4 dirt road the rest of your hike/run.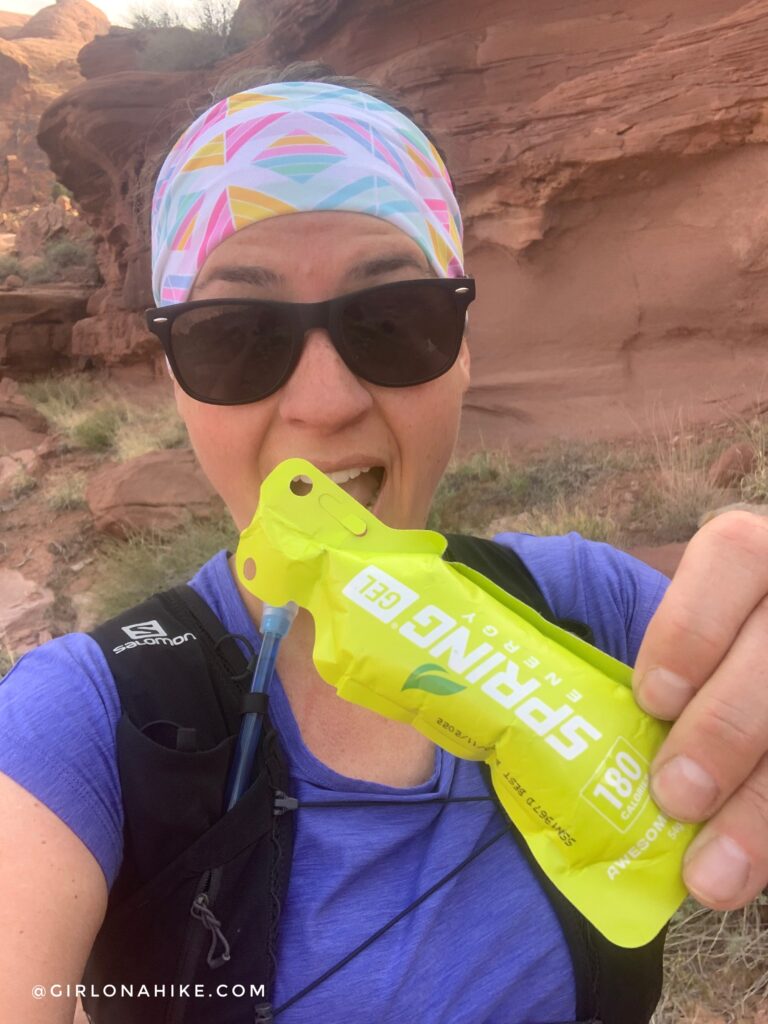 My favorite gels for long runs – Spring Energy! I always buy the variety pack to mix things up, but the Awesome Sauce (also the mango & Canaberry – not pictured) are probably my favorites! For a 14-17 mile run I will eat 4 of these, plus energy jelly beans and Salt Sticks fast chews for electrolytes.

The dirt road is now just a series of small ups and downs. At mile 7, you will reach the first and only dirt road intersection. Turn left (not pictured).

And just past that same intersection, you will see another road splitting off to the left (North). Turn here, and you can actually see Pritchett Arch from here! But keep going to get to the official trail.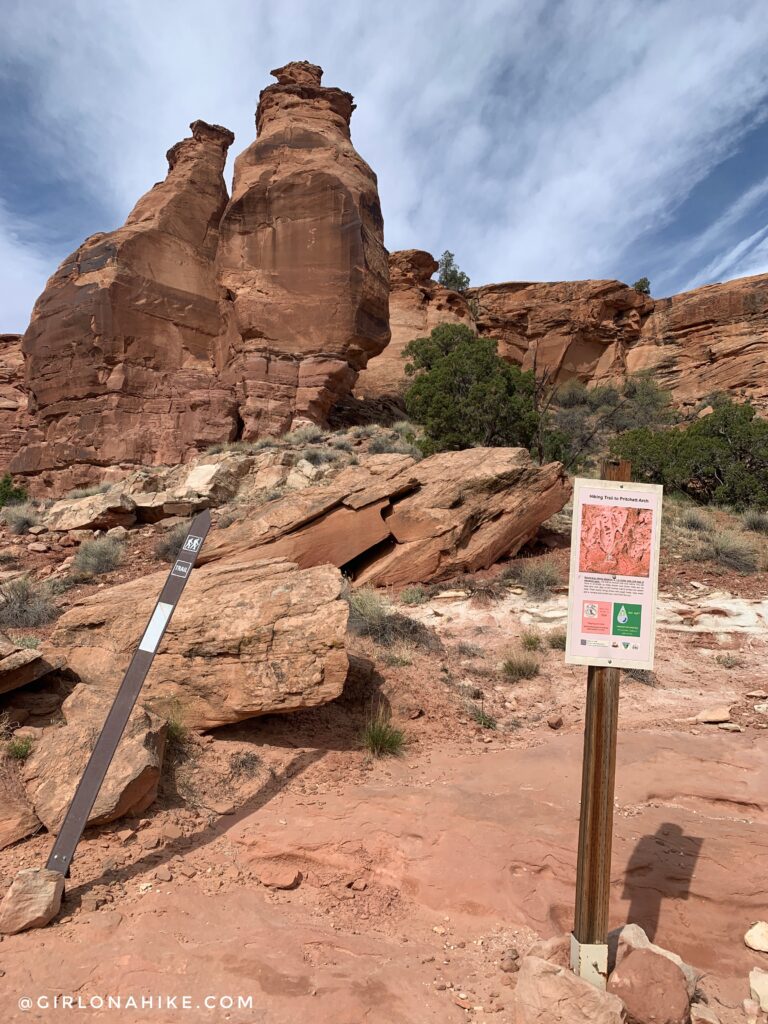 At the end of that dirt road is the TH.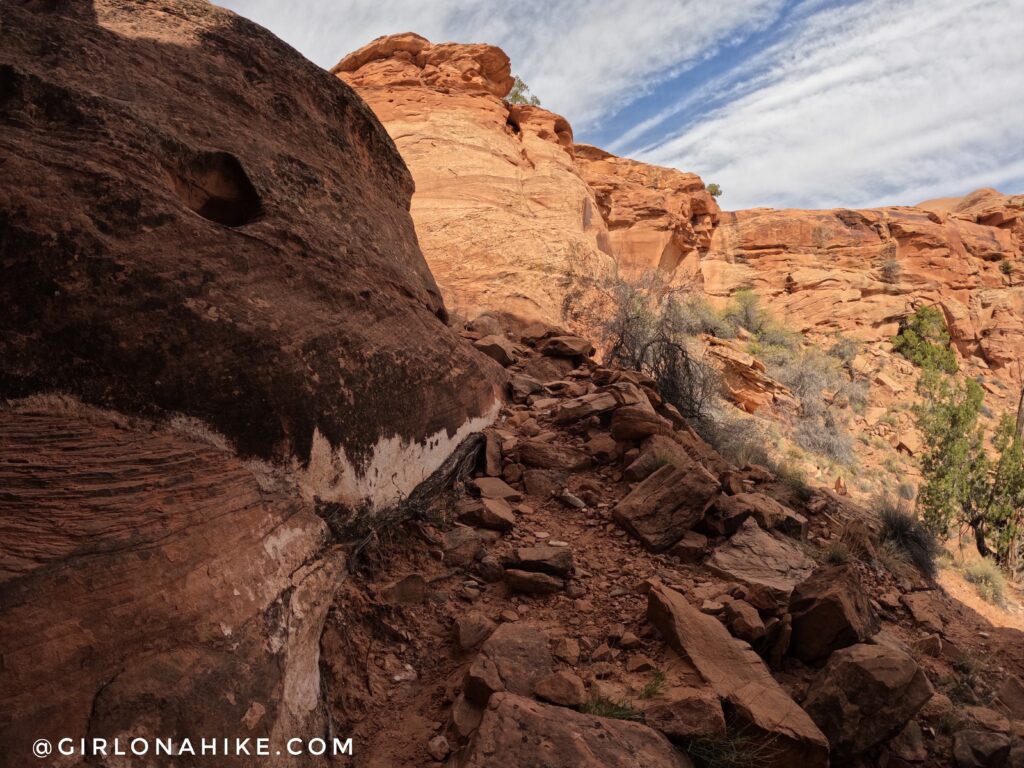 Follow this trail as it climbs up a short distance along a rocky section to the rim.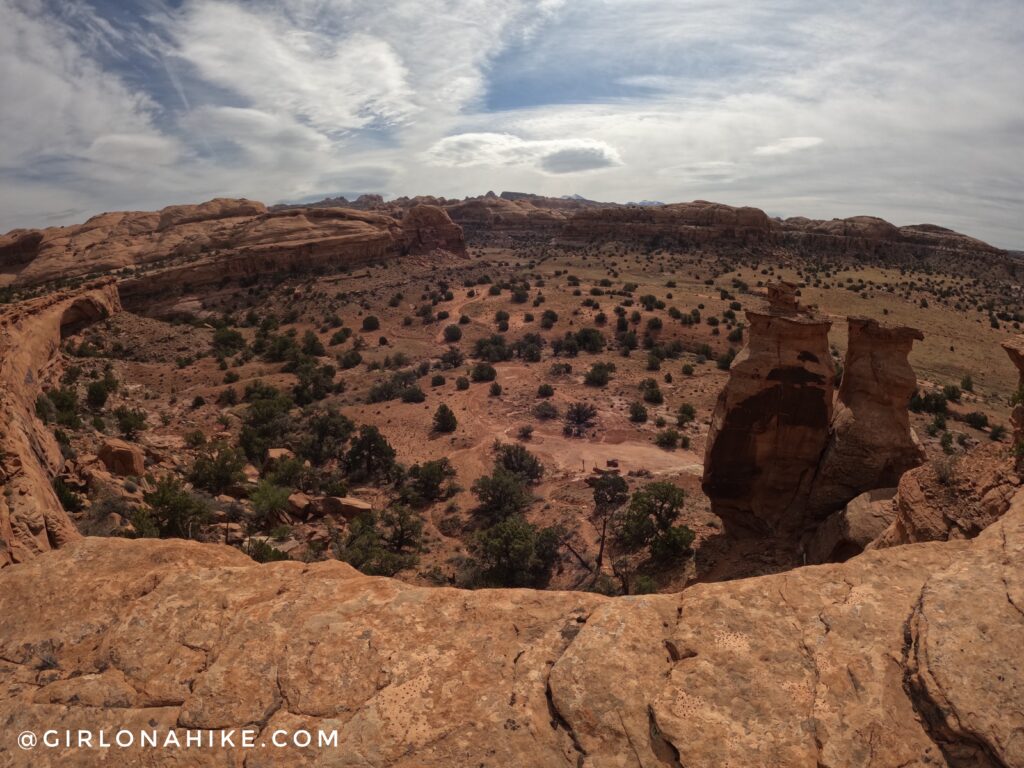 On top of the rim you have amazing views of the area! You can barely see the LaSals poking out in the distance.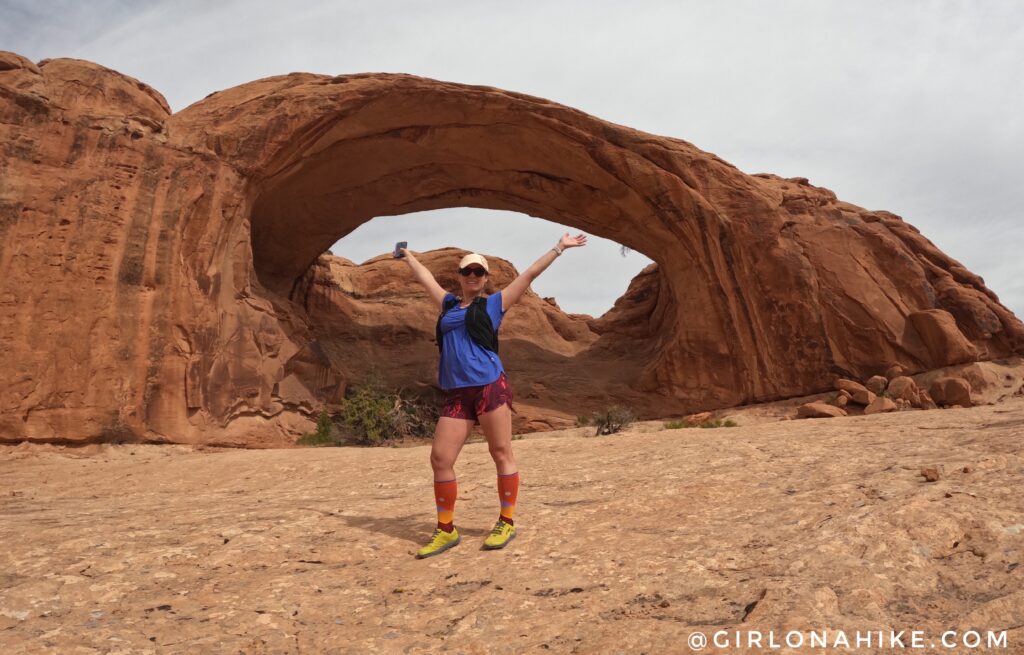 Follow the cairns and it will lead you across slickrock to Pritchett Arch! YAY! I've been wanting to see this arch for years and it only took training for a marathon to be able to do it ha!
PS get 10% off your compression socks from Lily Trotters, use the code "girlonahike" at checkout!
Go back out the same way to meet the main road, and turn left (East). Follow the road as it wraps around to Pritchett Canyon.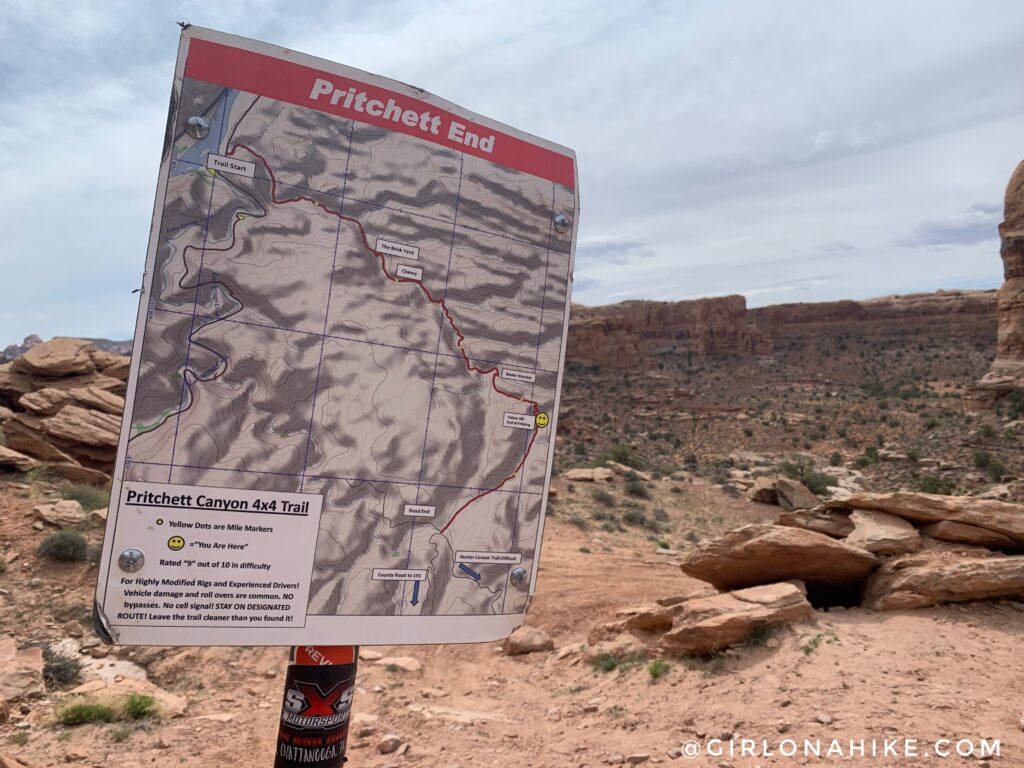 You will reach a pass, and see this sign. By this point, it seemed like the uphill never ended.

That same pass looking North. Time to go downhill – finally!

This spot is known as "Yellow Hill" to Jeeps. It was SO steep in person, its hard to believe jeeps can actually drive up it! You will hike over several more smaller obstacles.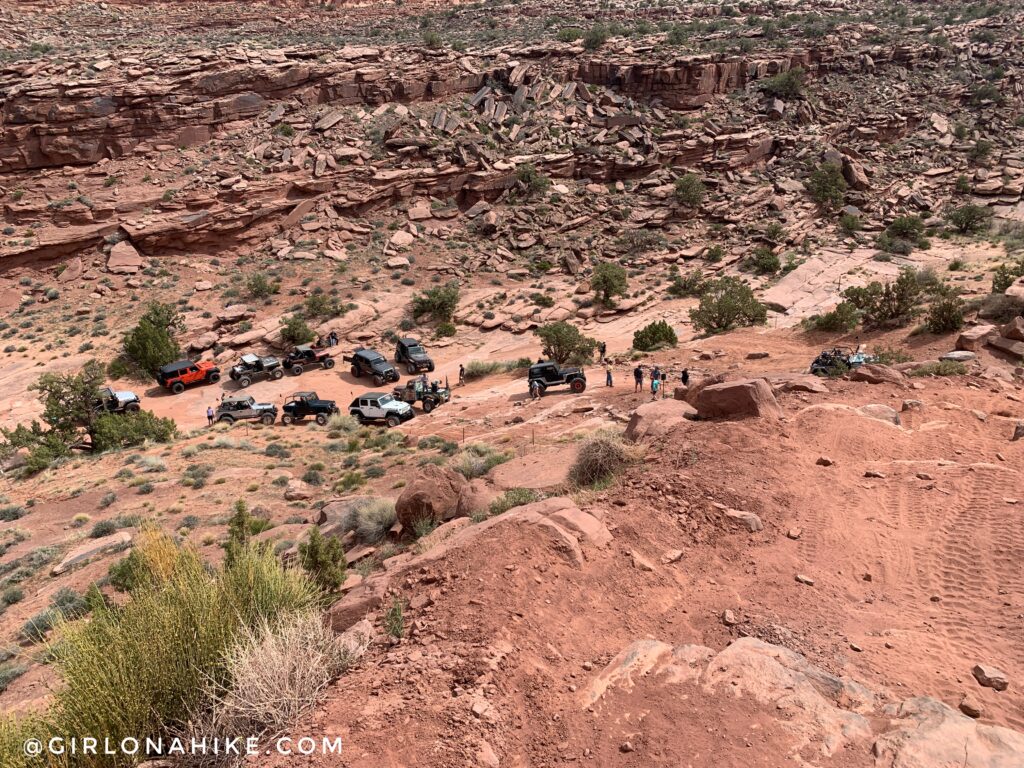 As I started to turn a corner, there was a giant jeep safari group.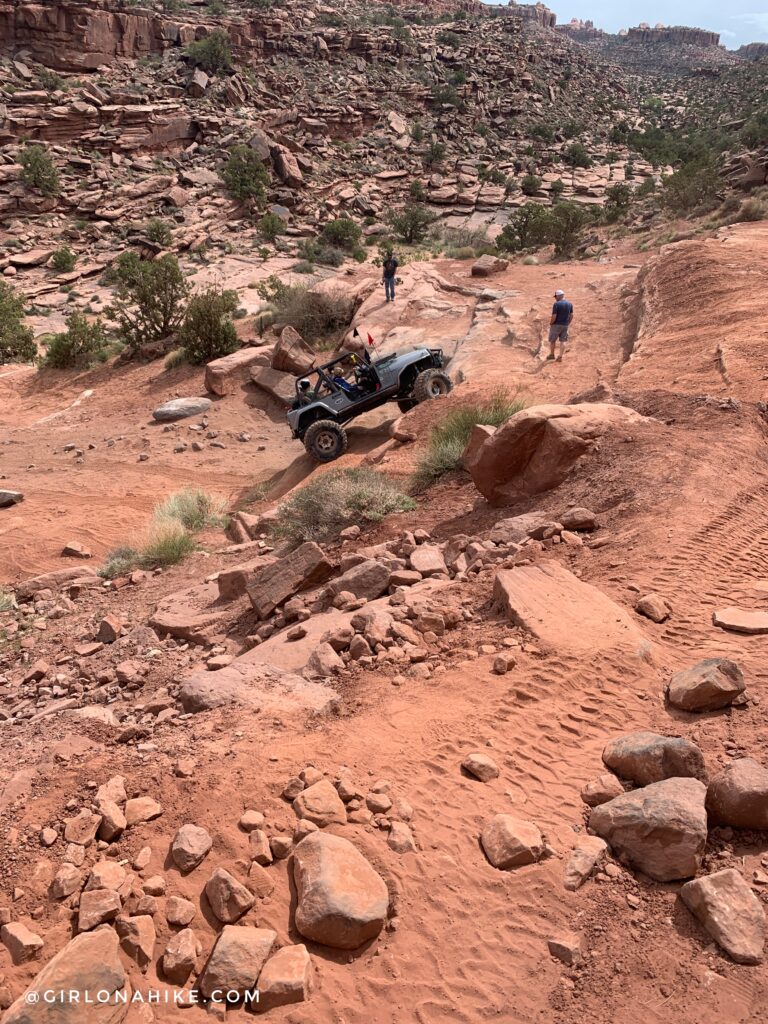 I watched for a few minutes as I talked to some ladies while their driver got up this obstacle. They asked what I was doing out here and said I was trying to hit 15 mile for my marathon training. They said, "You're out here….by YOURSELF?!"
I said yeah, I don't have any friends that trail run and I need to hit my miles so…yeah! They were just amazed that I would do that.
As first I was super offended – people would never say that to a man running by himself. But then, I tried to keep positive and was proud of the fact that I WAS doing this solo.
So, can we please stop saying that to women? If you won't say it to a guy, don't say it to me.
End rant.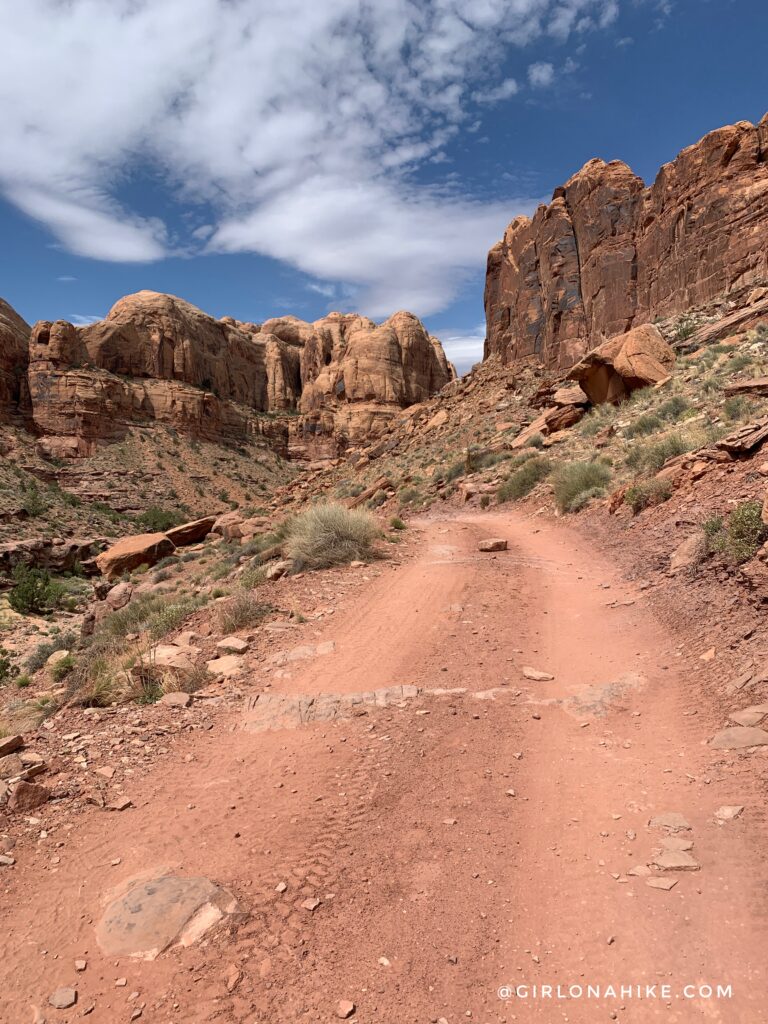 As I continued my run, the trail kept getting prettier. Several sections were just not runnable for me, like the big jeep obstacles and rockier sections of the road. I just ran what I could. Around 11-12pm the sun decided to appear and it felt extremely hot. I knew the high for the day was going to be 75F, but wow, it felt hotter.
Eventually I hit the last jeep obstacle – one last little climb!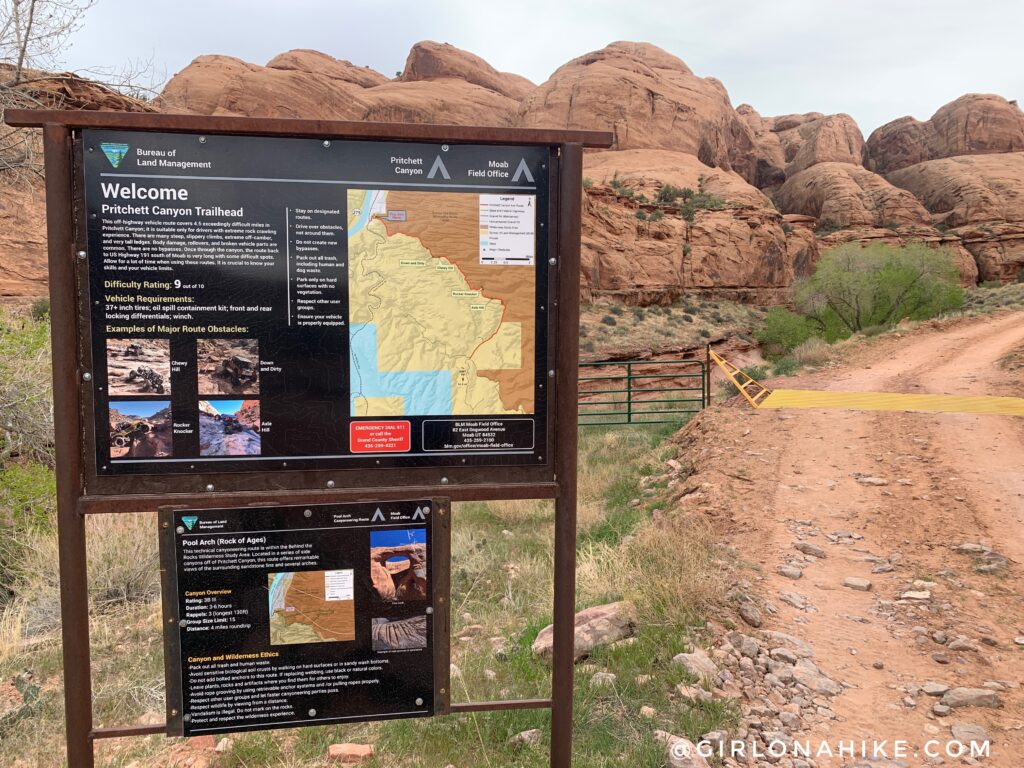 And I found the official Pritchett Canyon entrance (this is looking back at it). Almost done now!
A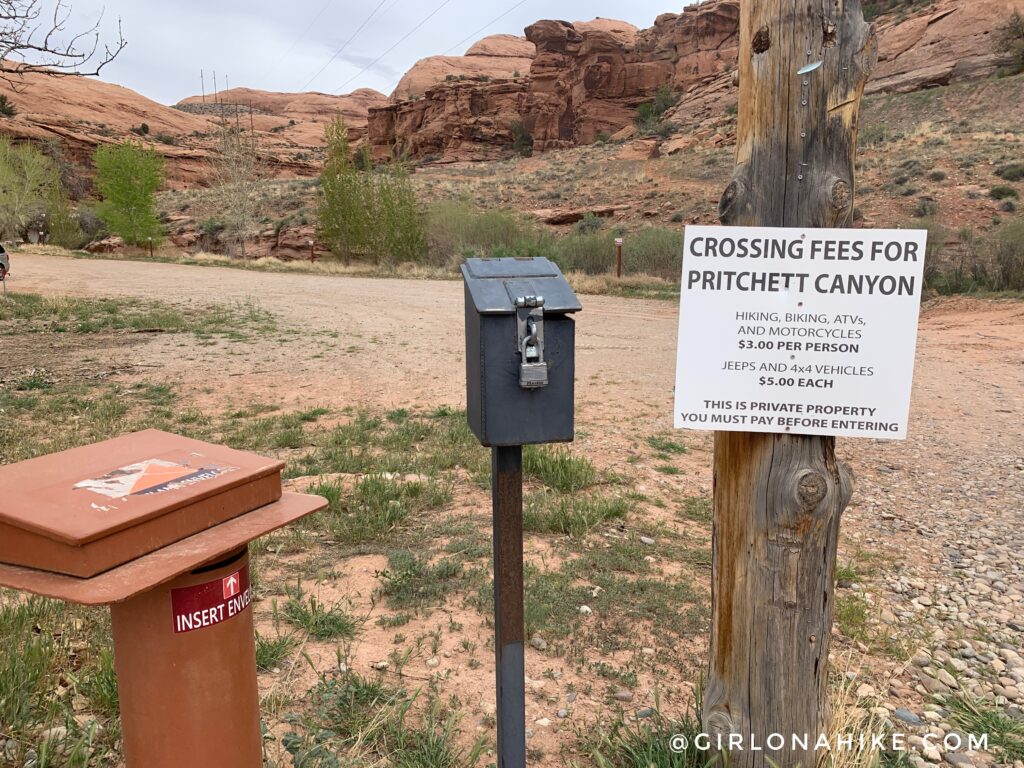 And finally, when you exit the canyon you will see the sign to pay. I knew it would be $3 so I just carried it in my vest the entire time. If you don't want to do that, pay before you begin to run. They only accept cash.
What a great but very tough run! This has been my hardest run for my trail marathon training so far – the uphill never seemed to end and the rocks plus strong winds really made me work for it. I ended up running about half of this route, and fast hiking the other half. That being said, I would totally do it again!
Check out my video!
Trail Map
My track via Gaia GPS – the best tracking app! Get your app here for a discount.
Recommended Gear
Nearby Hike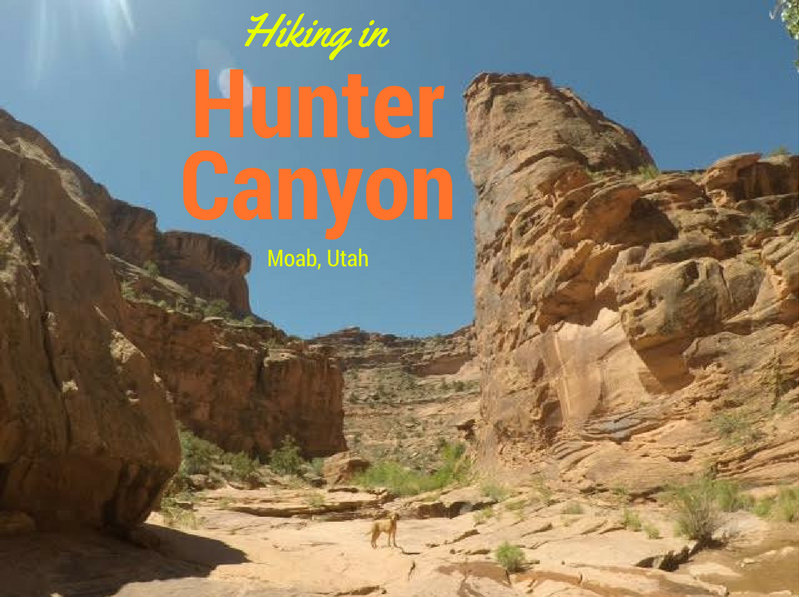 Save me on Pinterest!