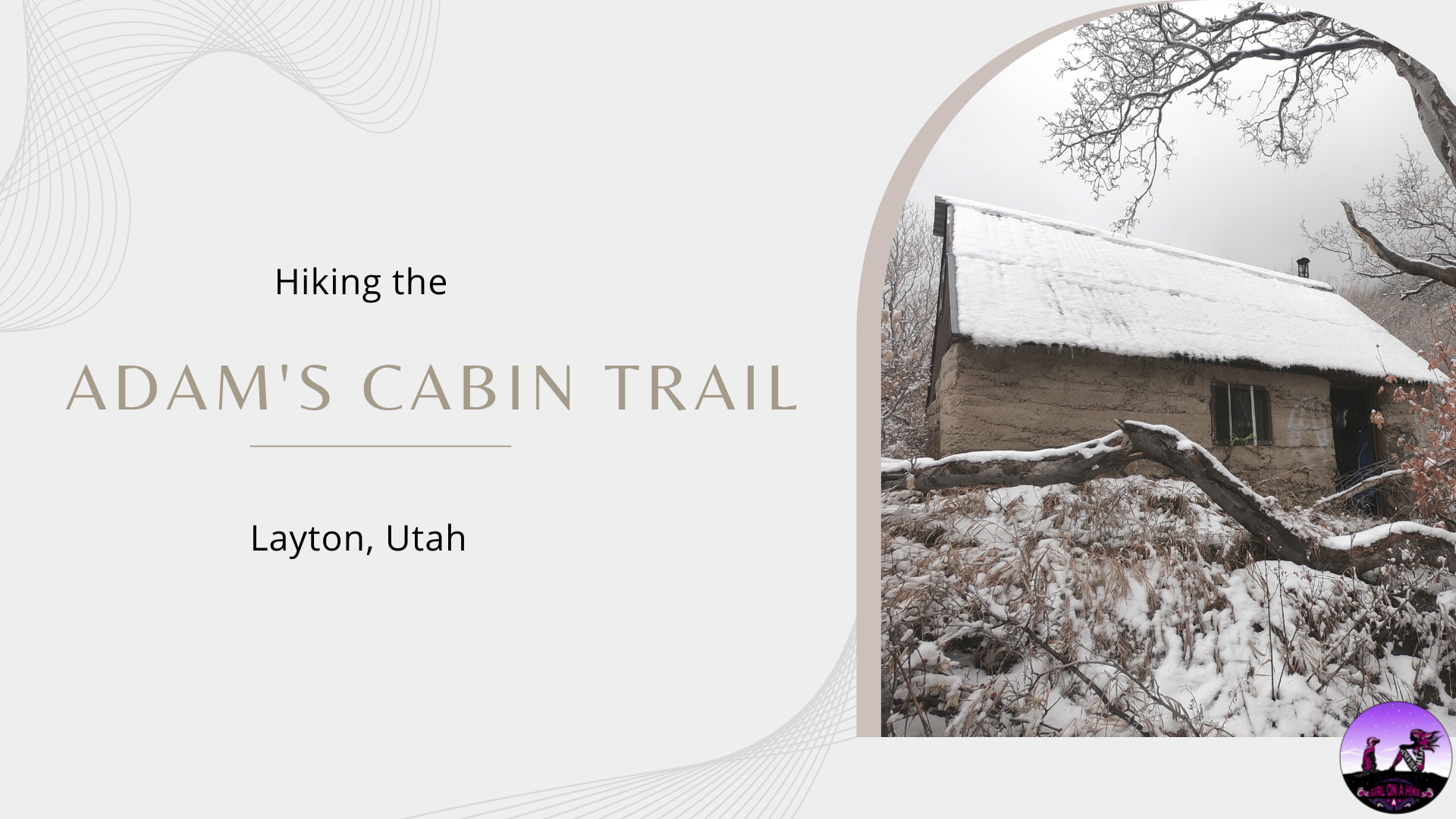 Hiking the Adam's Cabin Trail, Layton, Utah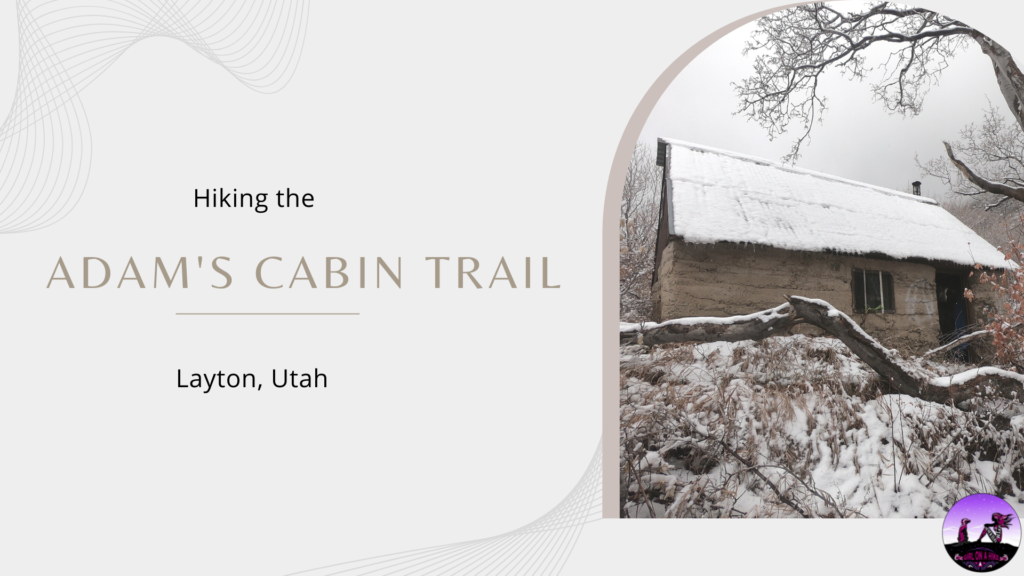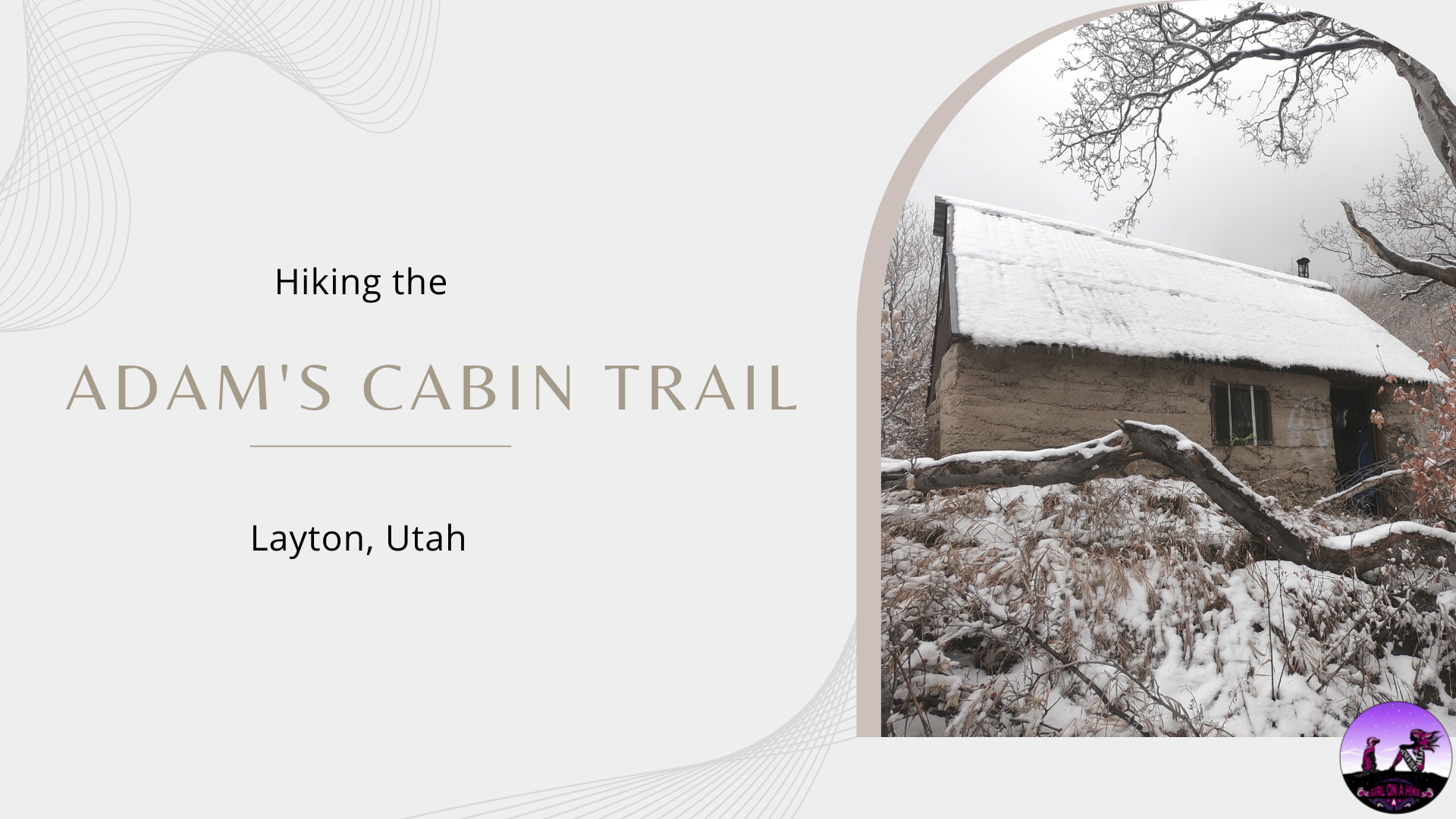 Adam's Cabin Trail leads to an old, historic cabin above Adam's Canyon Waterfall. Adam's Cabin was made of stone in the early 1940s, and today you can still sleep in it, if you dare. Adam's Cabin Trail is steep and not for those with knee or hip issues – it gains 2,700 ft in just 2.7 miles!
Because Adam's Cabin Trail is along an exposed ridge, Summer is not an ideal time to hike here. The best months are typically October and May – when the snow is gone, but the heat hasn't yet arrived. You'll also want to make sure the trail is dry. Because it's so steep hiking this with mud would not be fun. Timing this trail for ideal conditions is tricky. I've actually tried to several times before this, but something always made it seem like it wouldn't be a fun hike due to conditions. This time my friend and I timed it right!
The trail is very exposed so bring plenty of water, even in Winter. Wearing pants is best since there is a lot of brush you'll be hiking through. And lastly, I highly recommend wearing compression socks to prevent sore & stiff calves. Get 10% off entire order from Lily Trotters, use the code "girlonahike" at checkout for 10% off!
Directions
From SLC drive north on I-15, and take exit 394 to merge onto US-89 North. After exiting, drive 6.2 miles and take exit 109. Turn right at the top of the ramp, then an immediate left. The trailhead parking is on both sides of N Eastside Dr E. Here's a driving map.
Trail Info
Distance: 6 miles RT
Elevation gain: 2,700 ft
Time: 3-6 hours
Dog friendly? Yes, off leash
Kid friendly? No
Fees/Permits? None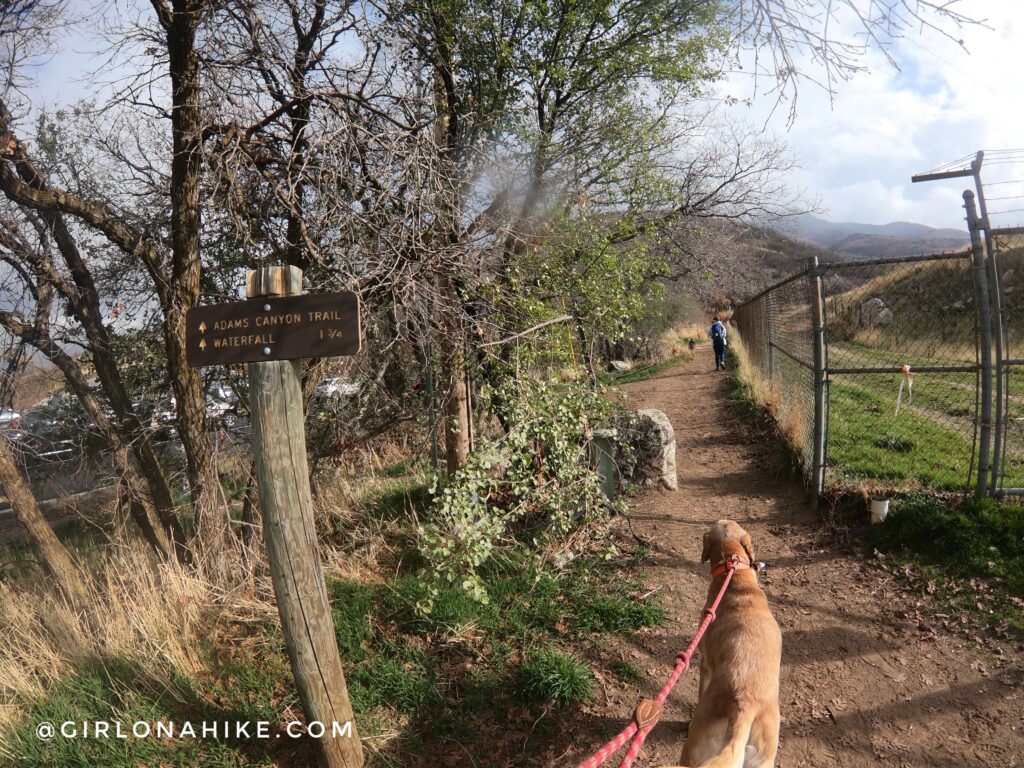 Start by following the fence. I usually keep Charlie on leash for the first 5 minutes so he doesn't run back to the parking lot, however, dogs are allowed off leash on this trail.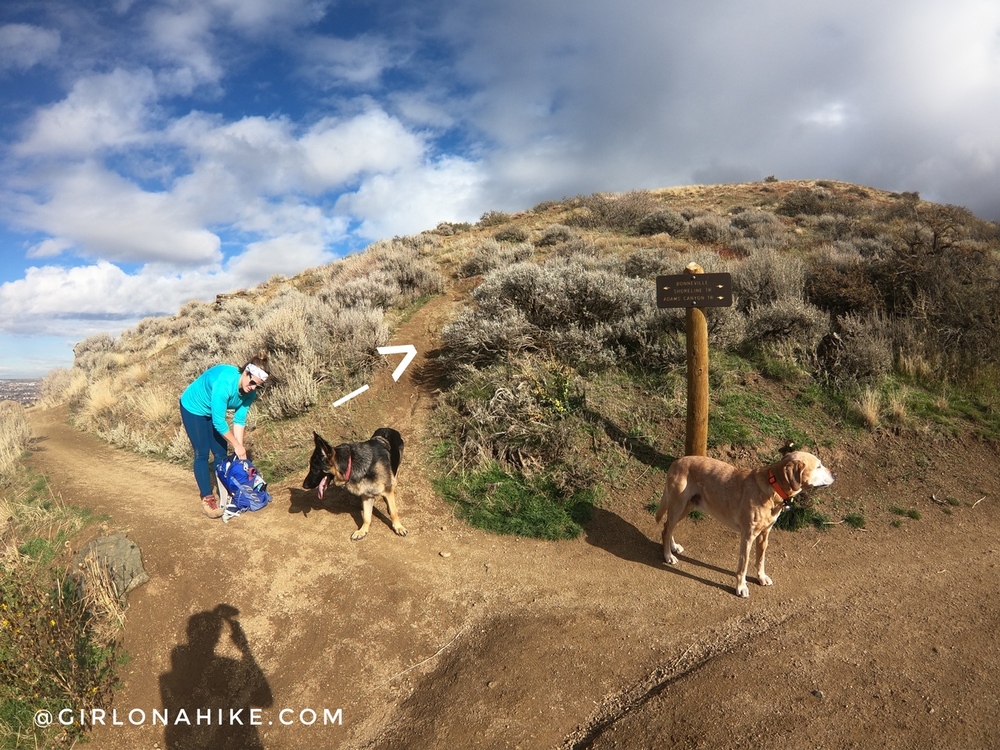 After you hike up several switchbacks you will reach the BST. To reach Adam's Cabin, continue straight, behind the trail sign. If you wanted to get to Adams Canyon Waterfall, you would turn right.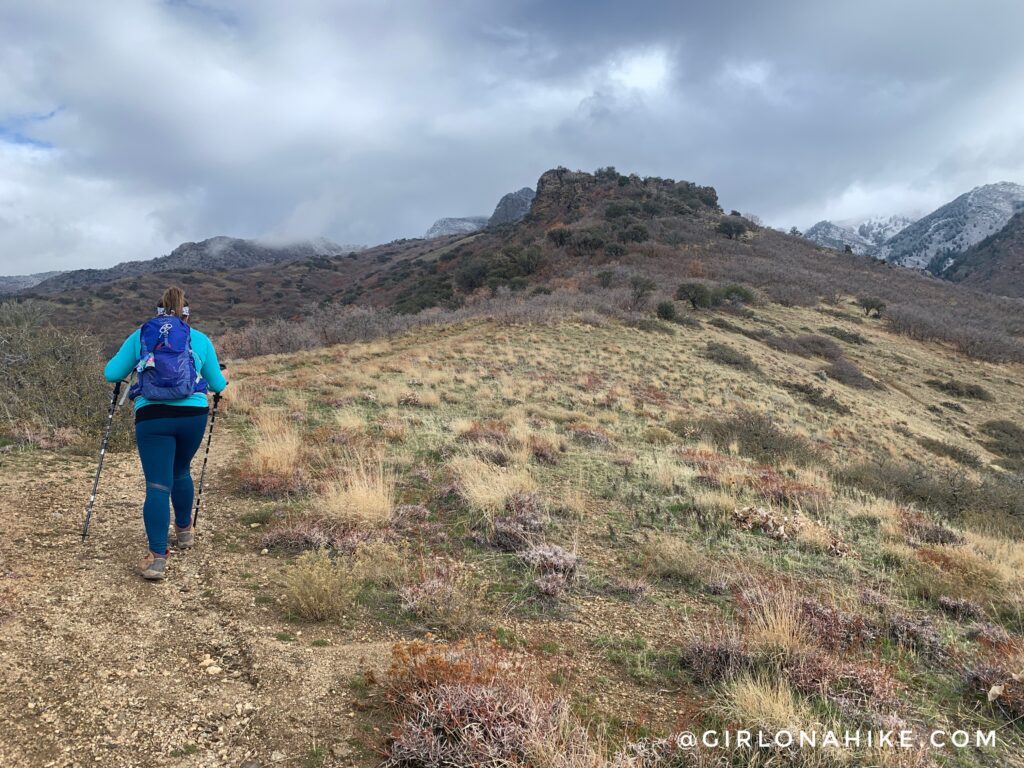 Now the real elevation gain begins! Wearing compression socks are highly recommended. We both wear Lily Trotters (you can't see them under Lizzy's leggings). Get 10% off entire order, use the code "girlonahike" at checkout here.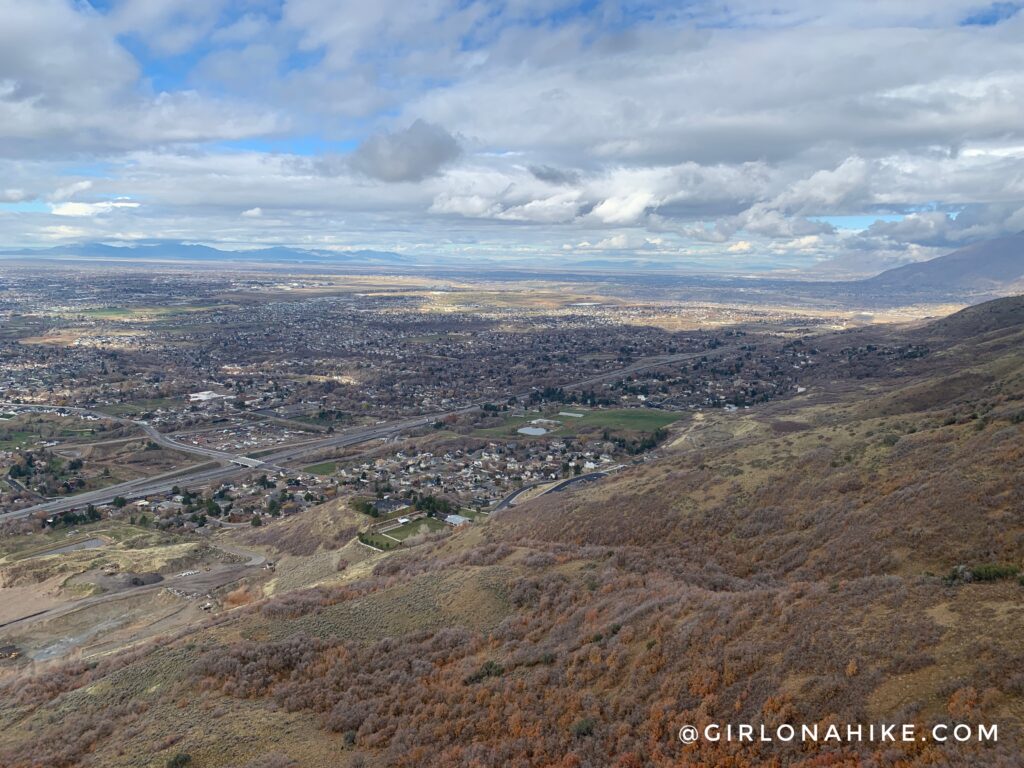 What a great view, as we climbed higher.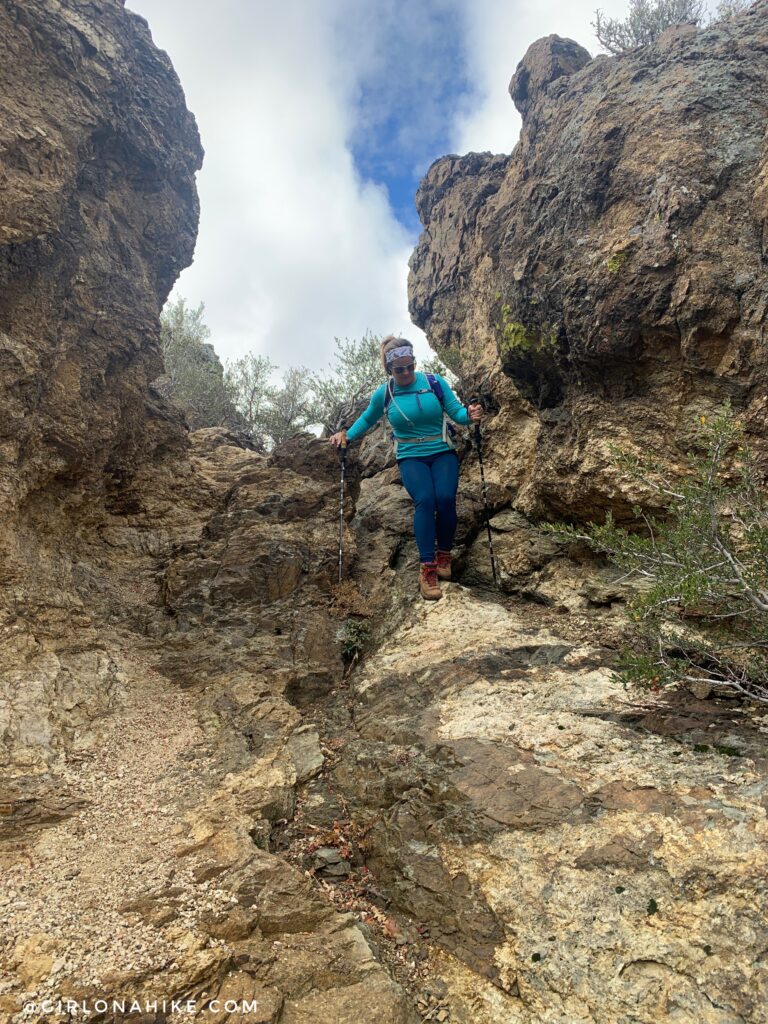 You will hike through this rocky are – be careful this section in Winter as the rocks can be slick.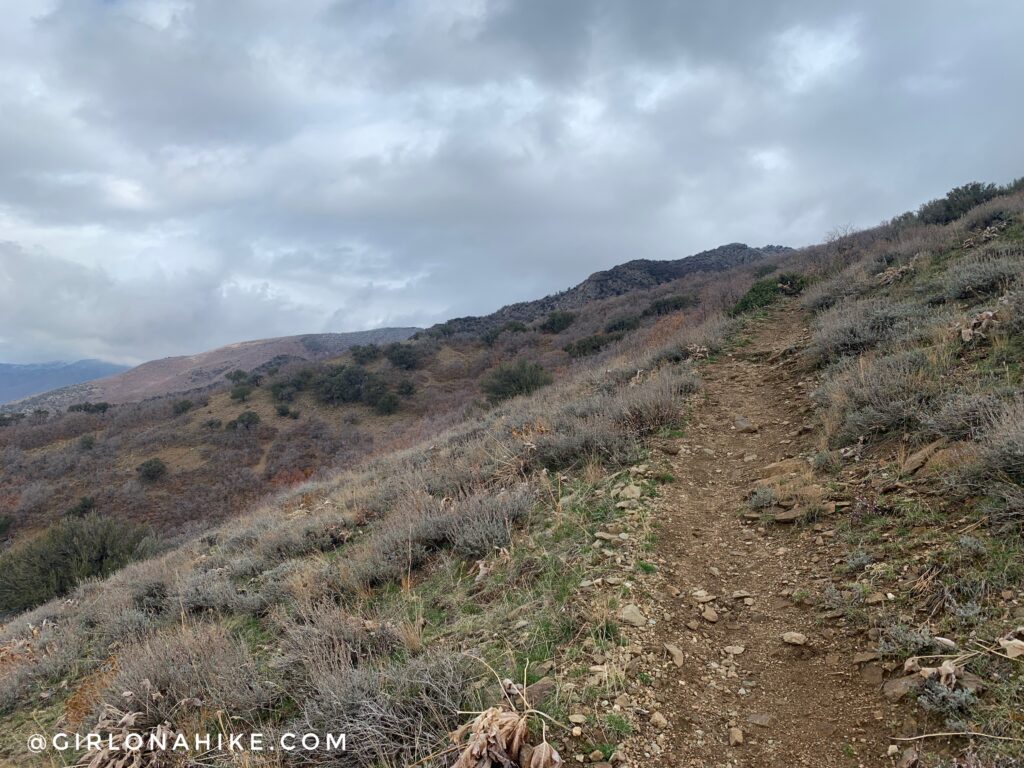 A tiny bit of relief from the elevation gain, as we round a corner.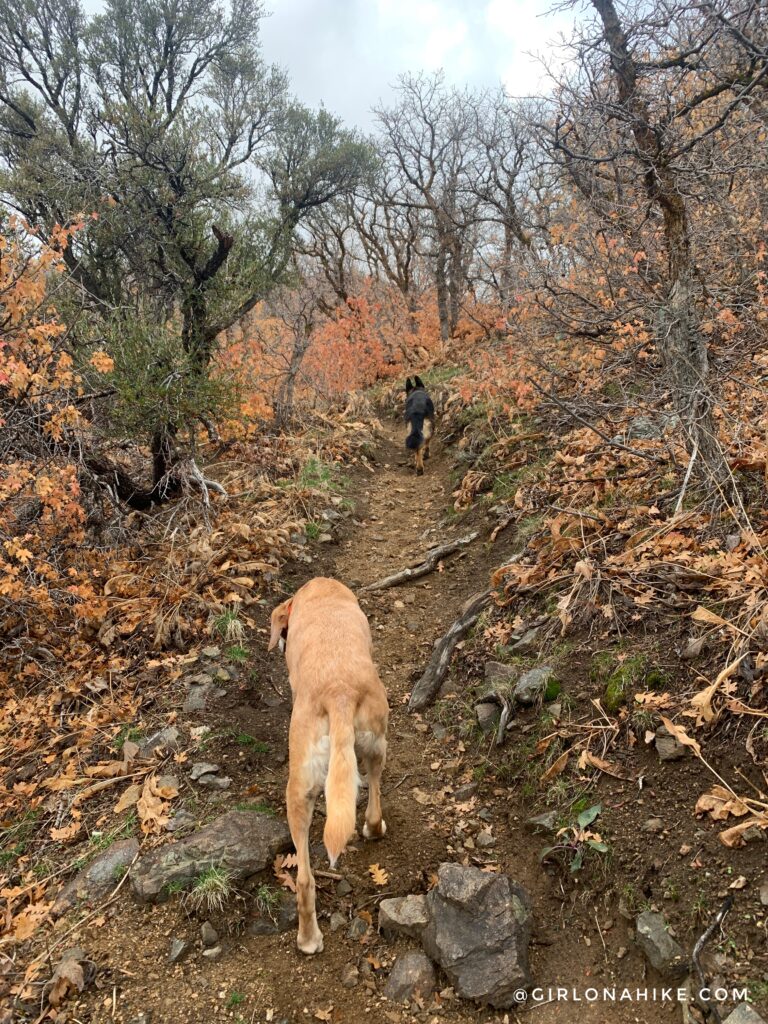 The higher you climb, the more the trail gets overgrown. I could see that in summer this would be awful to try and get through all the leaves and overgrown bushes.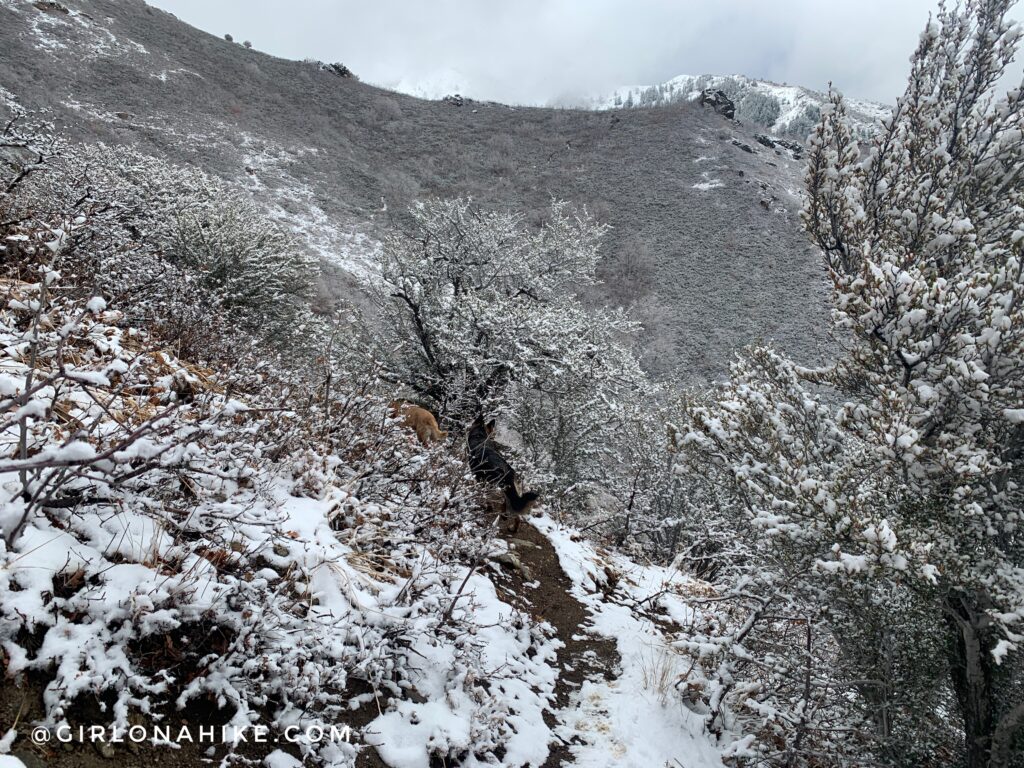 Around 7400 ft we hit the snow line. From here, you can somewhat see your destination – the rock out on the ridge, and just below that on the other side is Adams Cabin.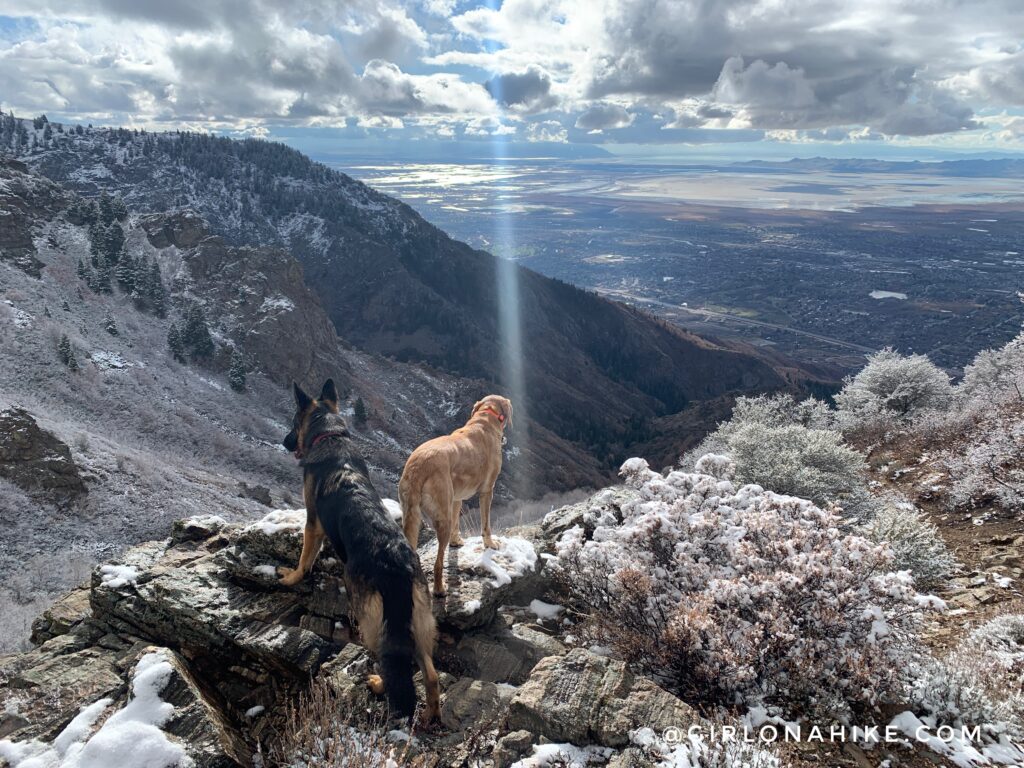 Wow, so pretty! I can't imagine doing this in summer – it would be so hot!
The last 1/4 mile leading up the ridge is the most overgrown. Charlie showed me the way though!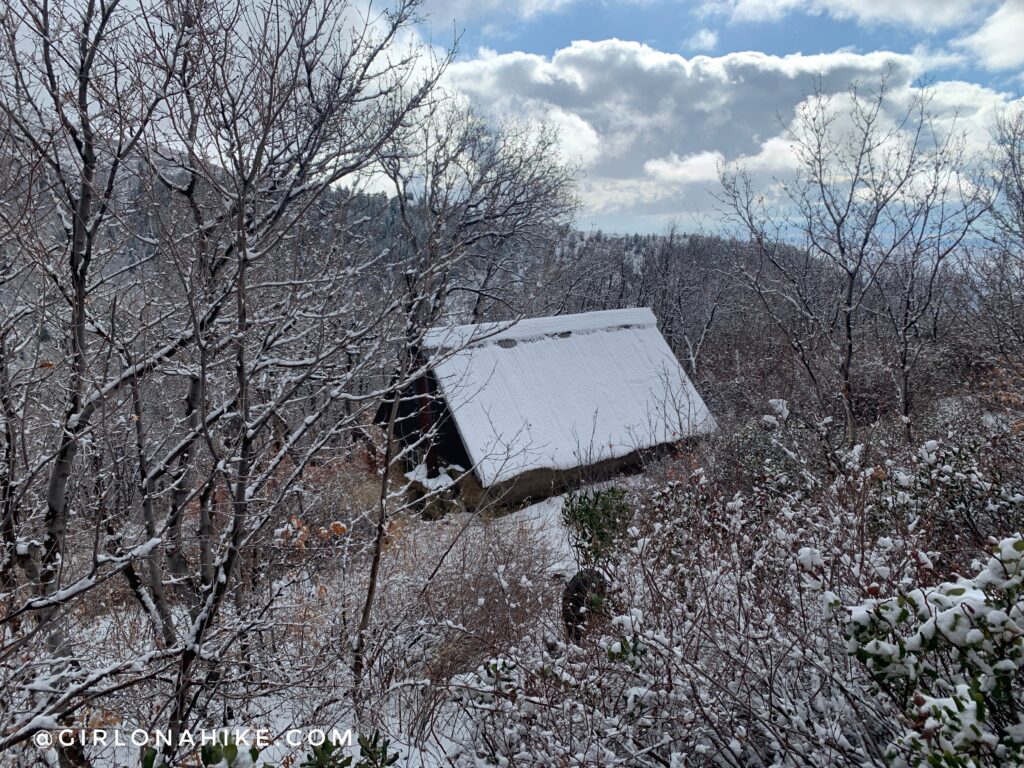 And finally – the cabin is in sight!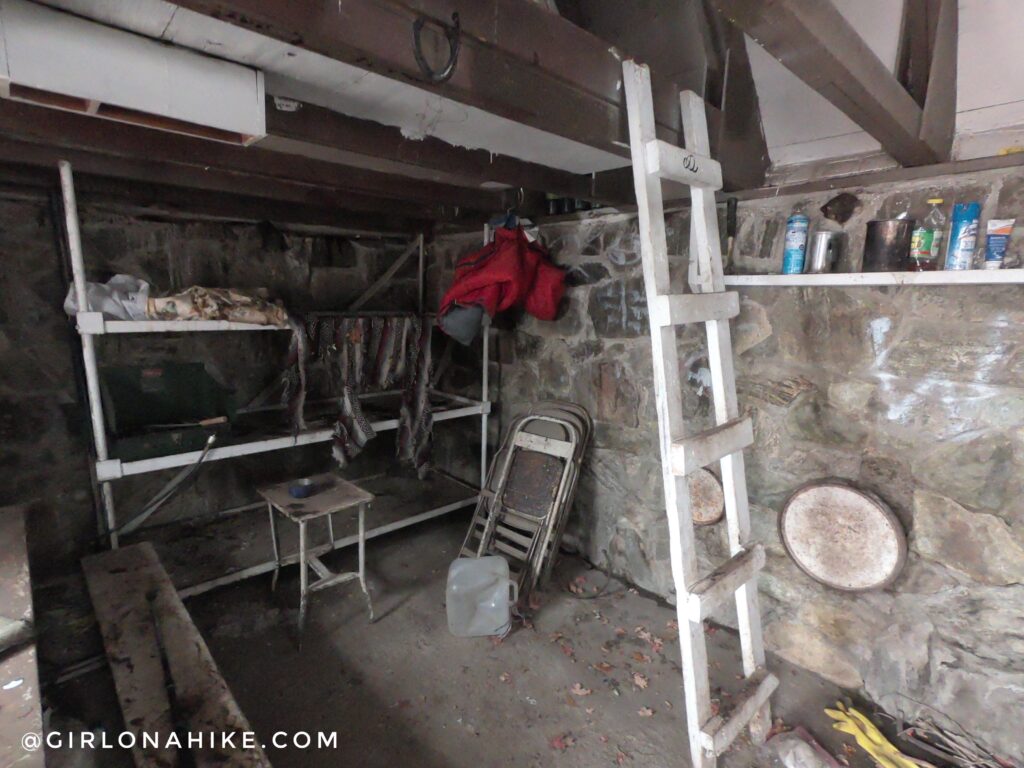 Inside the cabin it was pretty gross. It reeked of weed, mice poop was everywhere, trash all around, etc. I felt like I was going to get sick just from poking my head in for a few minutes. I bet back in the day it was a wonderful place to hang out.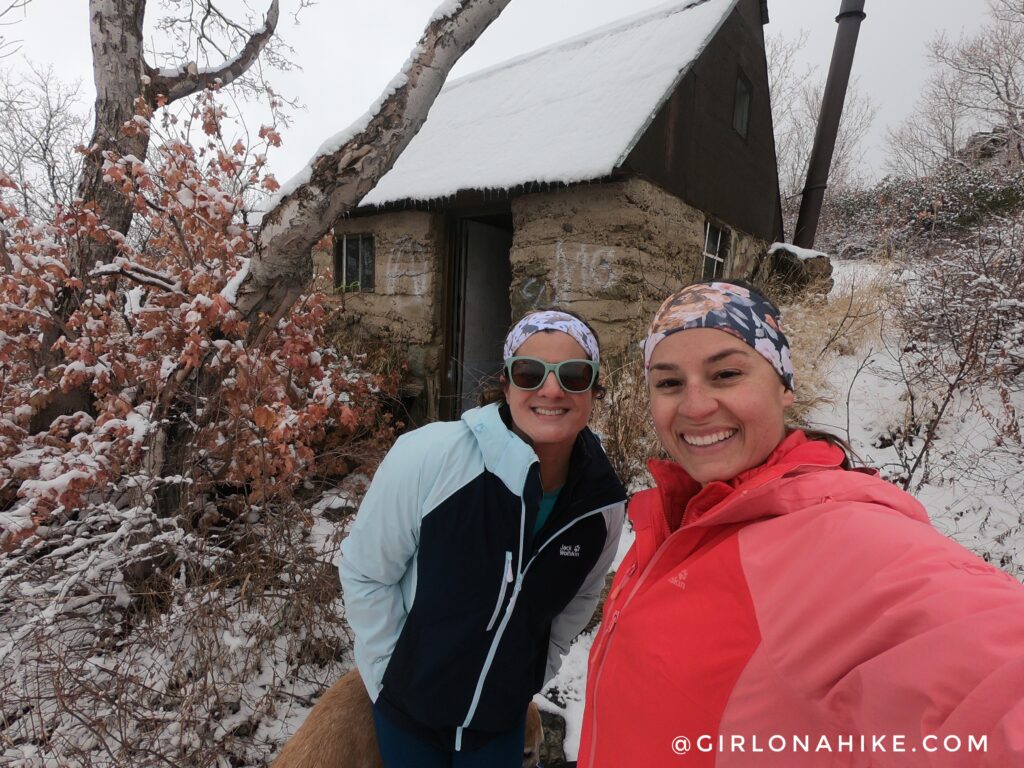 Great, tough hike. The hike itself was way more enjoyable than seeing the actual cabin. I don't think I would do this hike again though.
Check out my video!
Trail Map
My track via Gaia GPS – the best tracking app! Get your app here for a discount.
Recommended Gear
Nearby Hike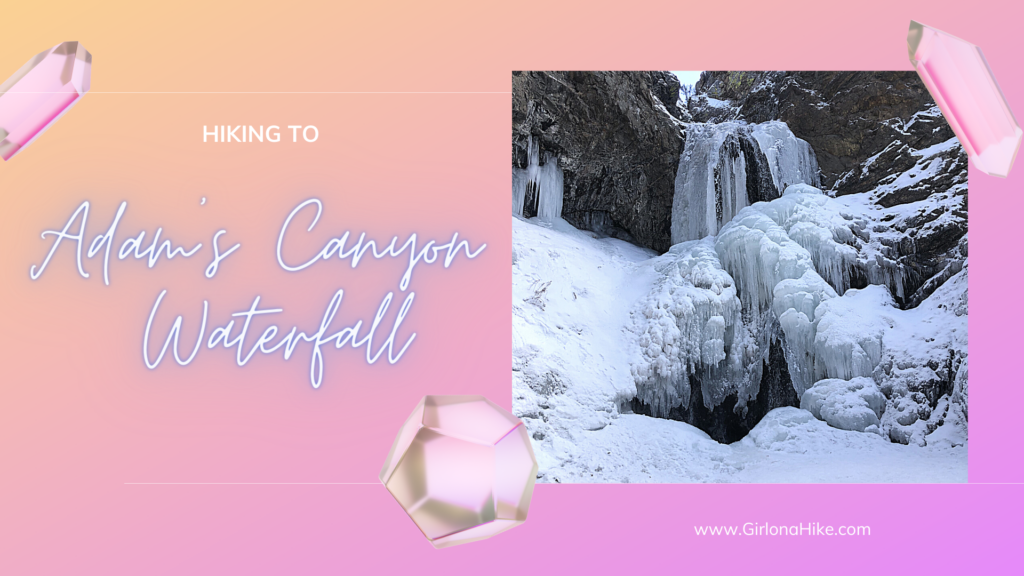 Save me on Pinterest!