Hiking the South Ridge to Mt. Wire
The South Ridge to Mt.Wire can be hiked year round, and overlooks the University of Utah, Emigration Canyon, and Red Butte Canyon. Unfortunately, Mt.Wire isn't much to look at. But what this little hill lacks in prestige, it more than makes up for with steep trails, nice views of the valley, and a spacious top to stretch out and enjoy the scenery. Plus, if you are brave enough, you can climb up the old radio tower! There are two main routes to get to the summit – this way up past The Living Room, or up the South Ridge, the route I will be describing.
About
Both routes are great, it just depends on what you want out of the hike. The main route takes you past The Living Room which is a great place to take a quick break, but once in the gully you don't have much of a view until you reach the ridge and because you are on more of the North slope, can often be very muddy well into Spring. The South Ridge to Mt.Wire has amazing views the entire way and is usually dry earlier. Both routes are dog friendly and both are popular. Neither route has water nor very much shade.
Directions
If driving from SLC, use this map.
Trail Info
Distance: 5 miles RT
Elevation gain: 2,069 ft
Time: 2-4 hours
Dog friendly? Yes, off leash
Kid friendly? No
Fees/Permits? None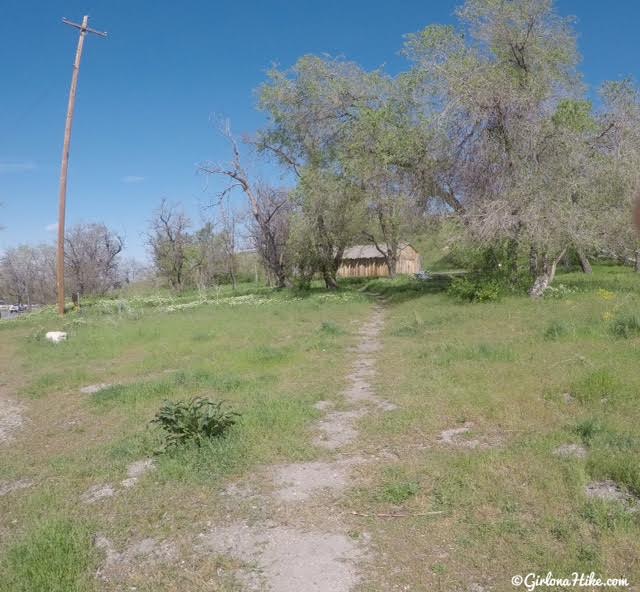 I've marked the map of where to start. The cool thing about hiking The South Ridge of Mt. Wire is that there are multiple starting points and routes. This way is my preference.
The parking lot is on the North side of the road, just beyond the Rotary Park (this is where you can also park and use the restrooms then cross the road). When you park, you should see this old barn and telephone pole.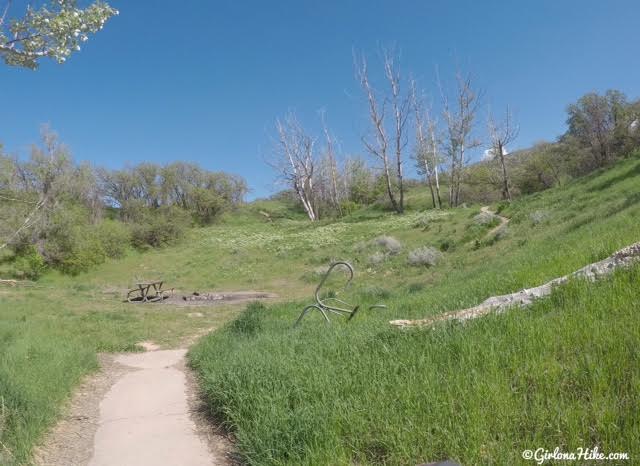 Follow paved path past the old barn. You will come to this kinda gross and dirty picnic area – hike past this until you reach the main path just up by those trees and turn right.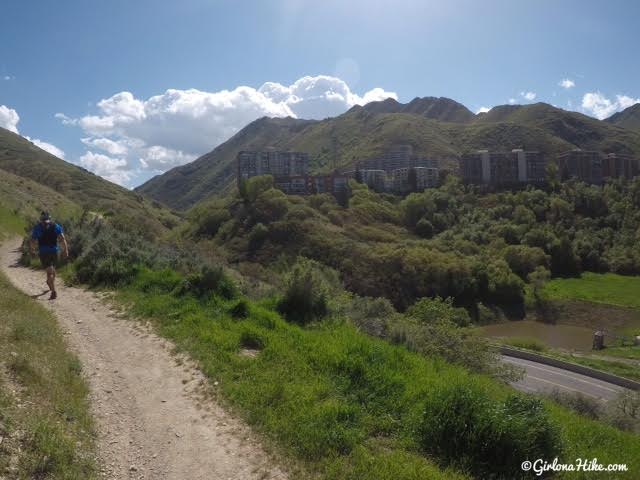 At this point you should be hiking East, and looking at the mouth of Emigration Canyon. Follow this as it wraps around the south side of the hill and past Wagner Springs. When you come to the first 4-way intersection turn left.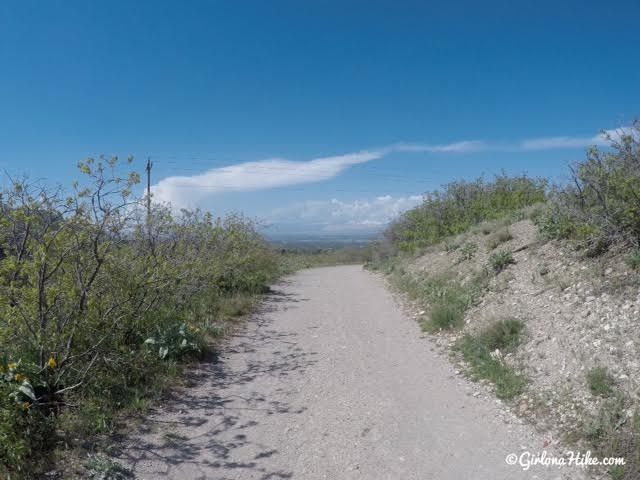 Once you turn left you should now be on a very wide dirt path. This is part of the lower BST. At the very first right turn you see heading uphill, follow that.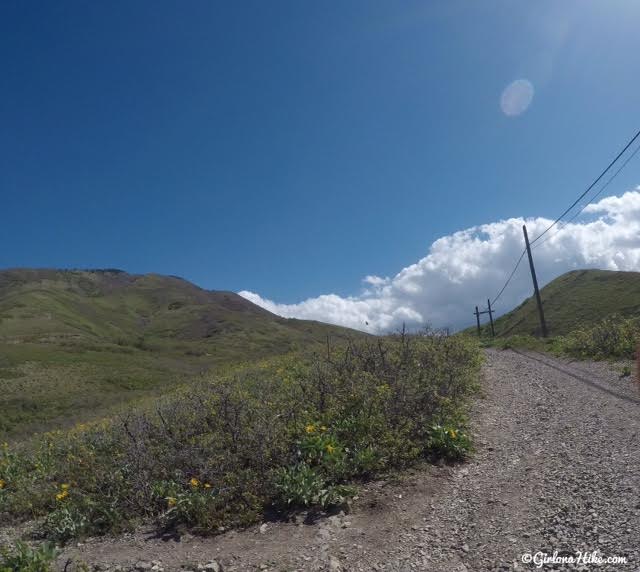 You basically follow the old telephone poles for the first little bit. When you come to a 3-way intersection, stay left and just follow the trail as it aims North. In person from here, you can faintly see the trail going up the ridge.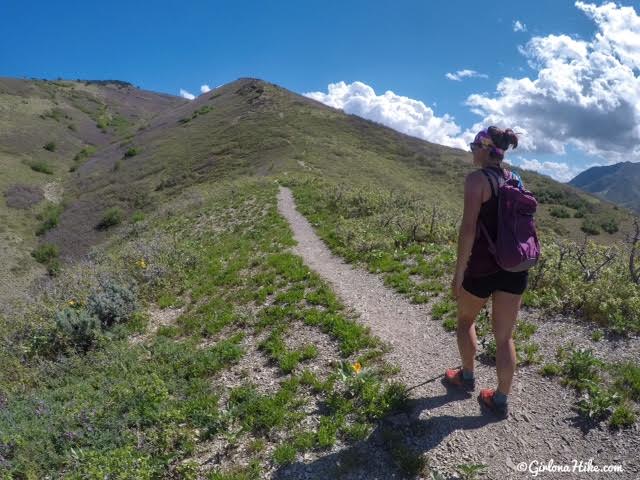 At this point it's easy as all you need to do is follow the ridge trail the rest of the way. It does keep steep at times, so having a hiking pole is helpful to keep from slipping.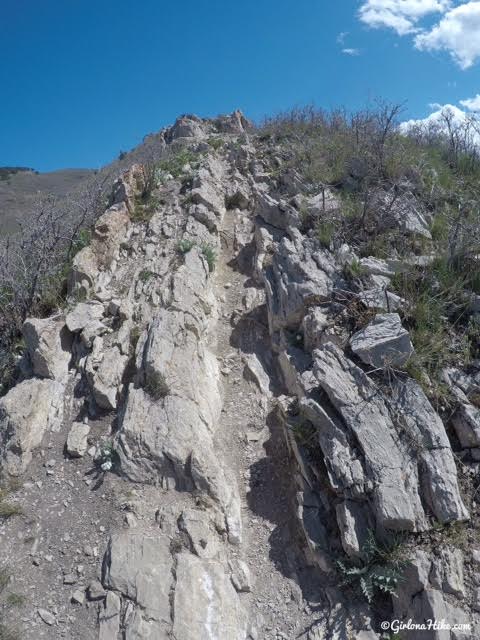 The trail cuts right though these slabs of rock.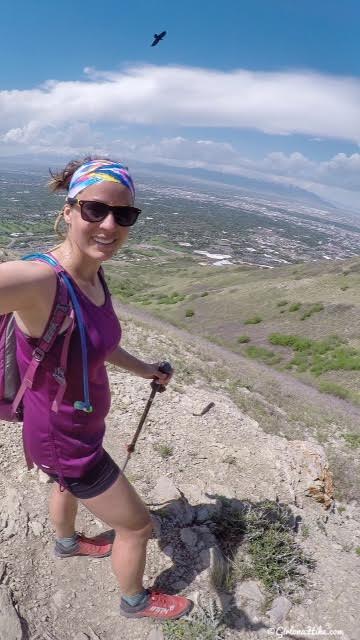 Working my way up!
We didn't start hiking until 11am, and boy was it HOT! If you are hiking with dogs along the South Ridge to Mt.Wire you'll want to start pretty early to beat the heat. Charlie was having fun with a neighbor dog this day so we didn't bring him this time.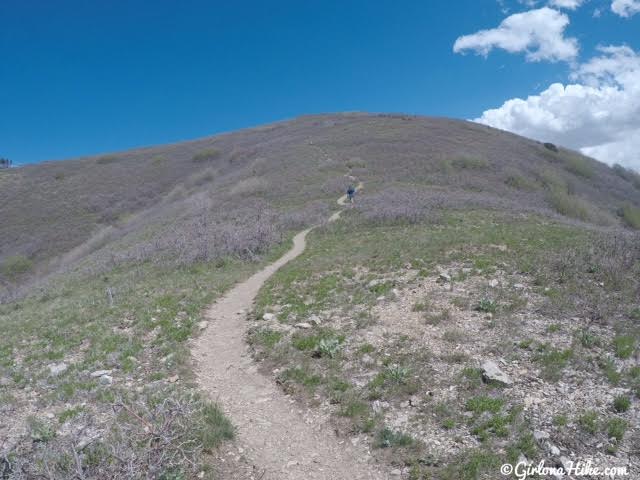 As you can see, no shade! You won't be able to see Mt. Wire until you reach this false mini summit.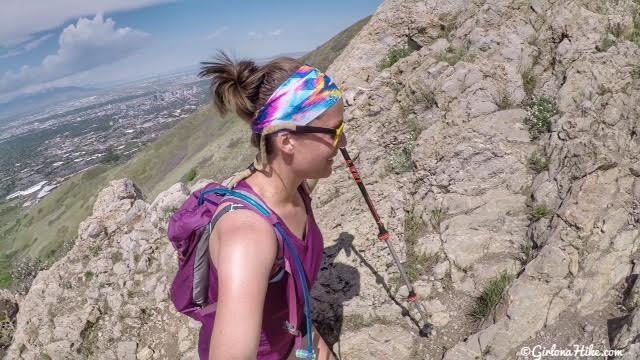 SLC is the distance, still hiking up….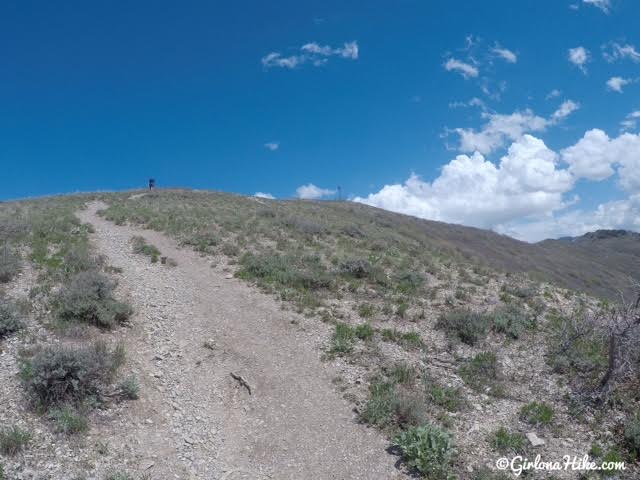 Finally, you can see the tower!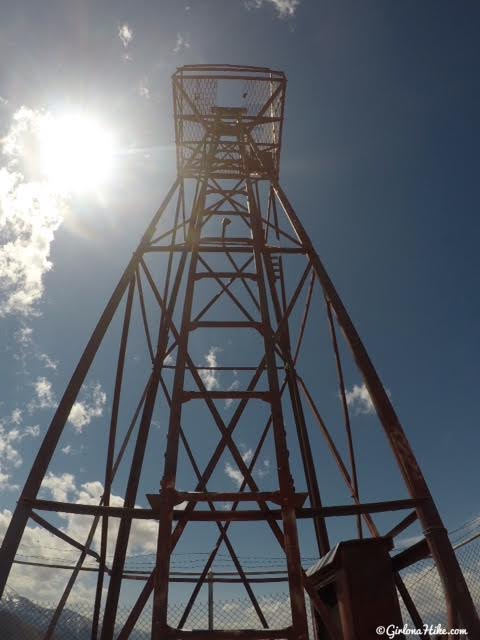 Are you brave enough to climb this?!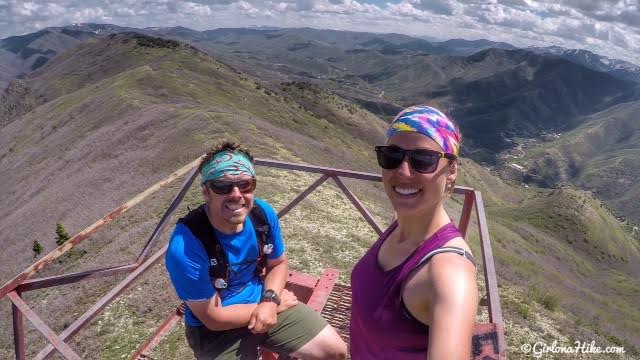 I've hiked up Mt. Wire more than I can count, and this was my first time actually climbing to the top of the tower. I'm not afraid of heights but I was pretty nervous climbing this. I think I was nervous because of how rickety it felt and how small the ladder steps were. Thankfully my partner encouraged me to keep climbing! This is looking East up Emigration Canyon.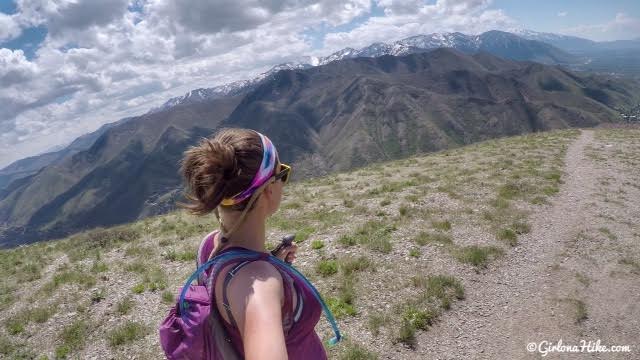 Heading back down! Finally a breeze kicked in and it felt so much nicer to be able to cool off!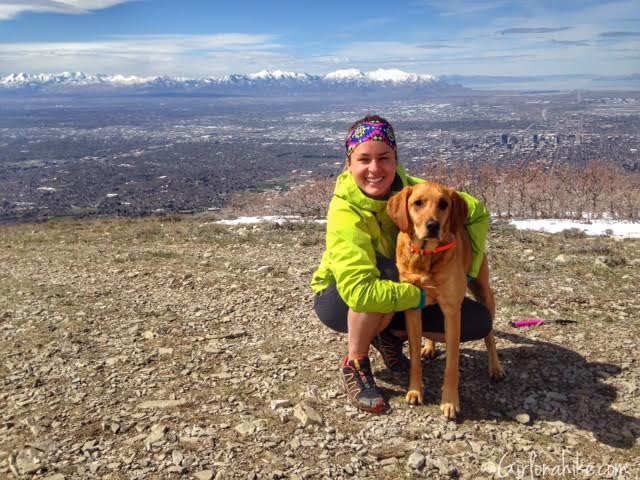 With Charlie on the summit, March 2016!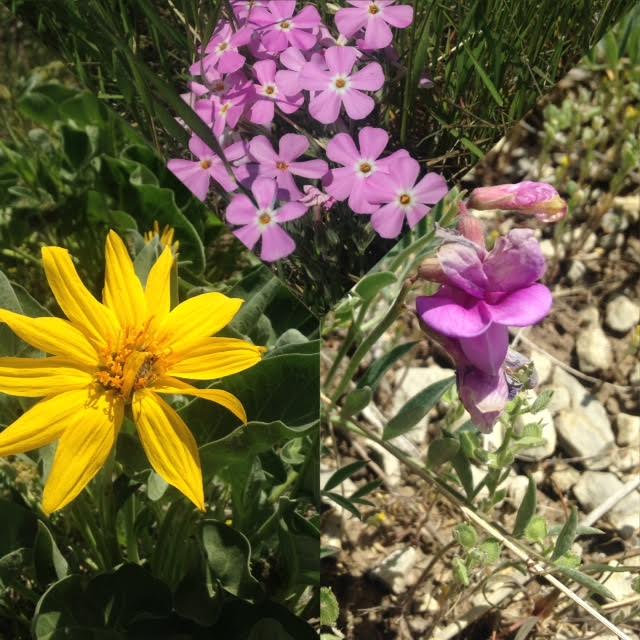 All the flowers were in bloom in May!
May 2019
Great day for a solo hike.
Check out my video from March 2020!
Trail Map
South Ridge of Mt. Wire Trail Map
Again, there are several ways up could access the trail to reach the south ridge. This is one of probably 5-6 different ways you can initially start the hike.
Nearby Hike
The Best 8 Trails in Salt Lake City for Visitors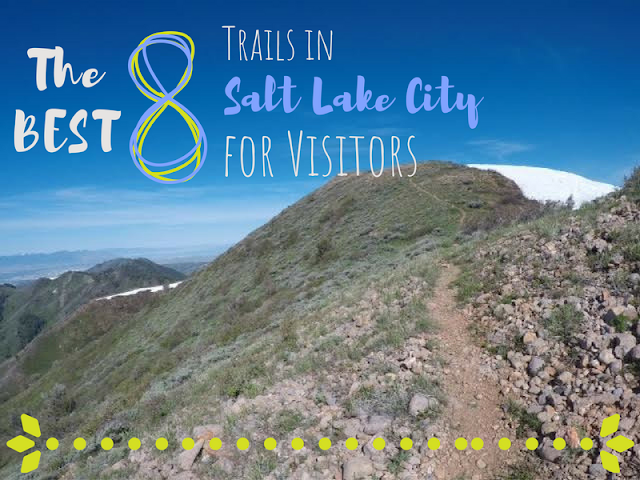 Save me on Pinterest!