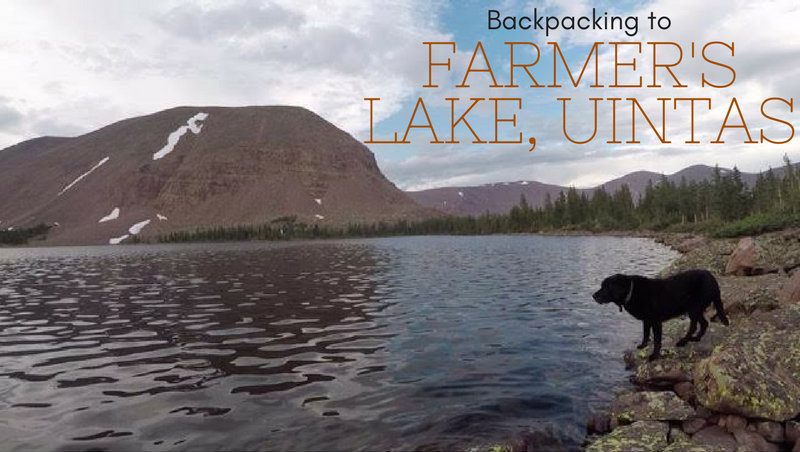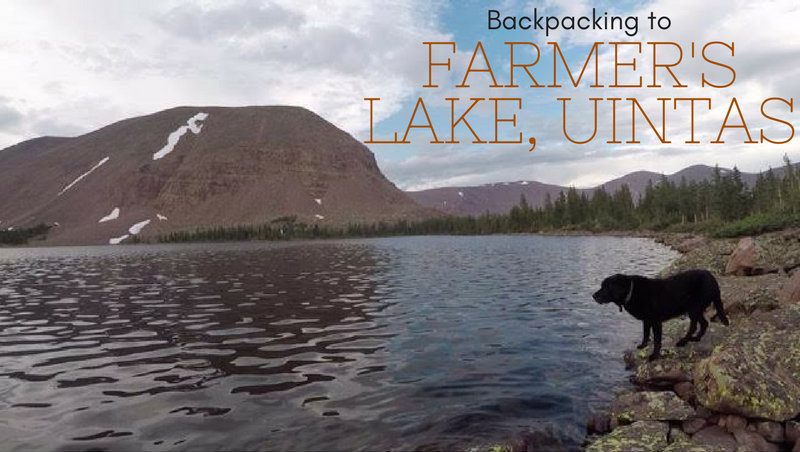 Farmer's Lake is a lake in the Timothy Lakes Basin in the High Uintas. The trail follows the Swift Creek Trail, as it gains 3,000 ft in 9 miles. There are several other lakes you could backpack to including East or West Timothy Lakes, and Carroll Lakes. Backpacking to this area requires at least a one night minimum stay – two nights is preferred. There is plenty to explore as a day hike in the area and even bag some peaks. The best part about this trail and lake is that we didn't see anybody over 3 days on a weekend! You'll find plenty of solitude here.
About
This is a dog friendly trail, as are all of the Uintas, and there's plenty of water for the dogs to drink from along the trail (except for the first 2 miles). Dogs who have experience backpacking and doing long days should be fine. The trail is rocky, so if they aren't used to it they can tear their paws. It's always a good idea to bring

dog booties

for emergencies.

Keep in mind that the Uintas does have a fire ban within 1/4 mile of all lakes. You also have to camp at least 200 feet away from any lake and trail. Make sure you have a

paper map

of the area, in case batteries fail.
Directions
Use this map, if you are driving from SLC.
Use this map, if you are driving from the South, such as Provo.
The last 11.6 miles leading up to the parking area is a graded dirt road, but a little rocky. My sonata made it, but really slow – I couldn't drive faster than 20 mph. Trucks and SUVs will have no problems driving here. The last gas station is in a Conoco in Mountain Home, UT, but is closed on Sundays.
Trail Info
Distance: 9 miles one way to Farmer's Lake, 11 miles one way to East Timothy Lake
Elevation gain: 3,000 ft
Time: 1 night minimum
Dog friendly? Yes, off leash
Kid friendly? Teenagers+, as long as they have backpacking experience
Fees/Permits? None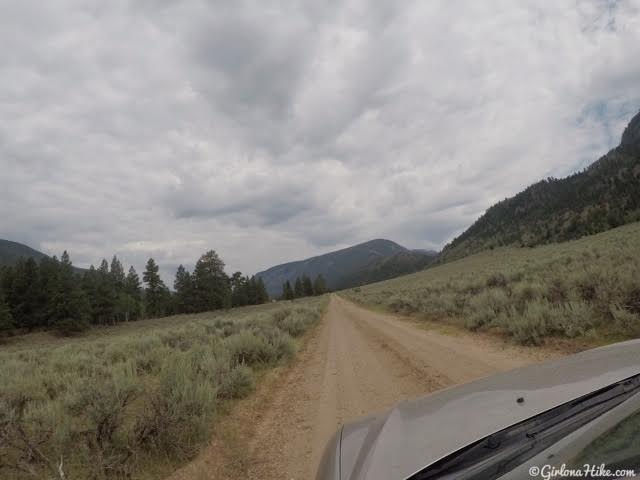 The drive to the Swift Creek TH. Not the worst road my little car has been on, but not fast either.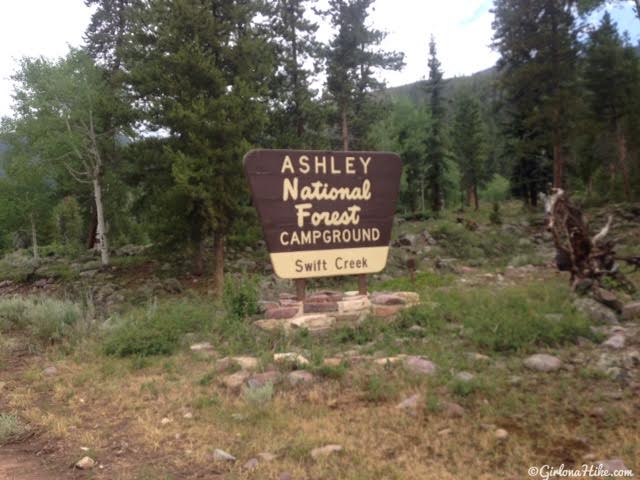 Parking for the TH is just past this sign. There is also a nice campground at the TH, and is $8/night. They had nice, shady campsites with a picnic table and fire ring. No showers, just a port-a-potty.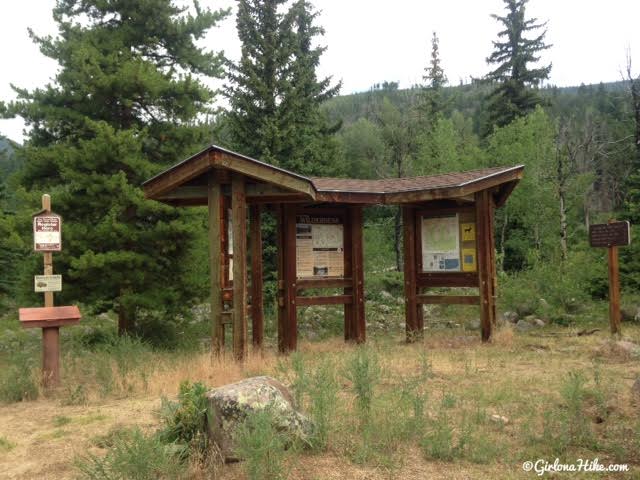 The official TH.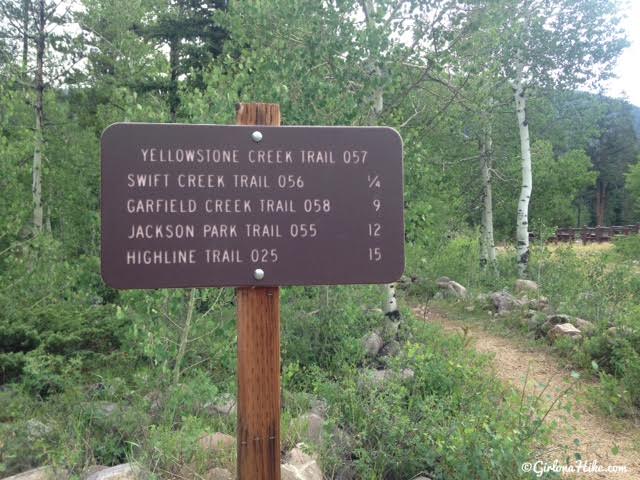 Farmer's Lake is NOT on the TH sign, but you'll want to follow the Swift Creek Trail.
If you look on older maps or even the Gaia GPS app, the map shows a trail crossing to the left (West) of the parking lot. That trail no longer exists since the river washed it out. You have to follow this trail, then cross over the new bridge, to get to the actual trail. This is the same TH you would also use for the Yellowstone Creek trail.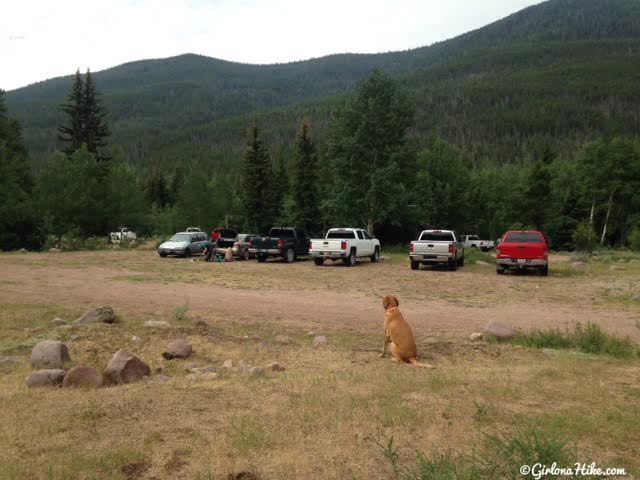 The parking lot has plenty of space. You can see most cars were trucks, but 1-2 small cars as well.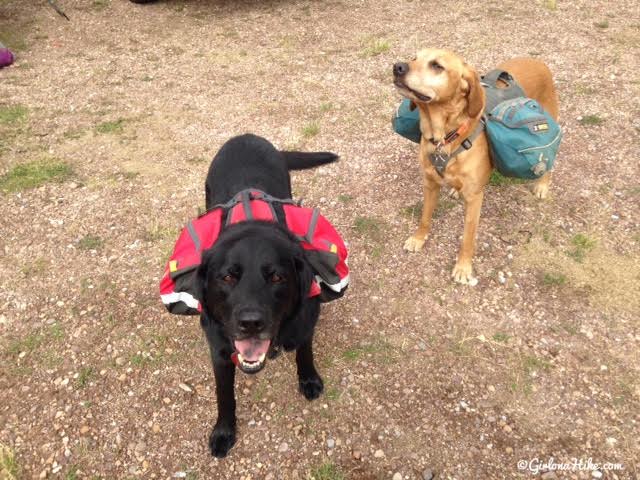 The dogs are ready to go! The black dog is my friend's dog I am watching for a month, named Bear. This was Bear's first ever backpacking (and even camping) trip! Bear is a 7 year old Black Lab. Charlie was stoked to have a tent sleepover with his buddy!
Make sure you read my post on Backpacking with Dogs!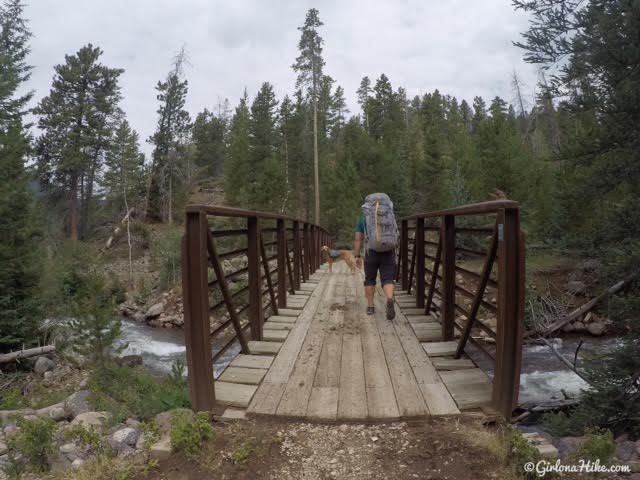 Cross over the newly constructed bridge.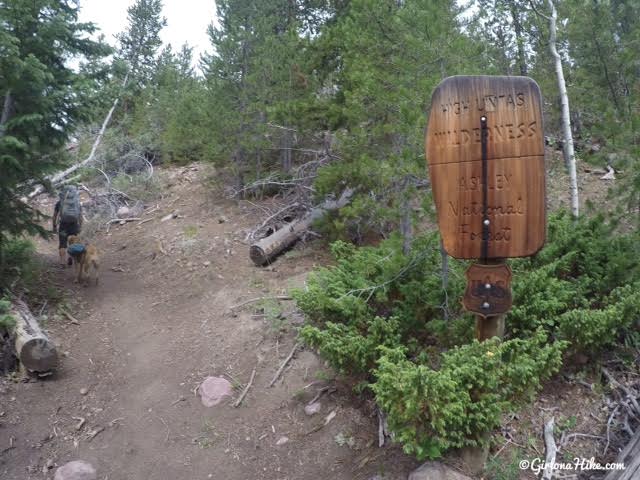 And then you'll officialy enter the High Uintas Wilderness.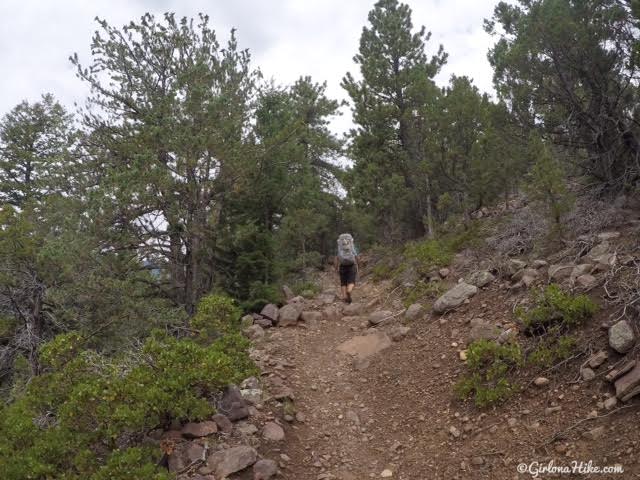 The first 2 miles are a bit challenging since right out of the gate you'll work your way up several switchbacks until you reach an open ridge.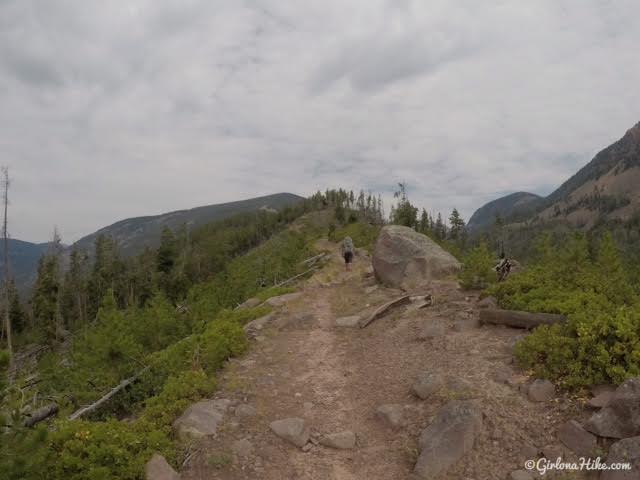 On the open ridge area. I loved that you could see down both areas on either side. Swift Creek on the right, Yellowstone Creek on the left.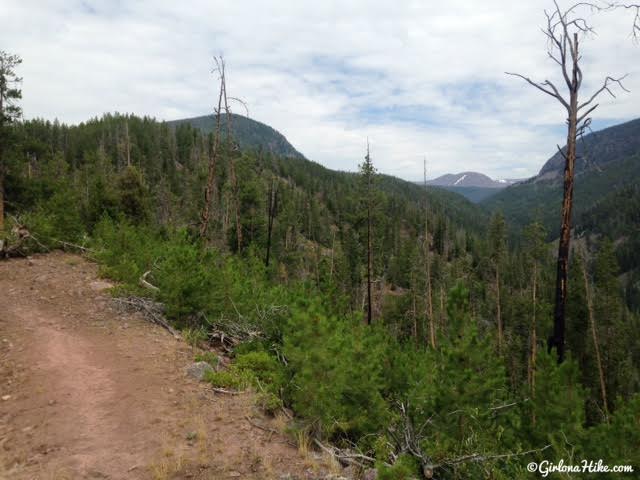 See that vertical strip of snow? Farmer's Lake is right below that leftover snow. Timothy Lakes are near the large snow patch further right. This is really the only time you'll be able to see you destination.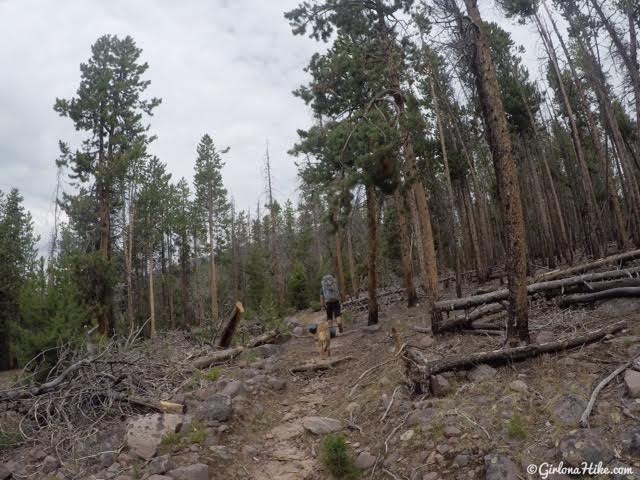 Miles 2-4 were hiking through lots of downed trees. It looks like they were down from a mix of fire and beetle kill from a few years ago.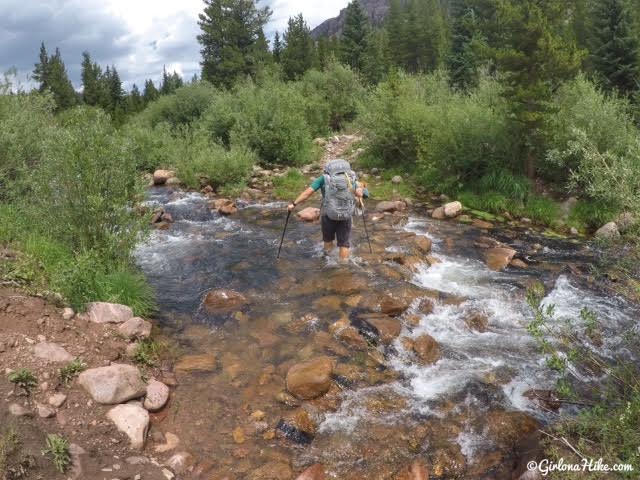 About halfway, mile 4.5 you'll reach the first stream crossing across the Swift Creek. It was knee deep for both of us. The dogs needed a little help getting across. From this point, you'll want to keep your water hiking shoes on for the next 2 miles or so, since there are several other stream crossings. Depending on how late in the season you go, the trail could still be wet from the snow melt. I imagine that in August the creek will be half as high.
Normally I'm a Chaco gal, but for backpacking I prefer Teva's because they are so much lighter (& cheaper!) than Chacos. I recently picked some Teva Verra's up, and they were awesome! My water shoes double as my camp shoes as well.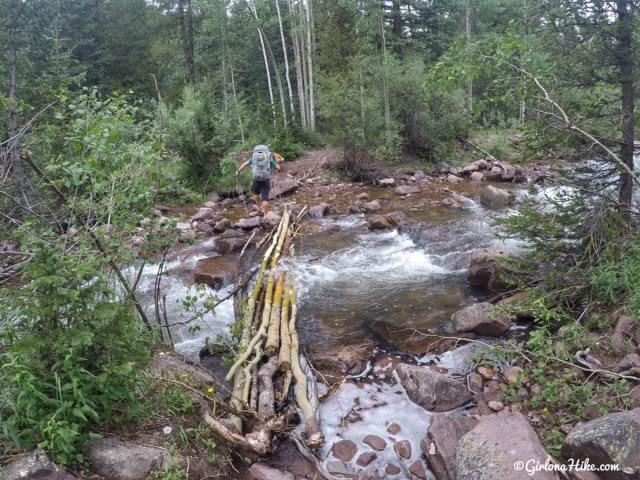 Another stream crossing.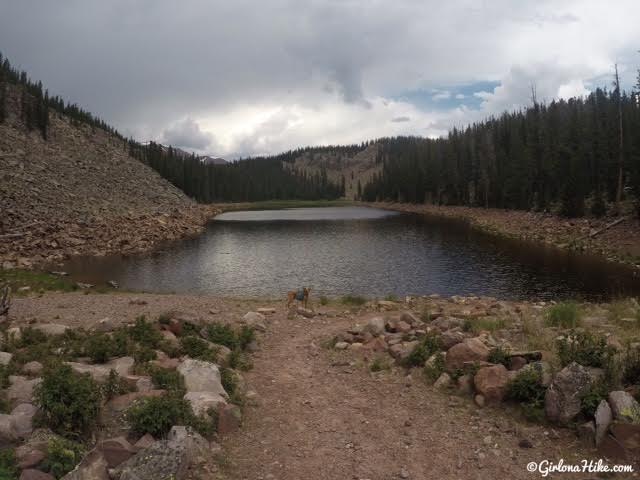 Eventually you'll reach Deer Lake. There was one campsite here.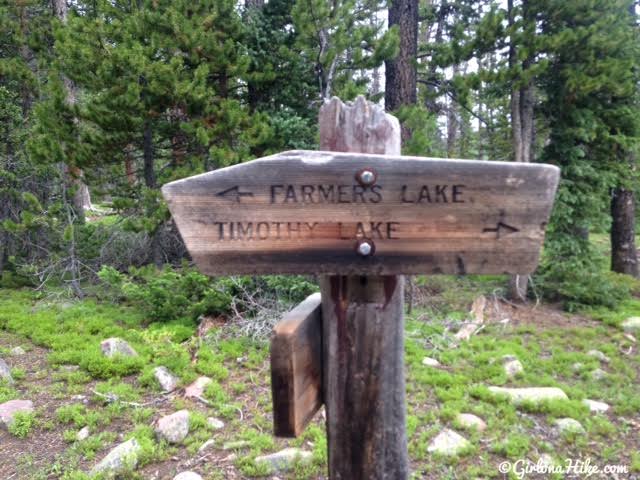 Past Deer Lake you'll reach the first trail split. To Farmer's Lake its another 1.6 miles. Timothy Lakes is about 2.5 miles from here.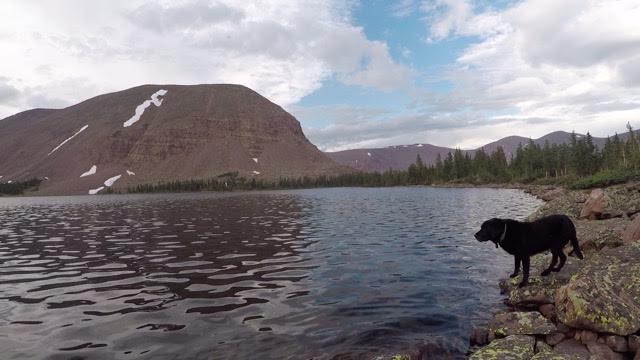 Finally, at Farmer's Lake. It took us 4 hours 45 minutes to reach the lake.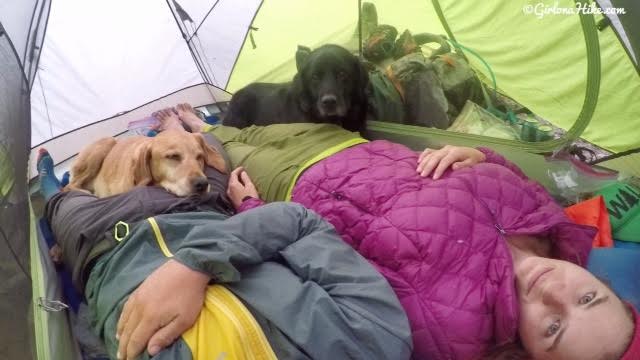 As soon as we found a good campsite, we had to hurry to put the tent up because it started pouring down rain. The tent was a little packed! I love my Kelty TN2 tent – it holds up well in bad weather, fits 2 humans and 2 dogs, plus our gear in the vestibules.
Keep in mind that the Uintas have thunderstorms everyday, starting around noon. You'll want to try and get to your campsite before noon so you have time to set it up in dry weather.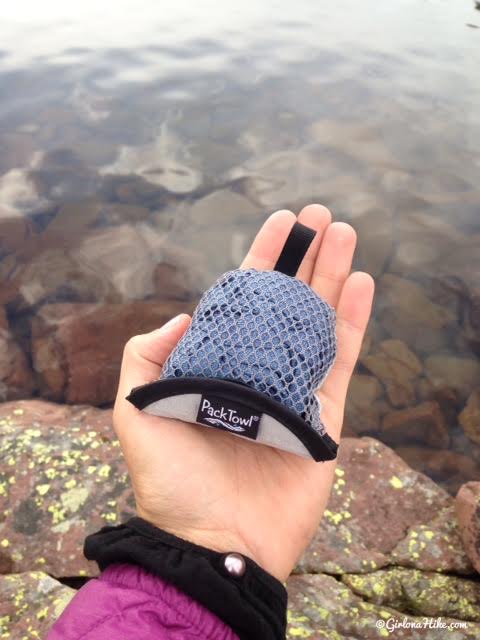 My new favorite piece of gear – the Nano PackTowel! This thing is so tiny, and weighs only 0.9 oz! I can't stand getting in my sleeping bag sticky and sweaty, so I wash off in the lake (no soap), and used this towel to dry off. Worked great!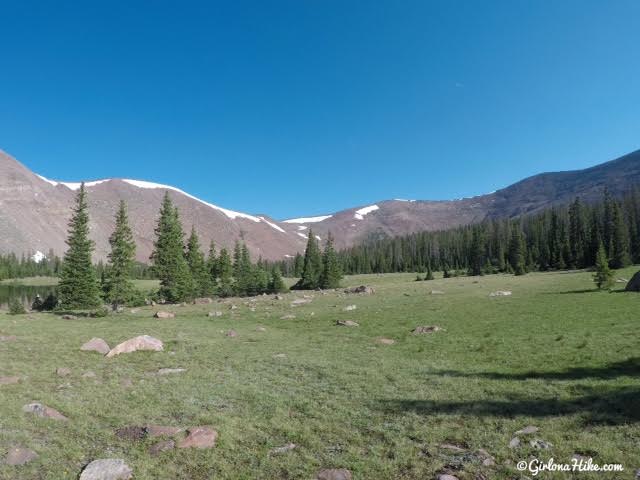 The next day we woke up to Bluebird skies as we made our way to Bluebell Pass!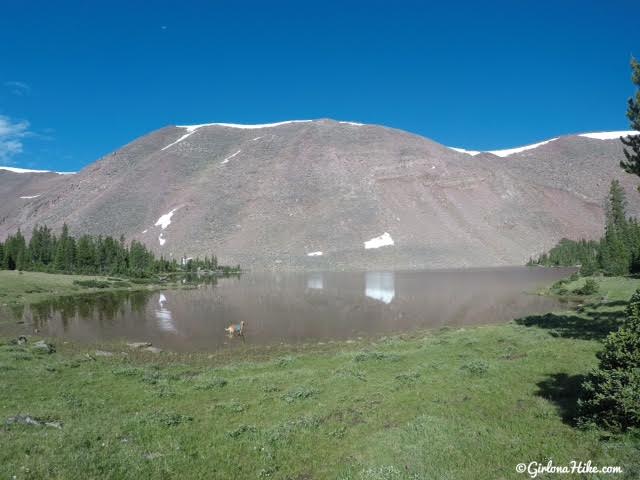 Passing by some un-named lakes on the way to Bluebell Pass.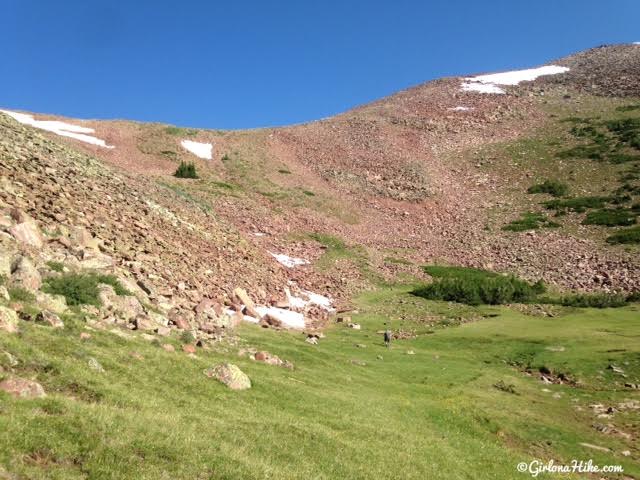 At the base of Bluebell Pass – can you see how small my partner looks?!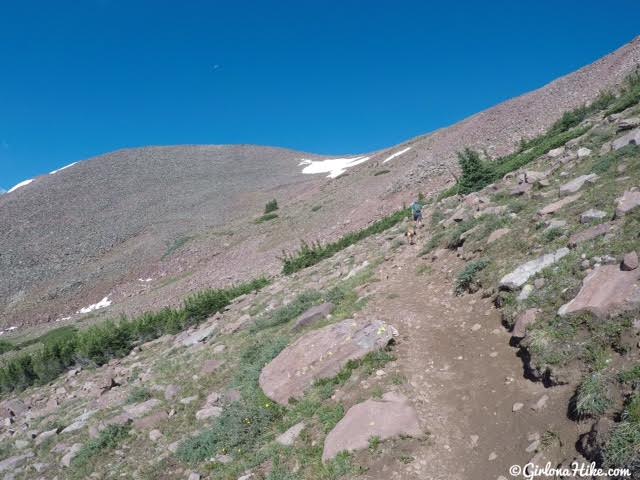 Hiking up the pass kicked my butt. Not only are you hiking close to 12,000 ft in elevation, but the trail gains about 500-600 ft in just 1/2 mile. Whew, not fun when you have exercise-induced asthma! The trail has one long switchback, then a series of really short, steep switchbacks.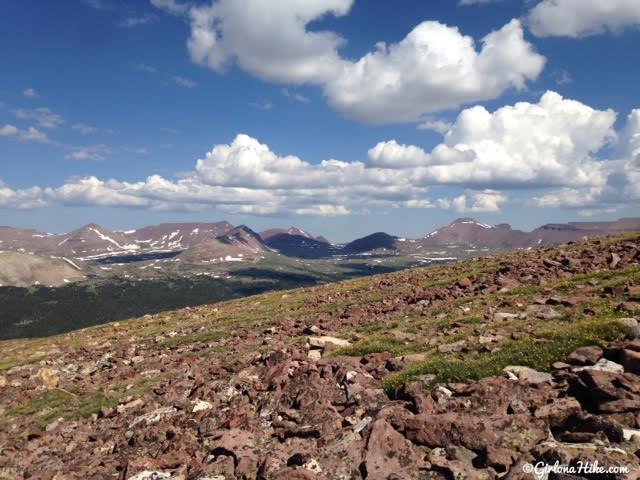 After we took a break at the pass, we decided to explore the ridge. It's a little hard to see in this photo, but directly center is Red Castle Lakes, and you can see the small peak. Crazy to think we were so close to it, but on the other side of the ridge!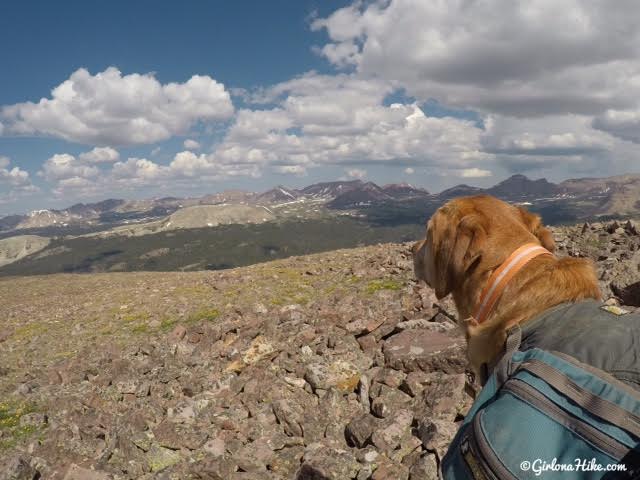 Charlie takes in the view. Seriously, this is one of my favorite views in the Uintas right next to Dead Horse Pass. You could see so much!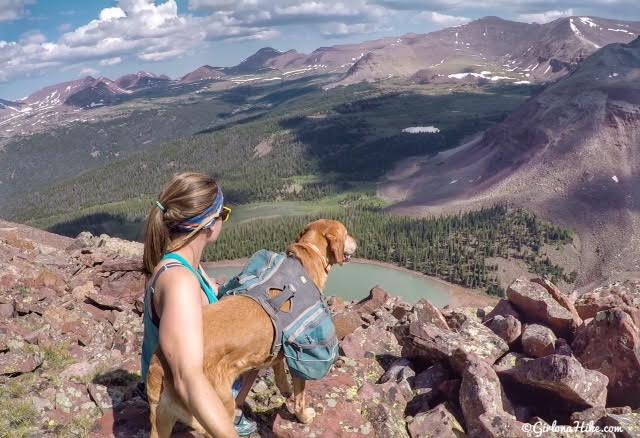 Looking down to Milk Lake. Milk Lake is a 3 mile (one way) hike from Farmer's Lake. It's a popular lake to backpack to as well. That's South King's Peak straight ahead! Many people will make a loop out of this route – head up the Swift Creek Trail, possibly camp, hike over Bluebell Pass and camp at Milk Lake, then head back down via the Yellowstone Creek trail back to the same TH. It would be a fun loop. The only reason we chose not to loop it is because I heard that the Yellowstone Creek trail is fully in the trees, with no views. I wanted to stay away from marshy, mosquito areas, and have more views.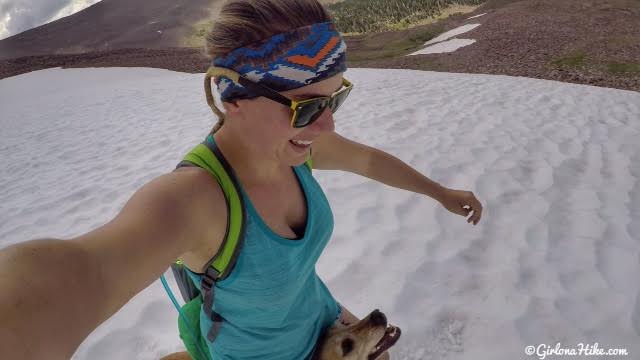 Heading back to camp, we glissaded down the snowfield. Charlie loves to ski down right between my legs – it makes for a challenging but fun slide down!
We spent 2 nights are 3 days in this area and it was awesome. I loved that we didn't see any people, it was cooler than the valley, and we got to hang out in the tent listening to the thunderstorms. The mosquitoes were really bad of course, but as long as you cover up and apply 100% deet it wasn't bad. The ridge was nice to escape the mosquitoes since we were away from the water and had a nice breeze.
Trail Map
My track via Gaia GPS – the best tracking app! Get your app here for a discount.

Save me on Pinterest!