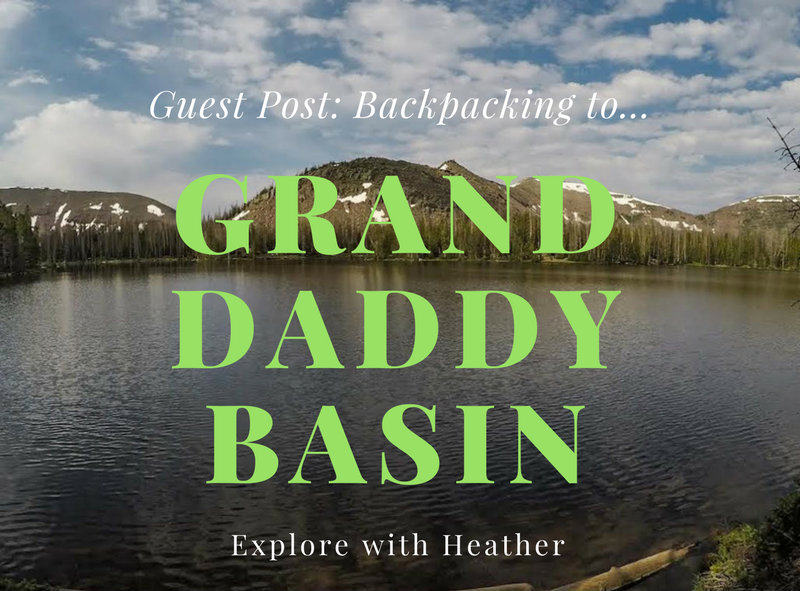 Today's Guest Post comes from Heather Lyon! She, her husband, and dogs recently took a backpacking trip to Granddaddy Basin in the Uintas, and she's here to let us know all about it!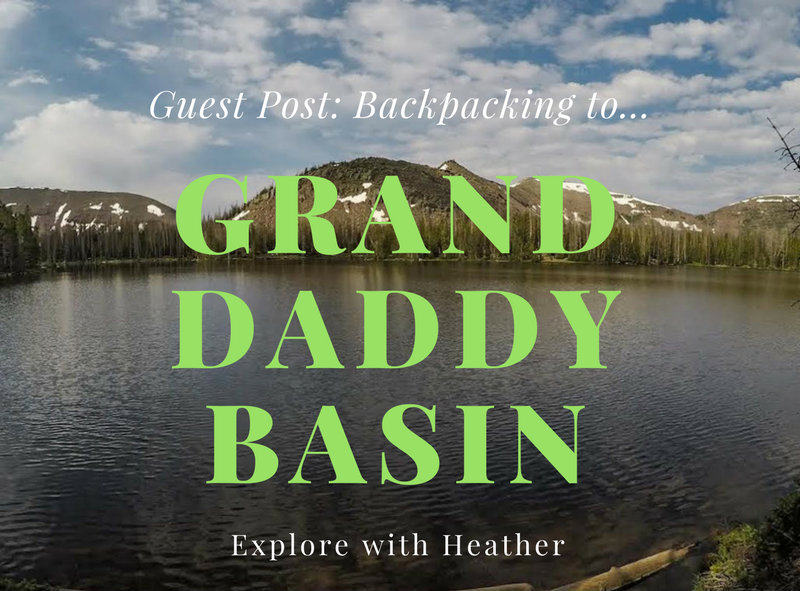 By Heather Lyon
The Uinta National Forest about an hour due East of Park City, Utah is known for many things. Some of these include Kings Peak, over 1,000 alpine lakes, awesome fishing, and our favorite – prime backpacking. It's so simple to go there. Just buy a map, pick a trail, and how far in you want to go. You will surely find yourself with some of the best views at your chosen campsite for the evening.
Due to the high snow year of 2017 we were delayed in our forested backpacking trips. I made two suggestions for our first days off in July and my partner, Thomas, responded "I love Granddaddy Basin!" That settled it. With some research you will be able to look based on mileage and pick out a nice lake in the whole basin to find yourself a home for a night or two. Don't worry, there are about 17 named lakes and plenty more unnamed!

The trail guide is for getting into Granddaddy Basin area, and not for a specific lake destination. Look at a map and you should be able to pick a good lake to camp at. Or, if you want to attempt to avoid the bugs you can opt not to camp at one of the lakes. We camped on a ridge overlooking the basin and it was a little less buggy than the lakes. But unfortunately, not by much.
Directions
If you are driving from SLC, use this map.
The last 5 miles of the drive is a rough dirt road that winds up Hades Canyon. Even though at the top 95% of the vehicles parked there were trucks I did see a few small passenger cars like an Elantra.
Trail Info
Distance: 8+ miles RT
Elevation gain: 950 ft
Time: 1 night minimum, depending on your route
Dog friendly? Yes, off leash
Kid friendly? Yes, ages 12+ that have backpacking experience
Fees/Permits? None
Best time to hike? Middle of the week to avoid the crowds and July through September when Hades Canyon Road is open and most of the snow has melted (depends on each snow year).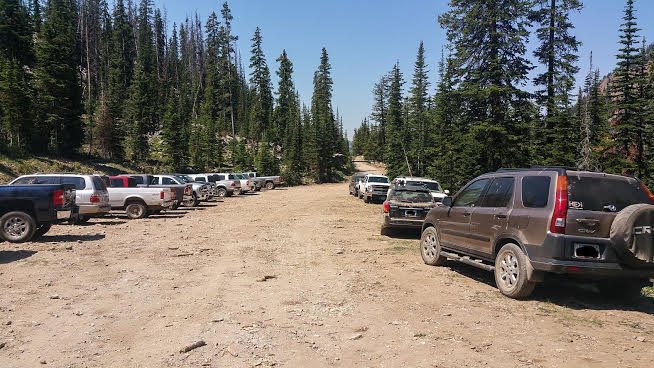 Parking area – lots of cars!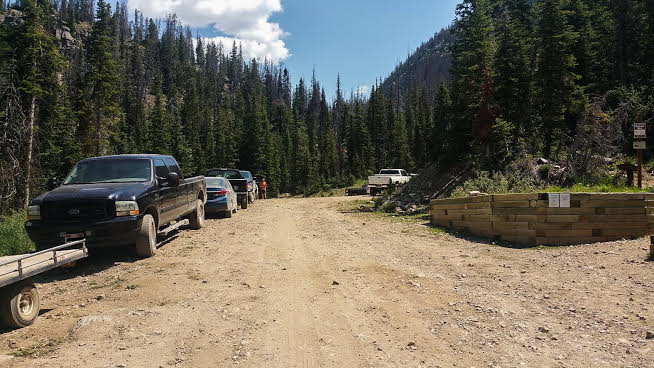 More cars.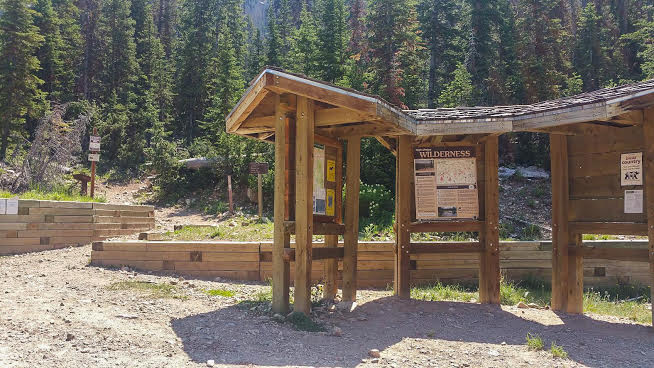 The trail begins just to the left of the three signed posts. The major signs to pay attention to is no camping within 200 ft of water, trails, or lakes, and no fires with 1/4 mi of any lake.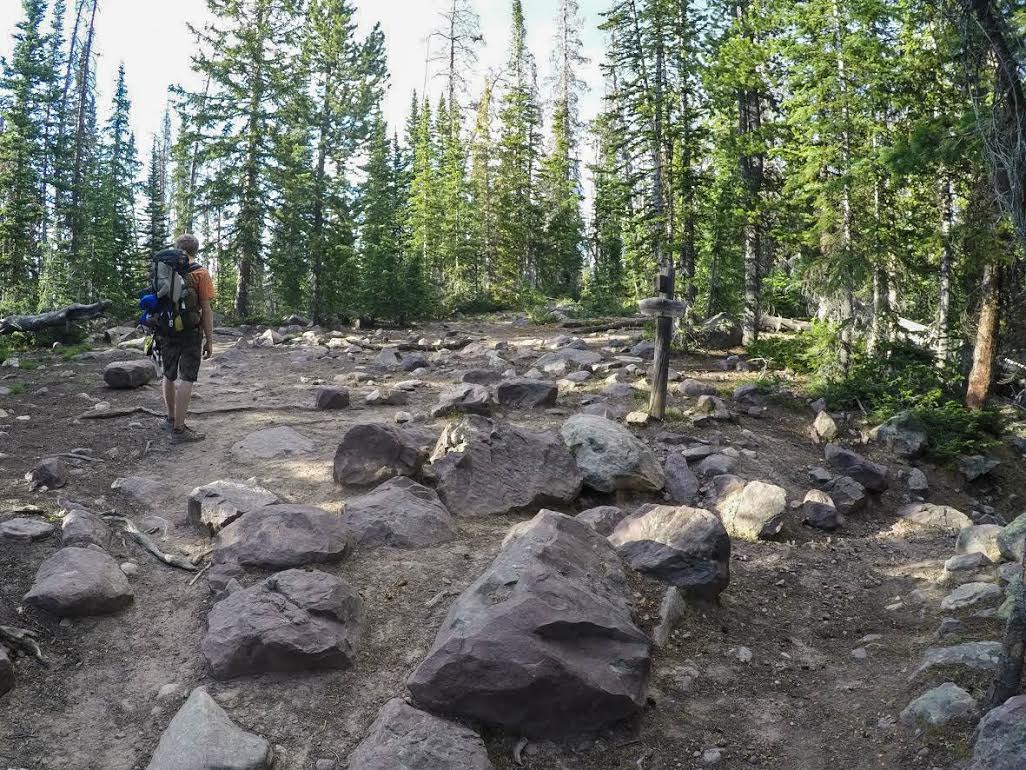 There were a few stream crossings along the trail but there is the only one with an established bridge to cross and it is about 5-10 minutes walk up the trail. Getting into Granddaddy Basin from the Grandview Trailhead is super easy, because there is only one trail to follow the whole way. It is rocky and well worn so it should be easy to stay on track.
 The first lake or pond you come to, I couldn't find a name for, but it's right at Hades Pass. This is the high point of your trip into Granddaddy Basin, and now that you have climbed 950 ft in elevation you will start descending down to the actual basin.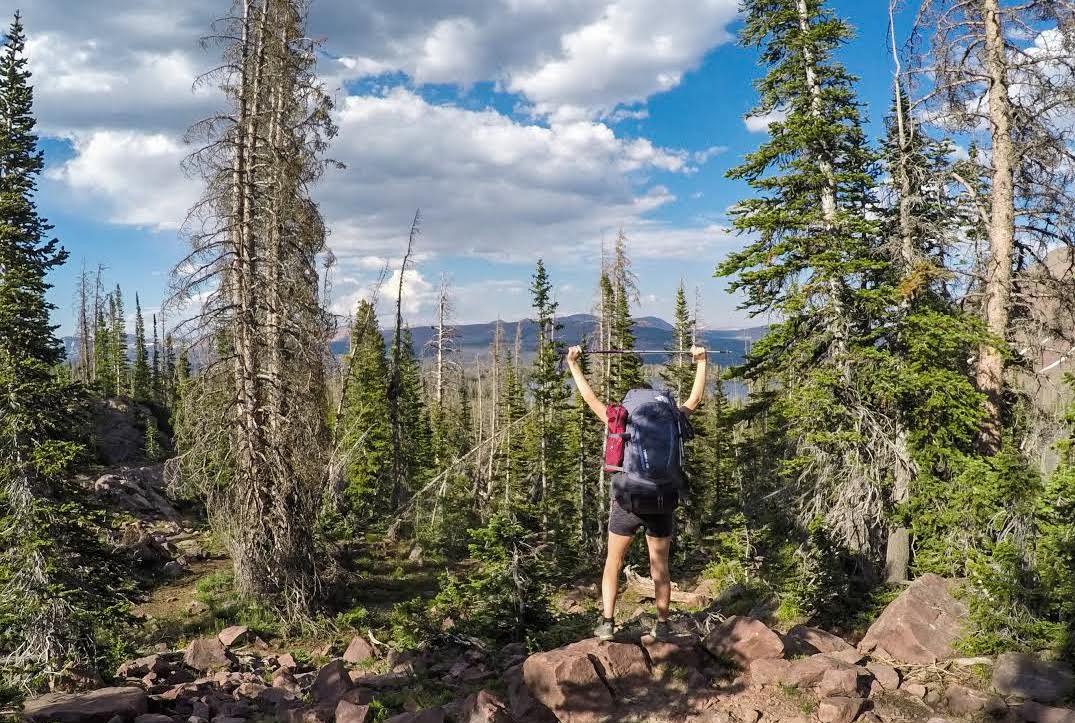 From Hades Pass is where you catch your first glimpse of Graddaddy Lake. You can somewhat see it right through the trees by where my arms are raised.
Your first trail split is 3.5 miles into the hike. Based off what lake you choose and your map, you will either continue straight or turn right. Going right takes you to Granddaddy Lake and Lodgepole Lakes and straight will take you to Besty Lake, and many of the others will continue splitting off on trails from here. So have a fun time, be sure you have a map and a destination picked out and be safe!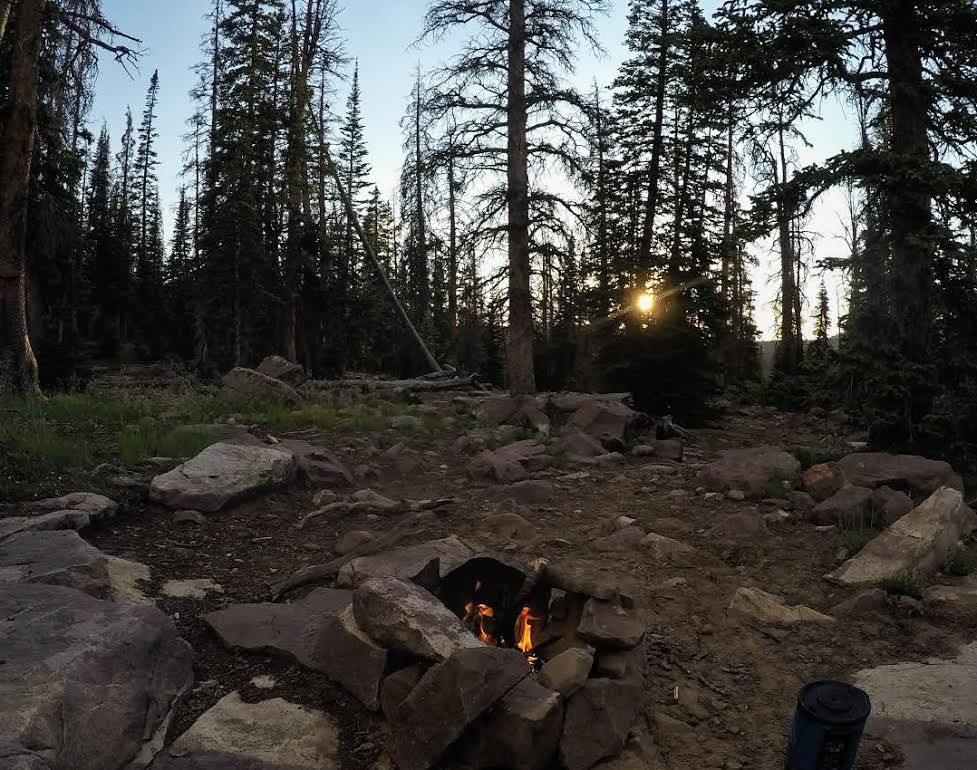 Since the bugs were so awful this trip we opted not to camp by a lake. Instead, we ended up on a ridge overlooking part of the basin and we were able to watch the sunset through the trees.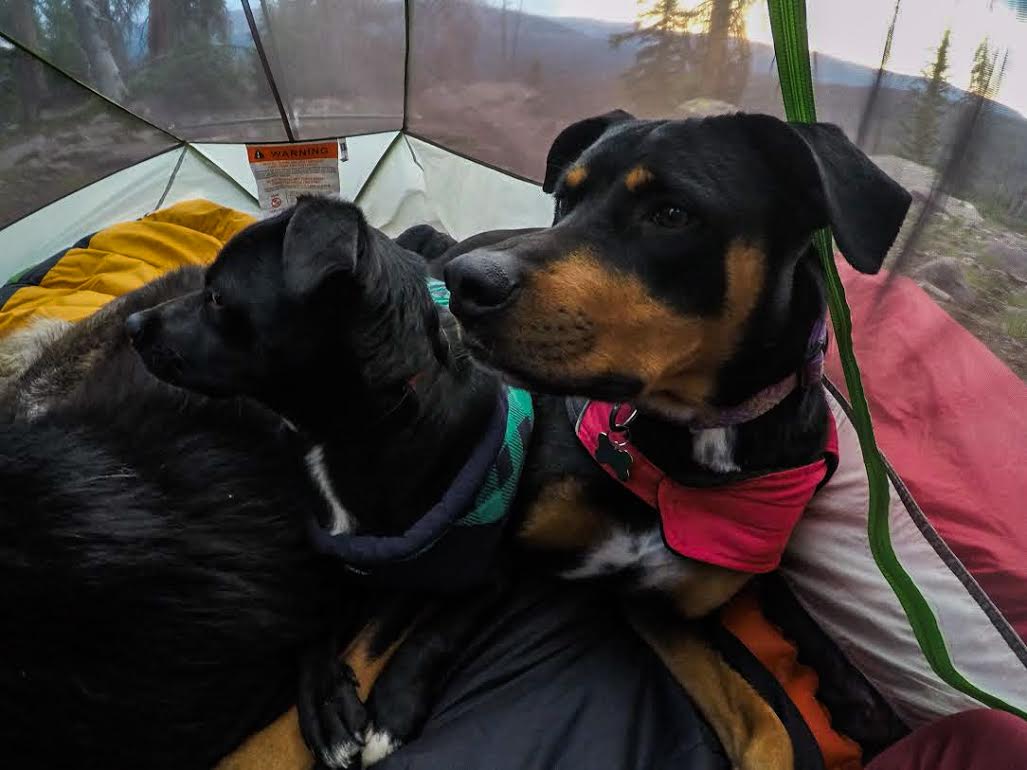 The dogs enjoy escaping the bugs for a little bit. The dogs carry their own Ruffwear Approach Pack, and carry their own food, bowl, and even my sandals! Remember, that just like people dogs should work their way up to carrying a max weight.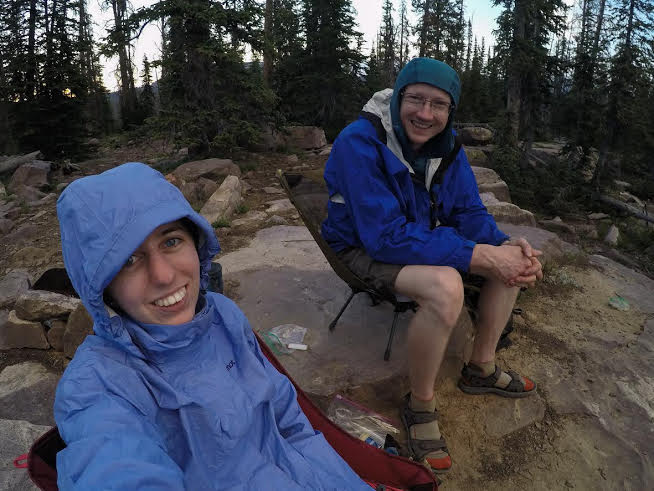 Here we are enjoying the night as the sun set. Our rain jackets came in handy for keeping the mosquitoes away from us. They are bad this time of year and I highly suggest packing some 100% deet for you and some non-deet for dogs.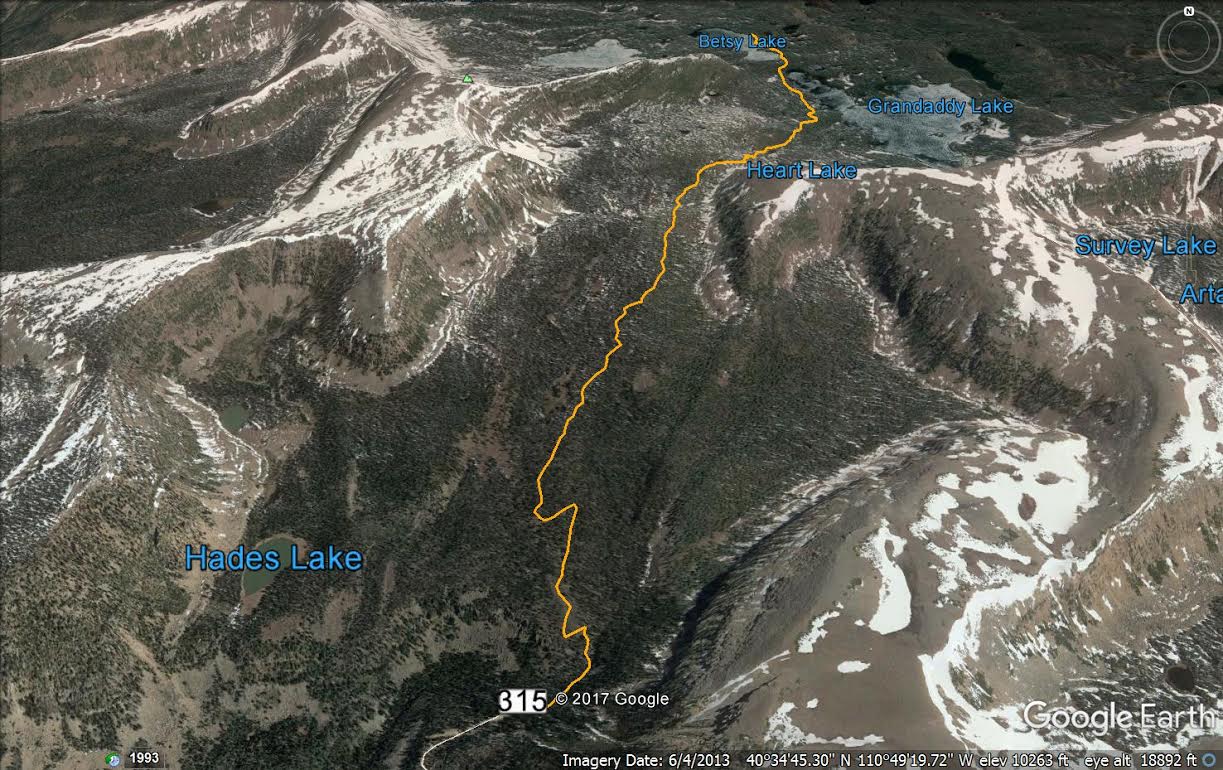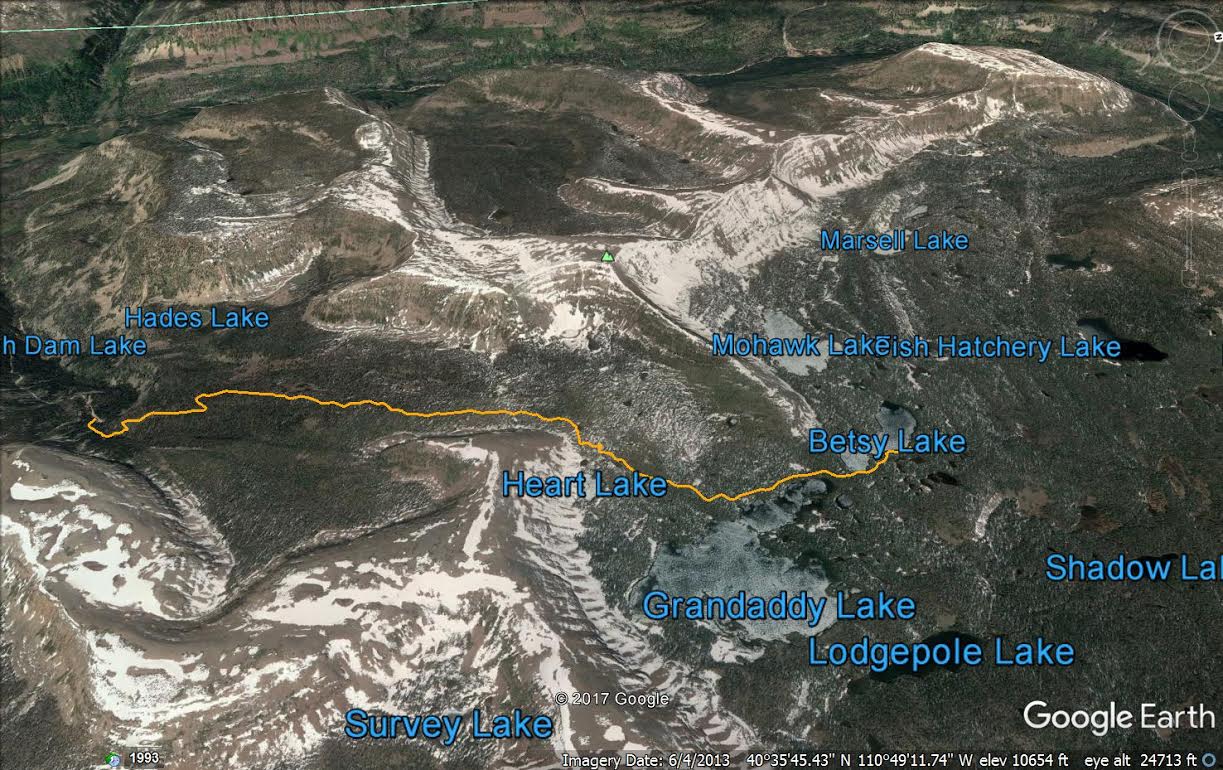 Here are two maps of the route into Granddaddy Basin. I cannot stress enough to bring a map of the area with you so that you can navigate your way to a camping spot.

 Be sure to follow Heather on Instagram!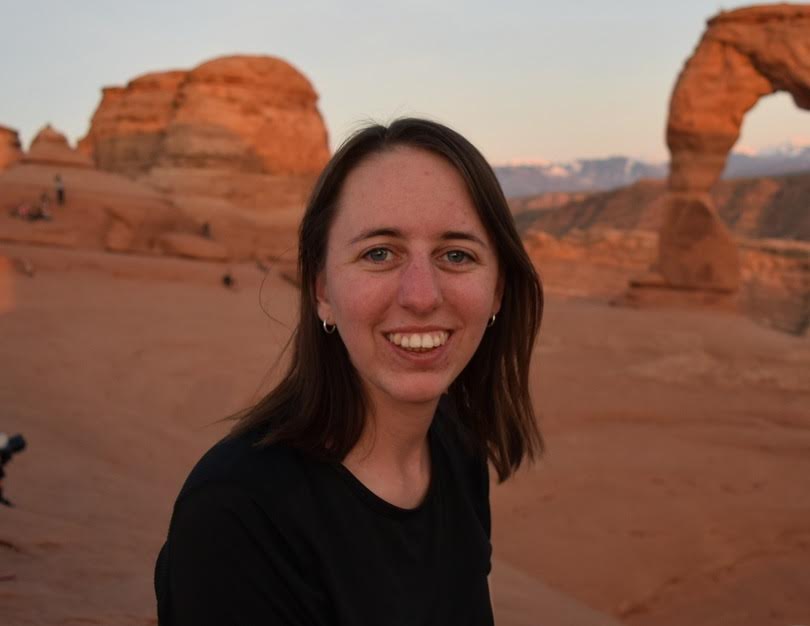 Heather Lyon was born and raised in the White Mountains of New Hampshire. With growing up in an outdoor based family, it is only natural that she found her way West. She now calls Big Water, Utah her home. If you ask her parents, they will tell you that she announced on a ski vacation at 12 years old that she would move to Utah one day. That day came, and she has never left since. You can find Heather and her three dogs (Maya, Watson, and Ghundor) adventuring among the peaks and desert of Utah.