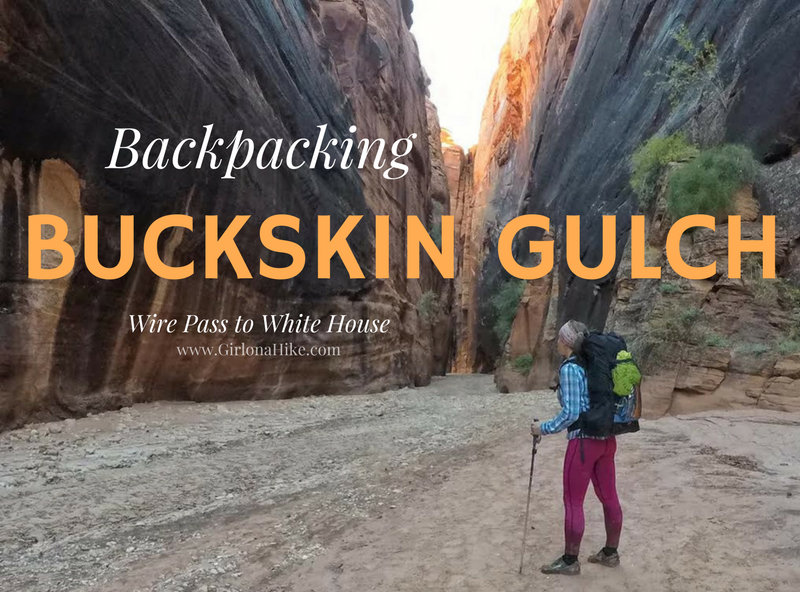 Backpacking Buckskin Gulch – Wire Pass to White House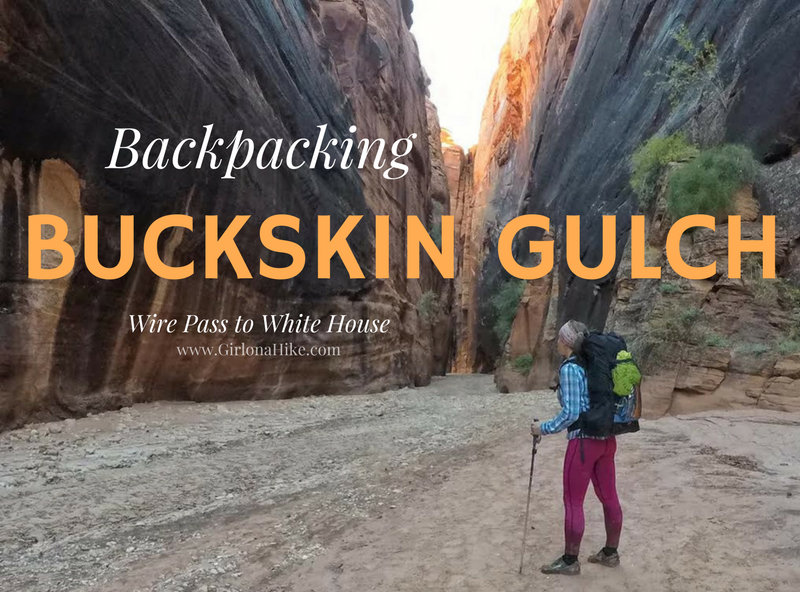 Buckskin Gulch is the longest and narrowest slot canyon in the world – a serpentine hallway with walls of solid stone and a floor dotted with boulders where in some places it's so tight, even the sky is not visible. The rock walls tower anywhere from 100-300 ft tall, and at it's narrowest, is only 2 feet wide. 
About
You can hike Buckskin Gulch in a single day, or carry a full pack and camp in the heart of the slot canyon – an experience only done by up to 20 people per night in the entire 45 miles slot canyon.
Because little sun gets through, and as flash floods sculpt the slot canyon, they leave stagnant pools that rarely evaporate. They're frigid, putrid, mucky, muddy, disgusting – name your horrible adjective and that's it. Hikers must wade (or sometimes swim) through these nasty pools of thick mud that clings to anything and everything. Just imagine stepping through wet mud that is thick up to at least mid-calf and a consistency of wet cement. 

You won't come out of this area dry or smelling like roses – be prepared for the worst. Even though this all sounds horrible, the hike through an amazing area makes up for the bad parts. The colors inside the slot are always changing depending on light, and every turn brings another smile and light to your eyes. It really is one of the most fascinating slot canyons I've ever been to. It's a one of a kind trip, and highly worth the effort it takes to get through the canyon.
Directions
Directions are from Kanab, Utah
Trail Info
Distance: 21 miles point-to-point
Elevation gain: 720 ft (loss), 100 ft (gain)
Time: Day Hike – All day (12-14 hours)
Backpack – 1 night minimum
FAQs
How do I get a permit?
If you want to backpack you must apply in advance for permits online HERE. Permits cost $5/person and $5/dog – the fee is the same for both day hiking and overnight. You can pick up day permits at any of the four trailheads (Wire Pass, White House, Lee's Ferry, and Buckskin TH).
Make sure you read the rules on how to get the overnight permit towards the bottom of the BLM website. Since we wanted to hike in October, I had to apply for the permit on July 1st, and I found out right away that I got the dates we wanted. You do pay right when you apply. Overnight permits are limited to 20 people per day (dogs don't count against the total), and is a cumulative total from all four trailheads.
Once you get your permit, you should get an email like this: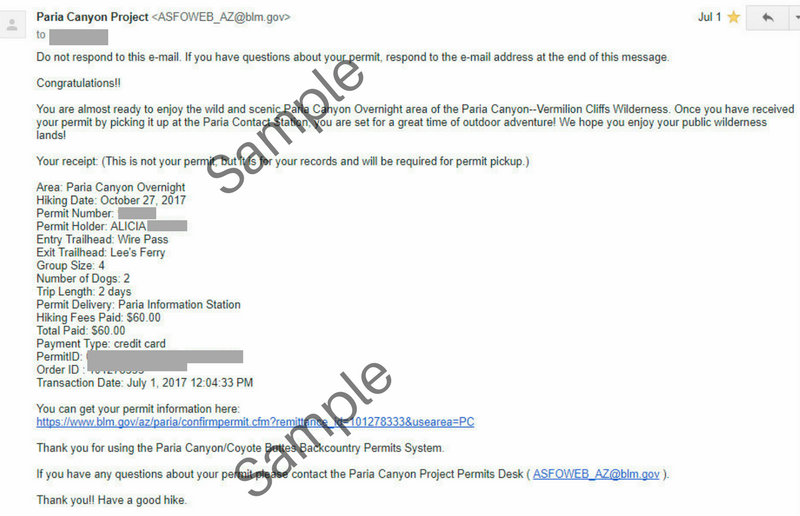 Notice that my exit says Lees Ferry? What I didn't realize when I got the permit is that the whole canyon is actually 44 miles one way (Buckskin Gulch turns into Paria Canyon); most people take 4-5 days to complete the trek from Wire Pass to Lee's Ferry. This was a HUGE mistake on my part. I didn't fully research the canyon before getting the permit. There was no way we would be able to do 44 miles over 1 night. So, I had to change my exit to White House. You're not technically supposed to, but that was the only option we had and we let the rangers know ahead of time. I'm hoping that others will learn from my mistake! Do plenty of research and know how many nights you need for whatever route you chose to do: 1 night for Wire Pass to White House OR 4-5 nights for Wire Pass to Lee's Ferry.
You must pick up the actual permit the day before your entry, where you will get your WAG bags, maps, and learn about current conditions.
When is the best time of year to backpack Buckskin Gulch?
Summer or Fall is ideal but there are still pros and cons to each.
Summer can be extremely hot, even in the canyon, and the weather to prone to monsoon season so flash floods are more common. If there is ANY risk of flash flood, hikers/backpackers are not allowed to enter the canyon.
Fall will have cooler temperatures and less chance of flash floods but they are still possible. The water is already really cold, so layering clothing is key.
Winter & Spring would be very cold, and wading through the water will be freezing as well. You also have the least amount of daylight to complete this as a day hike (you'll likely end in the dark).
Are dogs allowed? 
Yes, dogs are allowed off leash. It is a good idea to always have a leash handy, in case you come near wildlife. Dogs should be able to hike for long distances and over rocky & sandy terrain, as well as swim through narrow slot canyon sections. Dog poop is required to be packed out. Dogs should wear their own backpack, to help lower them down a few obstacles. Dogs need a permit and cost $5/dog – you need to apply for the dog permit the same time you get the human permits. There are 3 obstacles where dogs will need to be lowered. You only need ropes if you have a dog over 70 lbs and a regular dog pack harness won't hold them. We were able to lower each dog down to a person below without ropes, but our dogs weigh 70 and 40 lbs.
Is this a good backpacking trip for kids?
Just like adults, it really depends on their experience, fitness level, and ability to hike long distances. The trail point-to-point is 21 miles, so they need to be able to carry their own pack whether you day hike this route or backpack.
Is there a clean water source to filter water?
The first water source is typically the Paria River confluence, 14 miles in (just past the first campsites). Sometimes there is a spring lightly flowing just before the first campsites, but it's too shallow and it looked pretty mucky so we skipped filtering there. We waited until the confluence where the water was a little clearer and flowing much better.
What should I wear?
It depends on the season. The standing water is cold year round, so you can hike in swim shorts or if temps are cooler it's a good idea to wear neoprene socks and pants to retain warmth. Wear trail shoes you don't mind getting completely muddy and soaking wet. For your upper body, wear layers. Tank top as a base layer, long sleeve, and puffy and/or some kind of jacket. When you are in the heart of the canyon it gets darker and colder, even in summer. Be prepared for any anything.
Since we went at the end of October, I wore my normal hiking clothes for my upper body (tank top, long sleeve, and puffy, and beanie/gloves), and for my lower body I bought neoprene socks and pants and hiked in those all day, both days.
What are the regulations for backpacking here?
Please read the BLM Paria Canyon Permit website for regulations.
What guidebook or map do you recommend?
I used these two books and this map. You don't want to backpack with books so it's best to also have the Gaia GPS app (or similar tracking app). You can download the map of the area before heading out, create waypoints, track your route, etc. The ranger station also provides you with a small map.

Day 1 – 14 miles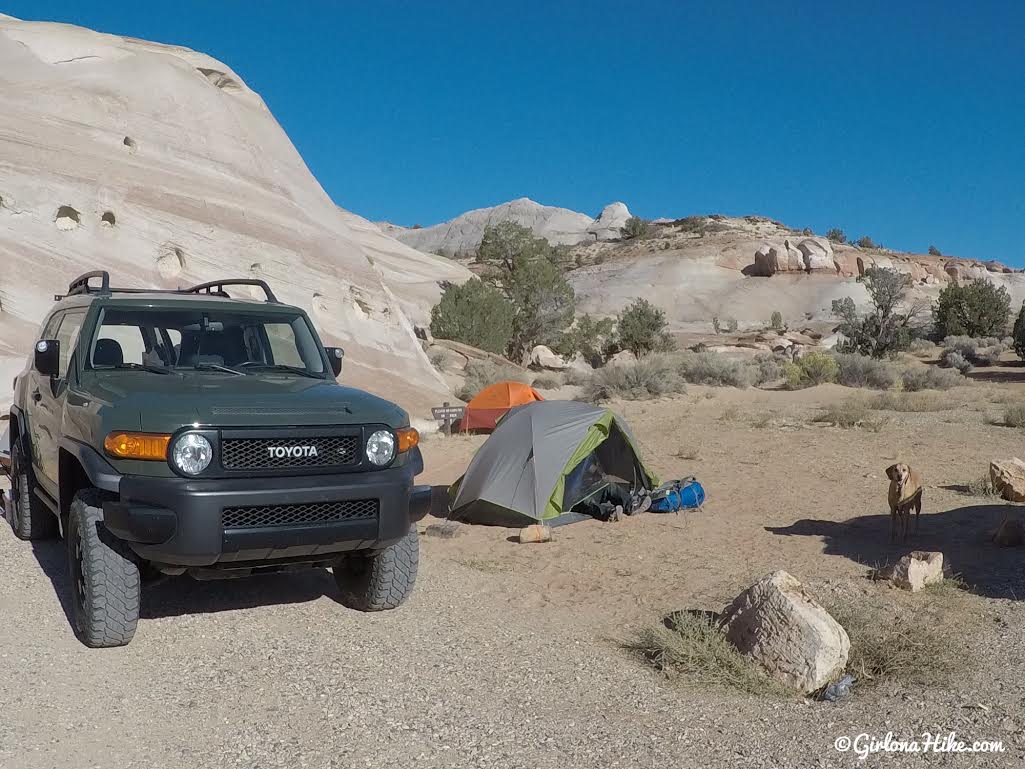 The first night we camped at the White House Campground/TH since we would need to leave a car there and this is where our hike would end on the way out. It's a nice, small campground with about 6 campsites that even RVs can fit into. There is one port-a-potty, and a fire ring and table at each site. When we camped here there was a sign saying the BLM was doing improvements on the campground, so it was free to camp (there was no sign of construction or improvements being done, but we didn't care!).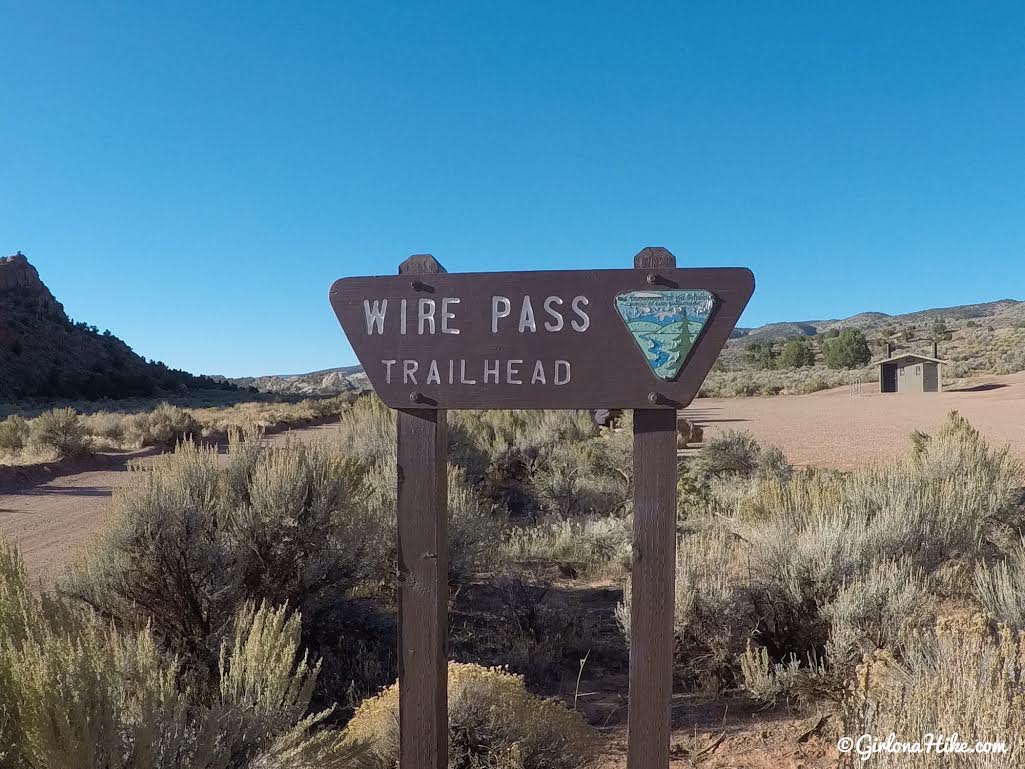 The next morning we headed over to the start of our route, Wire Pass. It's the most popular starting point for Buckskin Gulch. There's a huge parking lot (60-80 cars could probably fit there). This is where you can also pick up and pay for a day hike permit. You do need at least a mini SUV (or even better 4×4 drive) to reach the Wire Pass TH. Small cars won't be able to make it since the road can be very rutted out, extremely sandy, or even washed out.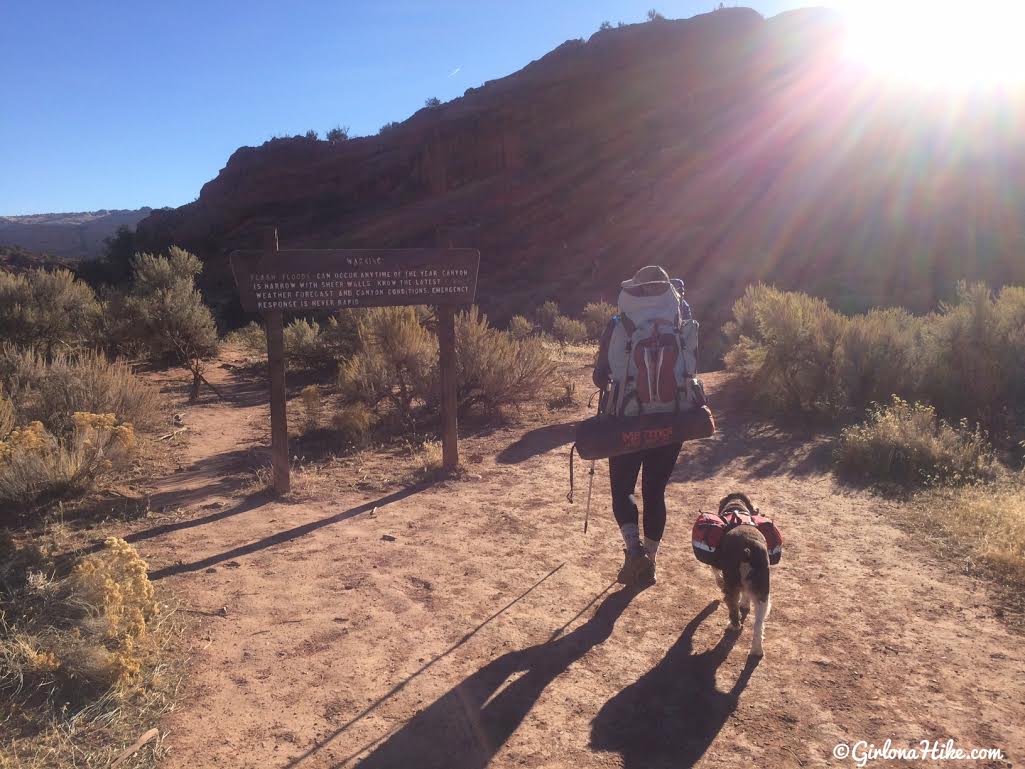 To start the hike, cross the road, hike past this big brown sign, and follow the wash to the left.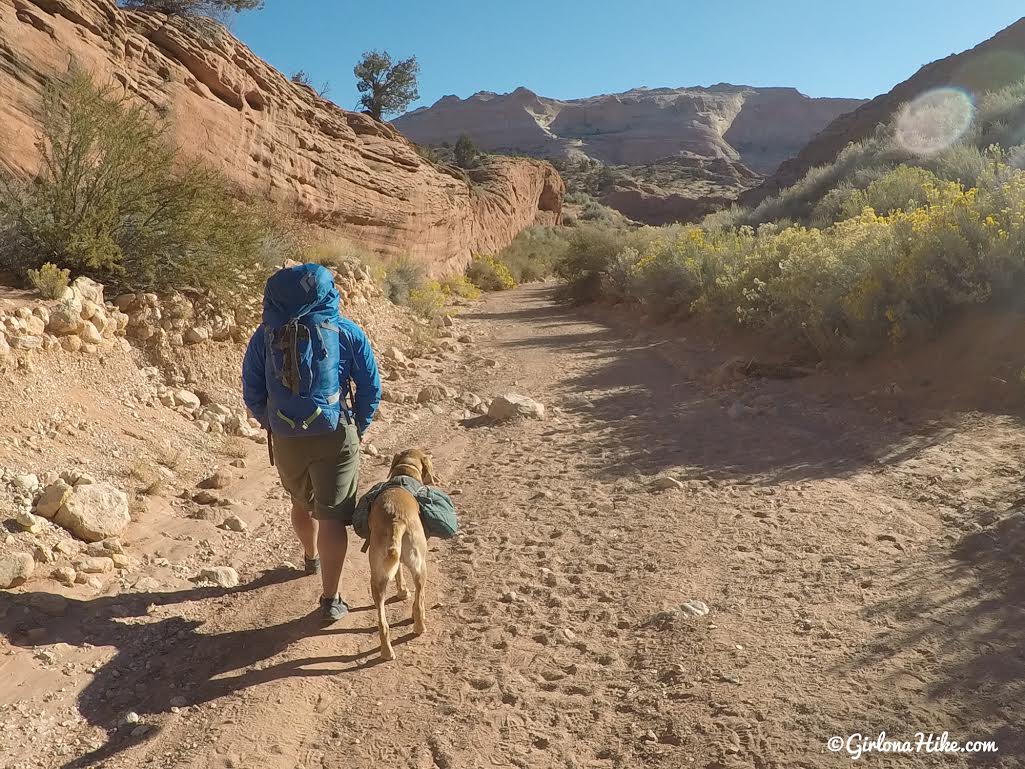 Hike in the wash for about 3/4 mile.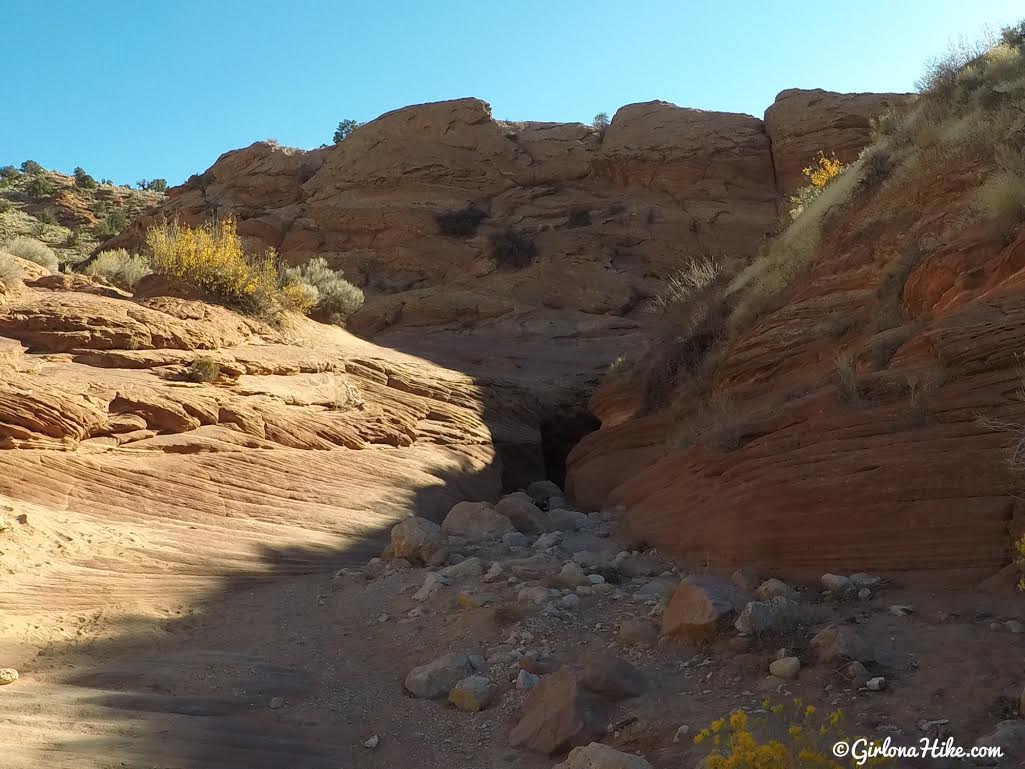 The start of the slot canyon! It looks so small now, but just wait!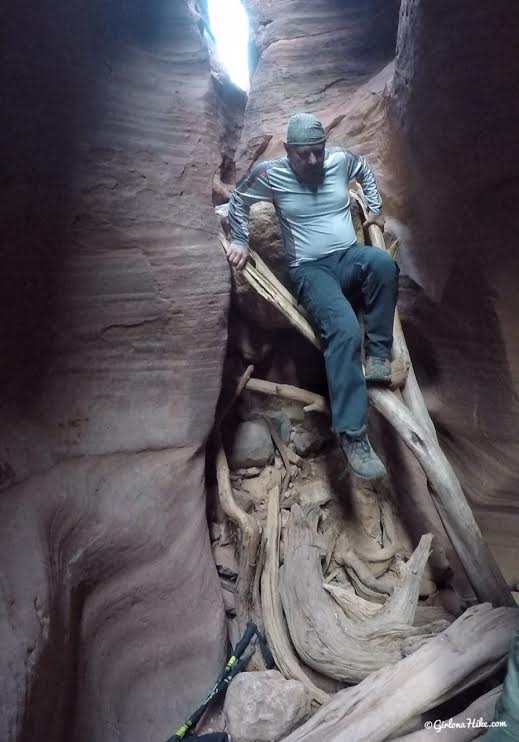 You'll reach the first obstacle within just a few mintues of entering the slot canyon. It's a 10 foot drop that is actually fairly easy to get down. One person climbed down, we dropped all the packs down, then lowered the dogs by their harnesses, then everyone in the group got down.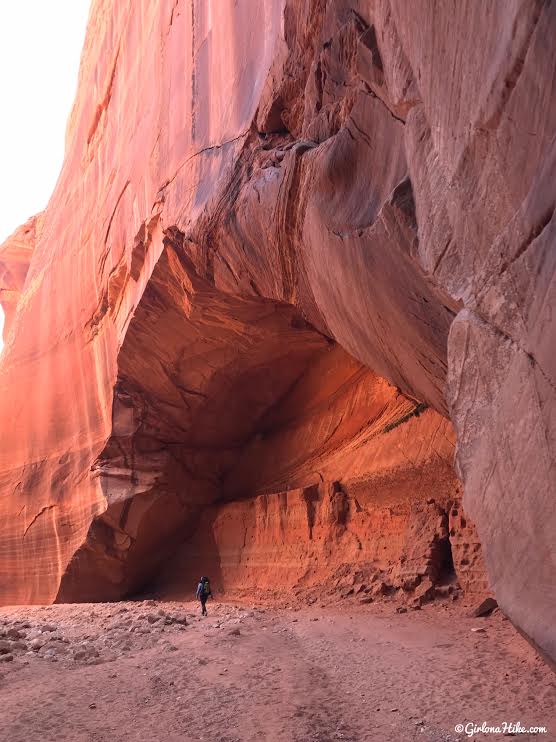 Just before the first confluence, you'll pass this large alcove on your right. There's a few petroglyphs here as well. Once you reach the confluence, turn right, and you'll now be in Buckskin Gulch proper.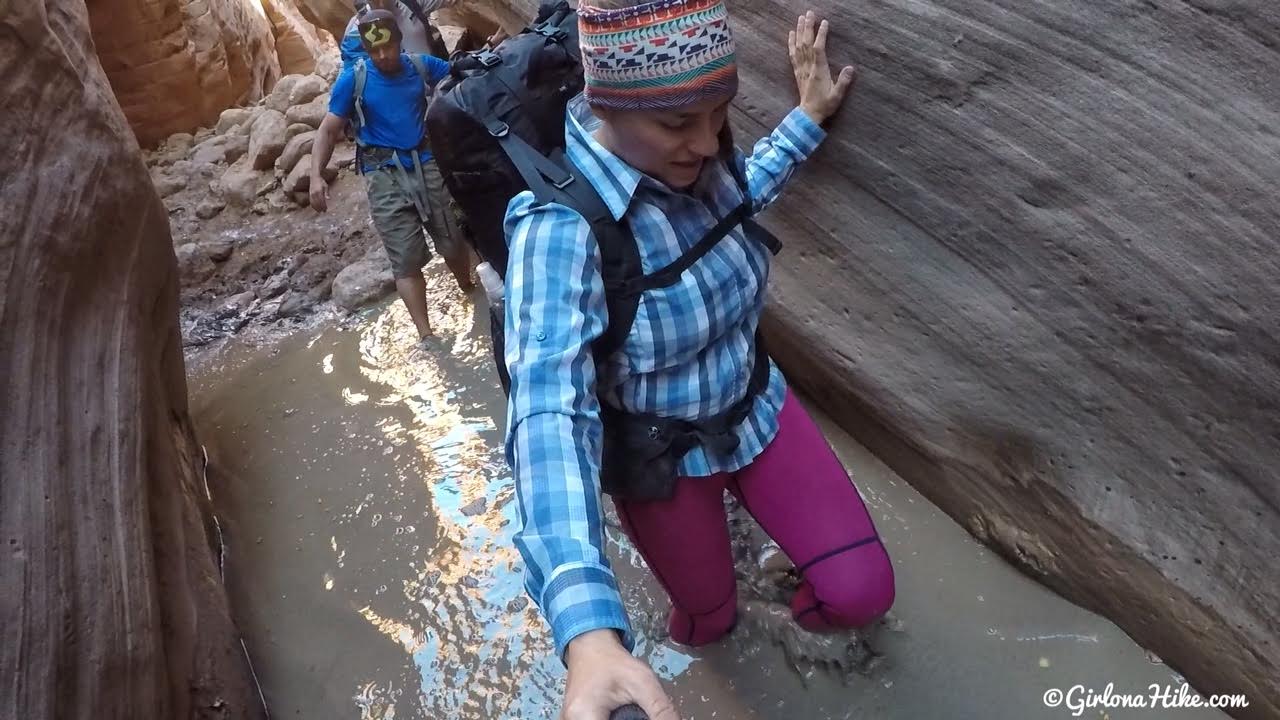 Within the first few minutes of turning at the confluence, we were met with our first mud pool, yay! Most of the pools we waded through were only knee deep. Head over to my Instagram (@girlonahike) to watch the video for this section!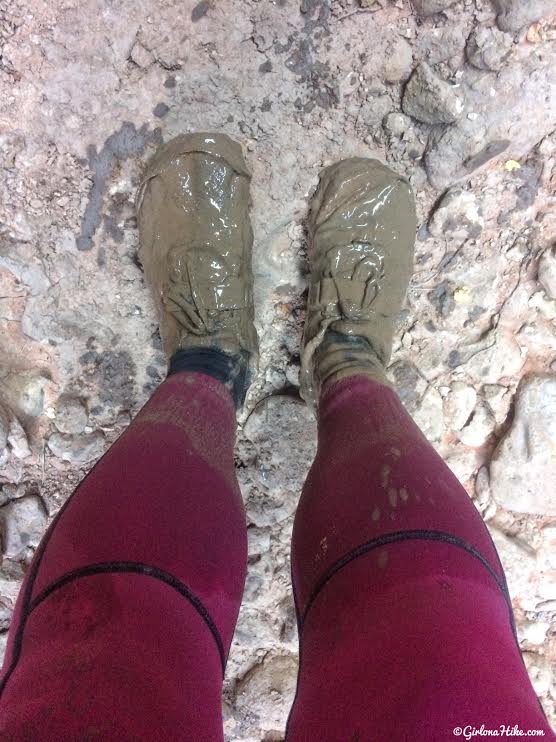 Now you can see why I don't recommend wearing your "good" hiking shoes! Wear old shoes you don't mind getting totally muddy, stinky, slimy, and gross and that you are ok with just trashing when you get done with the hike. There was no way I'd be able to save my trail runners, so I already planned out that I'd (sadly) be throwing these away. I also don't recommend wearing shoes with holes like Keens or Chacos – there's some nasty ass junk in this water that would be creepy between your toes, not to mention you'd be stopping to get mud and rocks out of your shoes after each pool.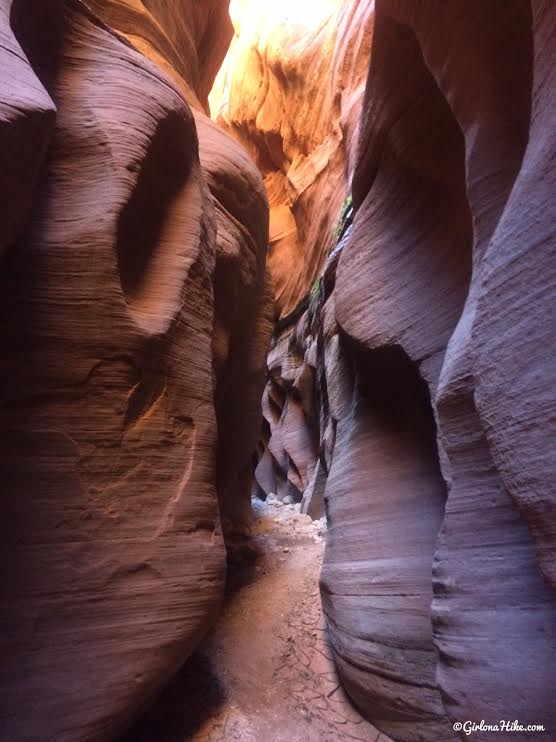 In between pools of water, you get to enjoy the molded canyon and varying colors. It really is one of the coolest slot canyons I've been in.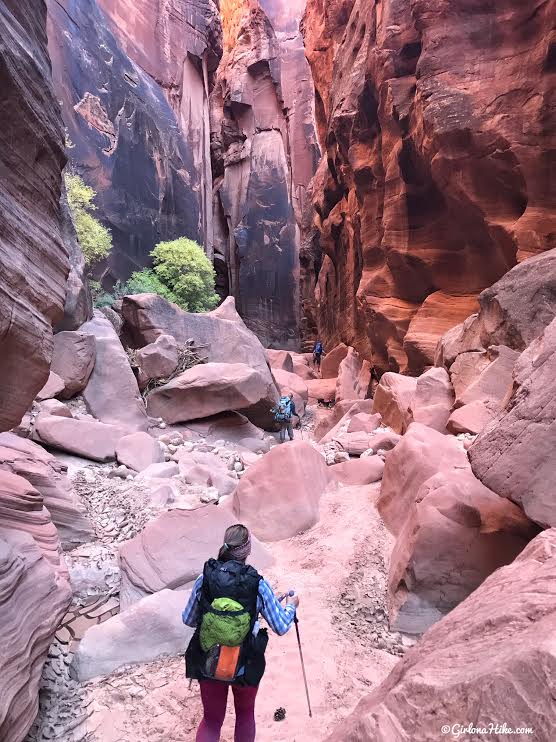 There are a few sections of hiking through large boulders, but it's not hard to maneuver around.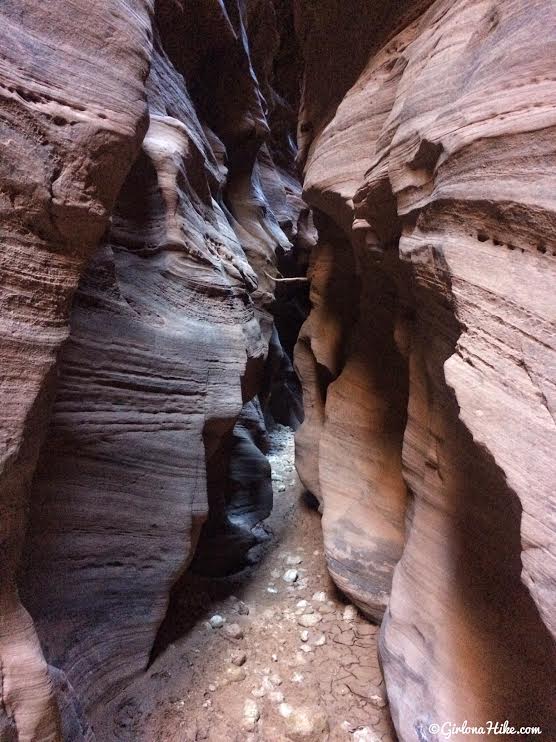 More slot canyon goodness!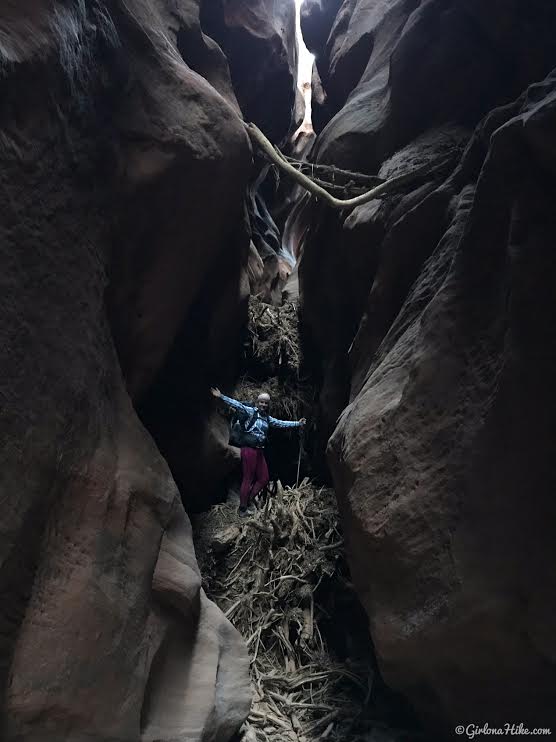 Another obstacle is climbing over this 10 foot tall built up wall of logs and debris. Charlie needed a boost over this, but it's not hard for people to climb over, even with packs on. You can see there's another large debris pile above my head but you hike underneath that one.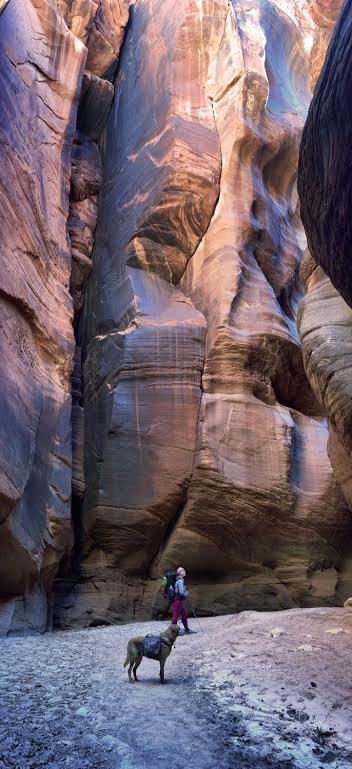 Photo by @iboyer 
Vertical pano to capture the height of the canyon walls.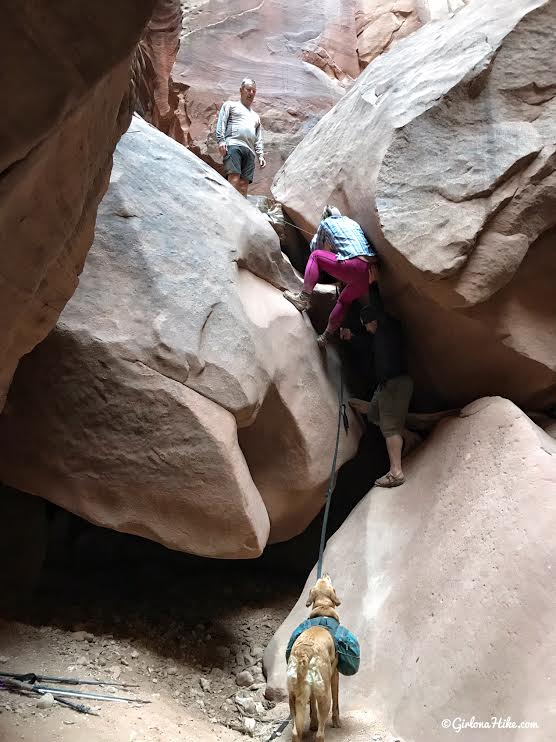 The last obstacle – getting down either the moqui steps or if a rope is available, a short down climb over boulders. Just like the very first obstacle, one person got down first, we lowered the dogs and packs, then the rest of us followed. I was SO glad there was a rope to get down, there was no way I (or Charlie) would be able to get down the moqui steps.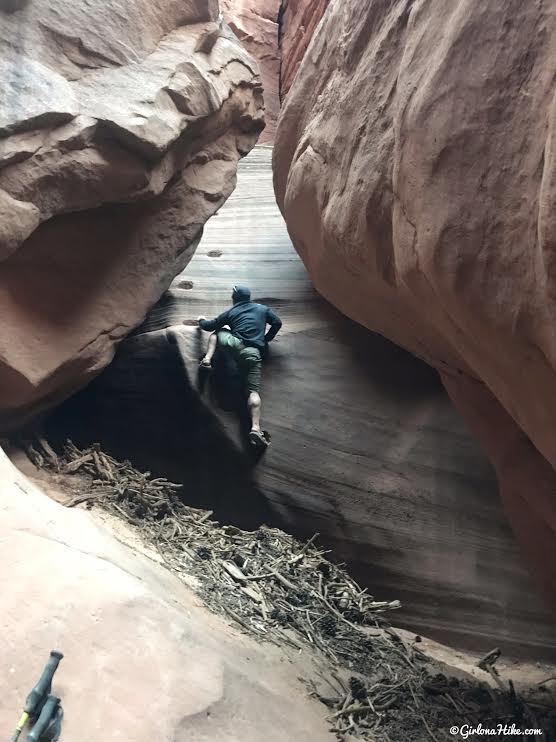 Ian tried to climb up this just to see what it was like, and because the wall is vertical, there's no way we could have either lowered or held onto Charlie as we got down. You can also see how far apart the moqui steps are from each other. His lowest foot is also the first (or last depending on how you look at it) step to get up, which is about 3-4 feet off the ground.  Supposedly the BLM comes through and removes any human-placed ropes in the entire canyon (I don't know how often), so it might not be a bad idea to bring a rope to lower the dogs down with their harness, or even just your packs. Don't expect to see a rope for any obstacles to help you down. Once you reach this obstacle, you are only about 1 mile or so away from the first campsite.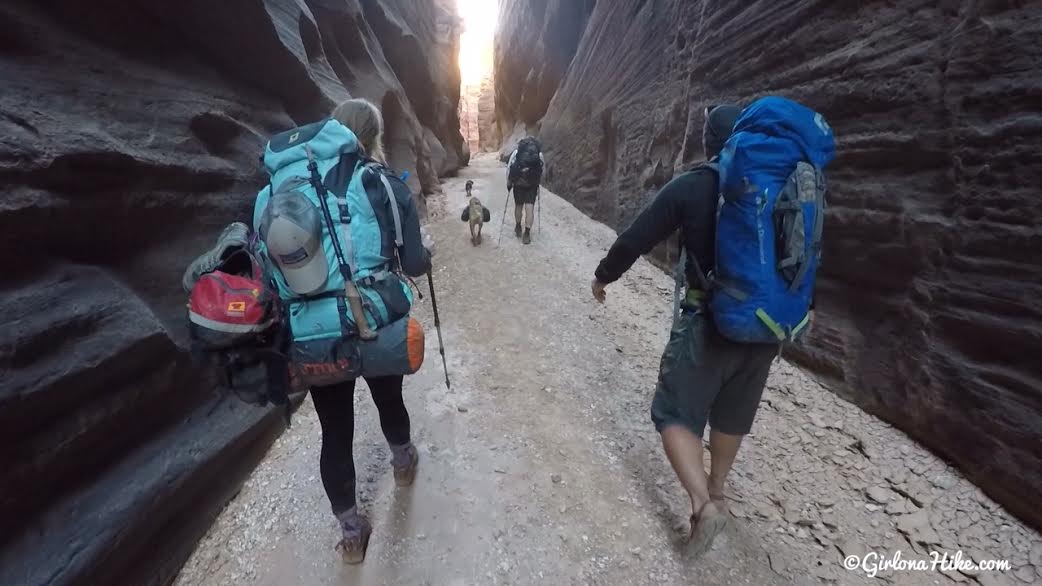 Some of my favorite sections of the canyon where the long, straight, hallways of rock.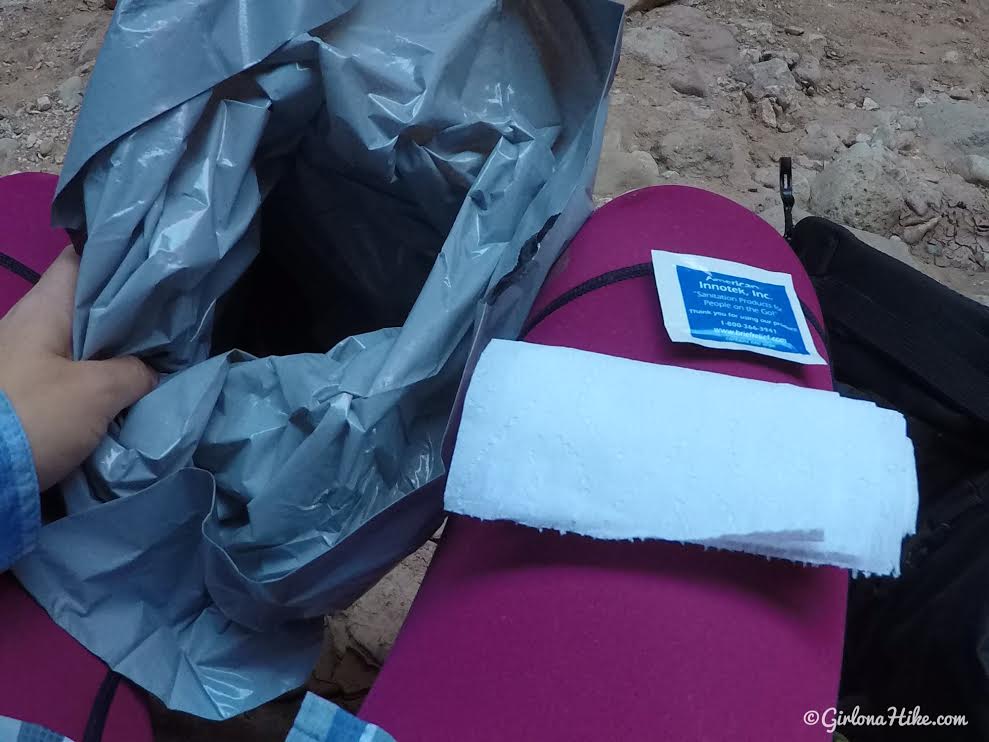 My first WAG Bag experience!
This was the first time I've ever had to carry pee and poop out of the canyon, and let's just say it isn't as easy for women to pee into this thing! The trash bag unfolds itself to about half the size of a normal trash bag (that would be alot of poop, just sayin'), and they also give you one hand wipe (mine was dry), and a small roll of TP. Inside the trash bag is some loose silicone to ward away smells. You do your thing into the bag, then tie it and roll it up back into the grey ziplock. Then you have to carry it around with you for the rest of the hike. It's not the best nor most appealing thing in the world, but it must be done in Buckskin Gulch.
You also have to carry out dog poop and pee. Now, there's no possible way to quickly get the WAG bag out of your pack, open it, and catch your dogs pee every 100 ft but, it's easy to clean up the poop. Each time the dogs pooped, I would open up the main trash bag, and try to scoop it up but my problem was that their old poop would fall out! Here's what I should have done – bring regular dog poop bags, then put those inside the WAG bag. No mess or clean up. Done.
That was a lot of talk about poop, let's move on!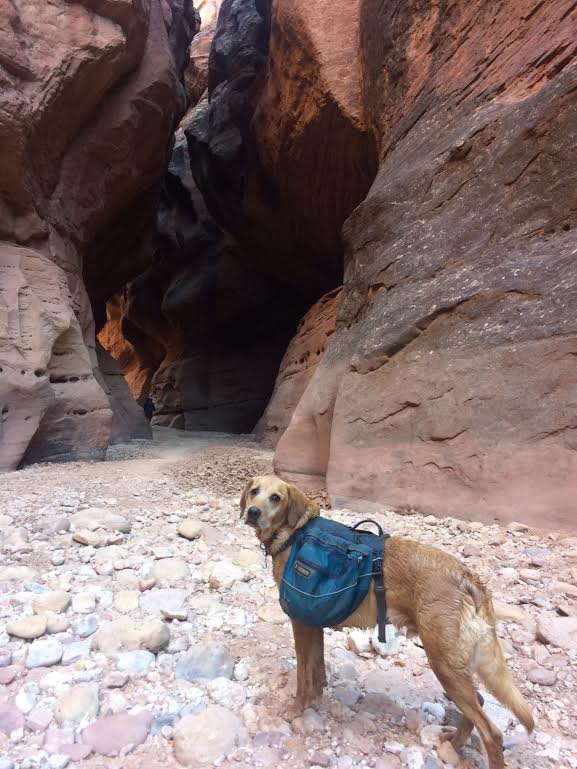 Charlie is ready to keep hiking.
Here's what he carried in his pack
Dog food
small leash
I carry a lightweight down blanket (the one from Costco) for him to sleep on at night for warmth and insulation.
Check out my post on Backpacking with Dogs!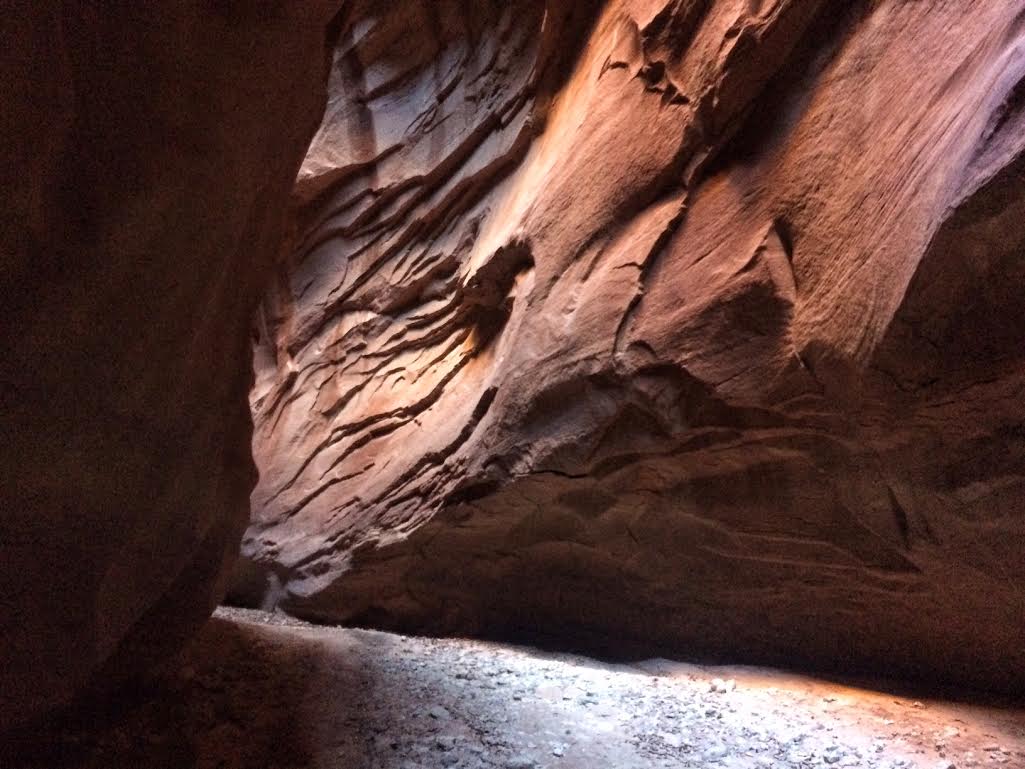 More dark passageways.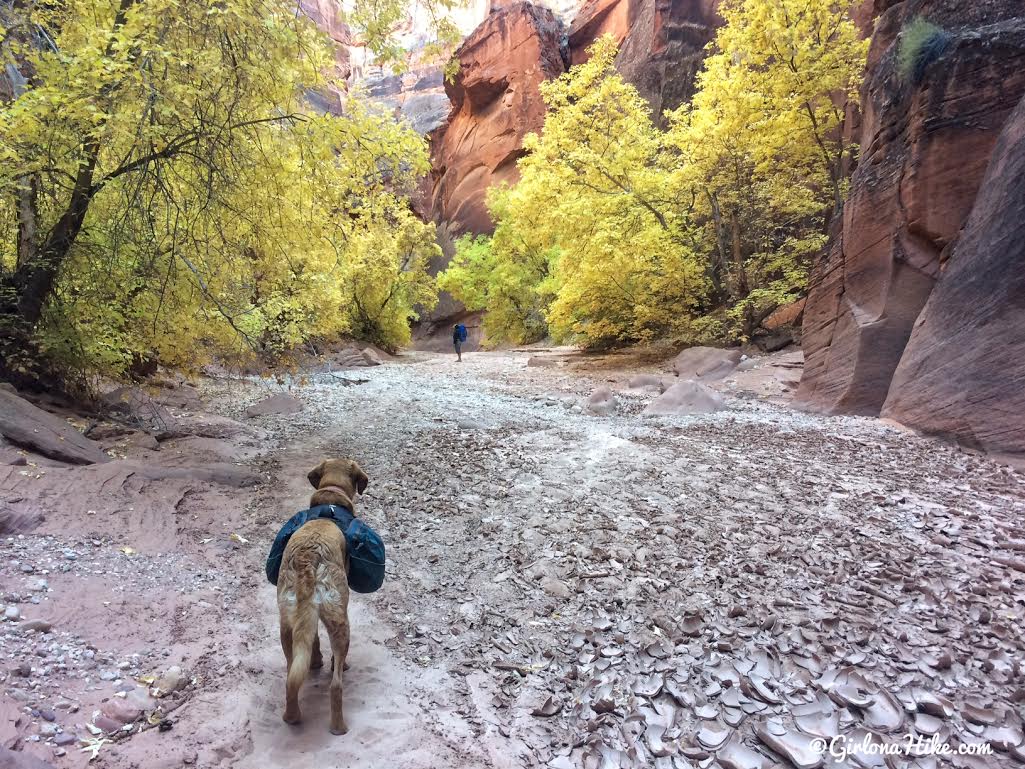 I thought late October was the perfect time to hike through Buckskin Gulch because the Fall colors were amazing!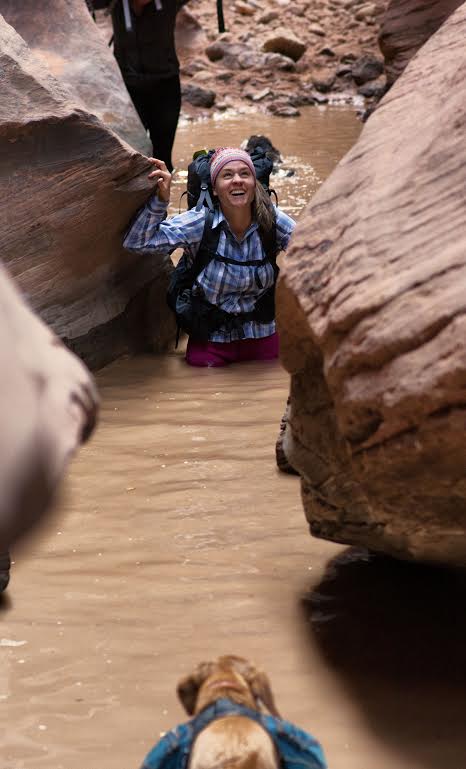 Photo by @iboyer 
The famous "cesspool" of Buckskin Gulch could be your worst nightmare, not so bad, or some years totally dry. I was expecting the worst like in this video, but it actually wasn't bad. For us it was only hip deep, and even though it did stink, it was nothing like I had imagined or read about. While mentally prepping for this trip I kept telling myself, "this will be just like doing the Mud Run!"
Ian was wearing Chacos, and said he felt some really odd/nasty things in his feet and I was once again SO glad I wore my old trail runners with neoprene socks so I wouldn't feel any of that. He's very good at catching my reactions to things in photos, and when he showed this to me, I would have never thought I'd be smiling through the cesspool! I'm pretty sure I just said something like, "Oh sh!t, I just sunk down to my hips in this crap!"
And as long as you swear a lot, don't think about the e.Coli or dead mice in the pool, you'll be ok!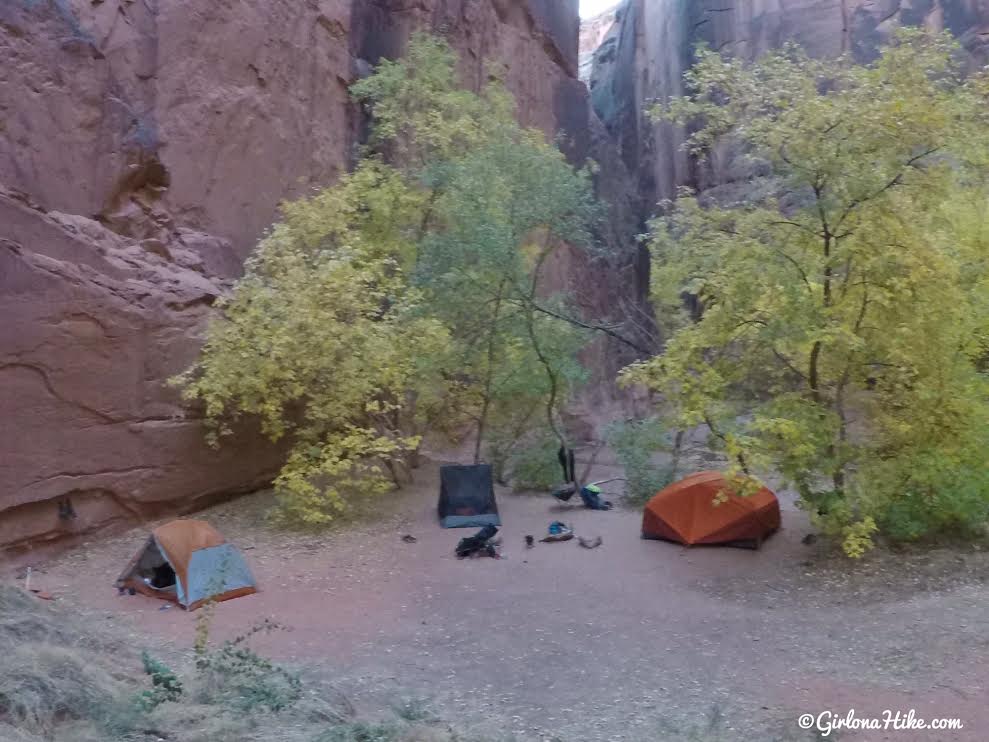 Finally, after 7 hours, we set up camp at the first viable campsite 14 miles in. I would highly suggest bringing a lightweight camp chair, since there are no rocks or logs to sit on.
Day 2 – 7 miles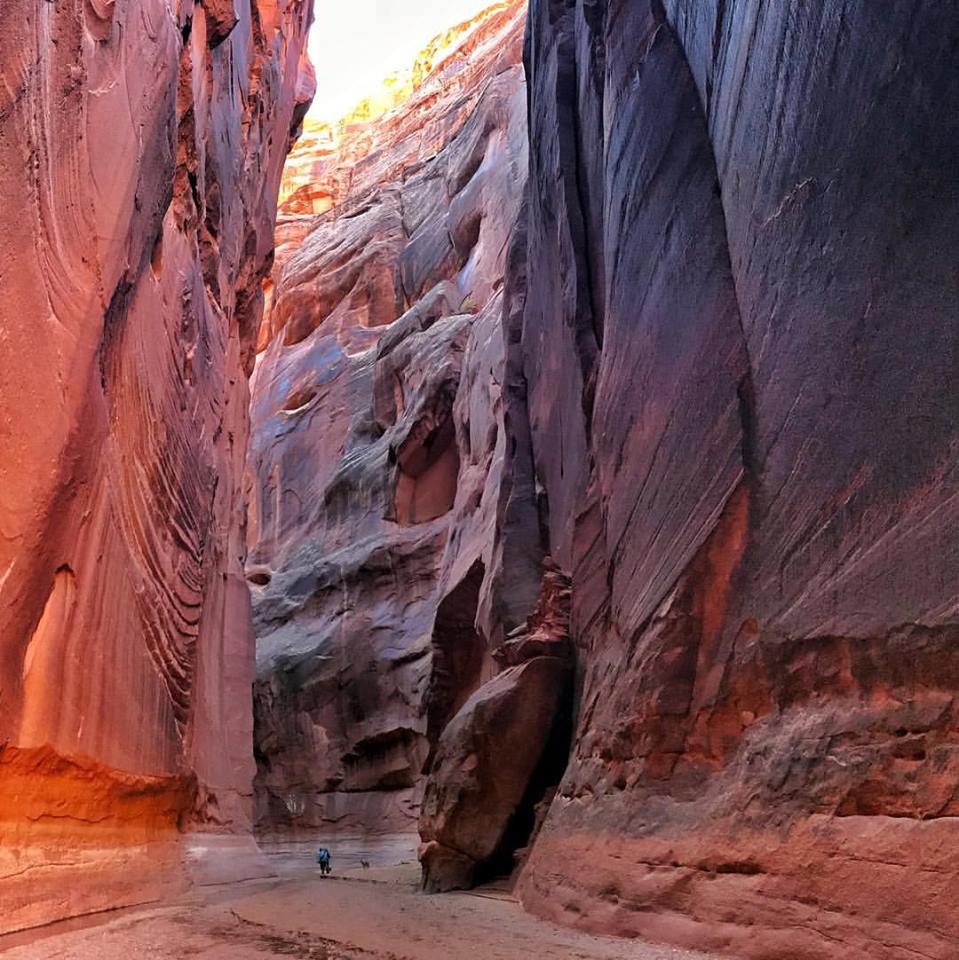 Photo by @iboyer 
Once you leave the campsite, you'll once again be among really large canyon walls.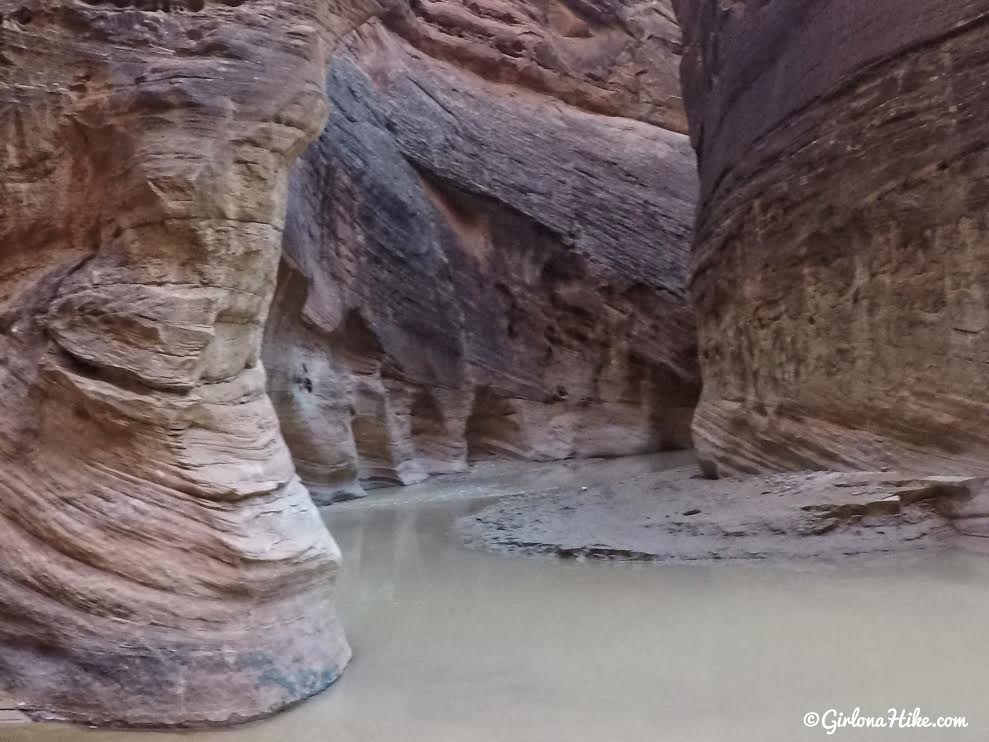 Within 10 minutes of the campsite, you'll reach the Paria River confluence – the exit for White House TH. This is also the first best place to filter water.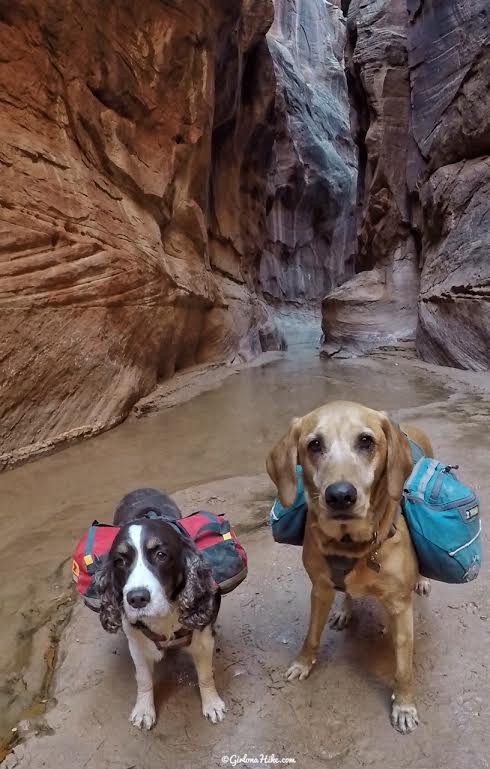 The dogs were sad to be leaving Buckskin Gulch! They did such a good job!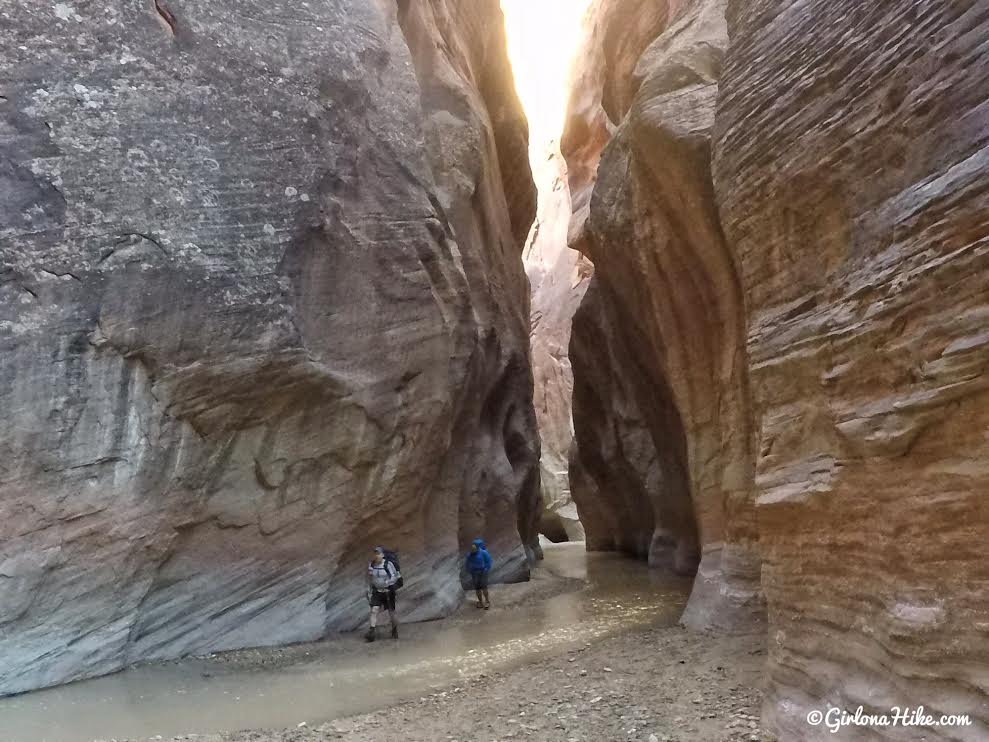 Once you reach the Paria River, you'll be walking in and out of water for the next 7 miles.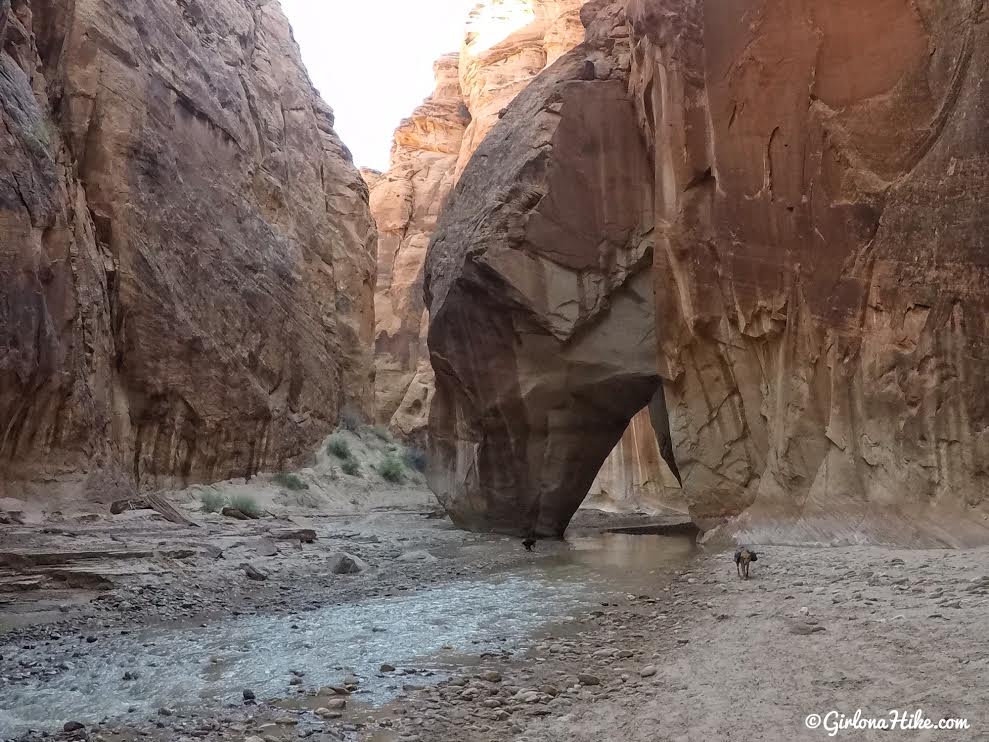 The famous, large boulder in the middle of the Paria River.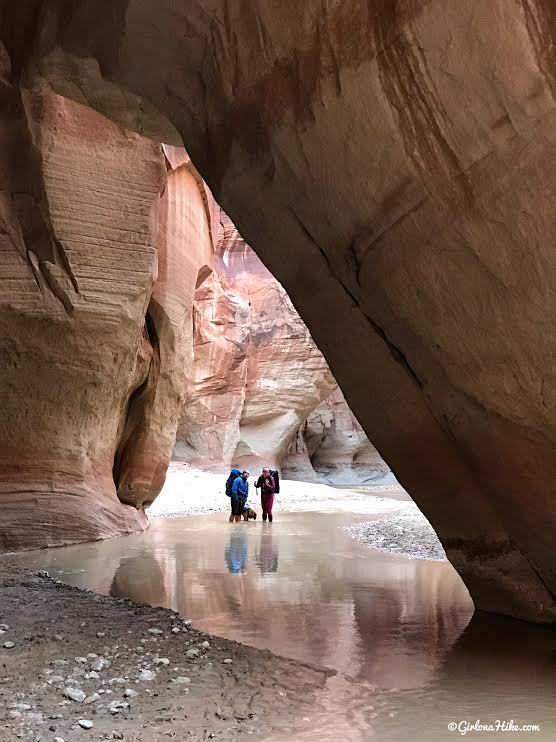 It makes for cool photos!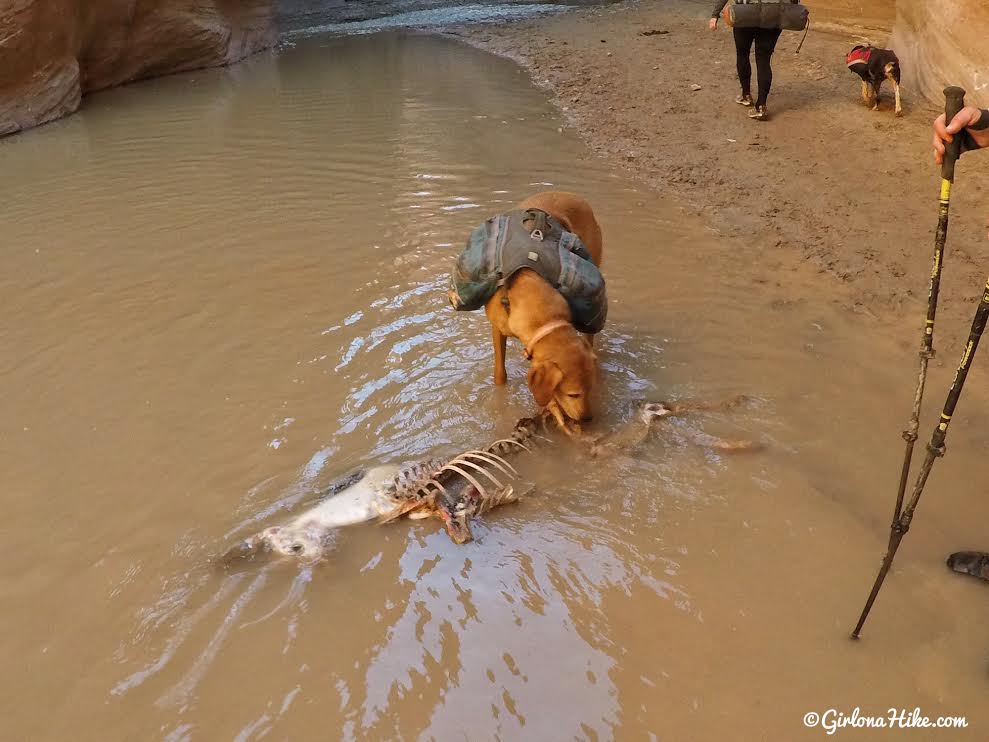 Charlie inspects a dead deer in the Paria River. We also saw a tiny fox in the canyon that appeared to have broken its front paw.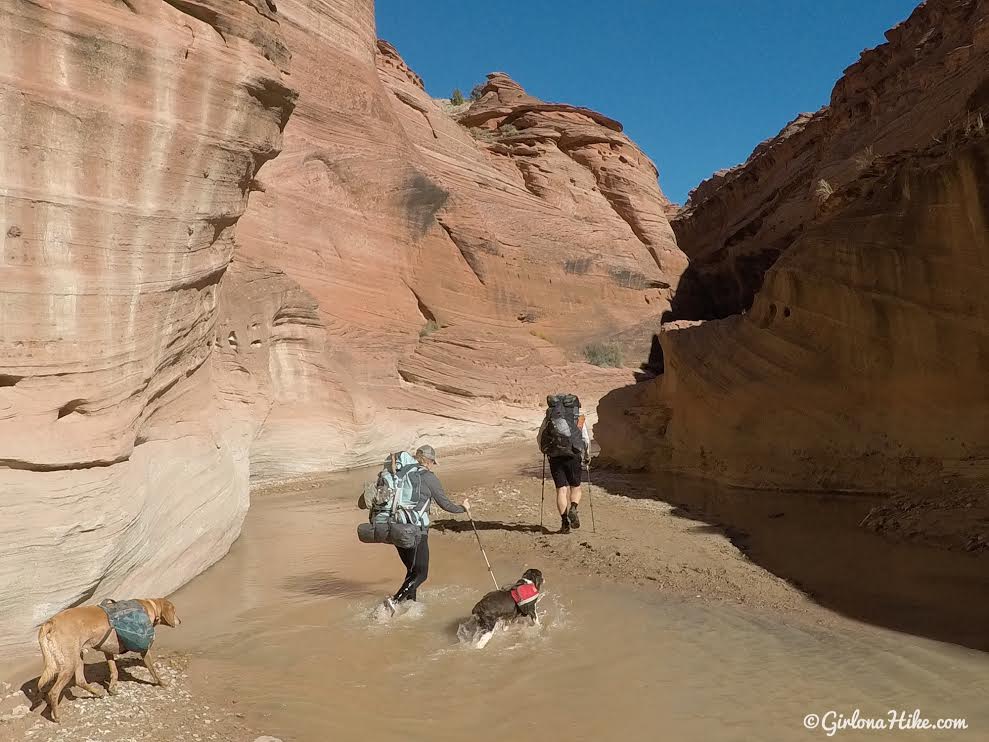 About halfway, the canyons drastically get lower on each side.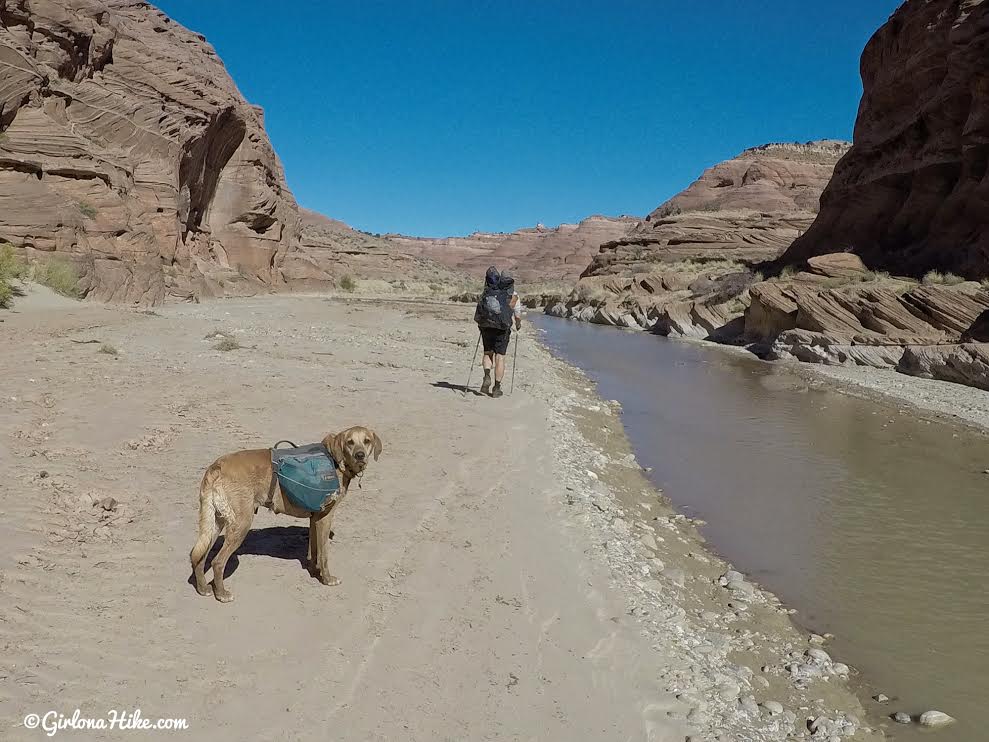 Charlie was starting to look tired. We still had about 3 miles to go!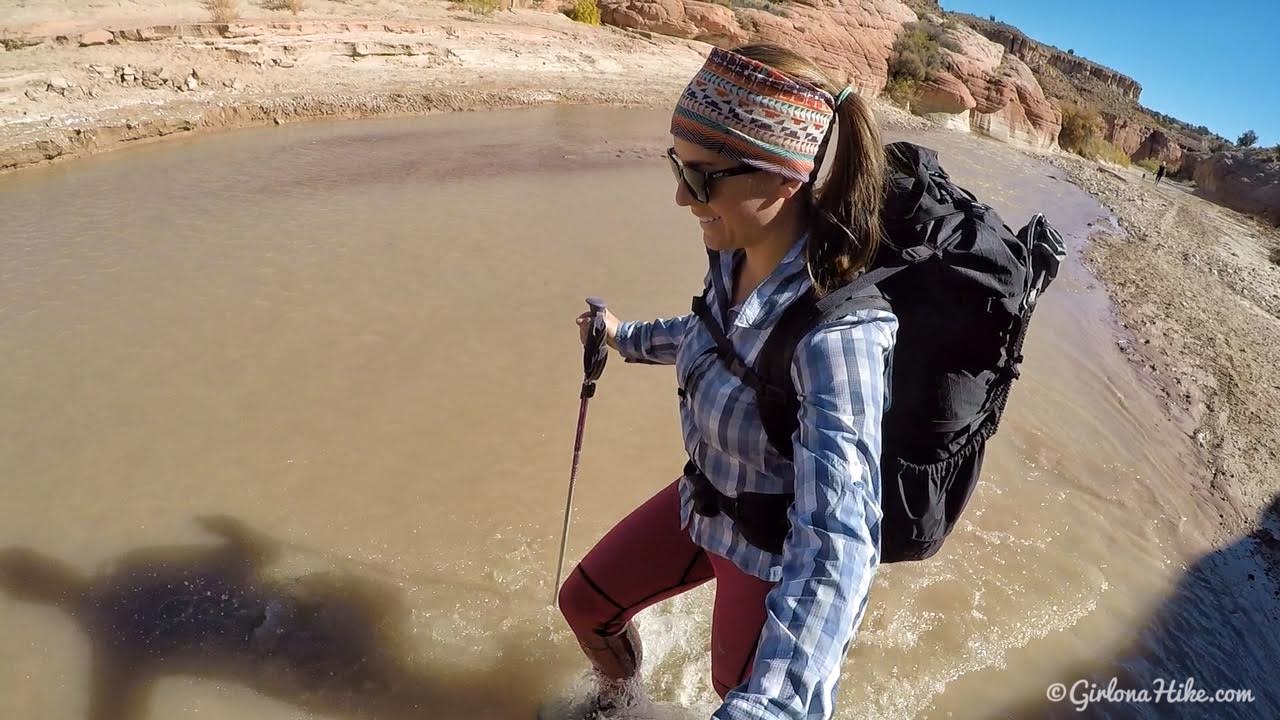 Huge shoutout to Waymark Gear for letting me use their heavy-duty, ultralight 50 liter backpack! At only 34.6 ounces, this pack was put through the test during this trip and excelled in all aspects – plus the packs are made in Salt Lake! Gotta love local.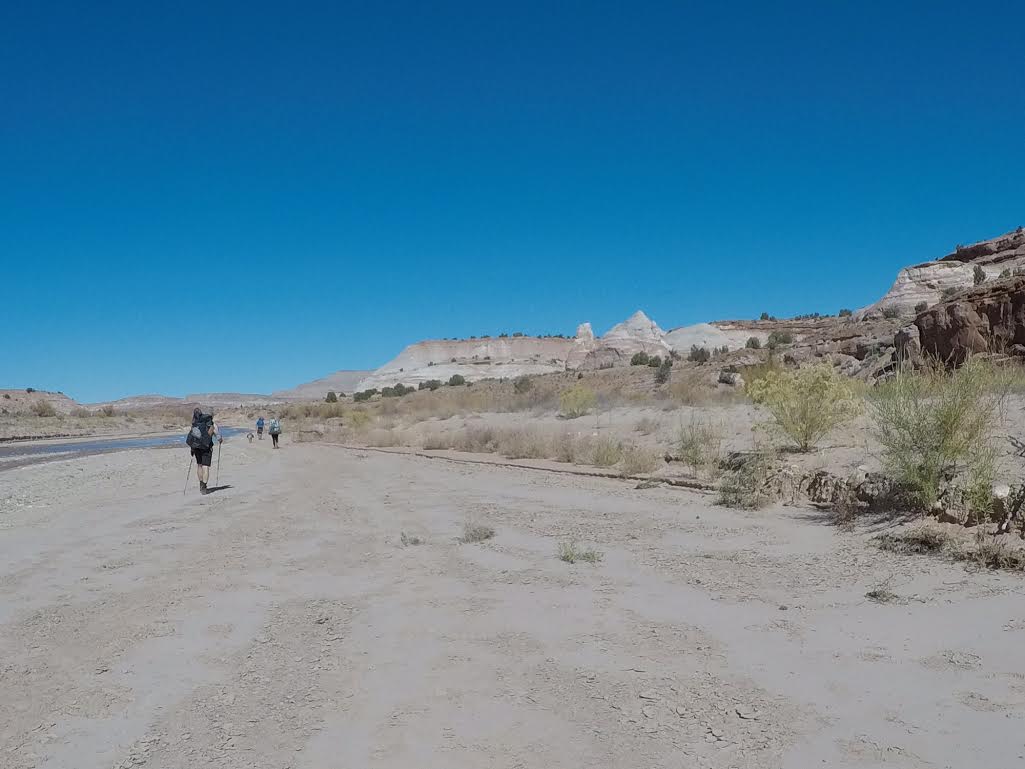 You'll hike through a very large, open dry wash as you get closer to the White House Campground/TH. When you see the white wall ahead of you, you know you're close.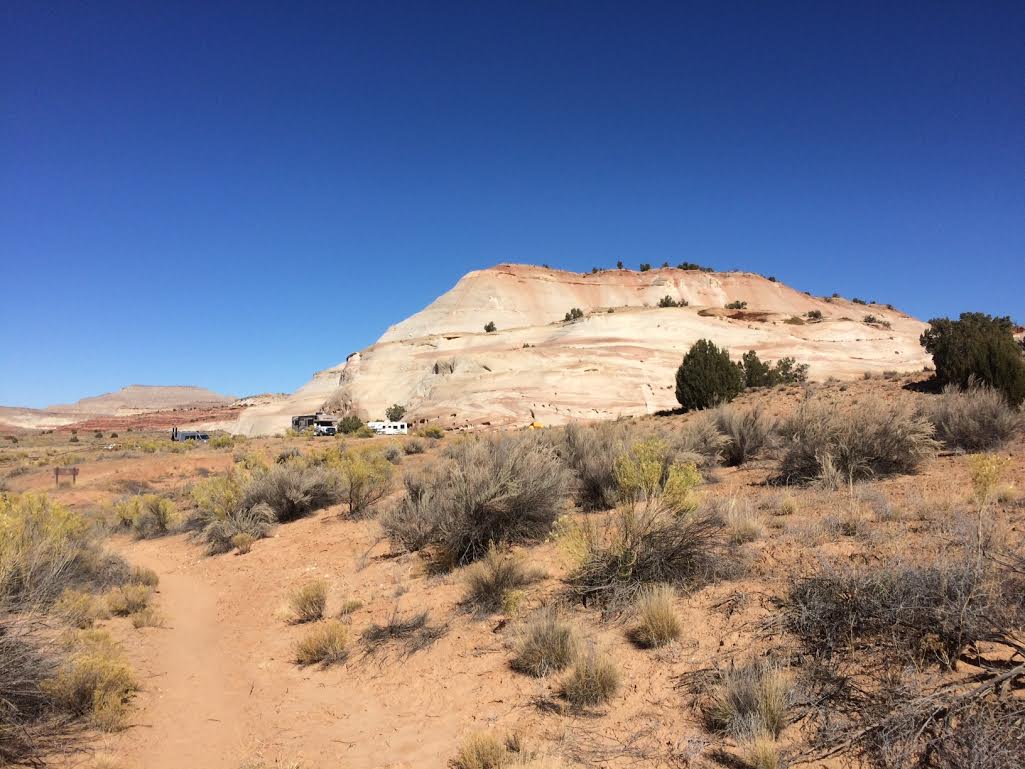 Approaching the campground.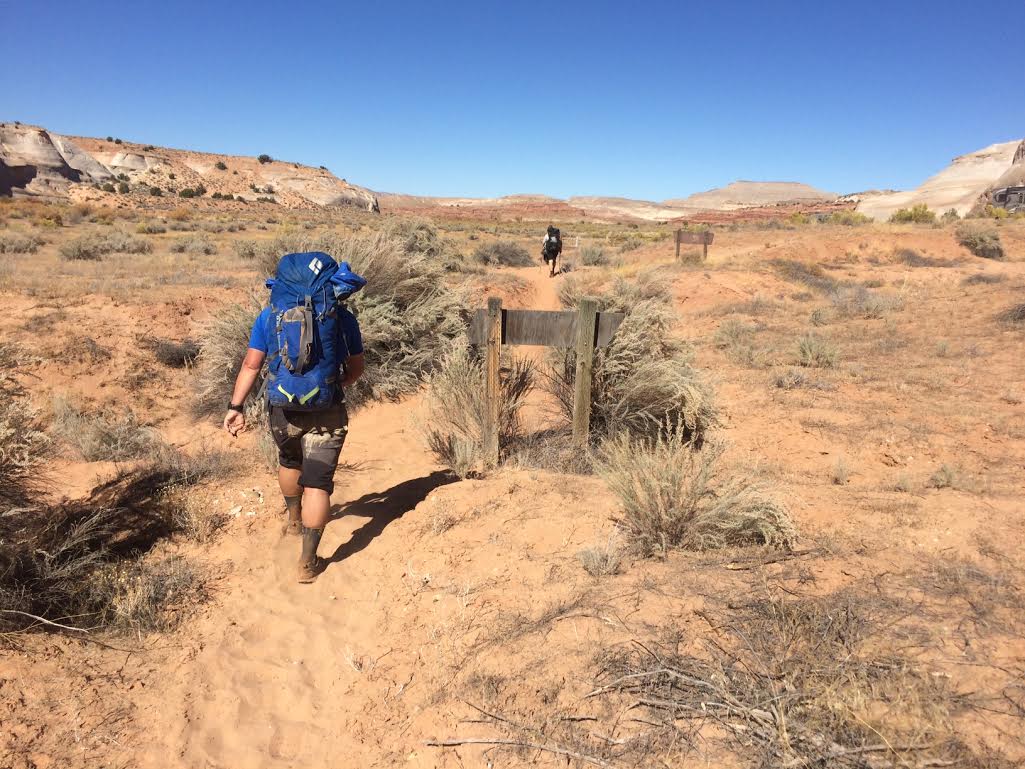 Almost back to the cars! You can see Ian was pretty dirty – we were all hot and ready to be done after only 7 miles. We got back to the car, and while the drivers went back to Wire Pass to pick up our other car, we sat in the shade of someones car, drank beer, and ate some snacks we had kept in one of the coolers.
Trail Map
You can see that my Gaia GPS stopped tracking for one section, and at times there are straight lines. Most trackers have a hard time getting exact coordinates in deep/narrow canyons, but it shows the general route. The yellow pin is for the campsite.
Recommended Gear
Also Check Out
Top 10 Tips for Backpacking Buckskin Gulch!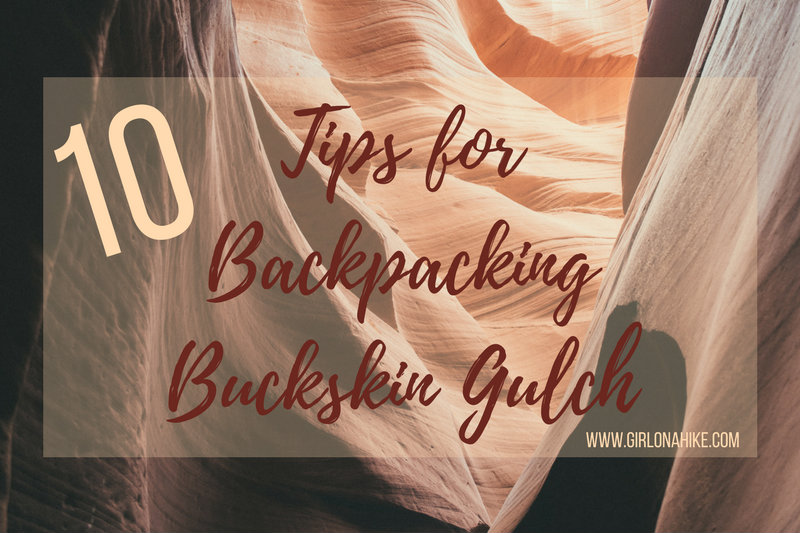 Exploring White Pocket, Vermillion Cliffs National Monument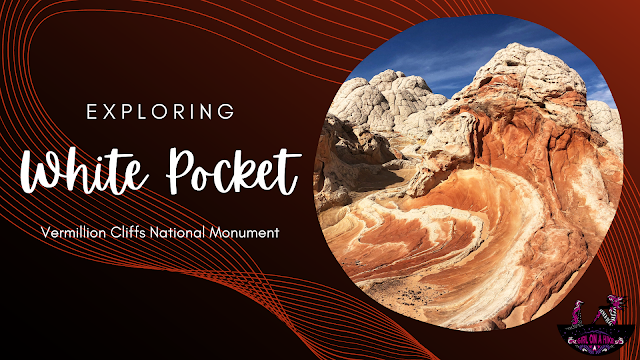 Save me on Pinterest!