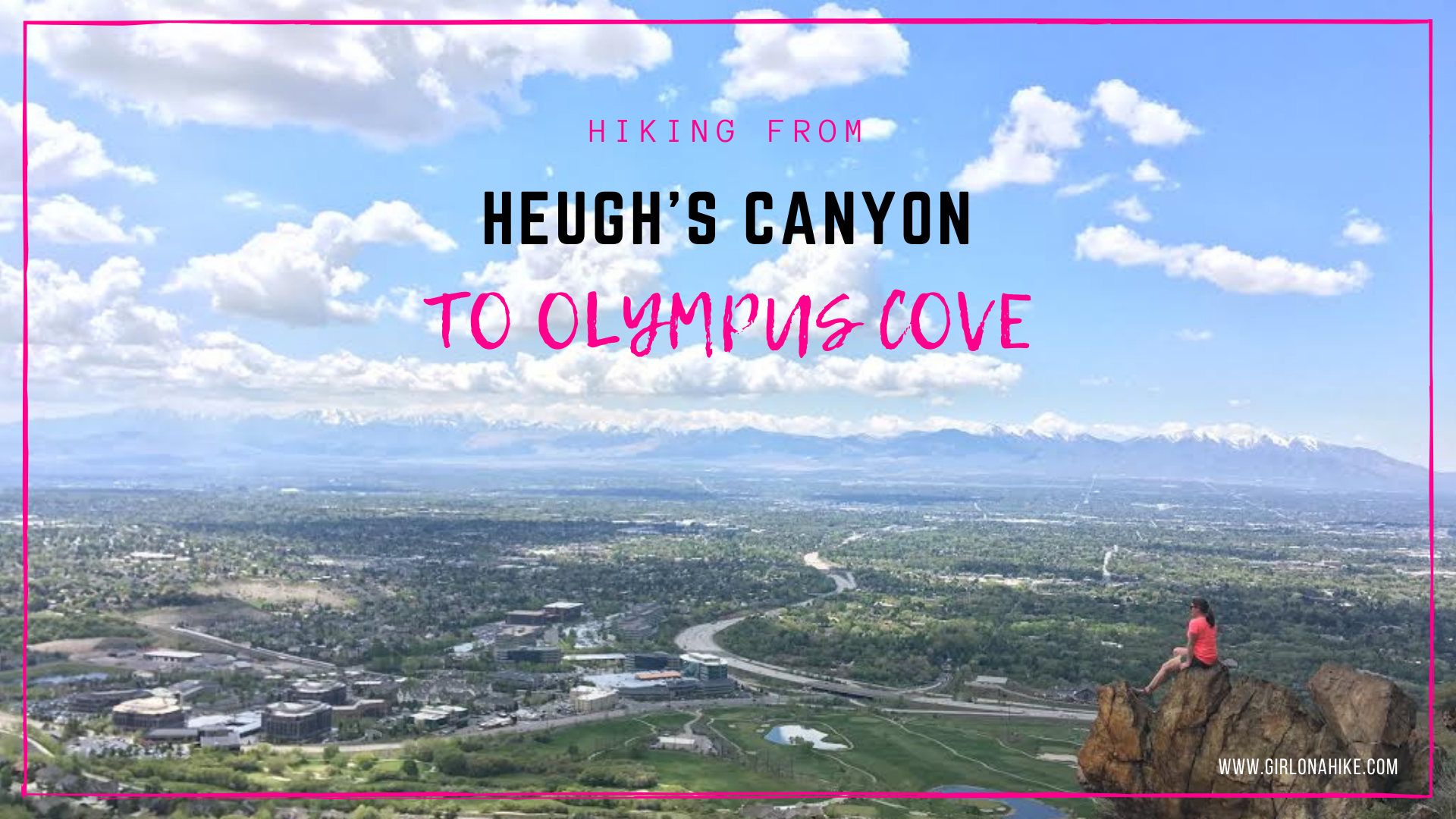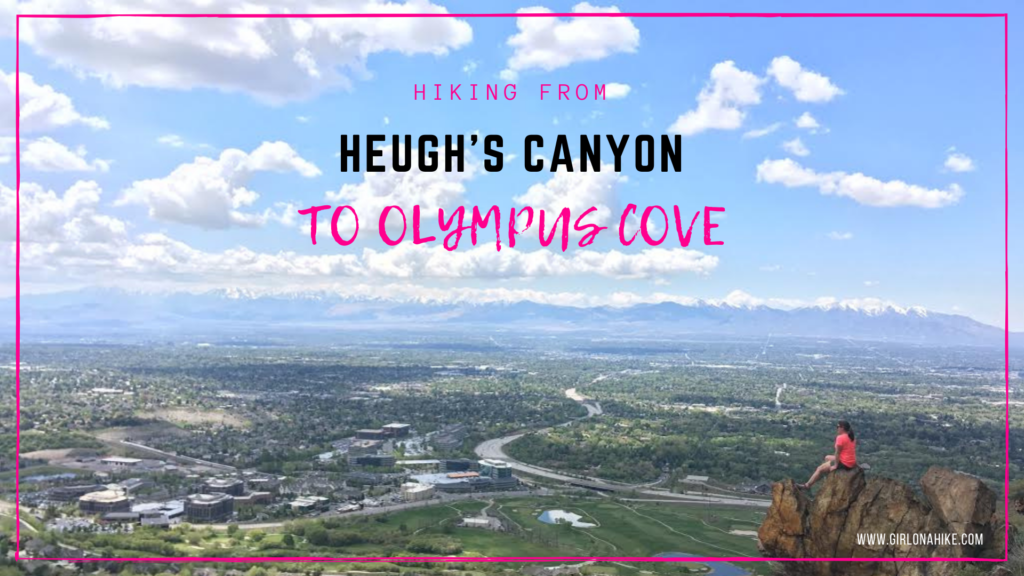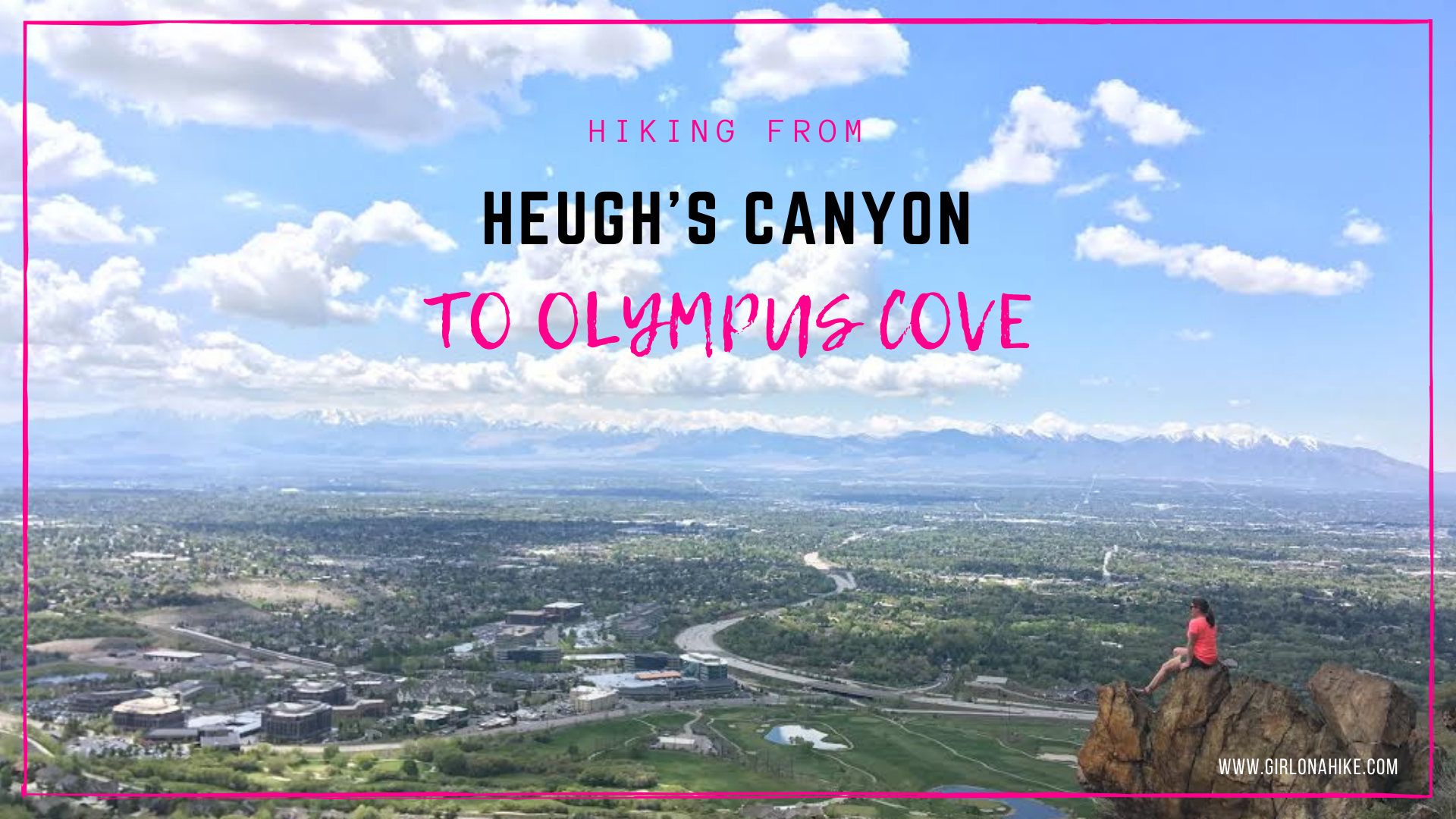 Heugh's Canyon to Olympus Cove (a.k.a. "Z Trail") follows one of the newest sections of the Bonneville Shoreline Trail (BST). It's a 5 mile point-to-point trail great for dogs and trail runs. There are a few sections with sheer drop offs, and for that reason, I don't recommend little kids.
The views along this route offer amazing views of the SLC valley, as well as Mt. Olympus high above to the East. There is only a handful of shady spots and no water source, so you'll definitely want to start early in the morning (or late evening) to beat the heat. There are several nice rocky outcroppings that would be perfect to watch sunset from as well. This route requires a car shuttle – one at each trailhead if you plan to hike this point-to-point.
Directions
Drop one car here, at the Heugh's Canyon TH.
Drop one car here, at the Olympus Cove TH.
And here's the driving directions between the two points. You can hike this in either direction.
Head south on Wasatch Blvd from 4500 South. Park on the corner of Wasatch Blvd & E Canyon Cove Drive, on the East side of the road where there is a dirt pullout and a few paved parking spots. Park here, as no public parking is allowed in the neighborhood.
Begin walking to the actual TH. Walk up Canyon Cove Drive, then an immediate left turn onto Oak Canyon Drive, then right on Canyon Winds Lane. From here, awkwardly cut through a neighbor's driveway to get to the dirt trail.   There are no official signs. See map below.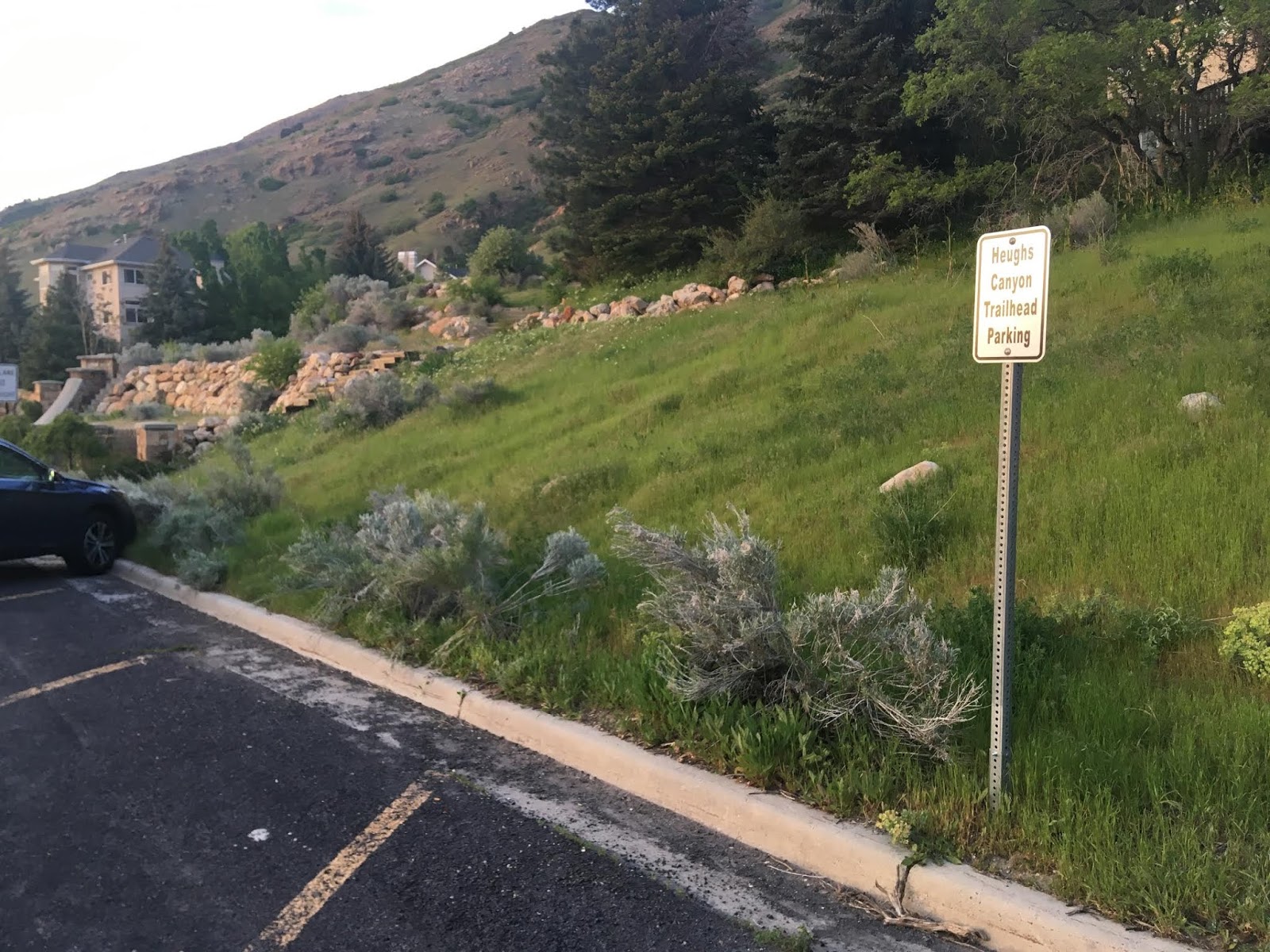 Distance: 5 miles point-to-point
Elevation gain: 1,041 ft
Time: 2-3 hours
Dog friendly? Yes, off leash
Kid friendly? No, due to steep drop offs
Fees/Permits? None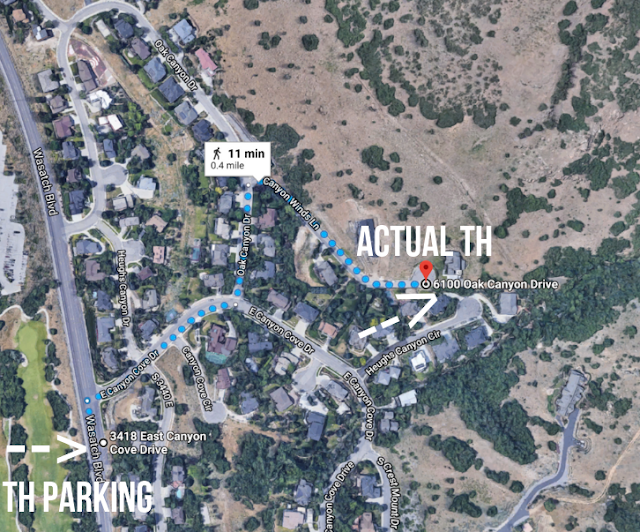 New parking location – this adds on 0.4 miles before reaching the actual TH. Keep in mind that dogs need to remain on leash until you reach the dirt trail.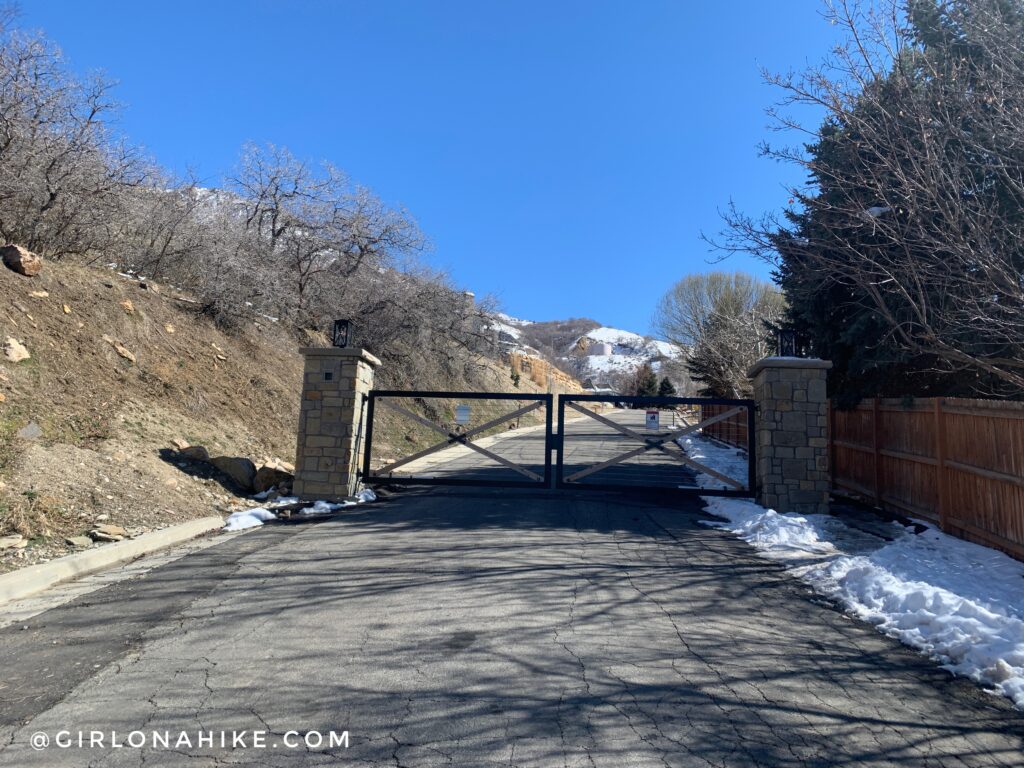 Go around the gate (yes, its public access).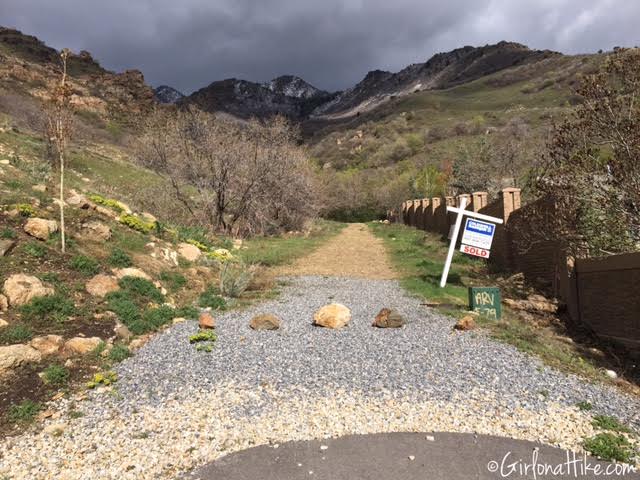 Heugh's Canyon starts just to the East of the house right there on the corner – you have to walk through their paved driveway. It's an easement, and the public is allowed to walk through here.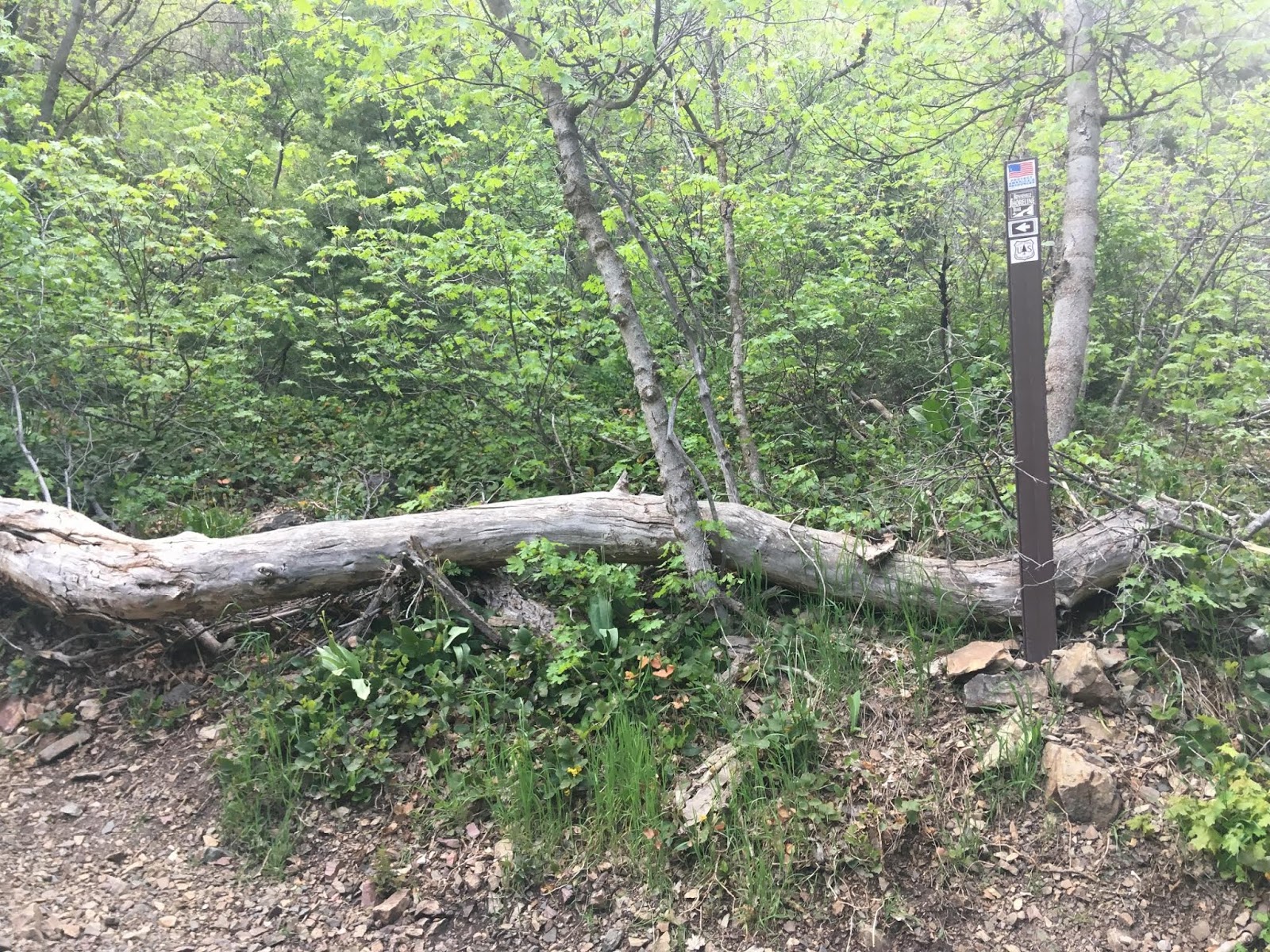 Follow Heugh's Canyon for about 20 minutes until you see a trail veering off to the left with a large log and the brown sign post. This is your turn to connect the BST – if you cross a bridge up Heugh's you went too far (though hiking all the way to the waterfall is well worth your time!).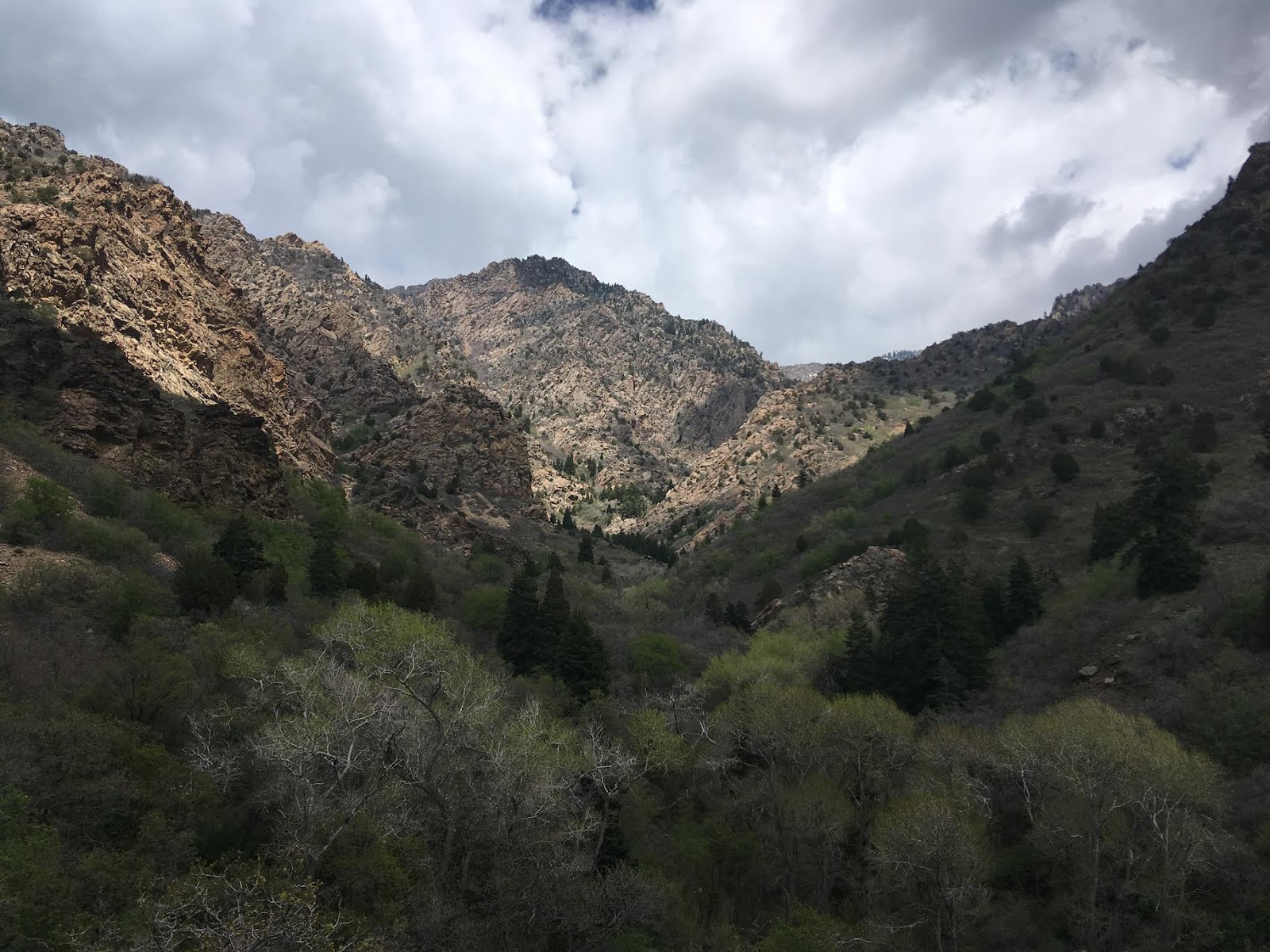 Don't forget to look up and back as you hike up the first hill!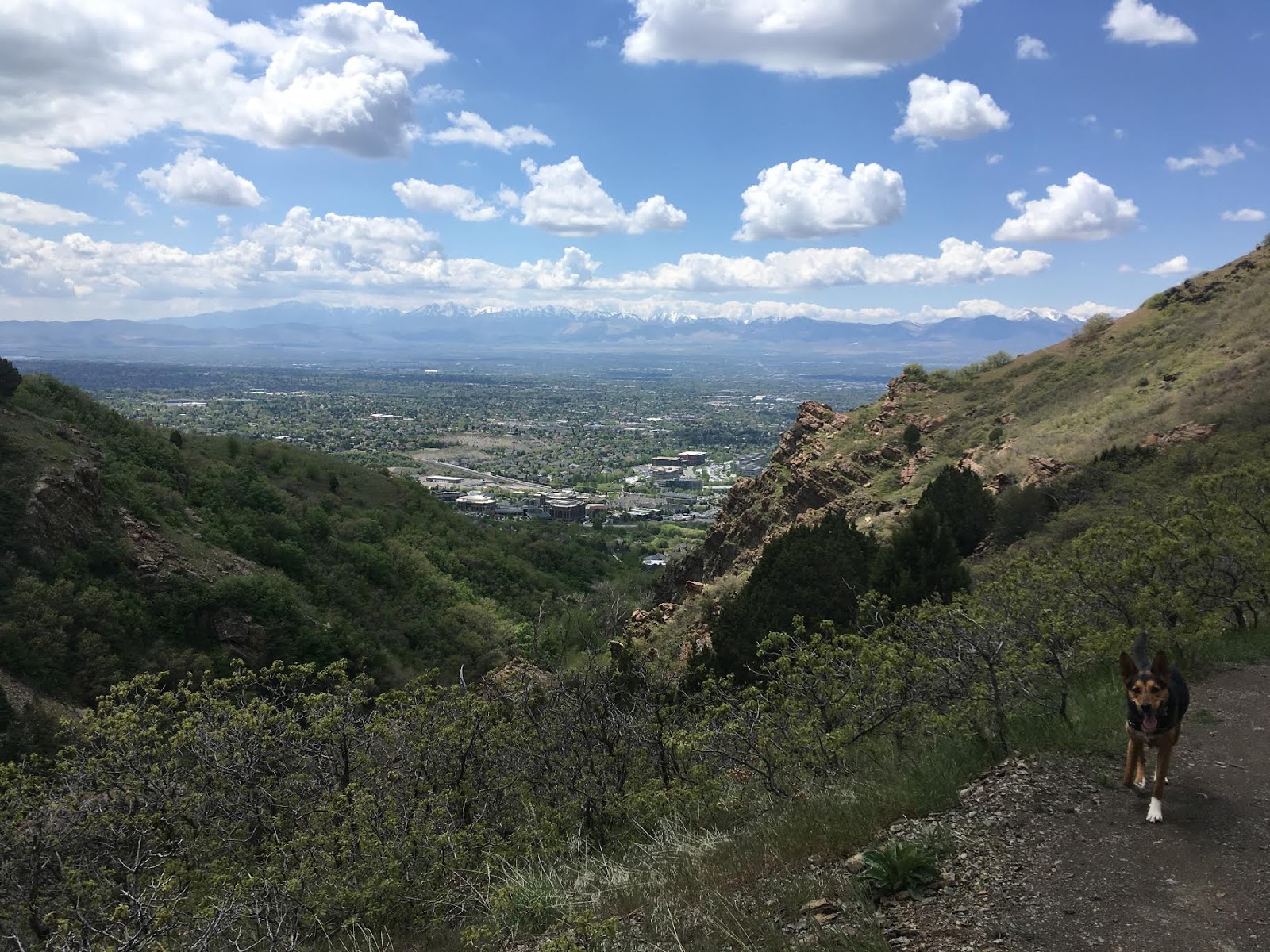 This is Sagan, our pup friend that we dog-sat for a few days. She's a mix of GSD/cattle dog/and a mystery mix!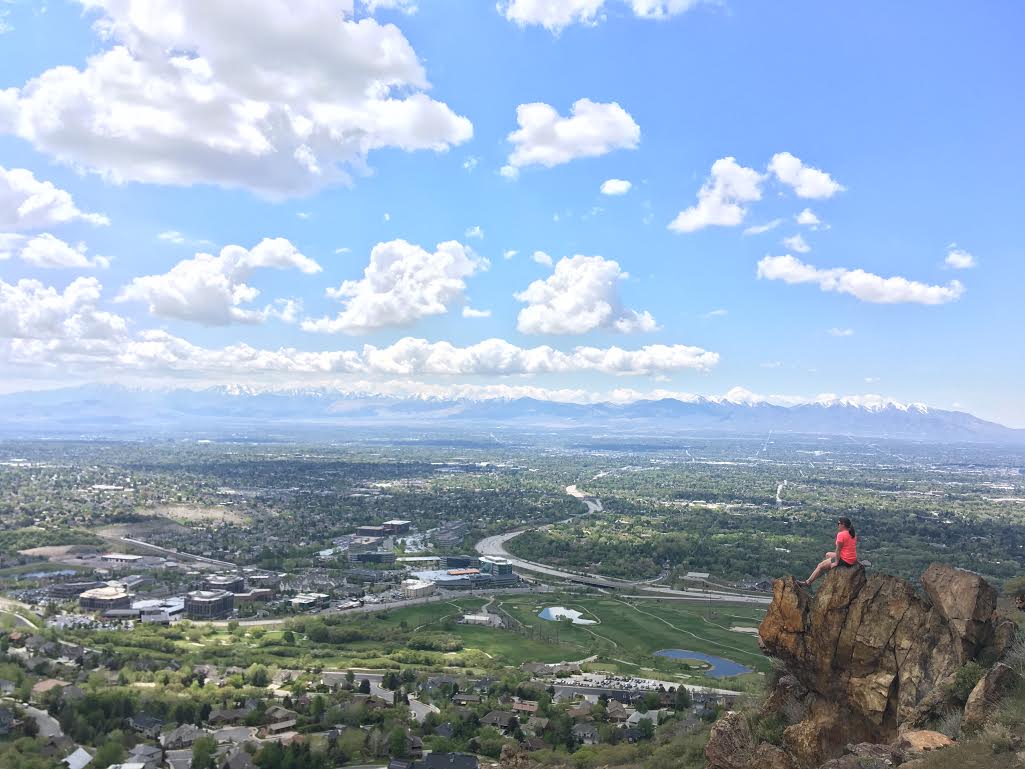 There are several nice rocky areas along the trail with great views of the valley.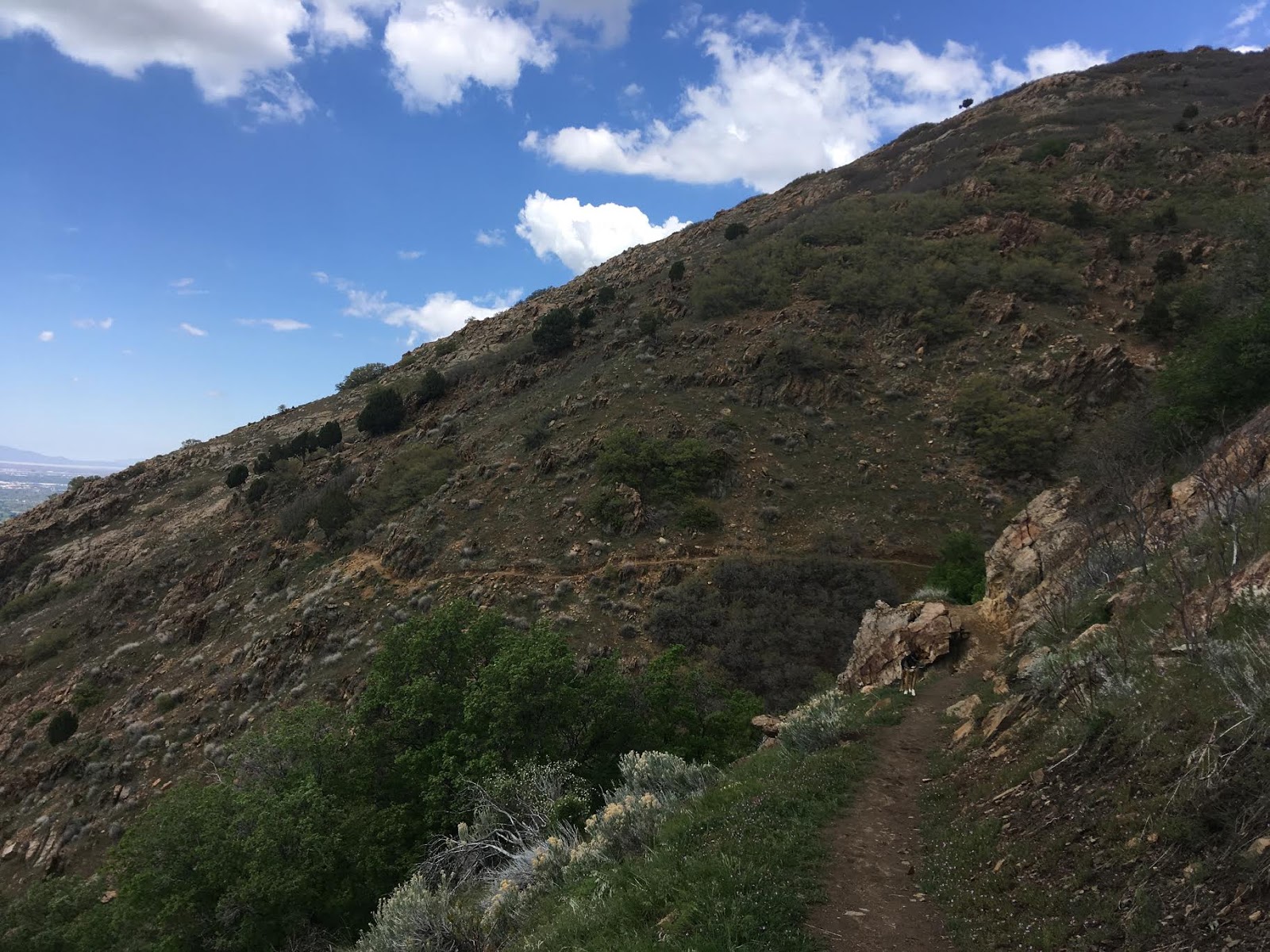 The trail contours the base of Mt. Olympus.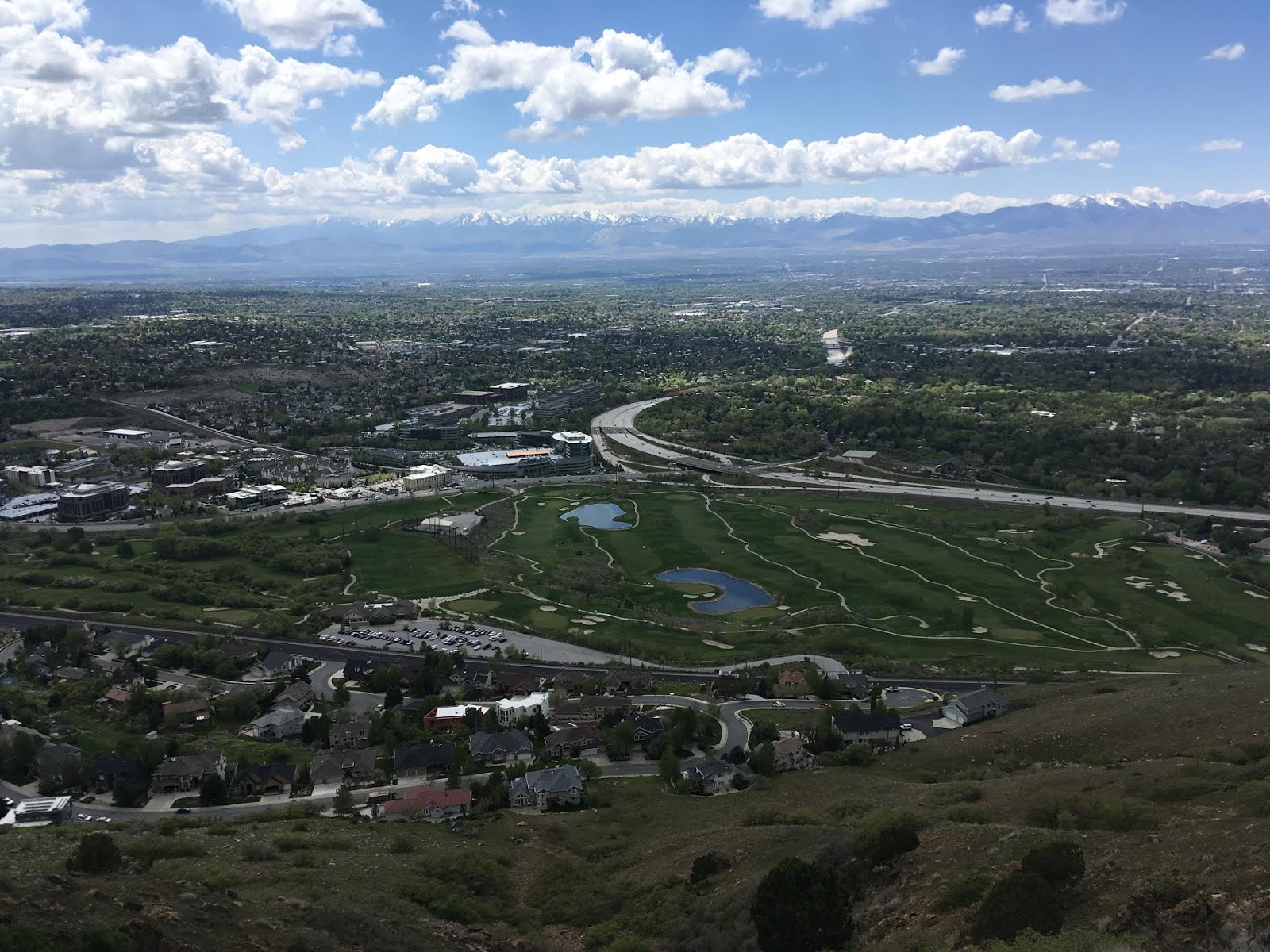 Great views all around!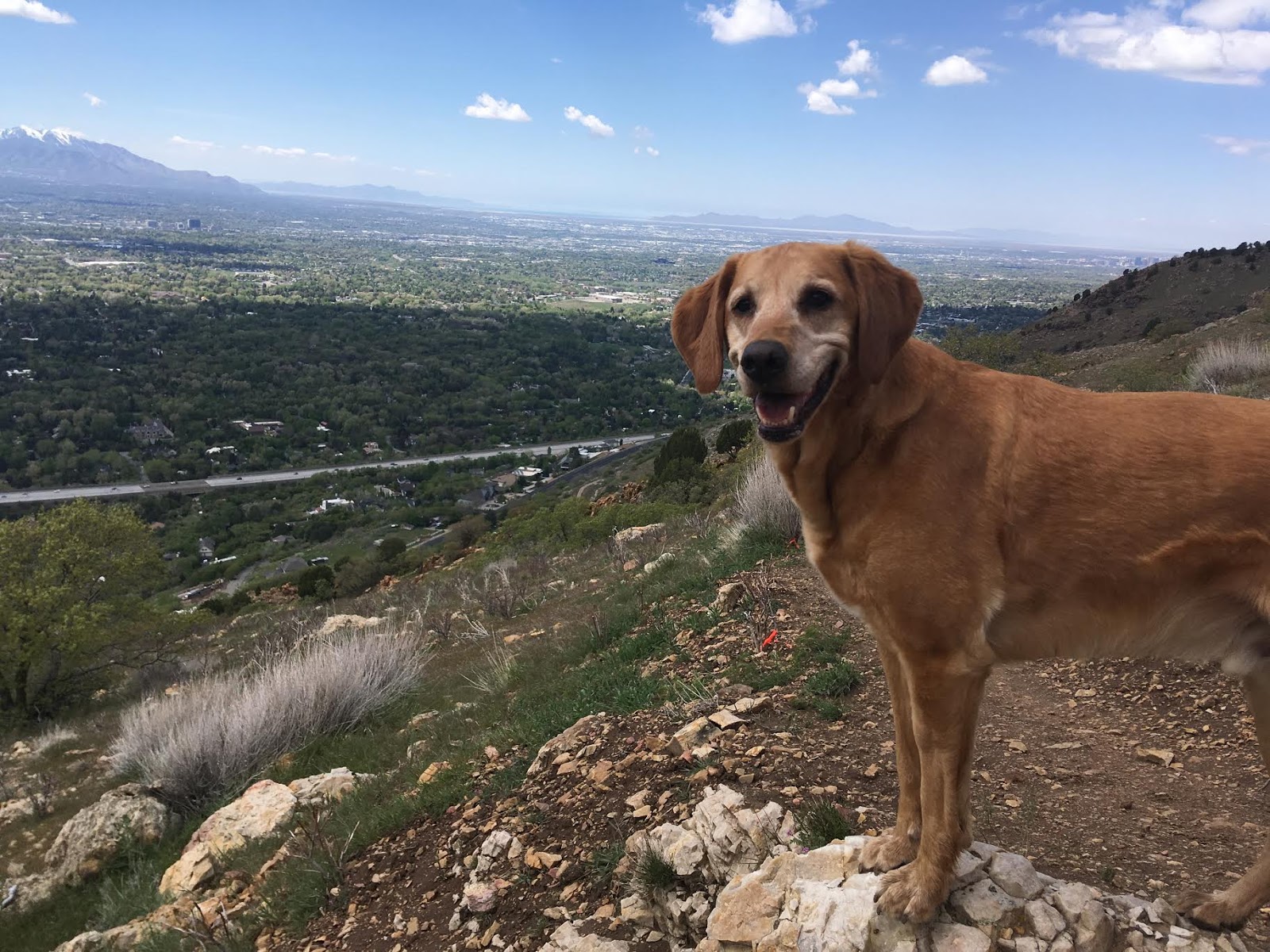 Charlie is always a happy hiker!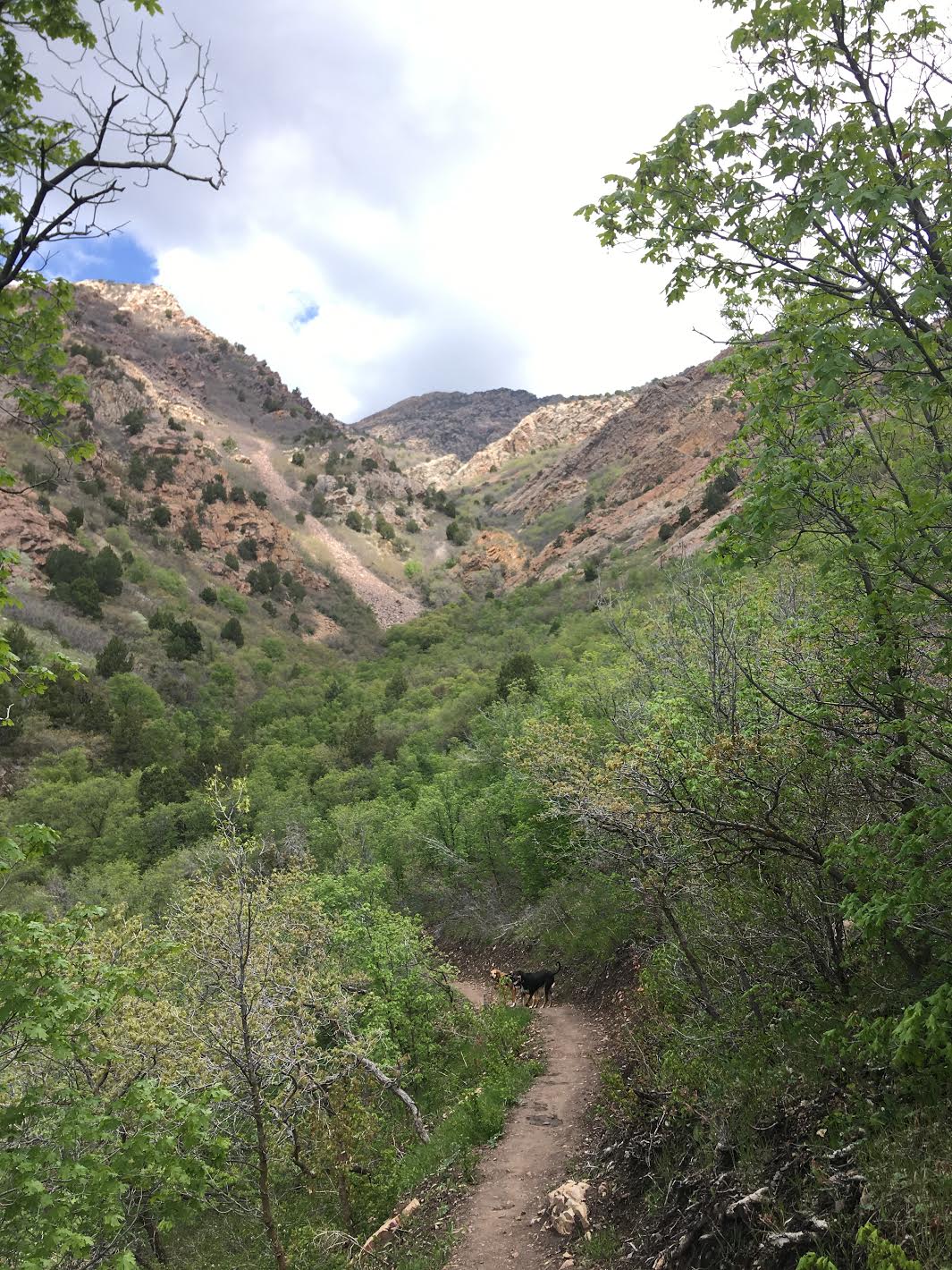 The trail leads toward Tolcats Canyon – we were hoping a stream would be flowing here, but it was bone dry already by early May.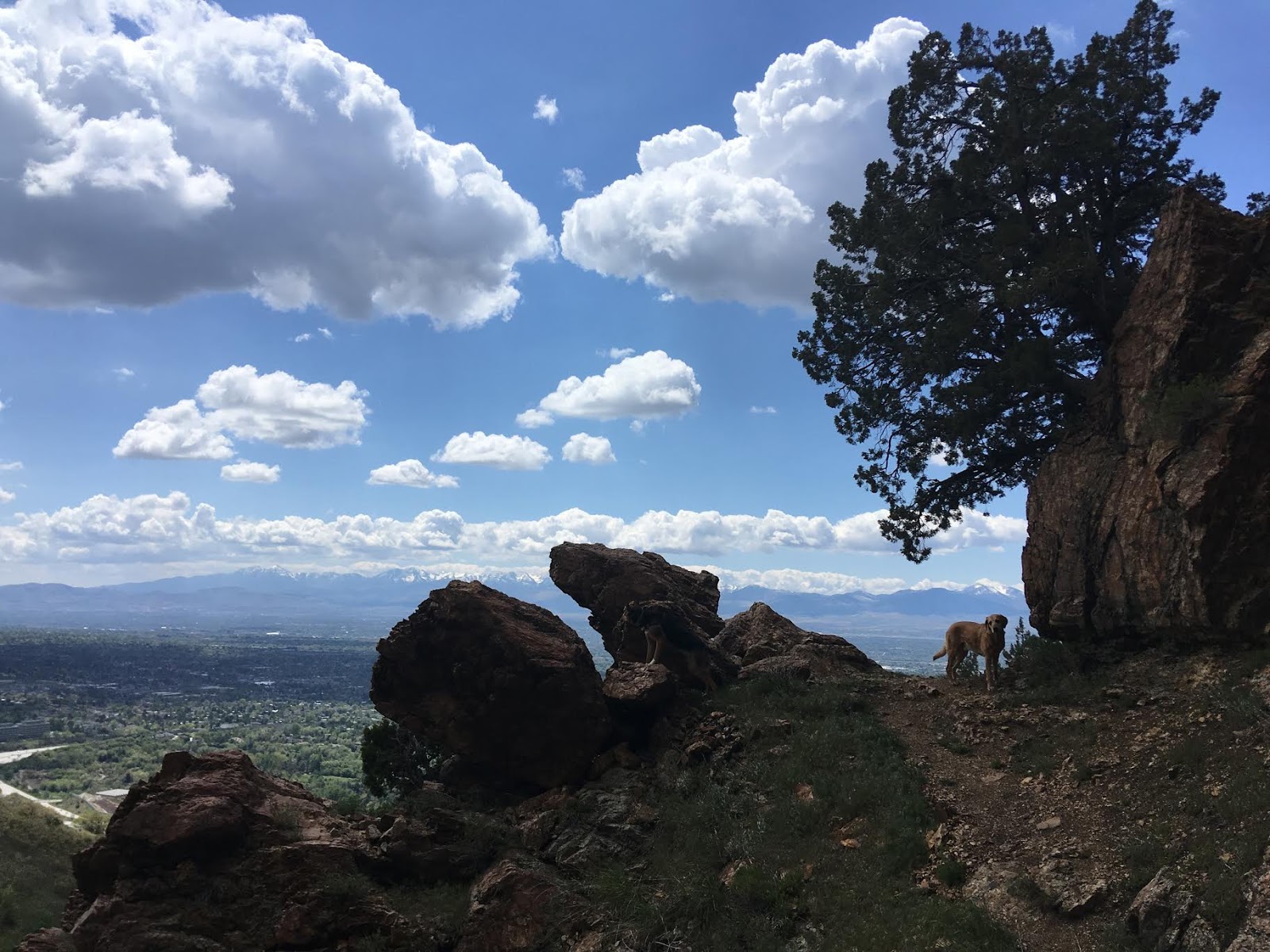 More rocky areas to stop and take in the view.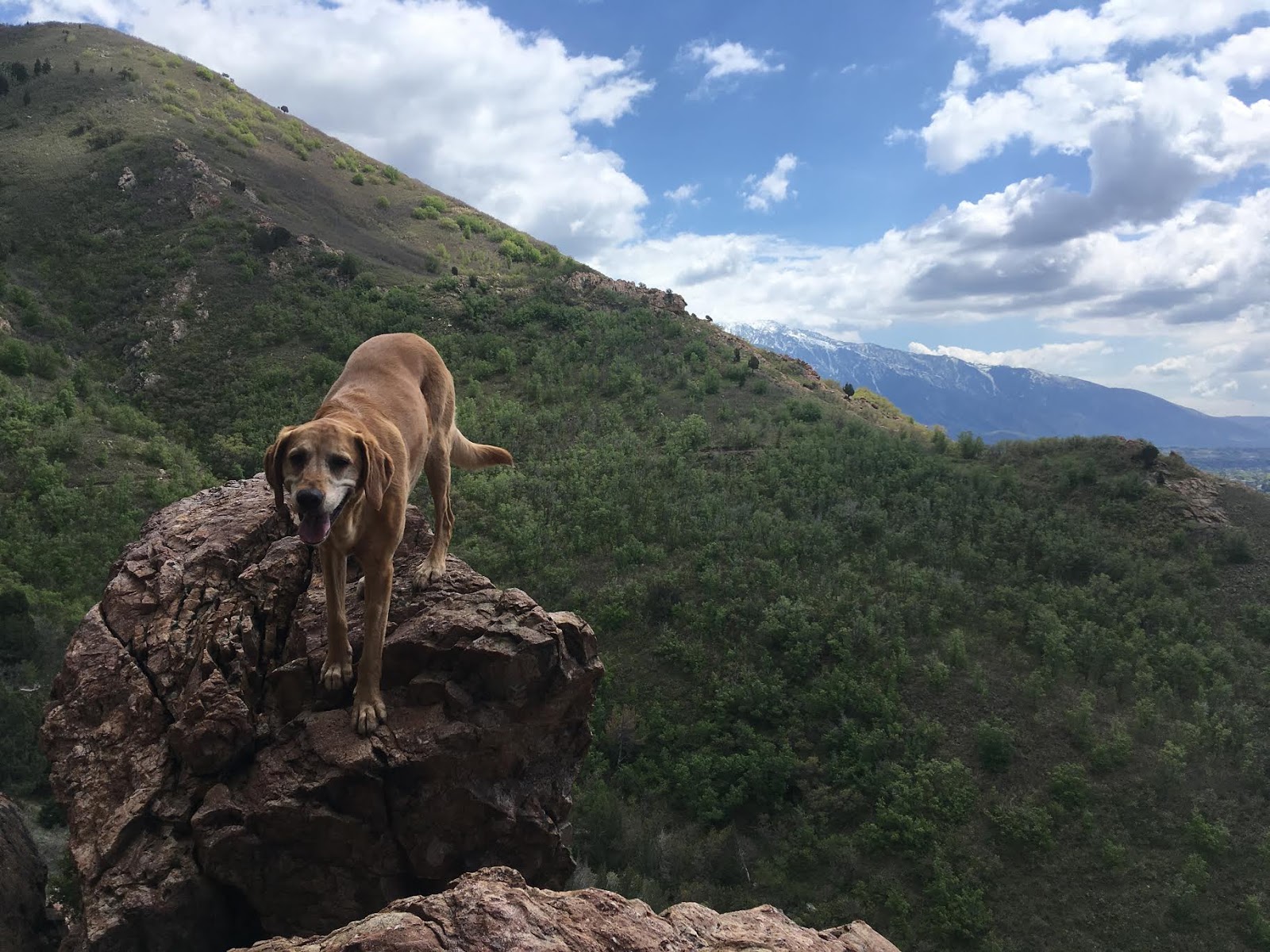 Charlie loves scrambling too. He was getting so hot – I was glad I brought 3 liters of water.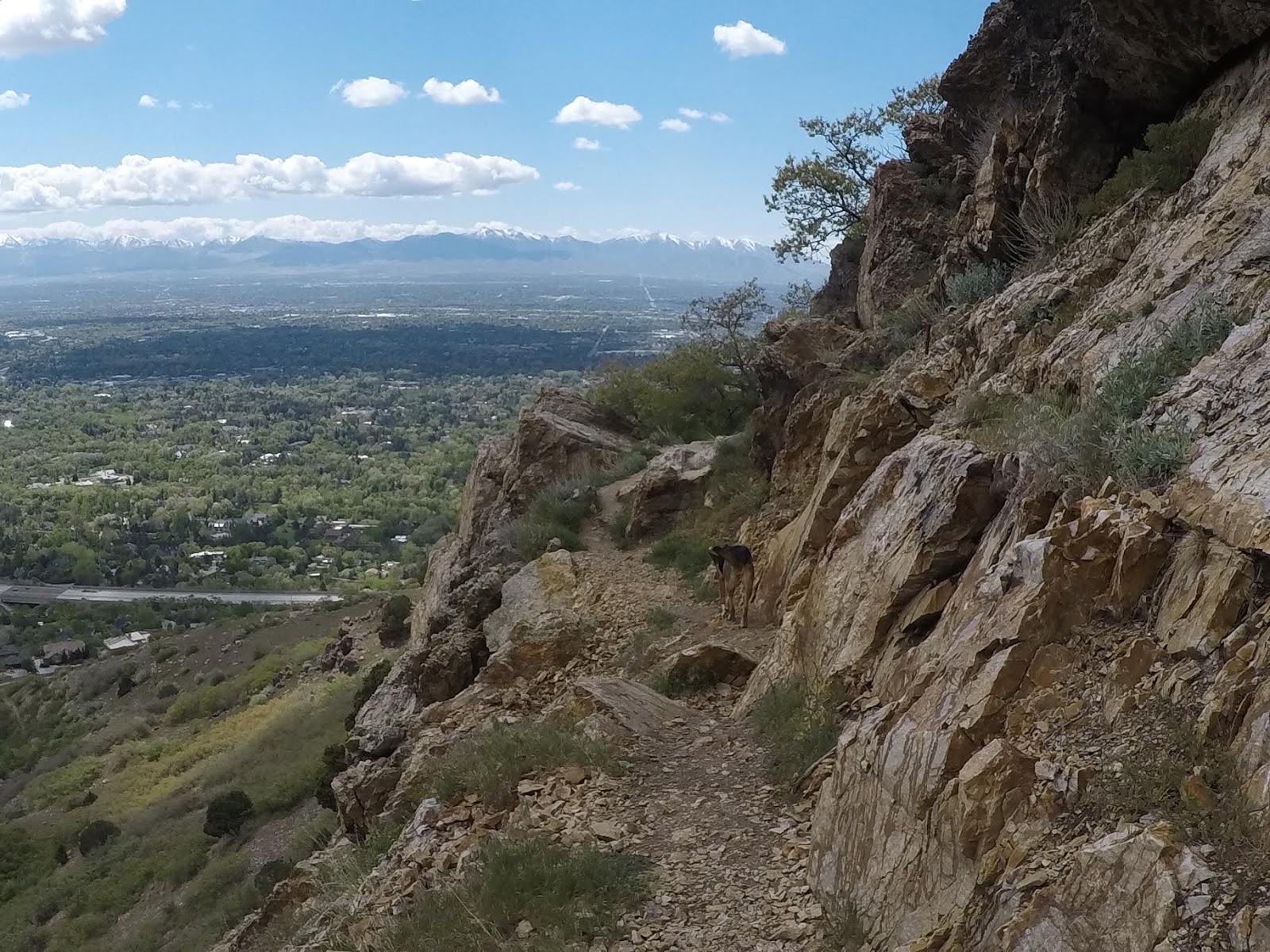 As the trail gets closer to the Mt. Olympus intersection, it gets rockier.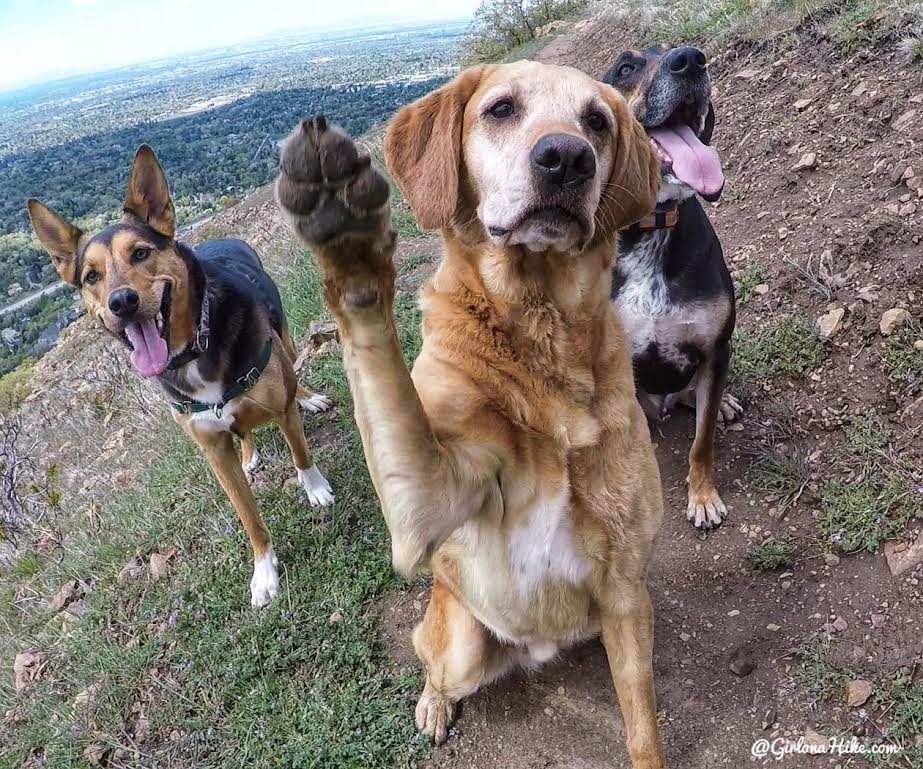 "Um, yes, I would like a treat, Mama!"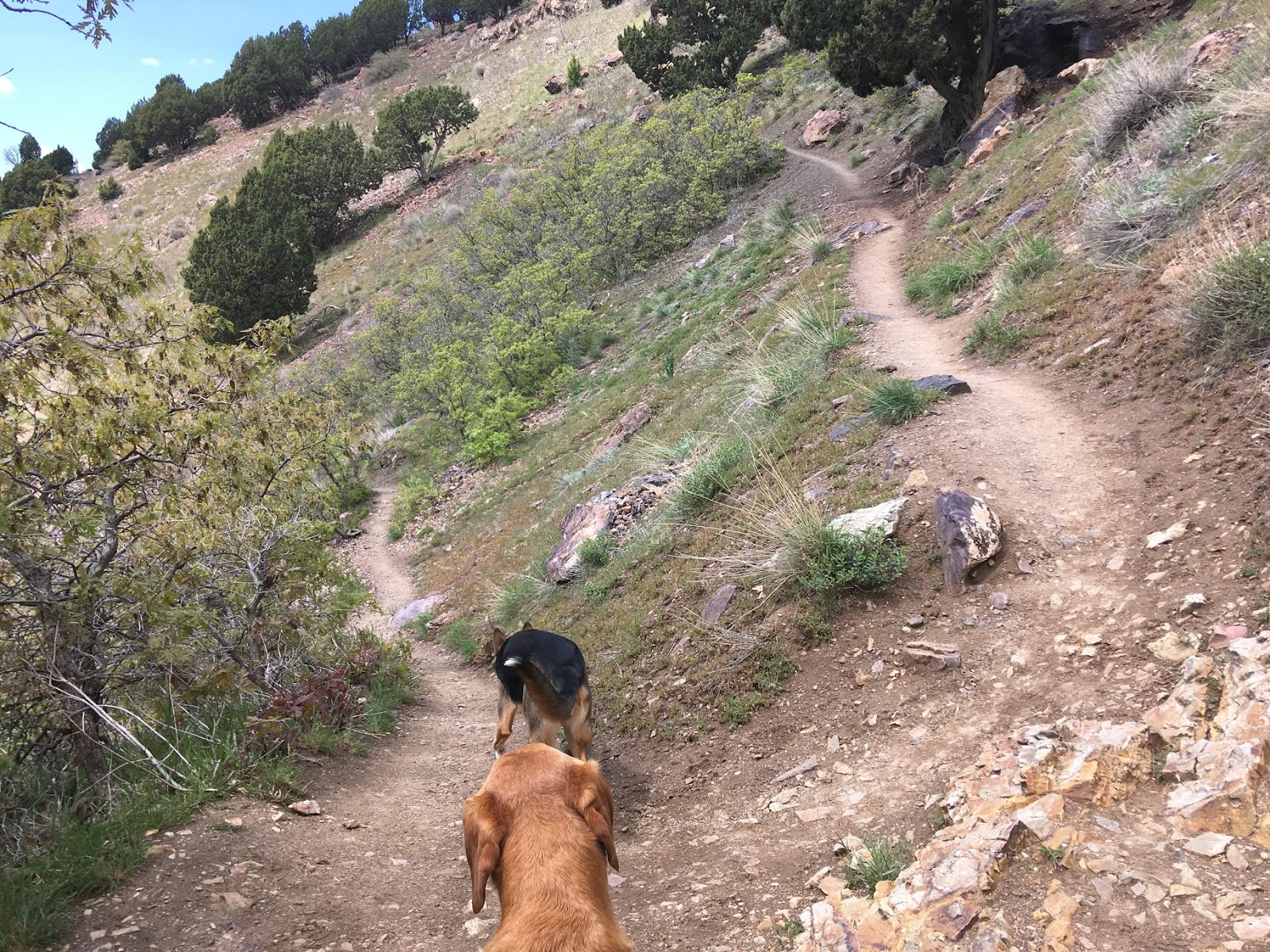 The Mt. Olympus intersection. The easier way is to go right, but left will work too. We went left, hiked downhill, connected over to the BST, and had to work up a few small switchbacks. Going right would have only saved us about 10 minutes. Next time, I would only go right.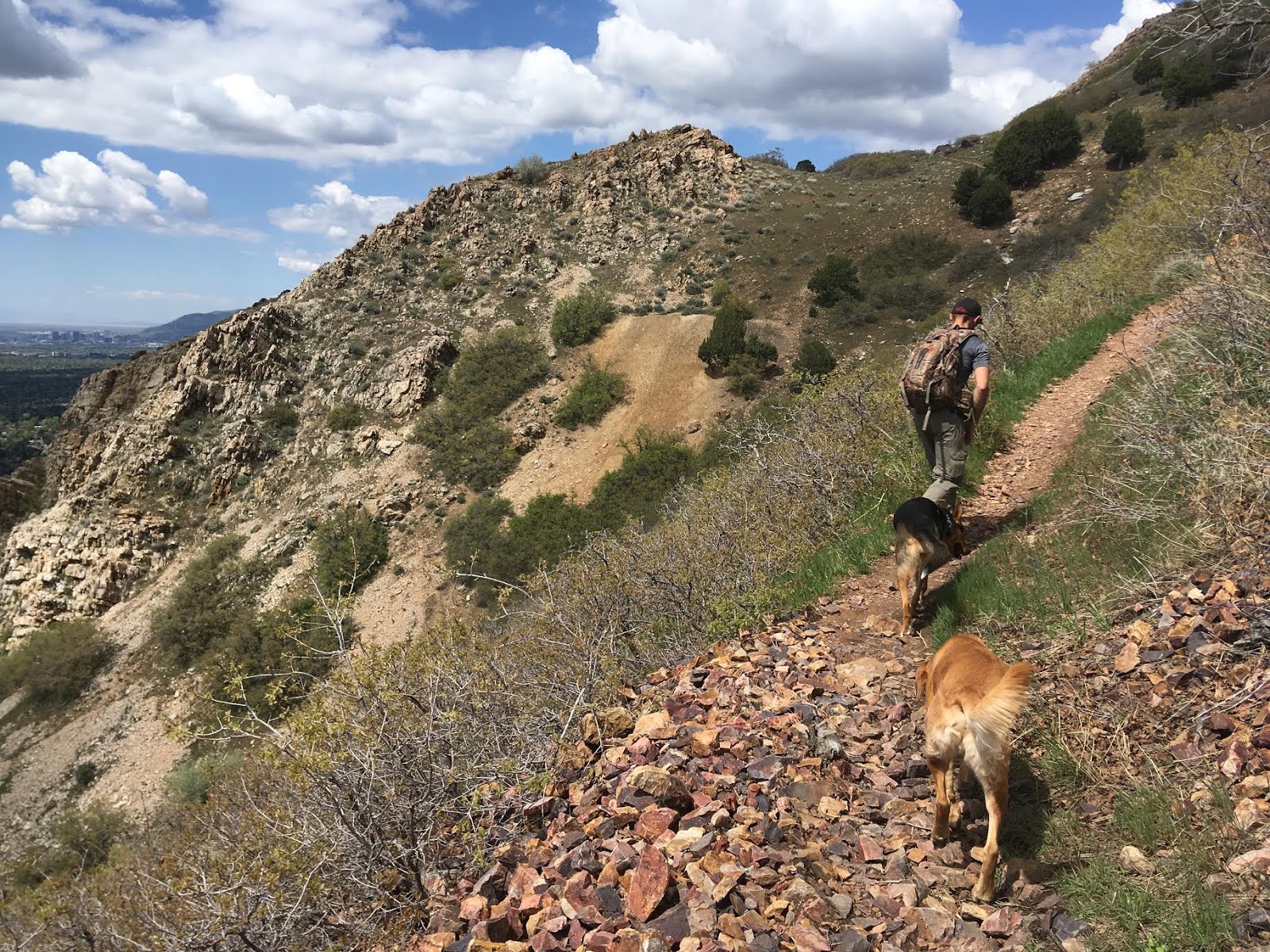 The trail becomes even more exposed, and you'll work your way over to the next overlook.

Panorama from one of the overlooks. I-215 below.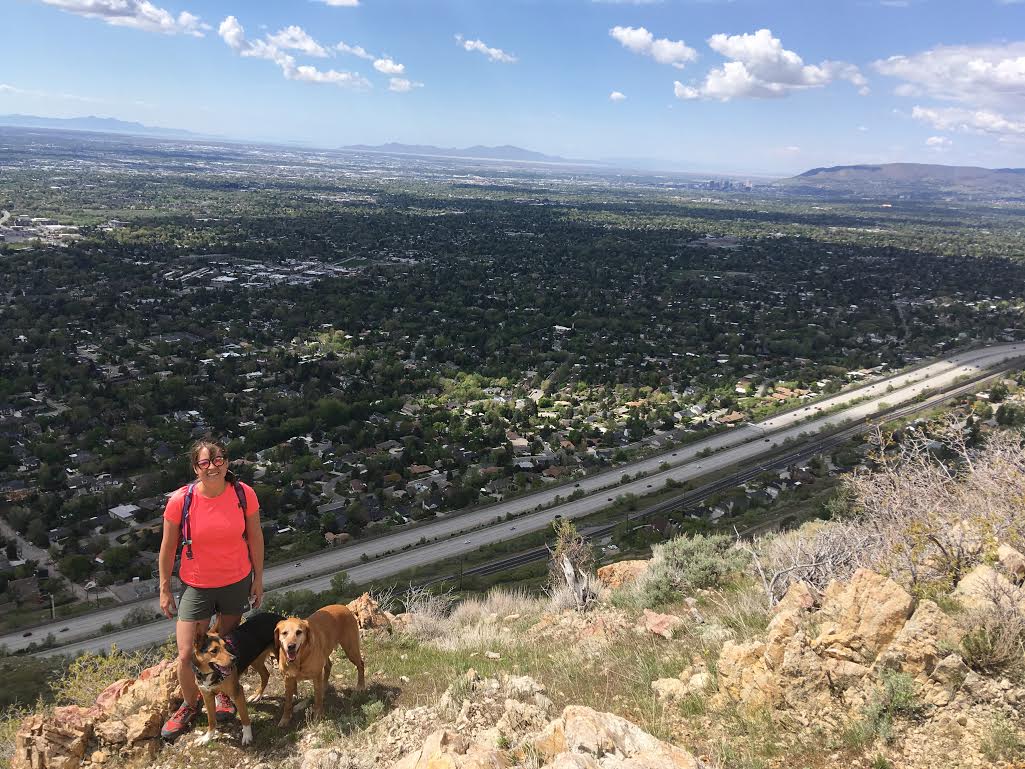 Above I-215. You can barely see downtown SLC in the top right corner.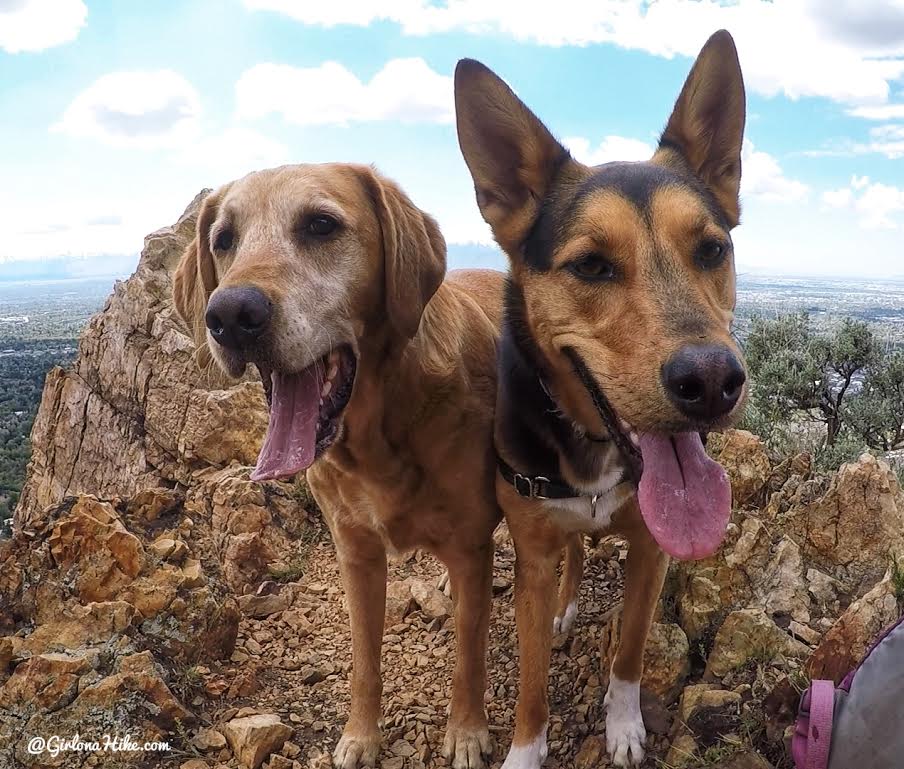 Charlie and Sagan pose for me!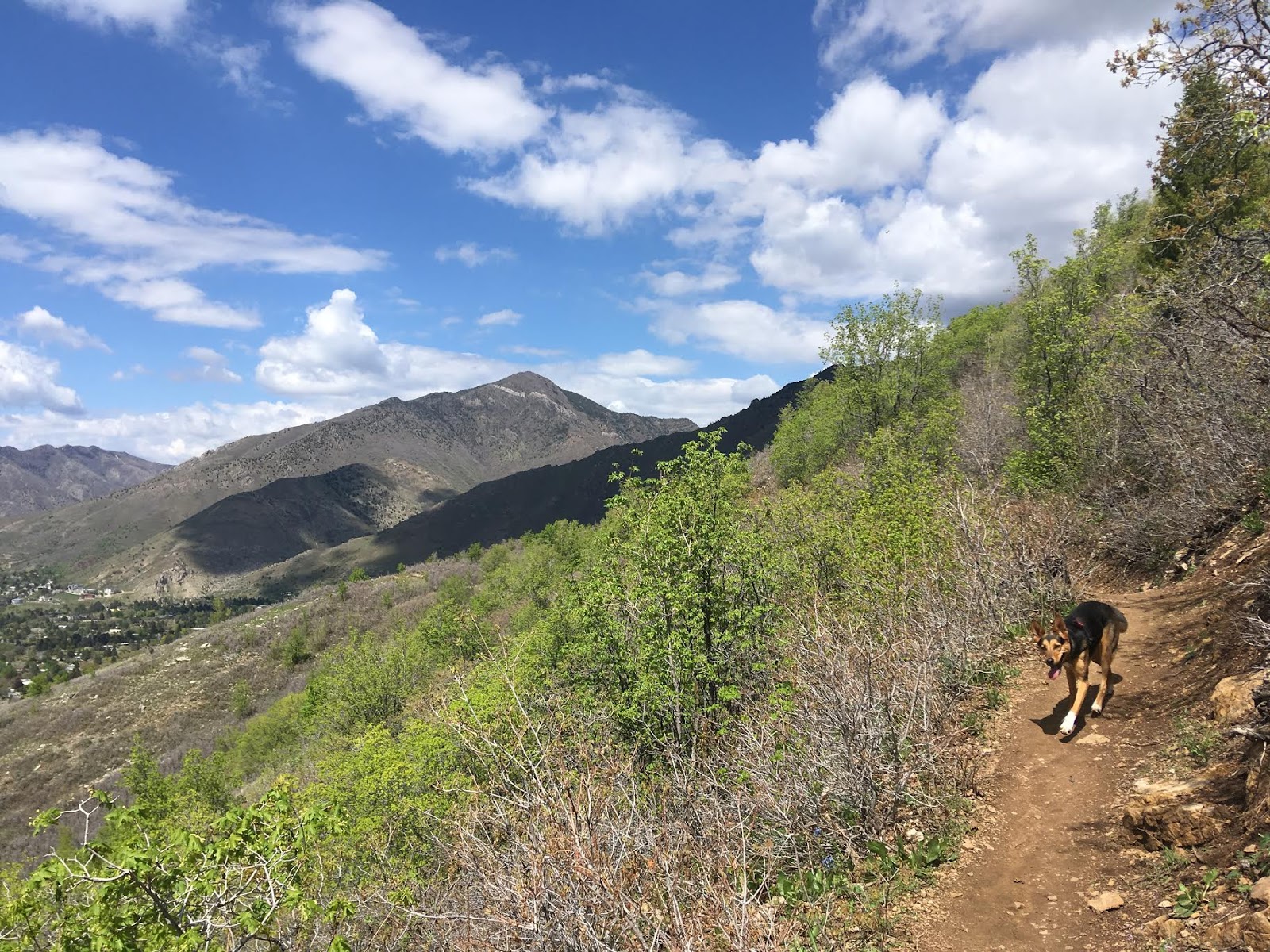 As you keep curving around the base of Mt. Olympus, you will get a great view of Grandeur Peak (another great summit!)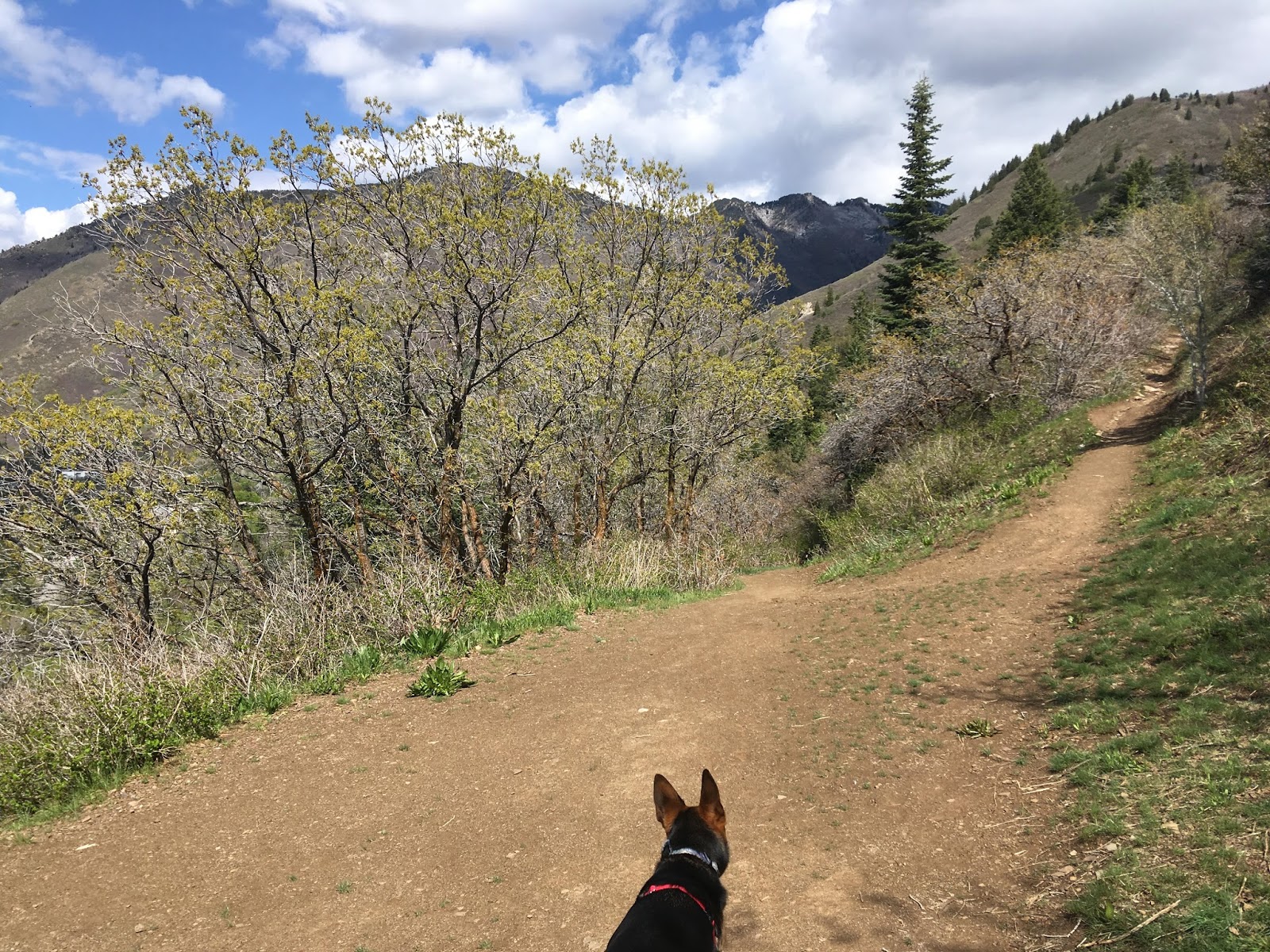 You'll come to another trail split, this time stay left to go downhill.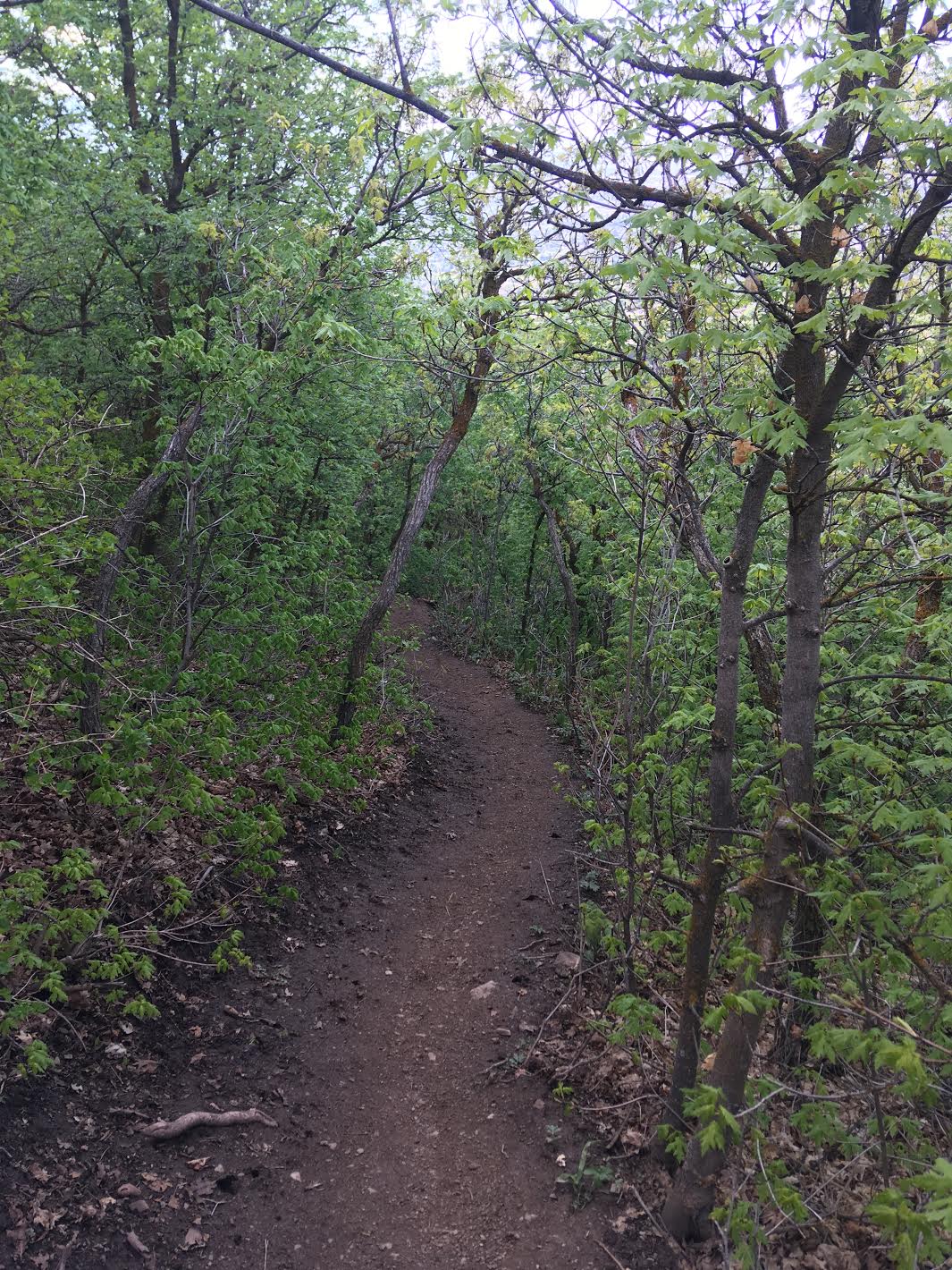 Finally there's some shade along the trail, and you're almost done.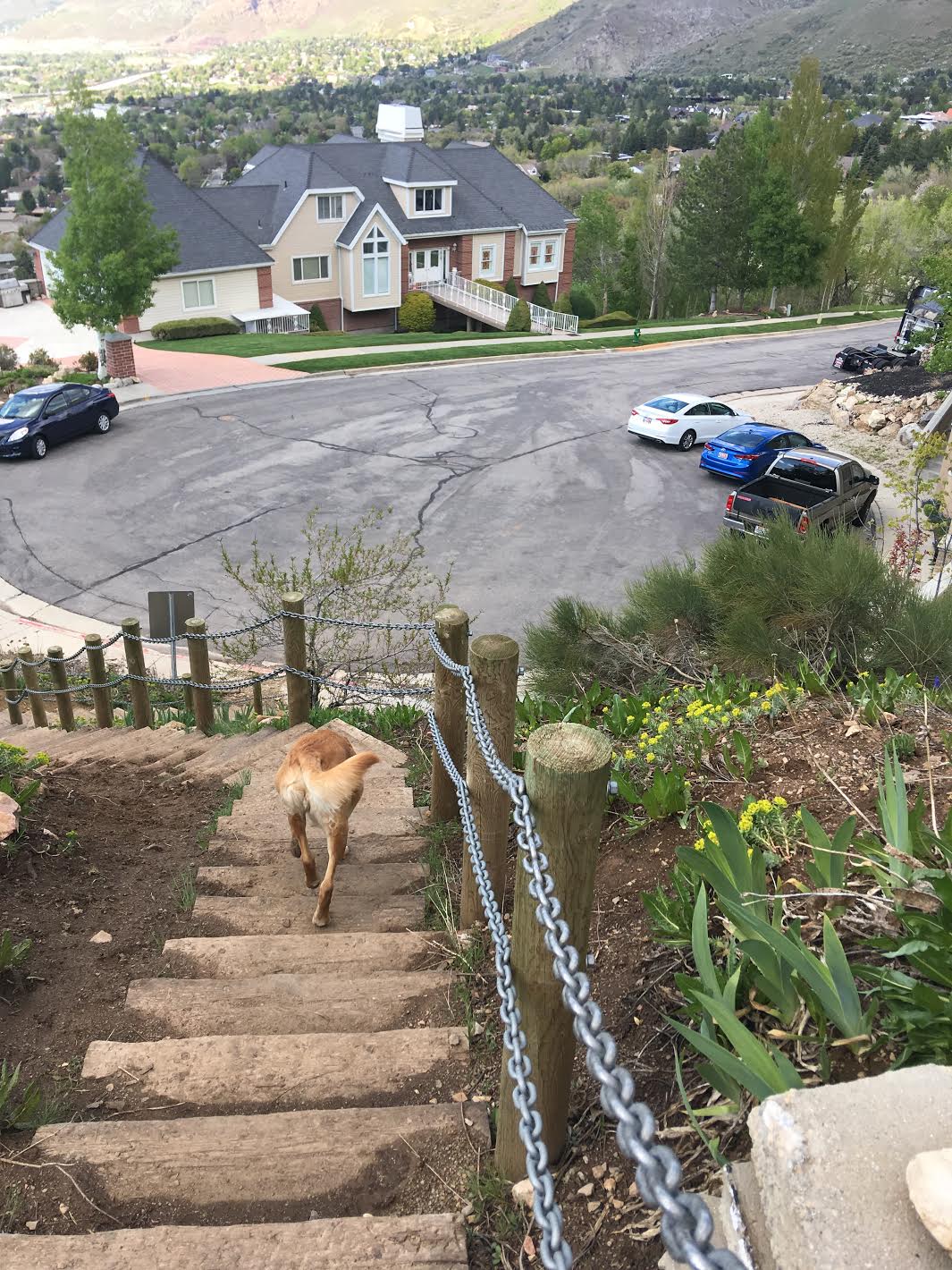 Make your way down the steep stairs to meet up with your other car.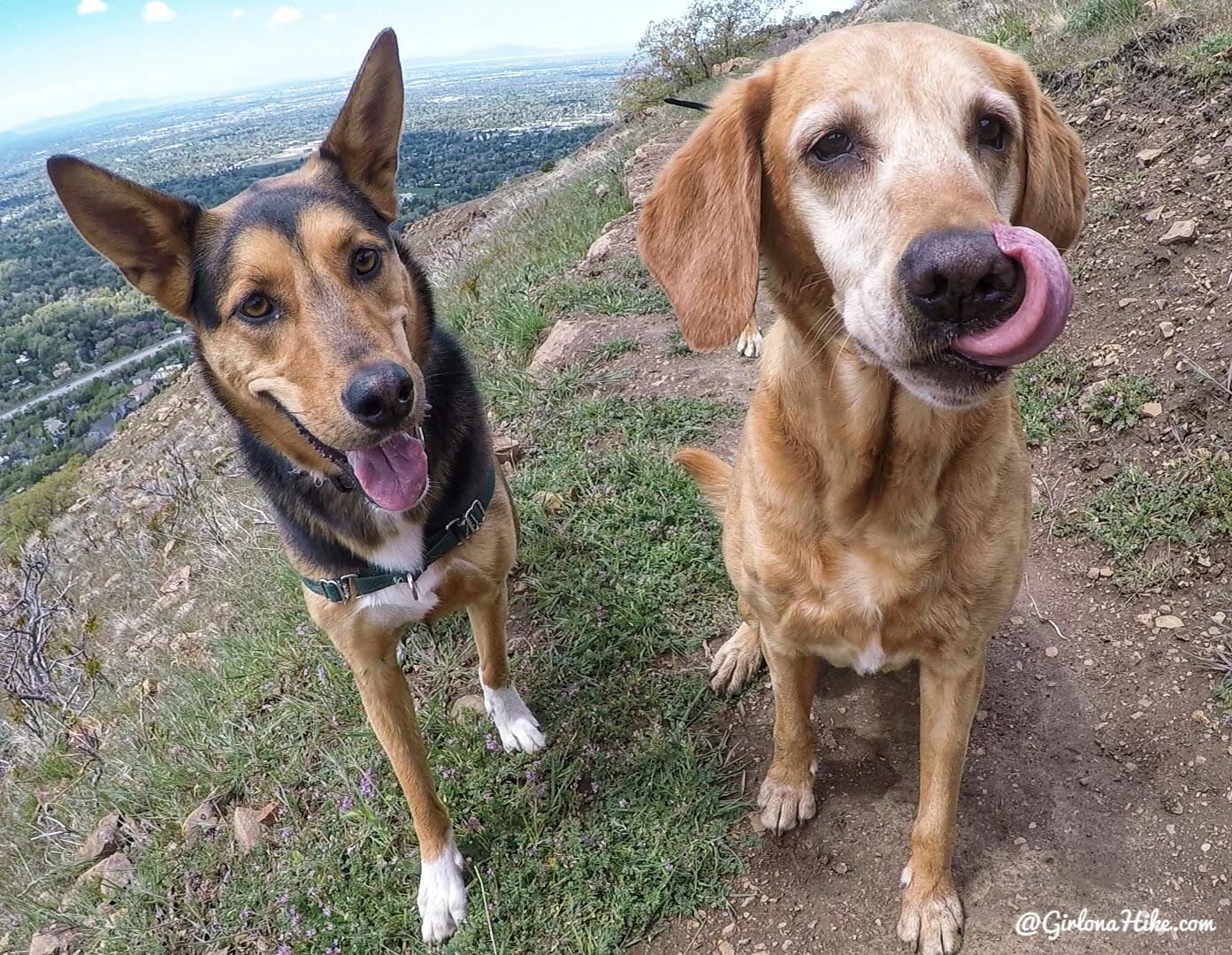 Charlie and Sagan loved this trail, but did get a little hot. Next time, we will do this hike the opposite way so we can hike mostly downhill and end at the stream in Heugh's Canyon.
My track via Gaia GPS – the best tracking app! Get your app here for a discount.