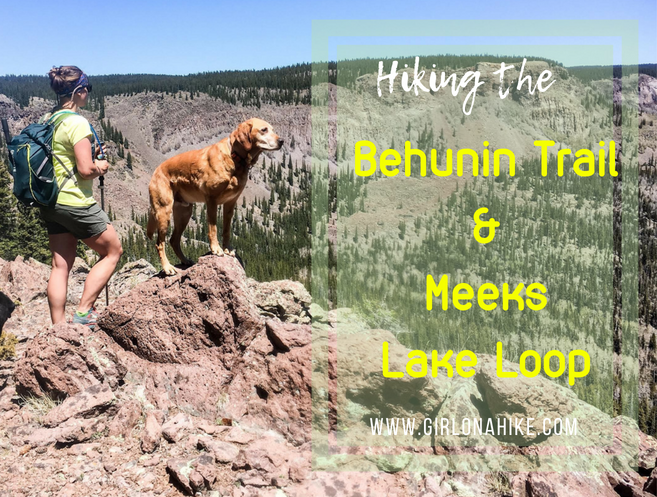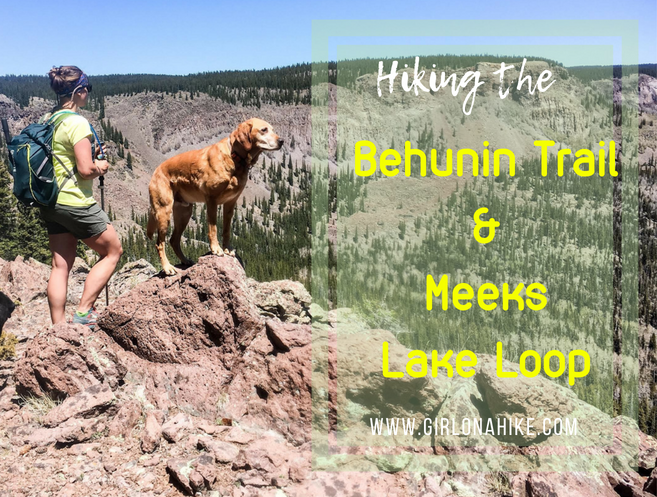 The Behunin Trail and Meeks Lake Trail are both located on Boulder Mountain, Utah, and are often done as separate hikes. However, you can combine them into one big loop to really see the East side of Boulder Mountain, and on clear days, all the way to the Henry Mountains. First, you'll hike up to "Boulder Top", the ridge, where you'll cross several open meadows, a stream, and will pass by an old airplane crash. Then you'll make your way over to Pleasant Lake, which offers great trout fishing and refreshing cooler temperatures, since the lake is at an elevation of 10,300 ft. After that, you'll hike over to Meeks Lake, another popular lake, and though it's pretty, doesn't have many fish. At the end of the day, you'll drop down the Meeks Lake Trail, and make your way through more meadows, and end back at your car.
This loop is 12.5 miles long, and therefore not good for kids. Dogs are allowed to use this trail off leash, and because it will take all day, you'll want to start early in the morning. We were out for a total of 8 hours, but 2 hours of that was sitting at the lake, fishing, and using our binoculars to look for Elk. This route would also be a good, quick over night trip if you wanted to backpack and stay at the lakes. Plan to bring plenty of food, water, and a water filter. I carried 2 liters of water, and combined with myself and the dogs, ran out of water after only 6 miles. Thankfully, I always pack my Mini Sawyer to filter water in case of emergencies like this particular hike.
The best time to hike this route is Summer and Fall, when the trail is dry and the roads are accessible.
Directions
From Torrey, UT drive south on HWY 12 for 16.5 miles, just past the white Ranger Station. Turn right at the large sign for Pleasant Creek TH. Drive up this FR247 for 1.8 miles, or however far your car can make it. You'll see the Behunin Creek TH on your left side. 4×4 drive is recommended, however, we were able to get an Elantra up the road about halfway, just past the corral. It depends on the road conditions for how far you can make it in a passenger car. Here's a driving map.
Trail Info
Distances:
One Way:
1.5 miles to Bear Flat
3 miles to the ridge
3.6 miles to see the plane crash on the right, in boulder field below
6 miles to Pleasant Lake
8.7 miles to Meeks Lake
9.6 miles start down the Meeks Lake Trail
11 miles to the Pleasant Creek trail split, cut through a gate, cross a stream
12.2 miles pass the Behunin TH again
12.5 miles RT (loop) – back to car
Elevation gain: 2,513 ft
Time: 6-8 hours
Dog Friendly? Yes, off leash
Kid Friendly? No
Fees/Permits? None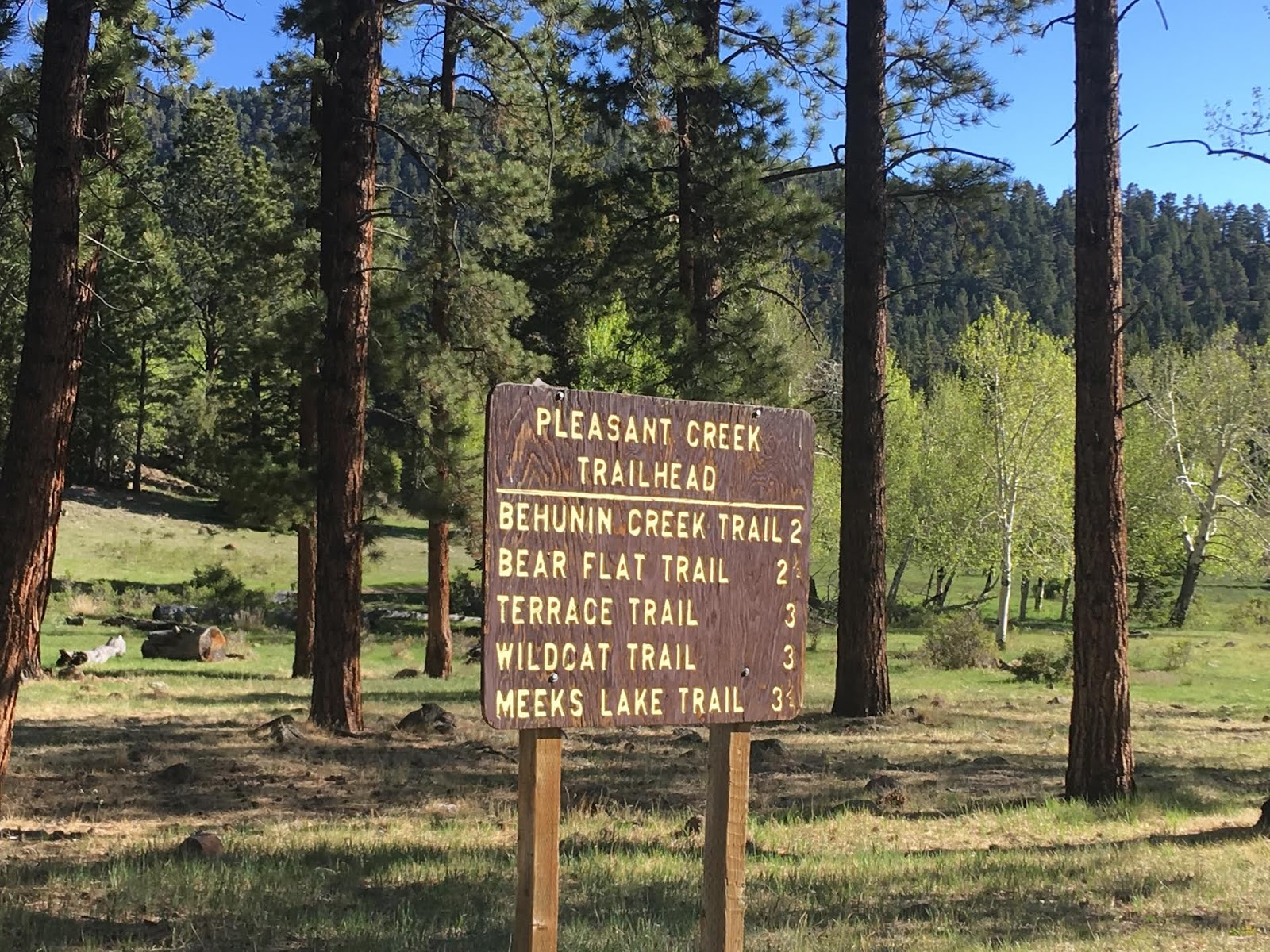 You'll see this large brown TH sign when you turn off HWY 12, on the right side (West). Drive up to the TH, or as far as your can make it.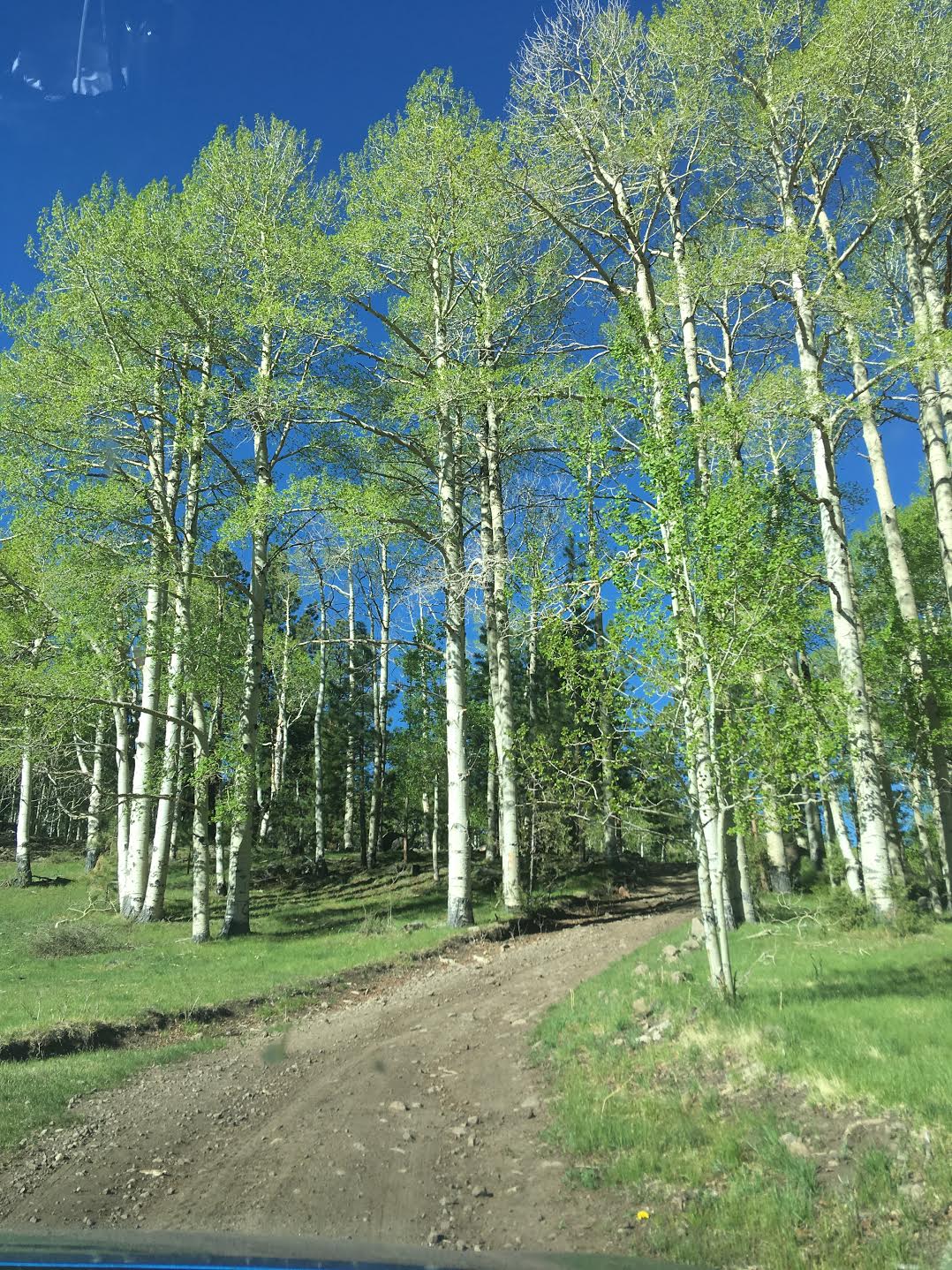 The road wasn't too bad the first mile.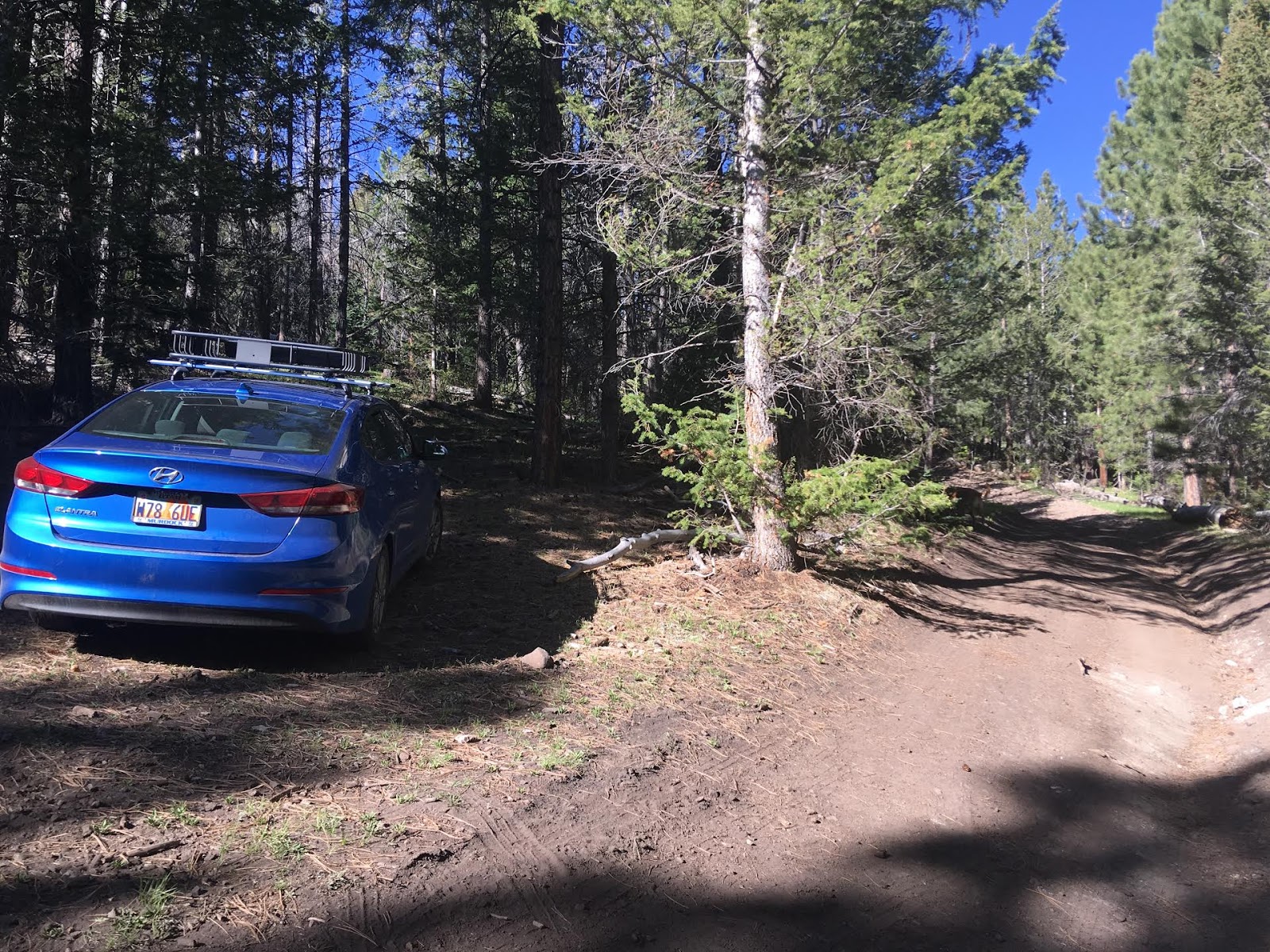 The Elantra could only make it up so far – but we were able to find a small pullout to park. We had to walk up the actual TH for only 1/2 mile. If you had 4×4 you could drive all the way.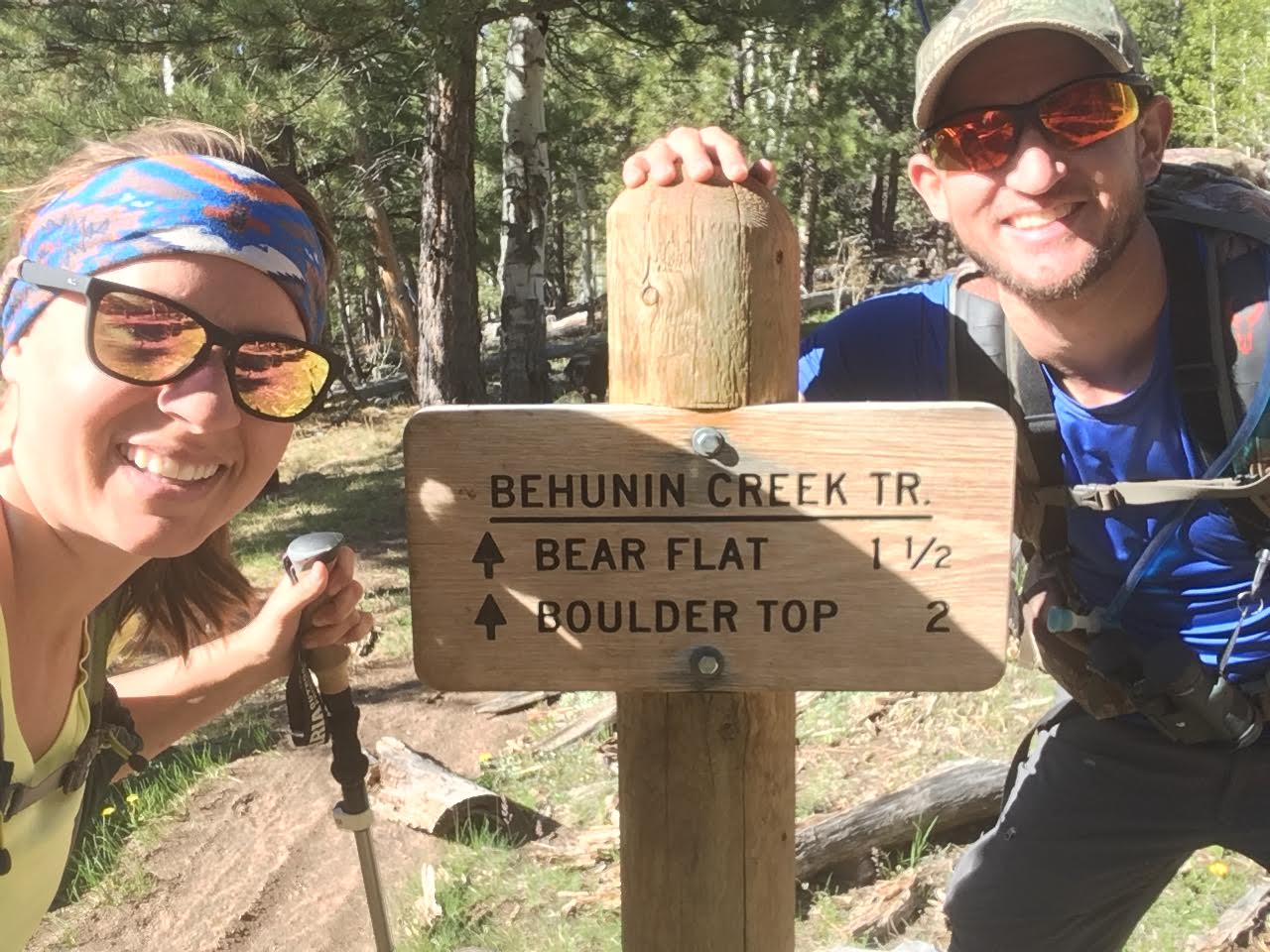 Made it to the TH! The trail starts on the East side of the road.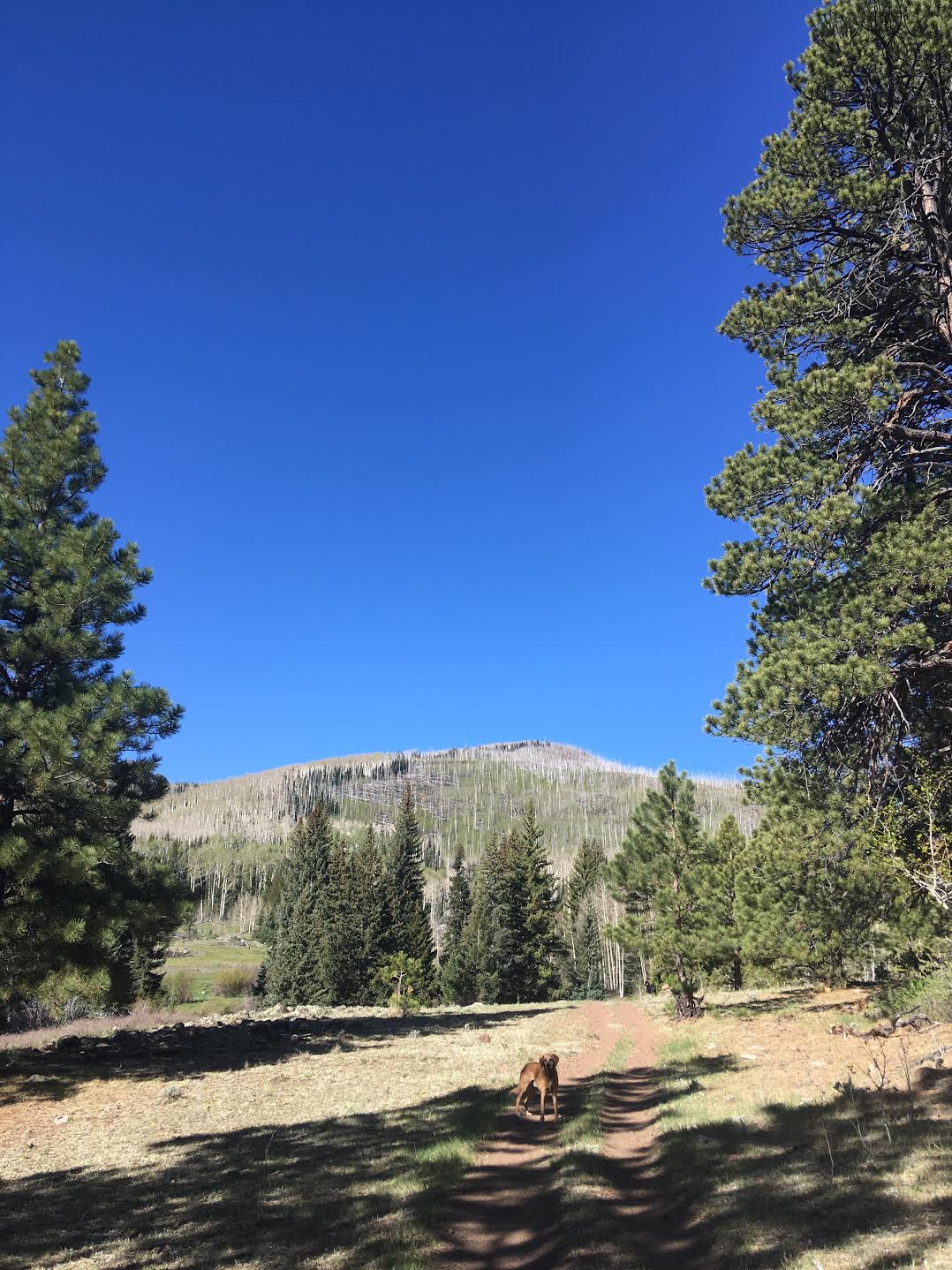 Follow the old jeep road downhill.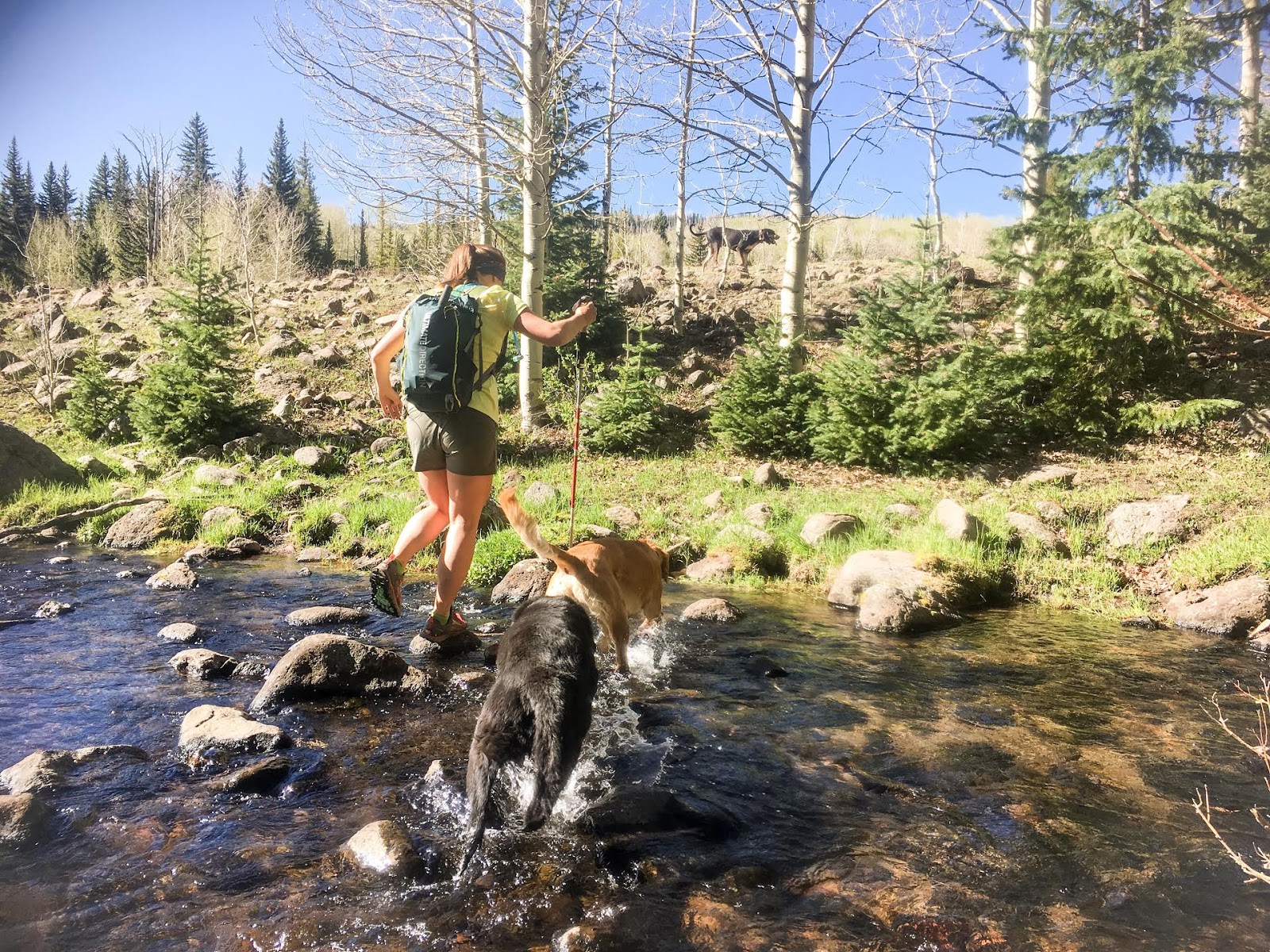 Within a few minutes you'll cross Pleasant Creek.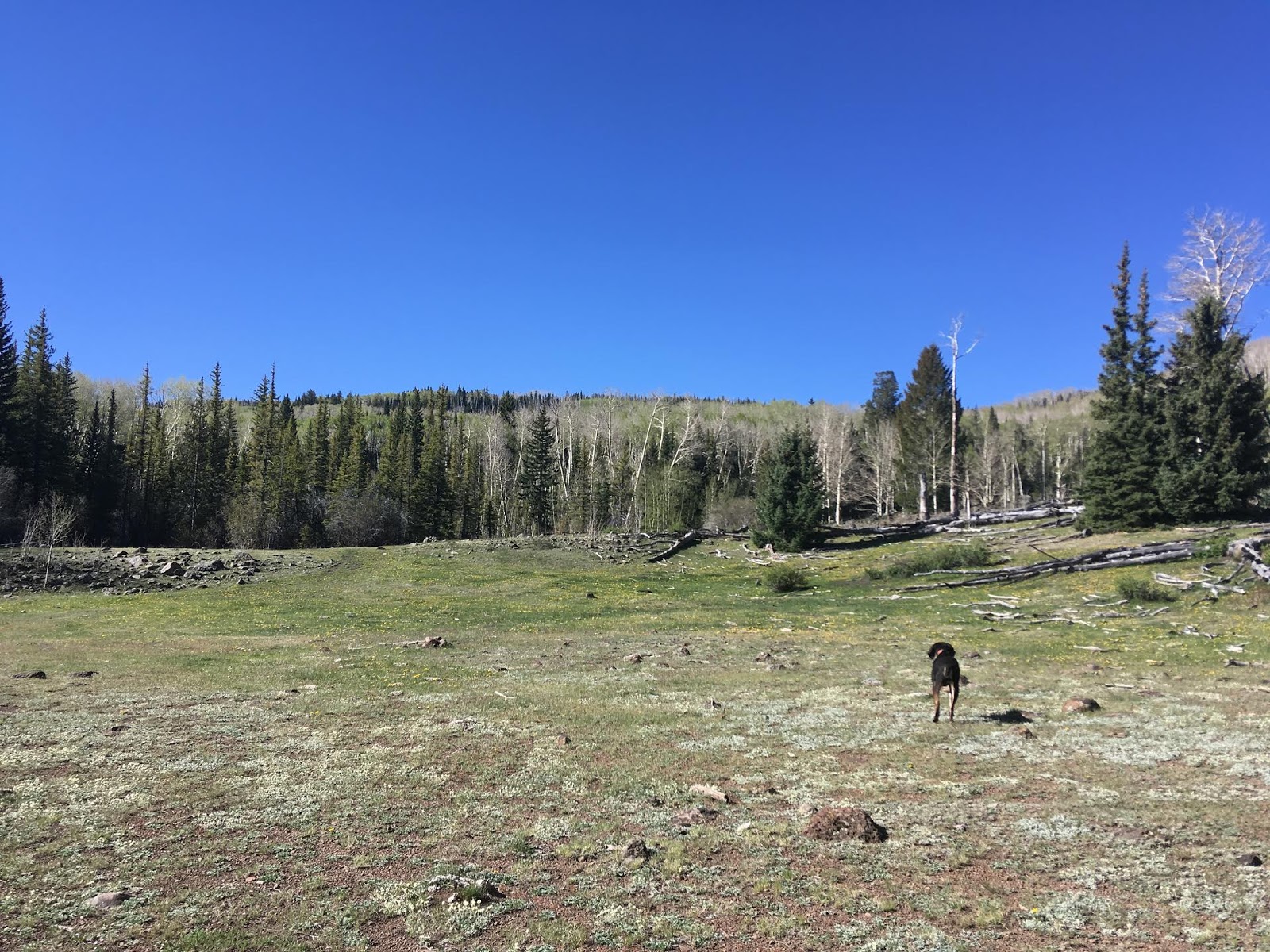 Most of time there's no actual trail – you need to look for cairns to know where to go. I would highly recommend downloading a GPS app like Gaia GPS so you know exactly where you are and where to go. I looked at my app for this trail more than I could count. If you miss a cairn, you'll be lost pretty quick. So don't forget to look up!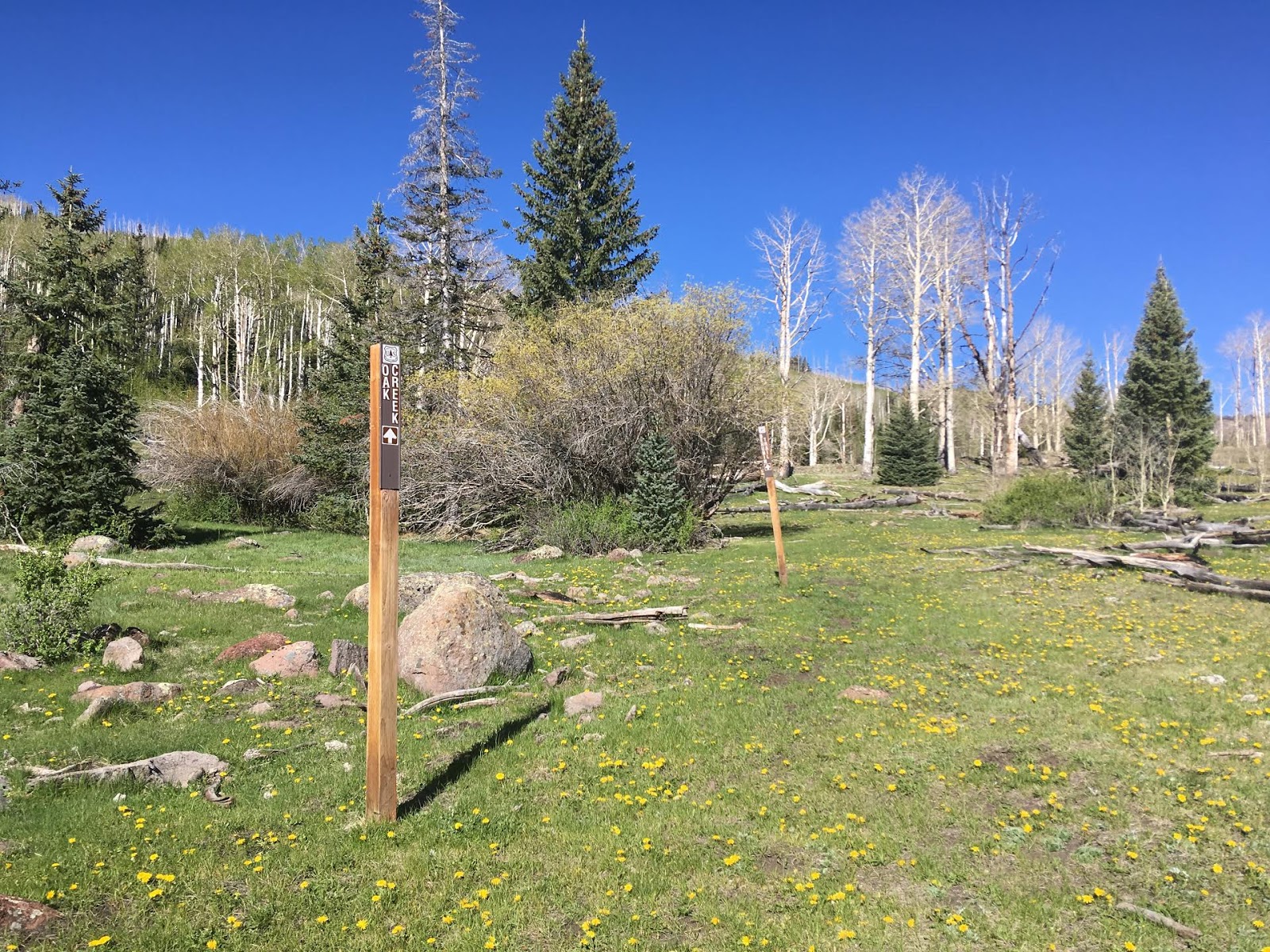 See how there are signs but no trail anywhere? Having the app/map will help you know where to go. Stay straight for the Behunin trail. Left will take you over to the Oak Creek Reservoir.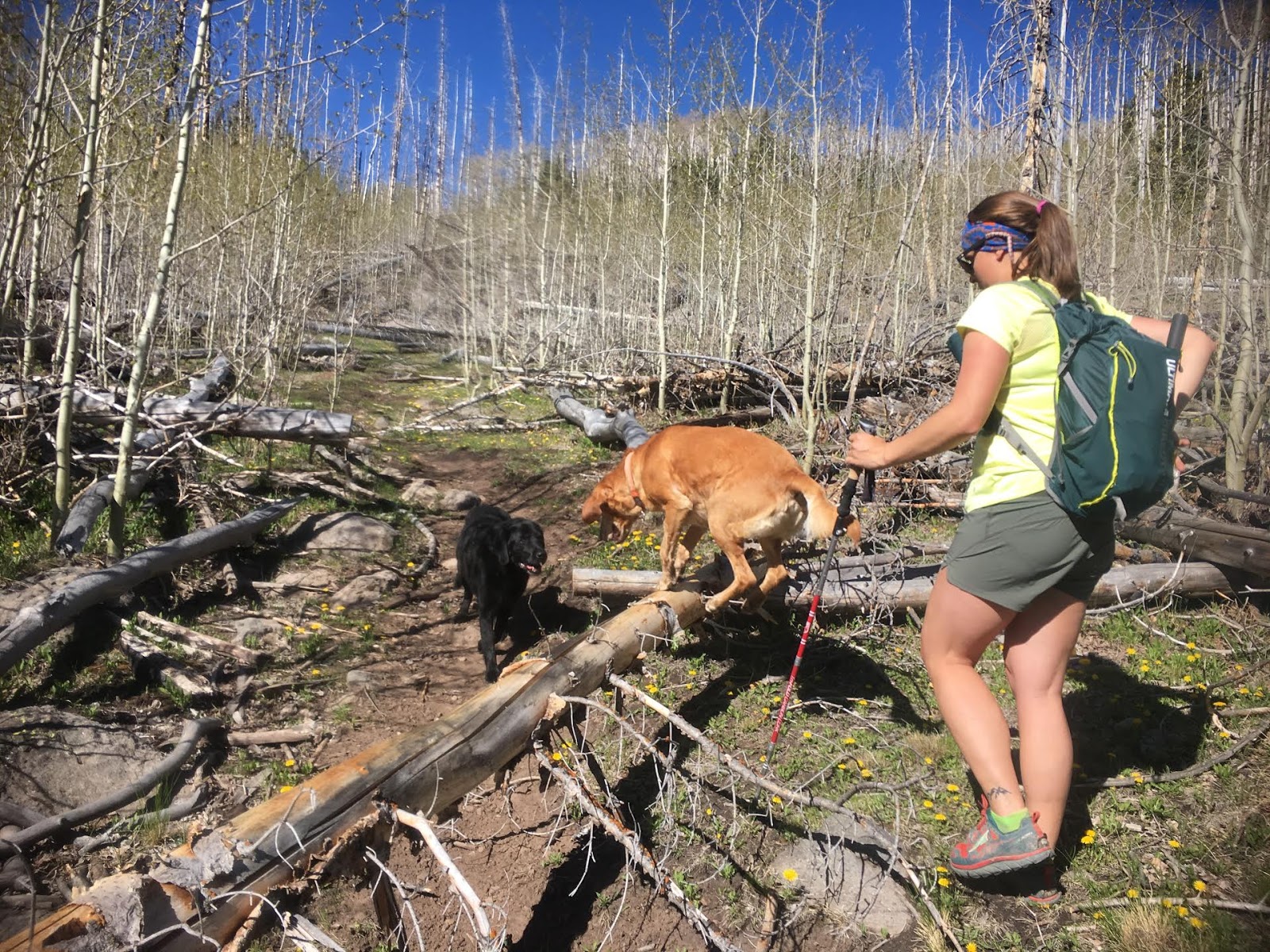 You'll hike through a field of downed trees mixed with Aspens.

Reach Bear Flat at 1.5 miles.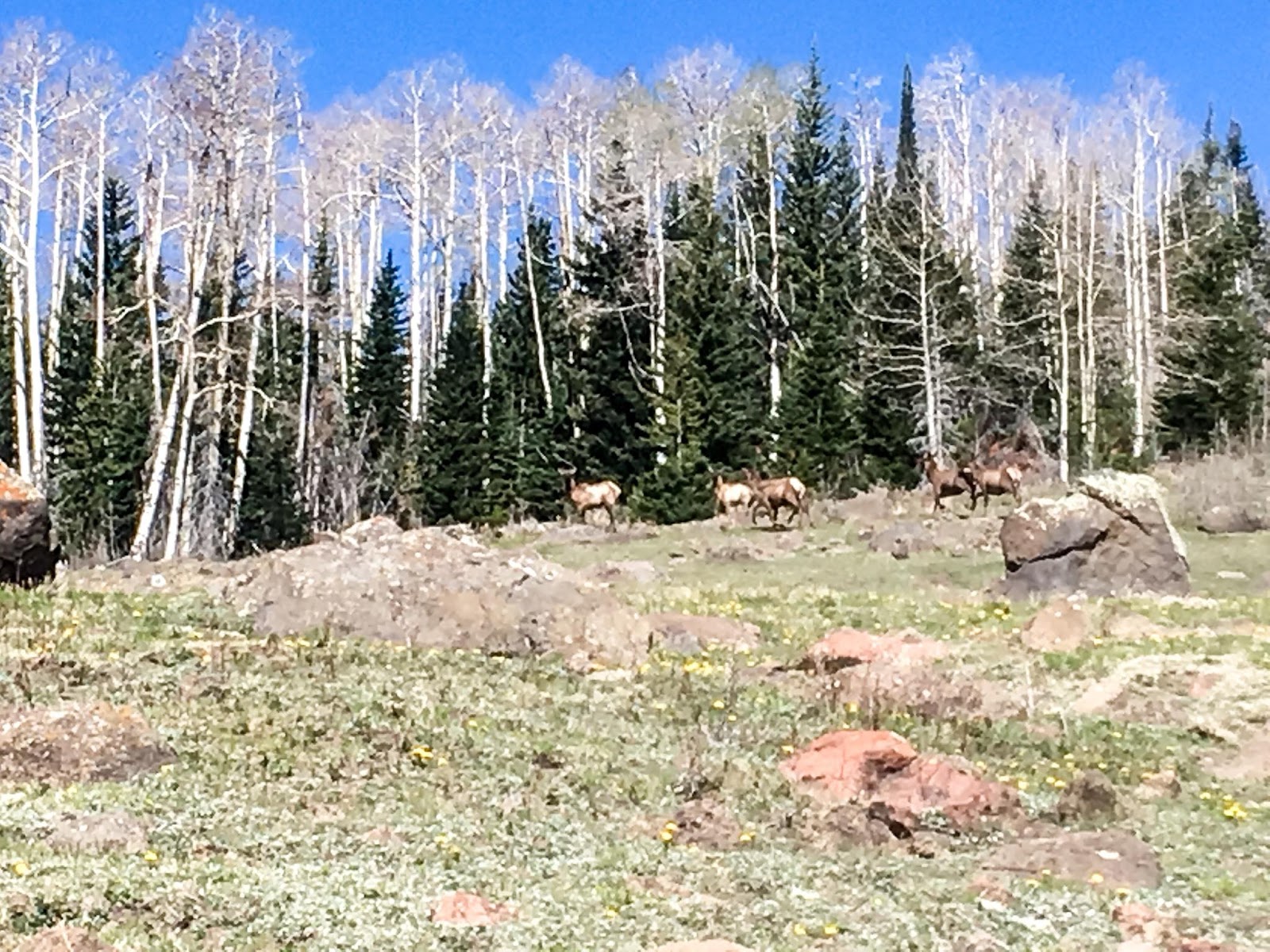 We saw a herd of 6-8 Elk at Bear Flat!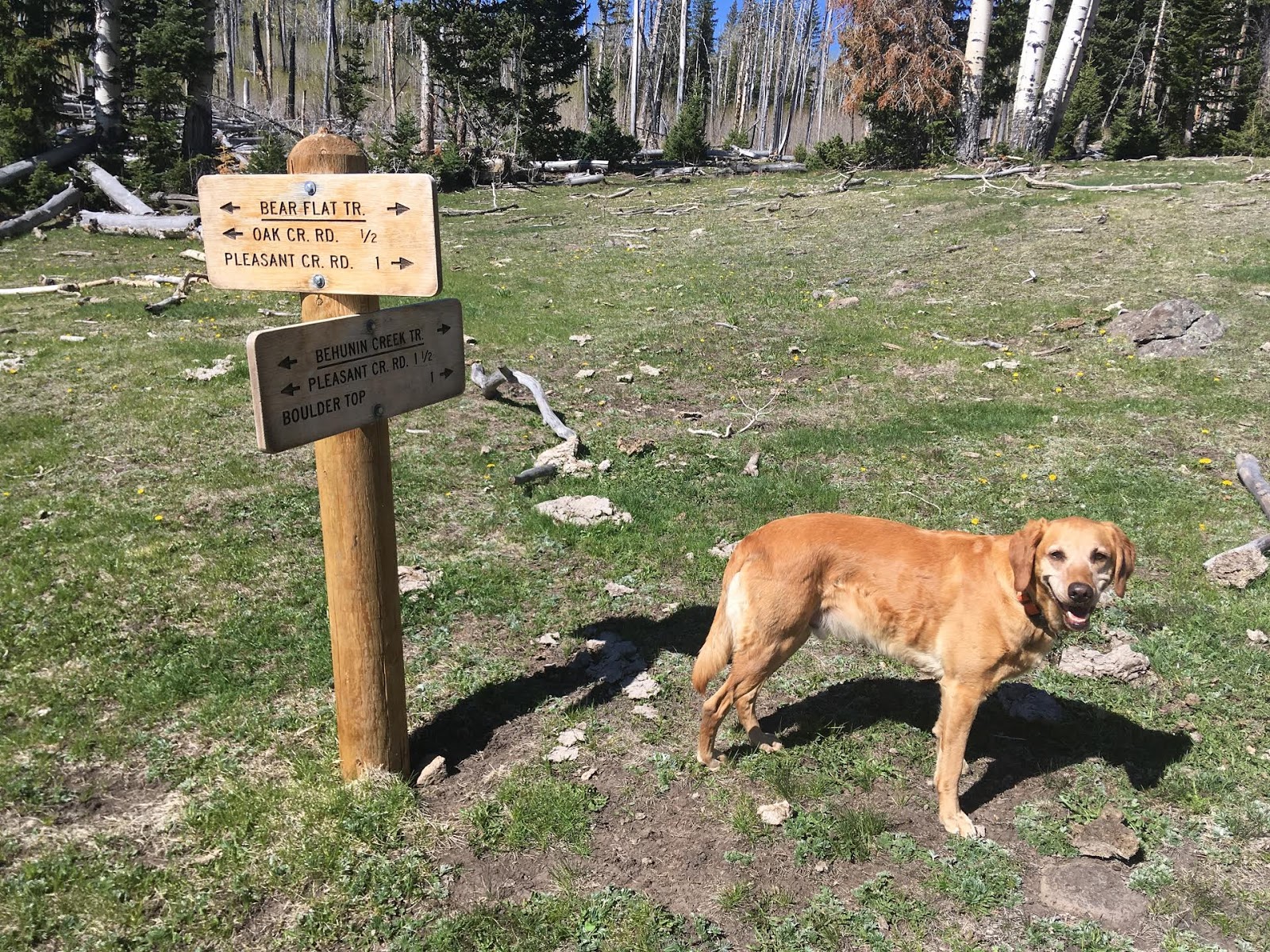 Once again at Bear Flat you won't really see any trails, but make sure you follow the signs and stay straight. If you wanted to make a really small loop hike, turn right here to make your way back to the car. This would create a 3-4 mile loop.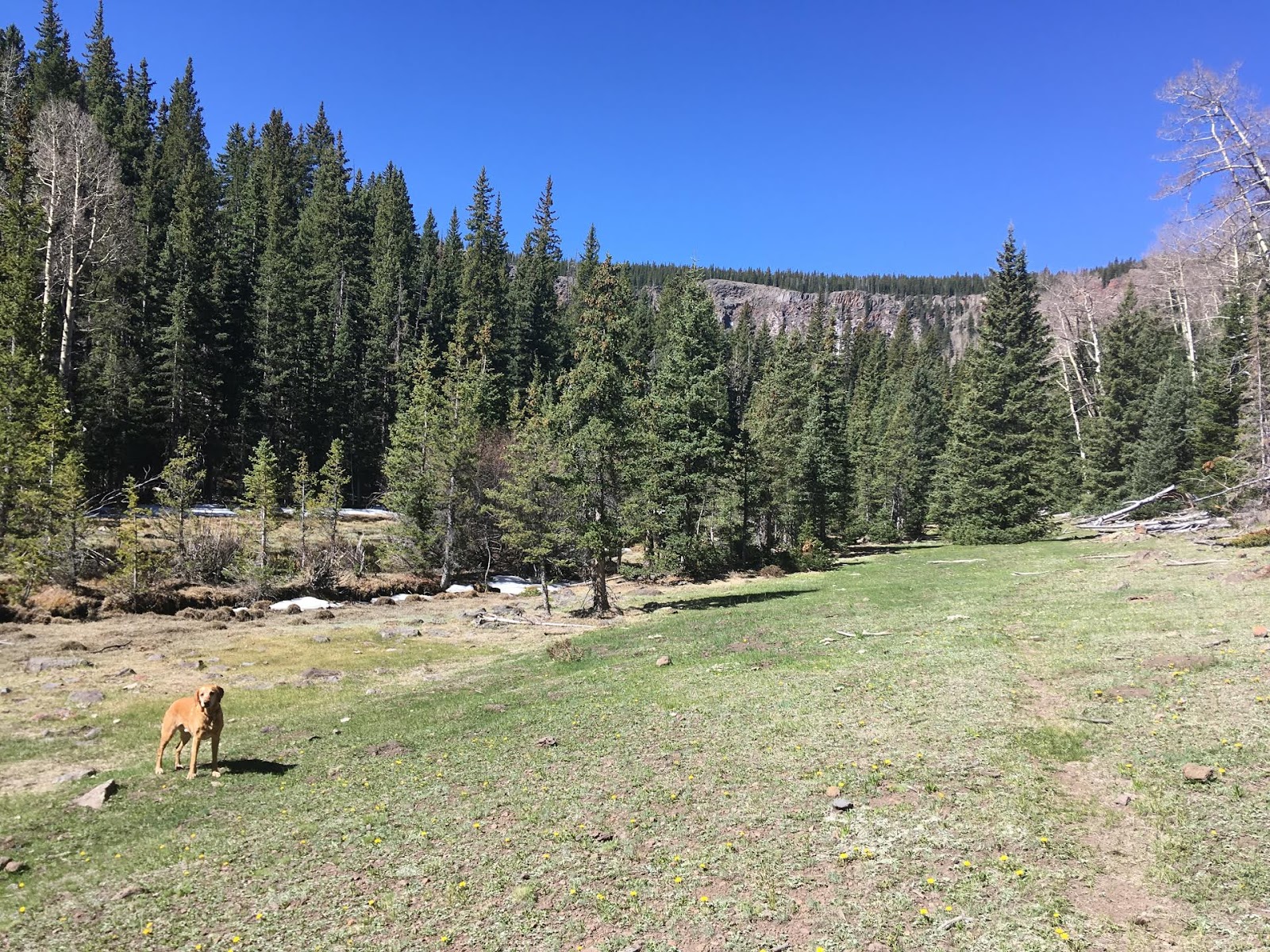 You'll hike through several really pretty meadows! From here the trail will wind up to reach the ridge. Don't forget to look for cairns!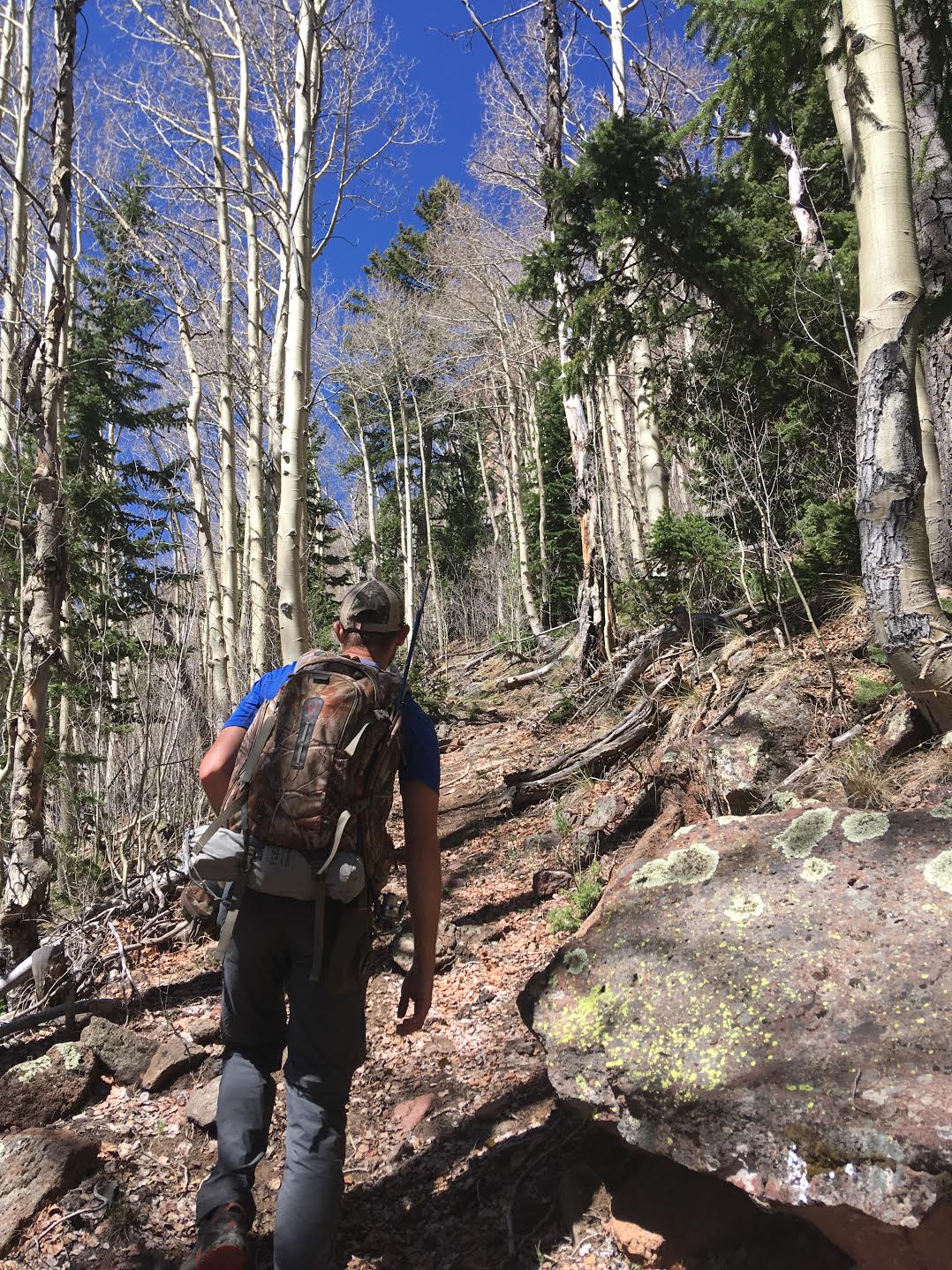 We got off trail close to 5 times the entire loop simply because we couldn't find cairns or anything that "looked" like a trail. Finally, we found the trail to the ridge (Boulder Top) by following Gaia GPS.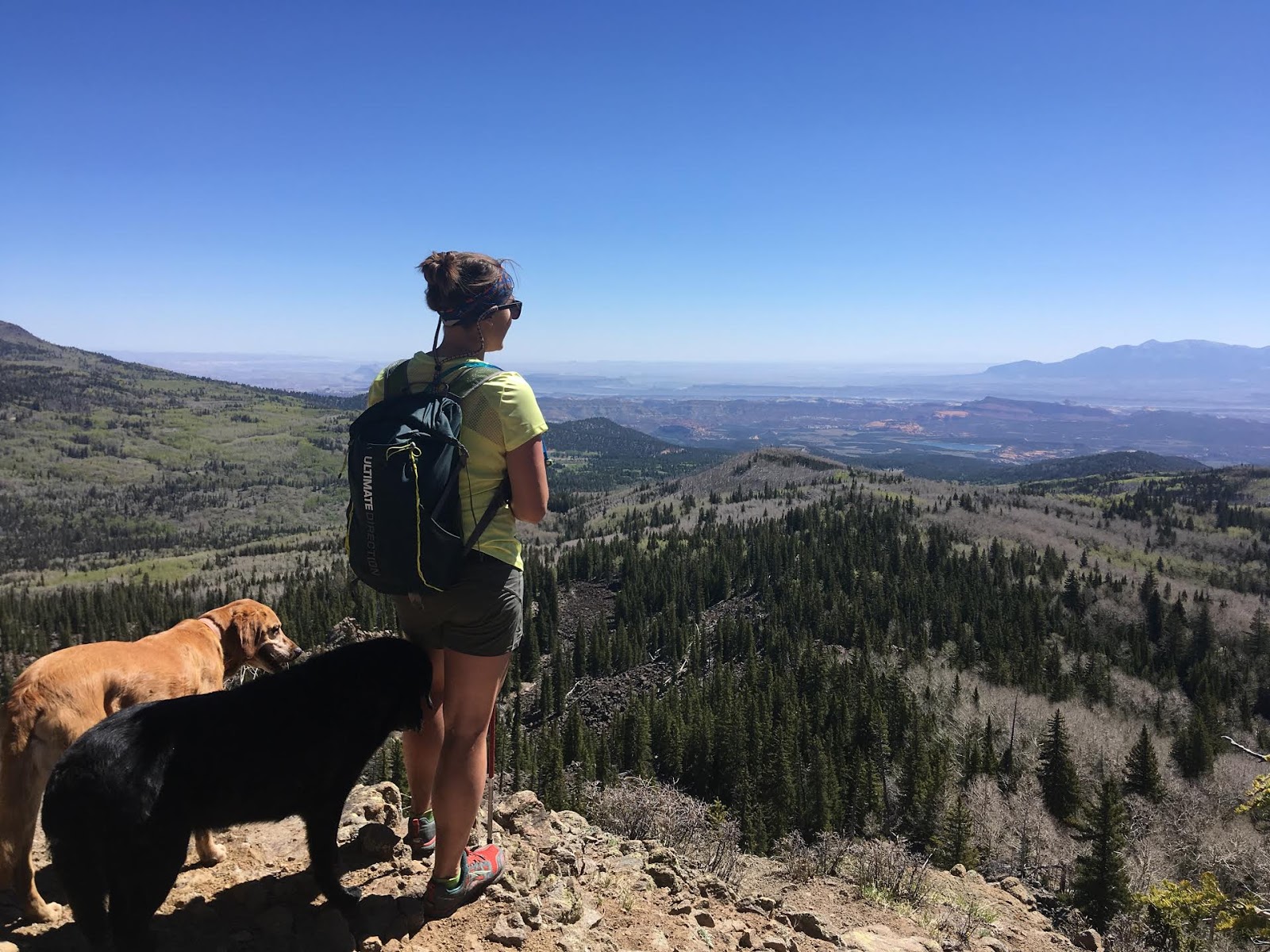 Whew! Finally on top. It was about 3 miles to this point and close to 2,000 ft elevation gain.  PS I've been loving my new Ultimate Direction hiking/running vest! I bought this one because my nose runs constantly and I'm always grabbing Kleenex and wanted immediate access to those, plus my phone, chapstick, etc. Everything is literally on my front should straps. I've also picked up running again (it's a love-hate relationship LOL!), and I wanted to be able to hike up somewhere then run downhill. Loving this pack!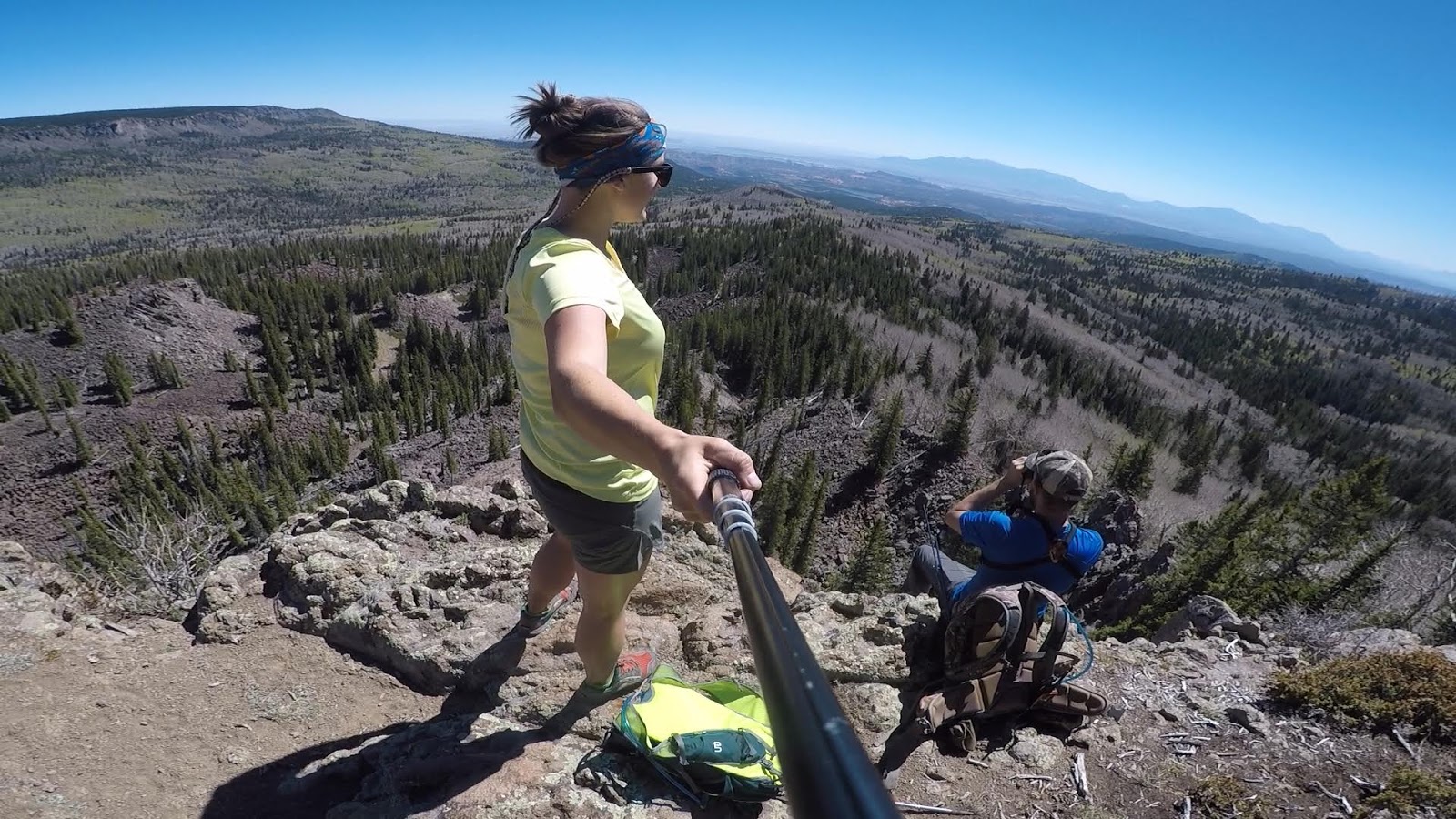 Byron searches for Elk for 10 minutes or so, then I ask if I can look. Within a minute, "BAM! I found one!" I was so happy haha! I beat him, and he wasn't too impressed (he was just jealous!). I really loved the views from the ridge – those are the Henry Mountains in the distance.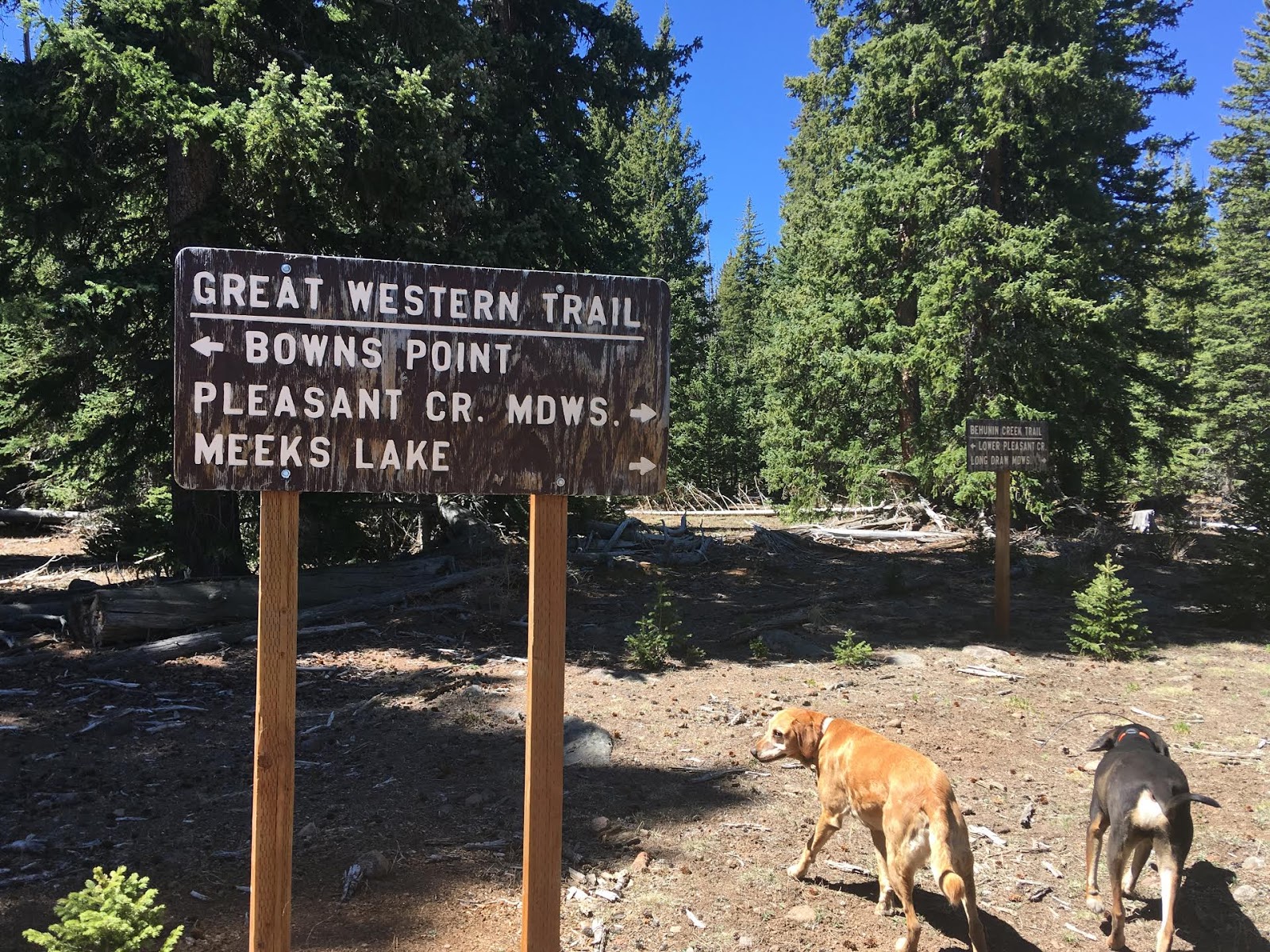 You'll see two brown TH signs – make sure you stay right. You will now be on the Great Western Trail (GWT). Eventually the GWT connects over to Deer Creek Lakes area as well.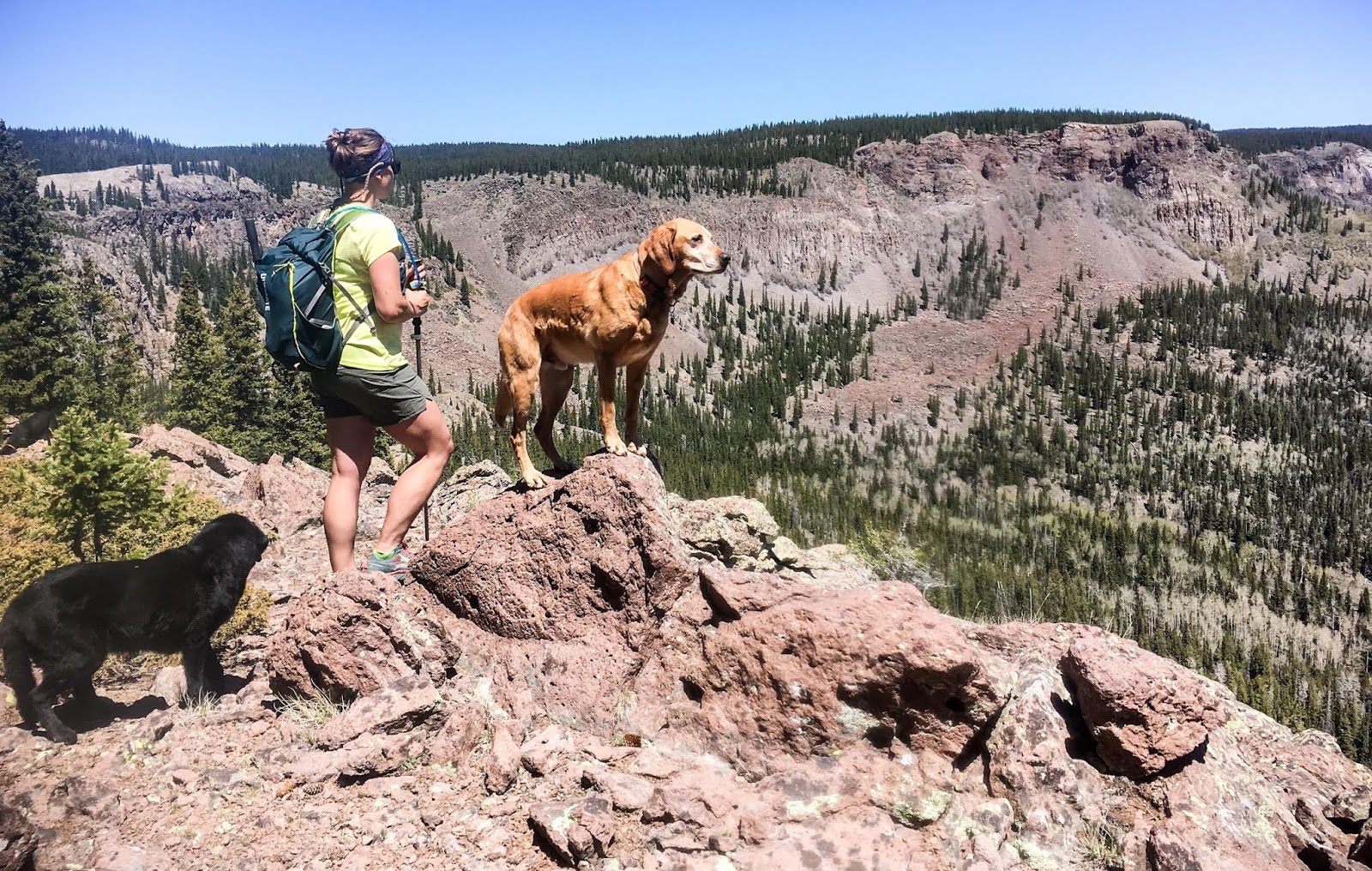 You'll end up hiking all the way around the ridge to the far side. There are many great spots to stop at look down into the basin.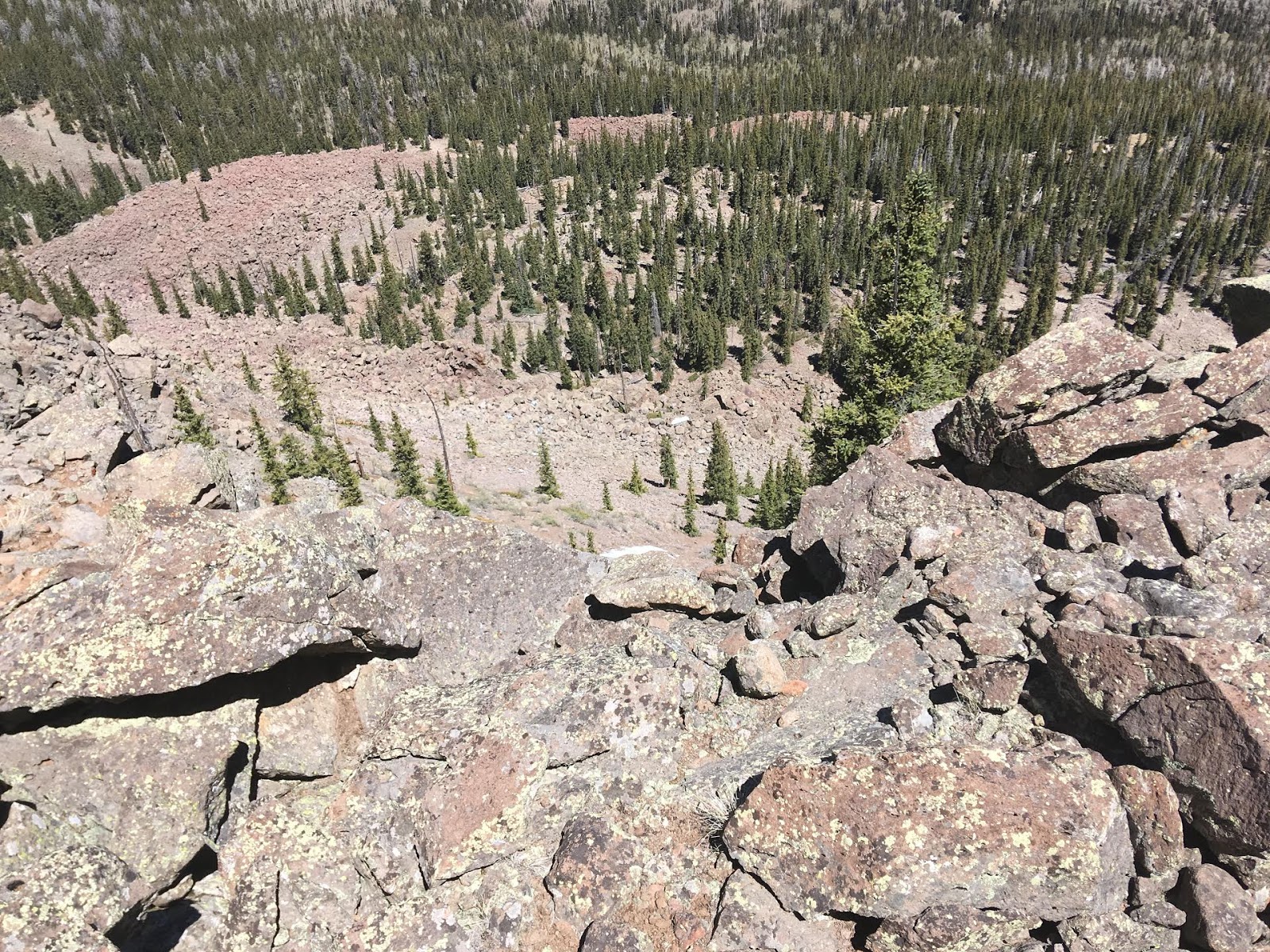 Around mile 3.6, look over the ridge down to the basin and you'll see scattered reflective shreds of metal. We were pretty sure it's from a plane crash (after doing some research it was – read it here). Scary!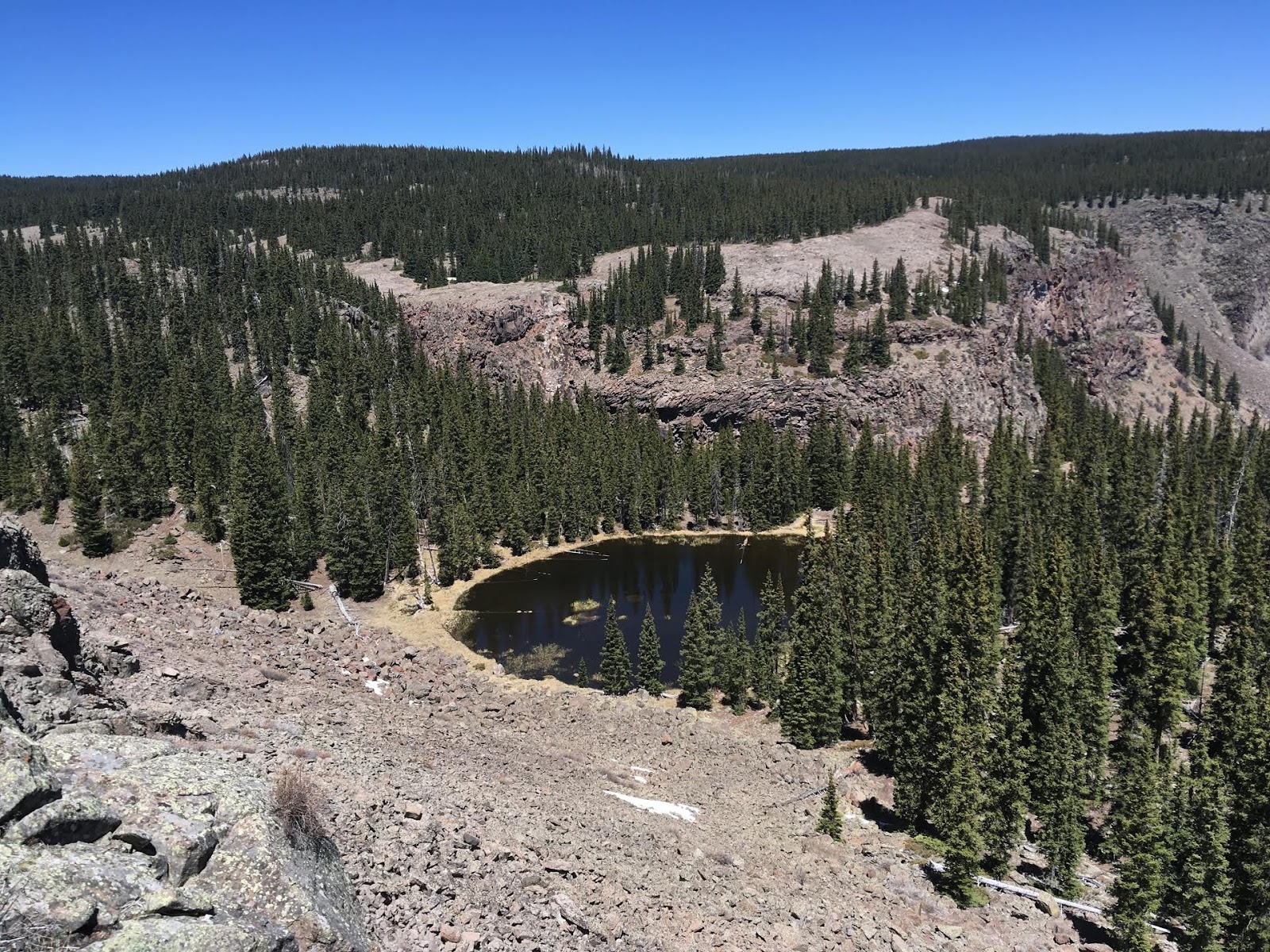 You can also see a muck pond from the ridge. You won't hike by this.
You will know you are on the right trail when you see the GWT mini plaques on trees. There are very few of them though. Cains will still be your best friend on this trail.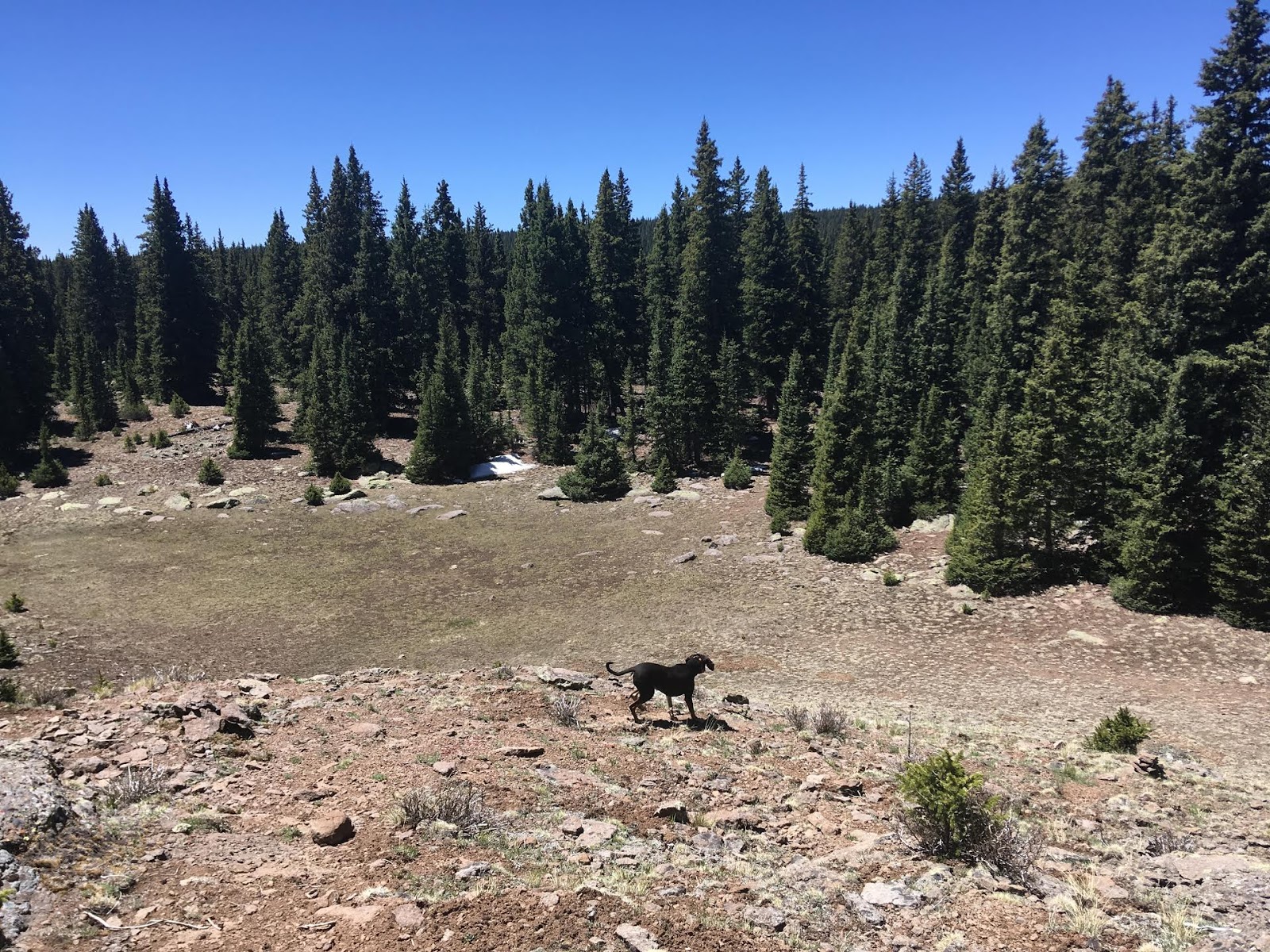 Pass by another meadows, and hike down a few small switchbacks.
Charlie takes a break to soak up the snow as often as he can.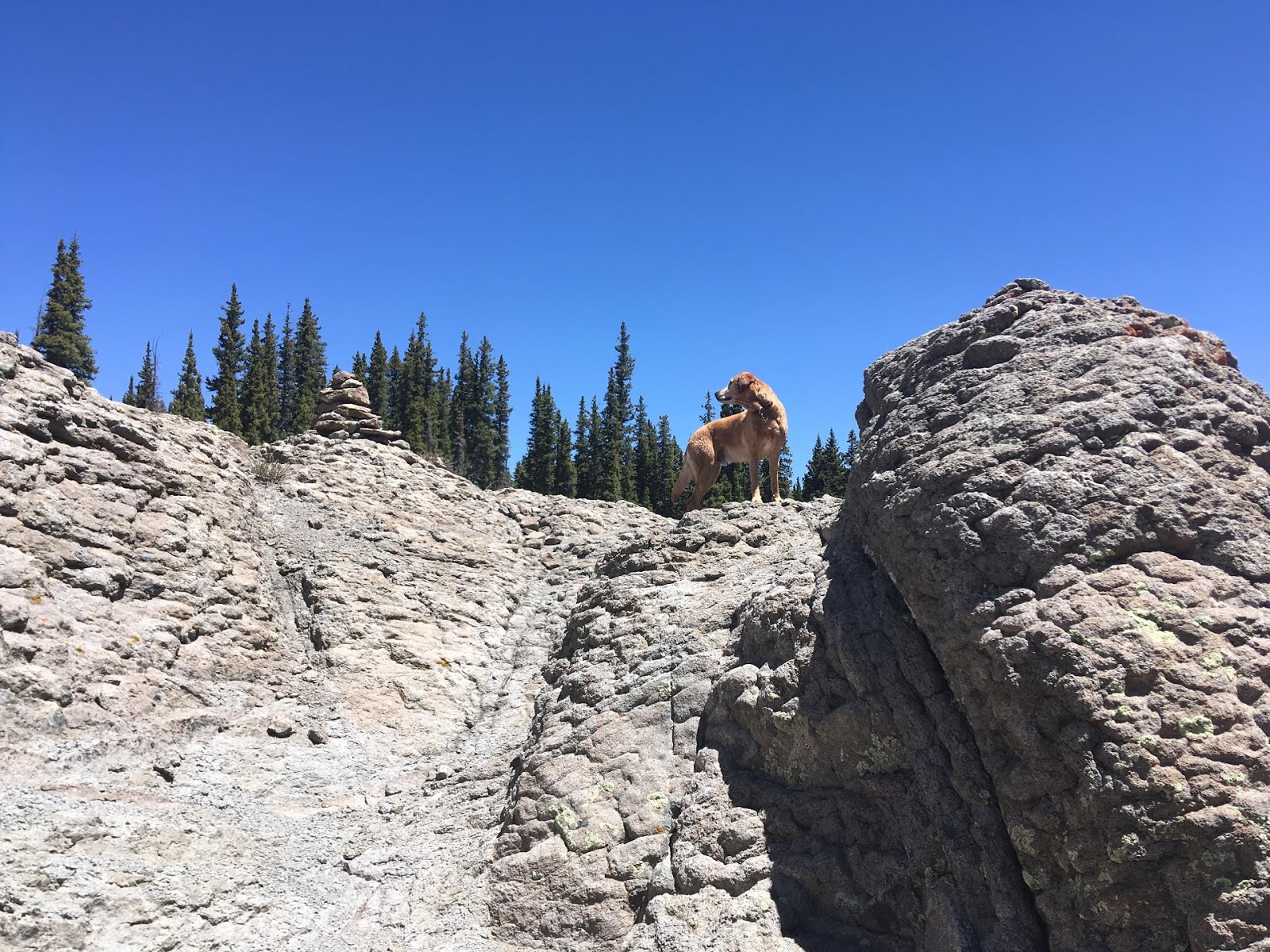 You'll come to a very rock area around mile 5.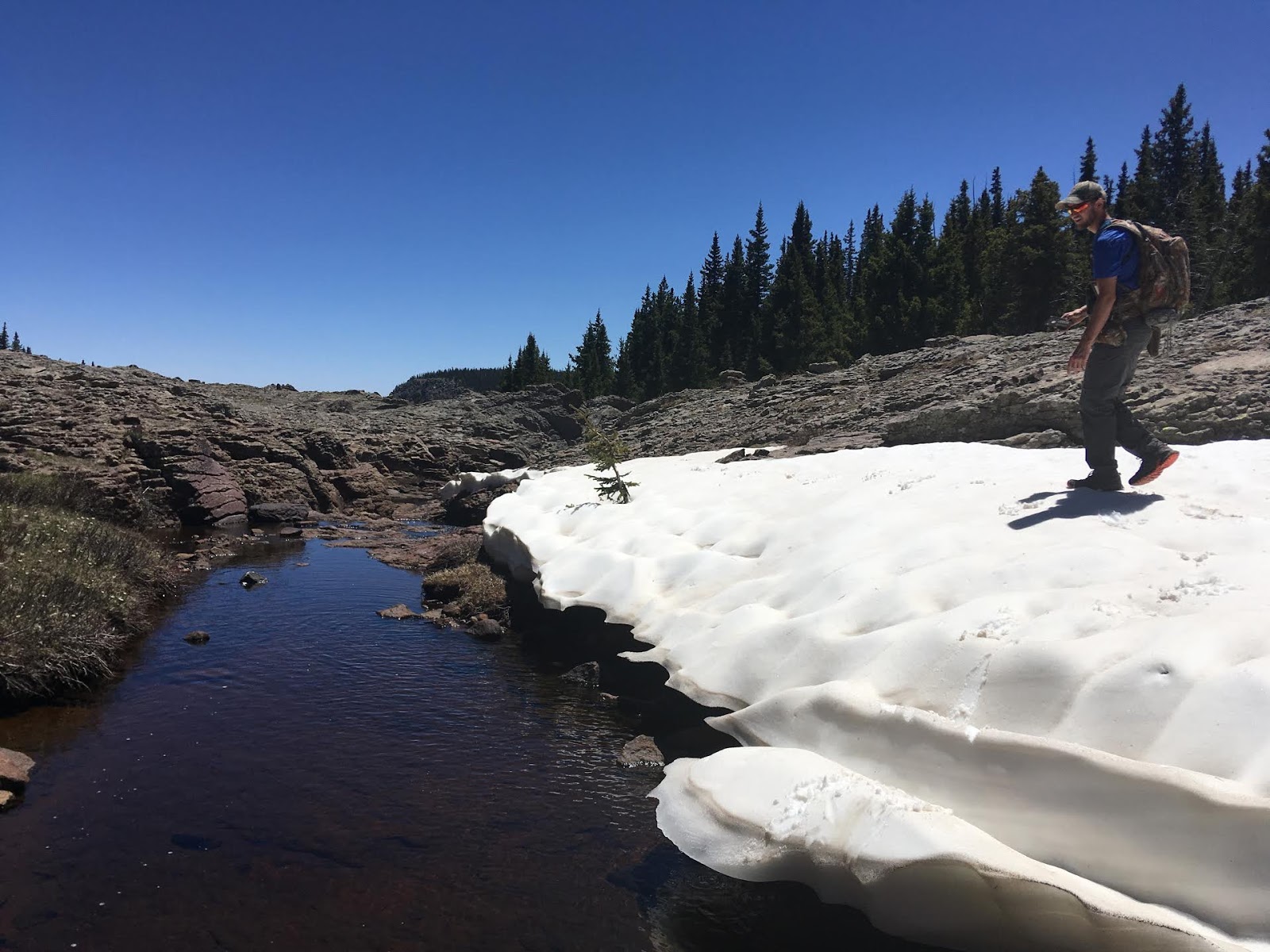 This is once again Pleasant Creek, but on top of the ridge. This creek does overflow to Pleasant Creek Falls which you can hike to from the basin. If you were to drive to the end of FR247 you would start hiking from there, and its only 3 miles one way. I yell at Bryon for stepping too close to the snow edge, since I could see it was hollow underneath!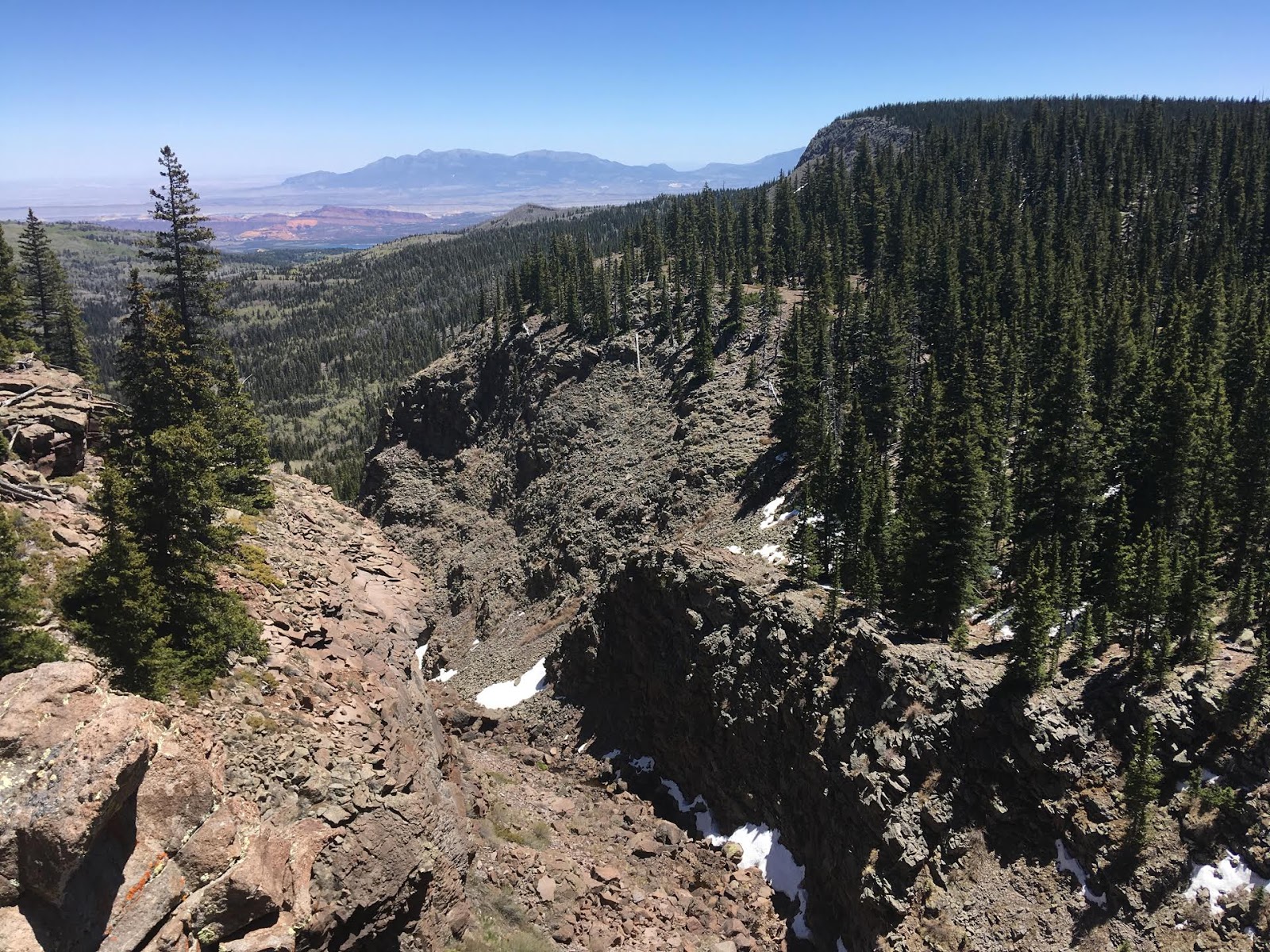 Looking down the Pleasant Creek gorge, just above the falls.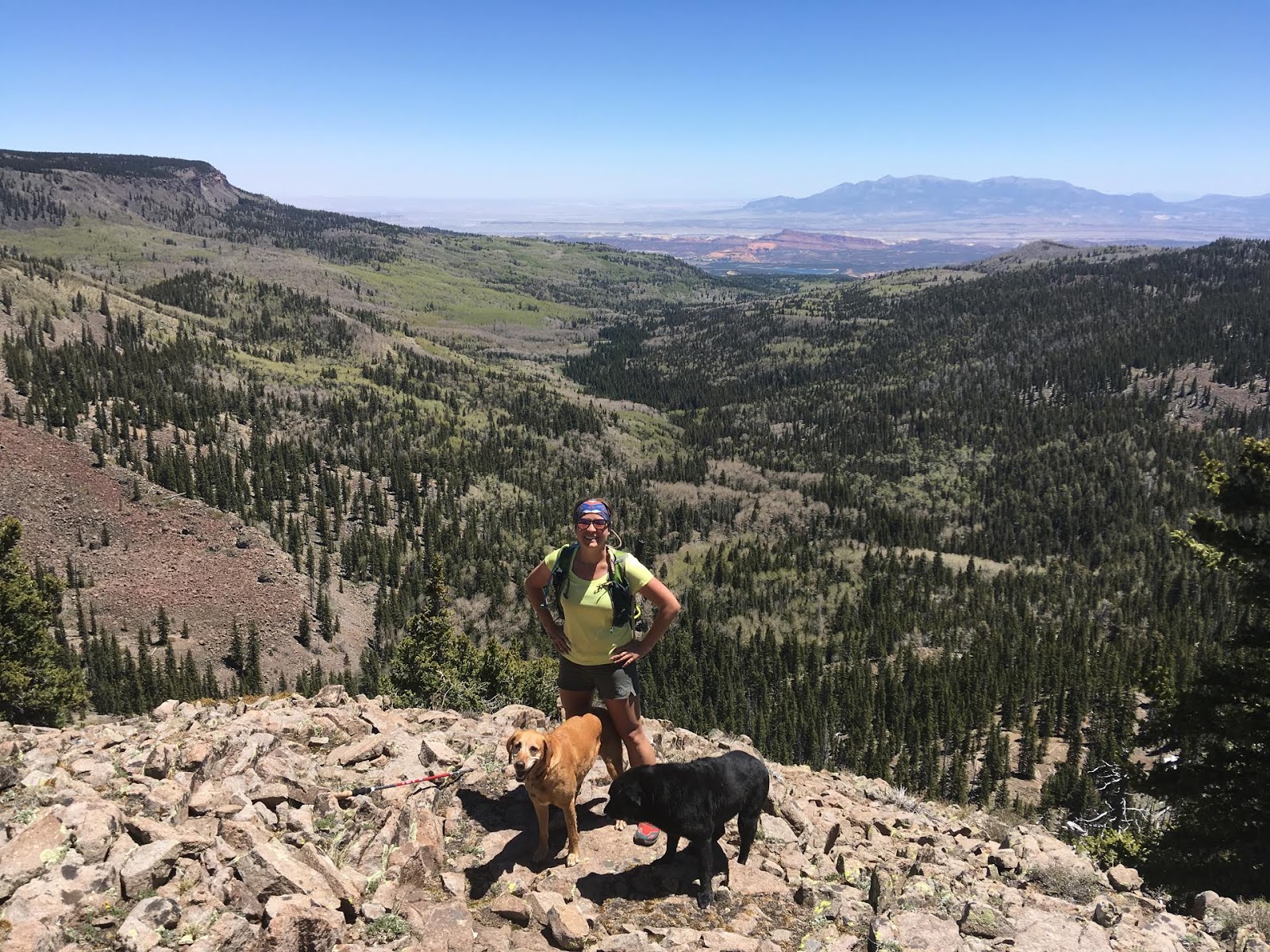 Just past the creek you should reach the high point of the hike, roughly 10,300 ft! You'll also have a perfect view down into the basin you've been hiking around.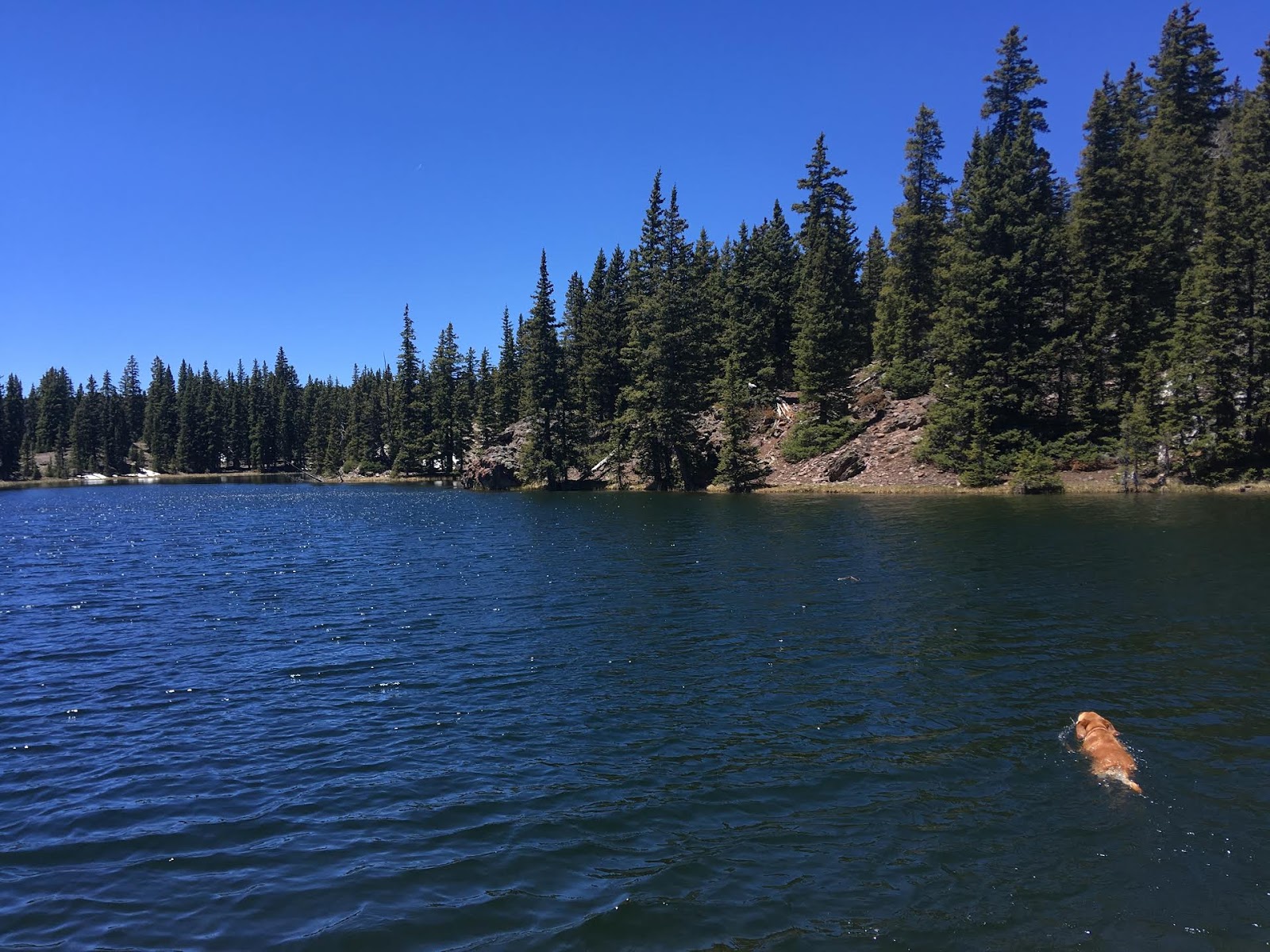 At mile 6 reach Pleasant Lake – perfect for a swim, fishing, and our first real food break. We also filtered water from here.

Pano of Pleasant Lake. This would be perfect to backpack to.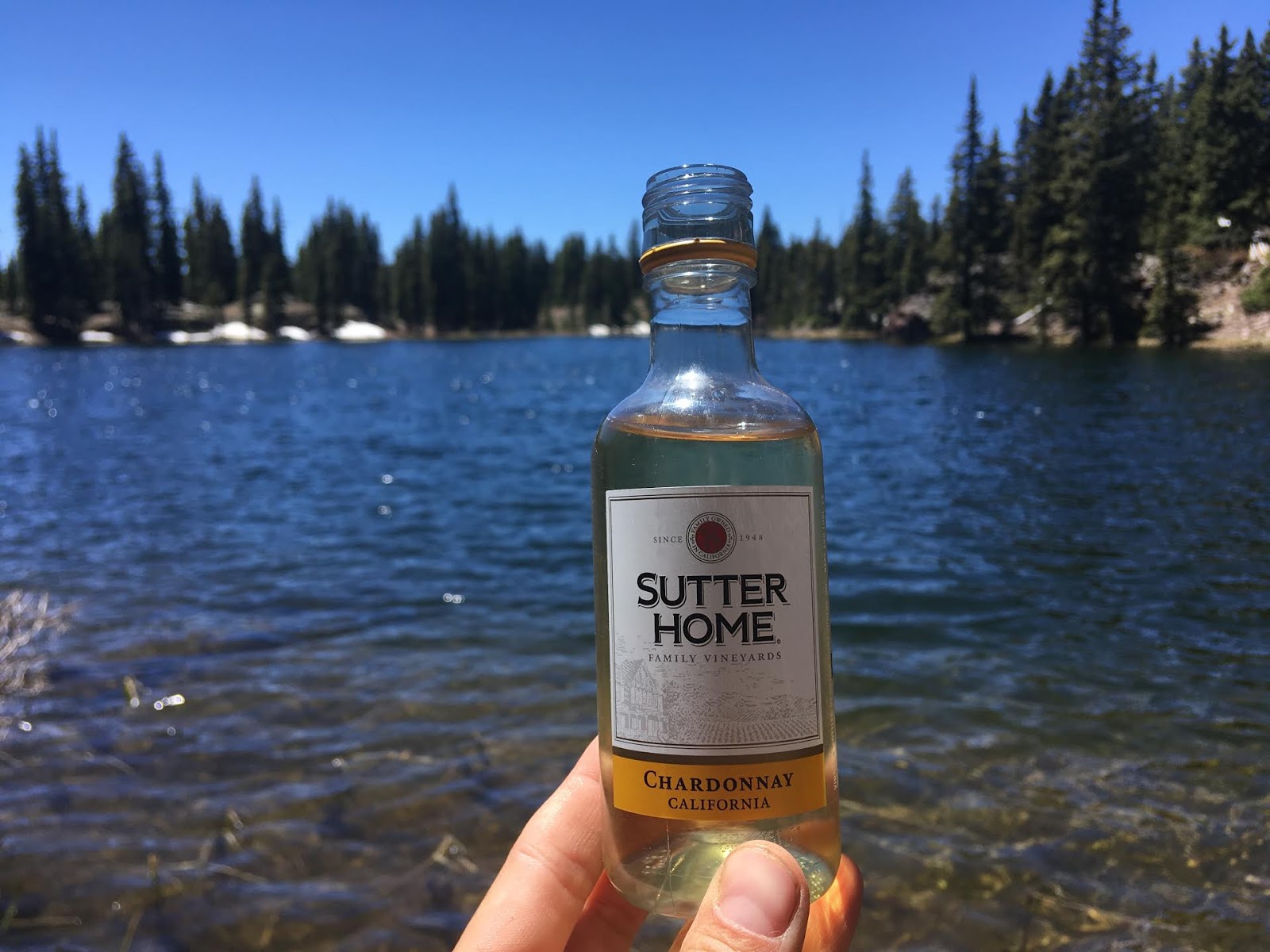 Utah doesn't sell these mini wine bottles (because, well…Utah), so my friend picked up three 6 packs for me in Colorado! A chardonnay is perfect on a summer day!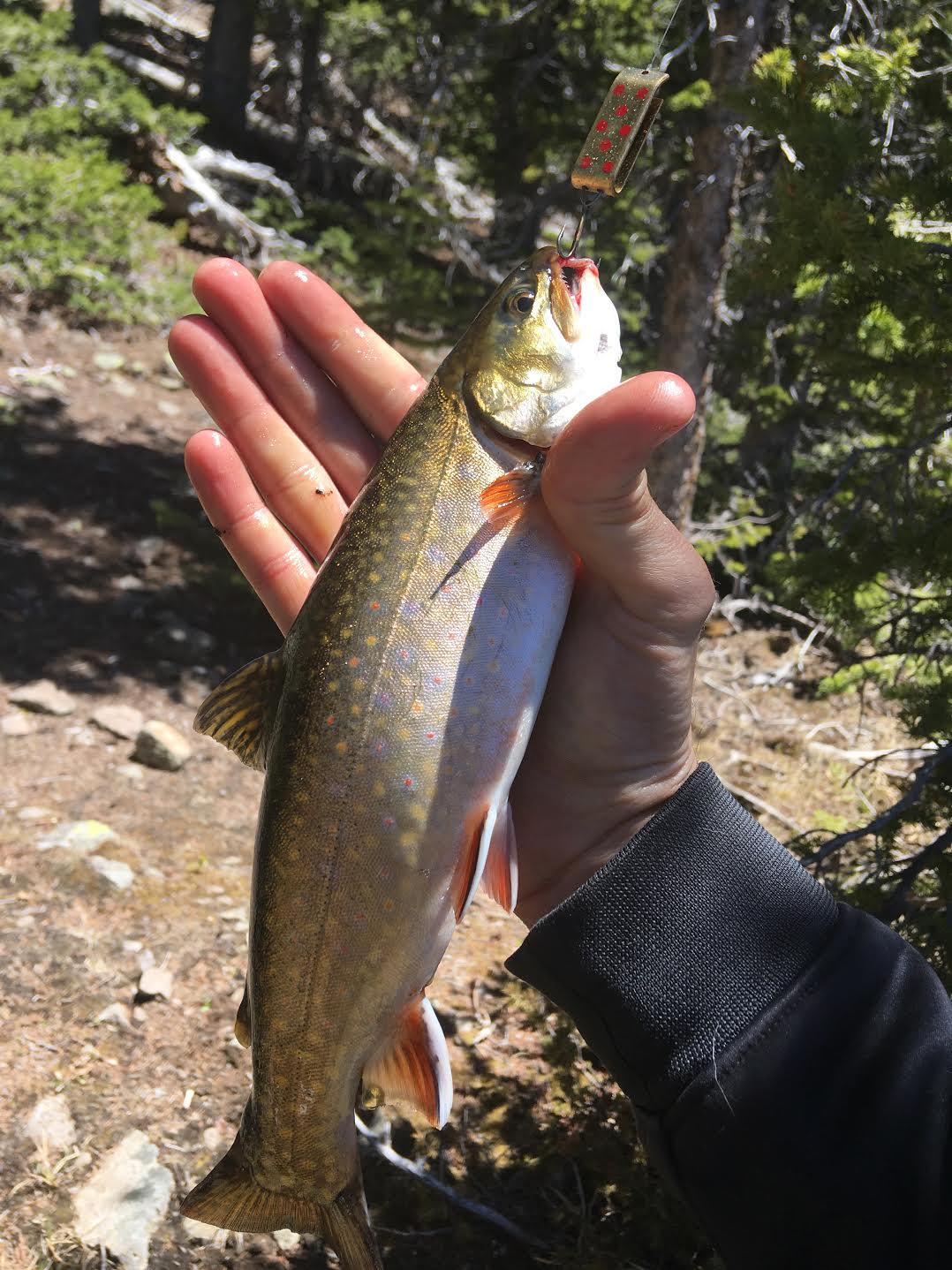 Byron caught one trout the entire hike – here he is!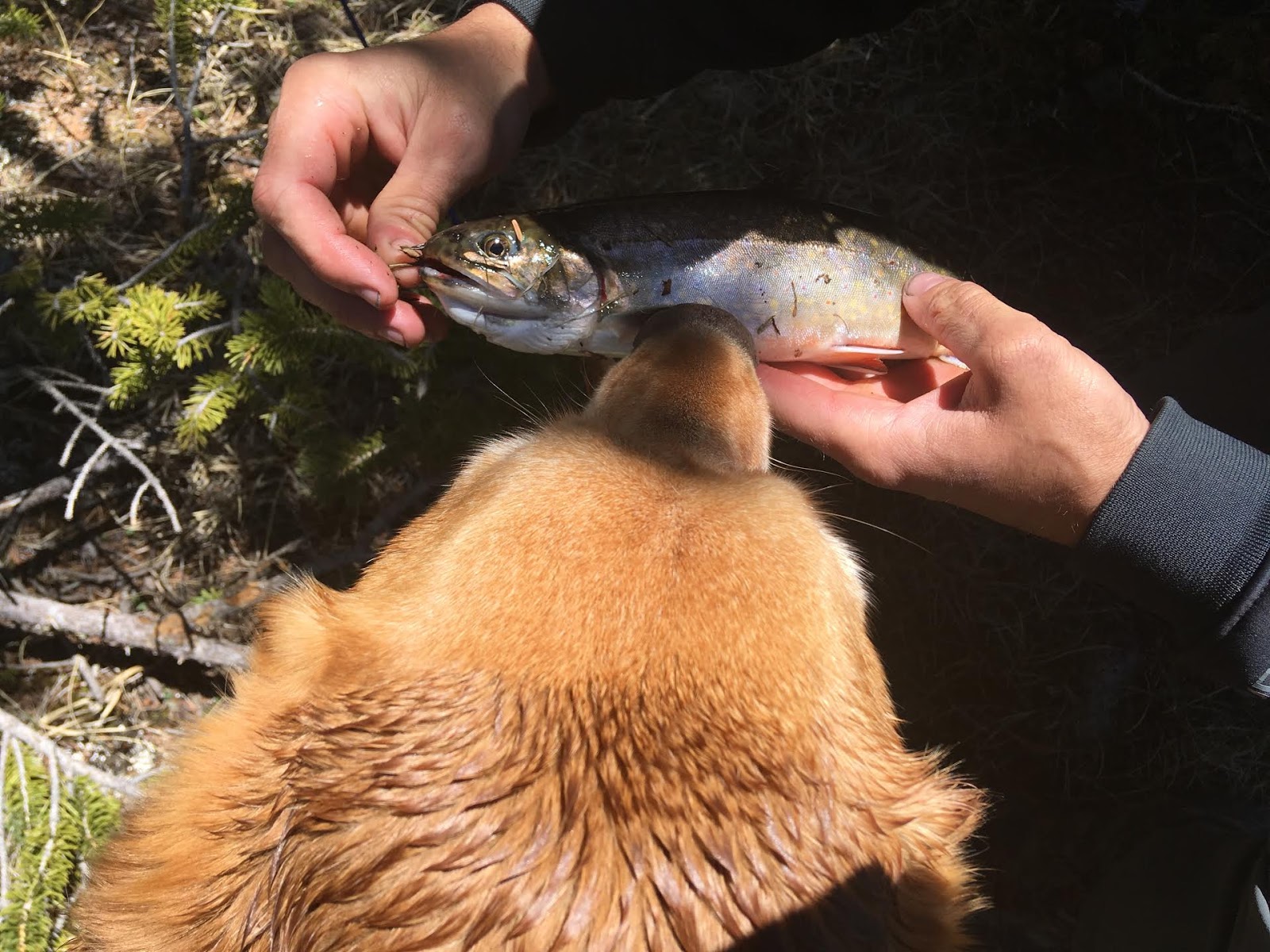 Charlie inspects the fish to make sure it's safe for his Mama to touch 🙂
Continuing on past the first lake, you will now be able to look back and see Pleasant Falls though you can't really see it in this photo because the water flow was quite lo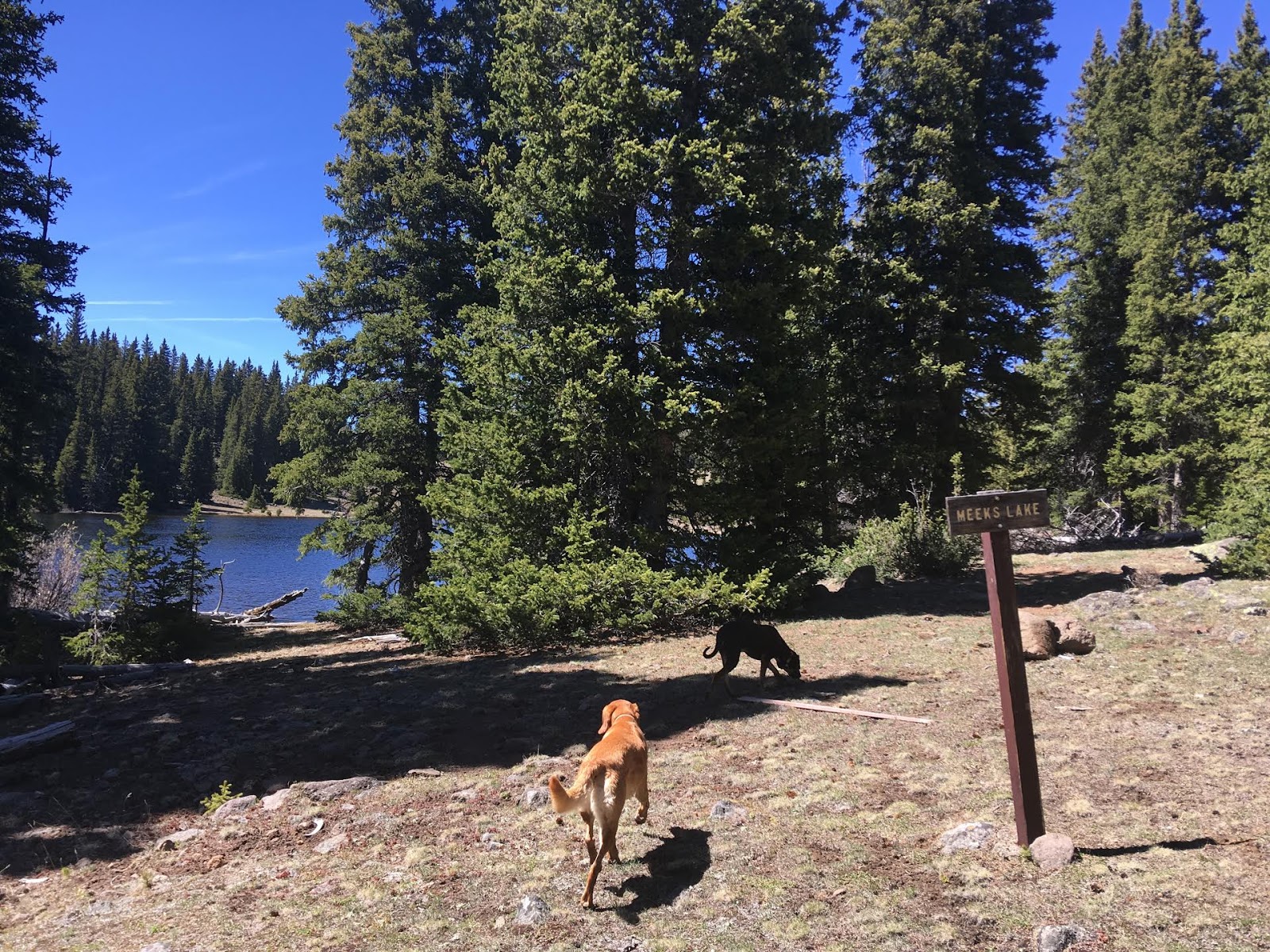 At mile 8.7 you'll reach Meeks Lake.
We tried fishing here but the lake was only about 1-2 feet deep across. We knew that because I tossed a stick for Charlie out to the middle and he didn't need to swim, he just ran through the water. So we didn't catch any fish here. This would be another good lake to camp at.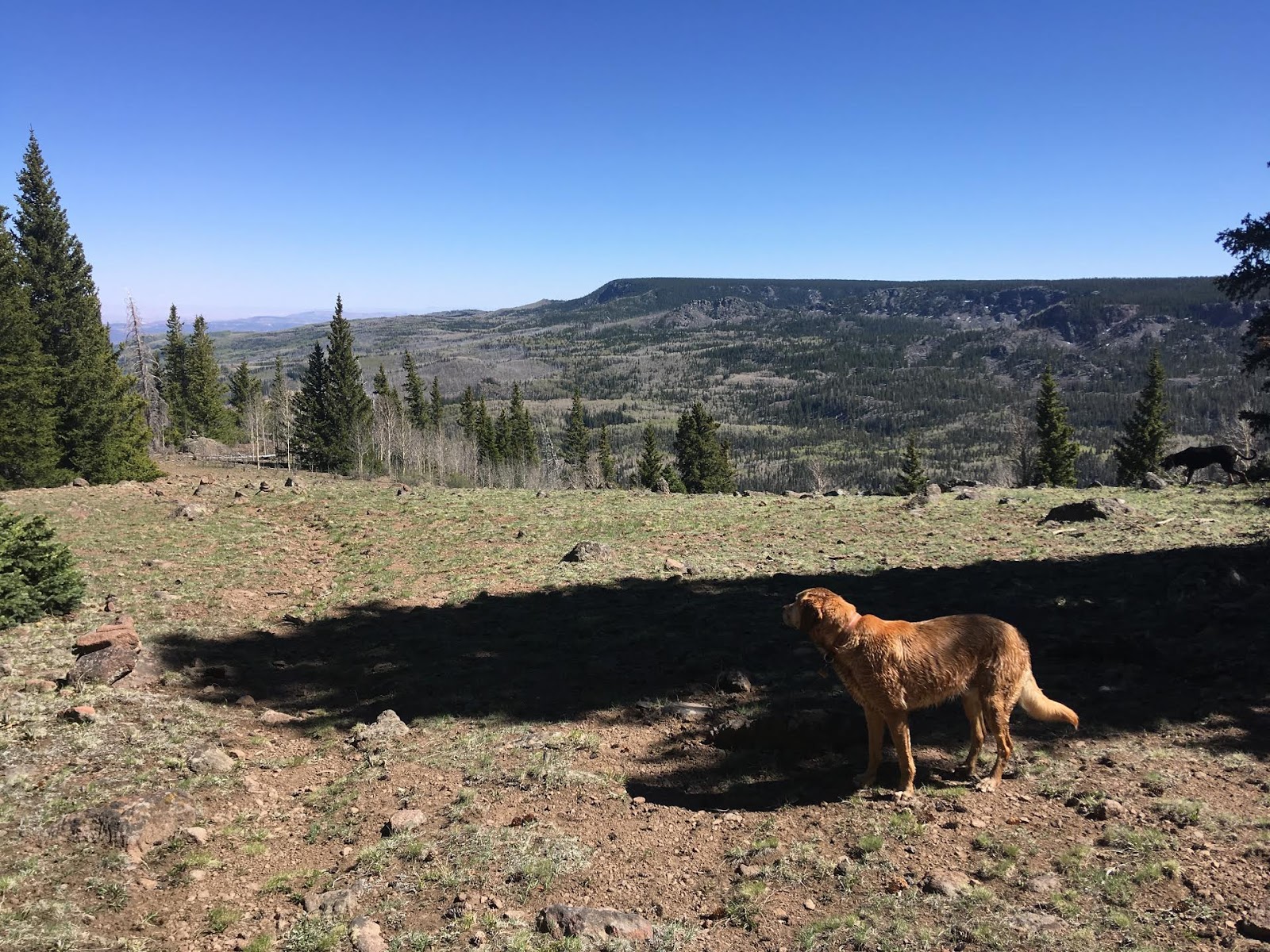 Keep going past Meeks Lake, and you'll be back on the ridge and will start to drop back down to the basin via the Meeks Lake Trail.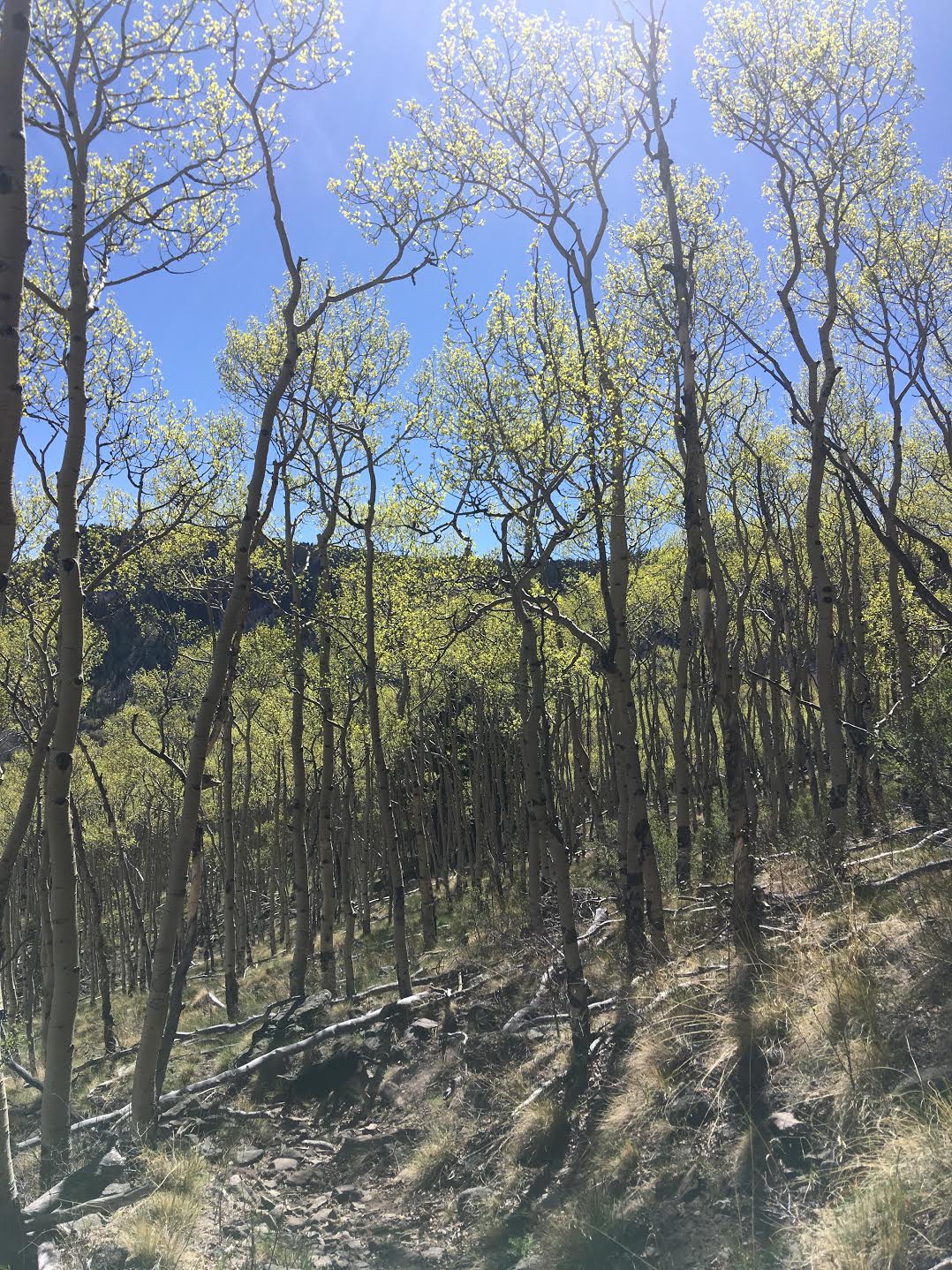 I've never seen Aspen trees so tall before!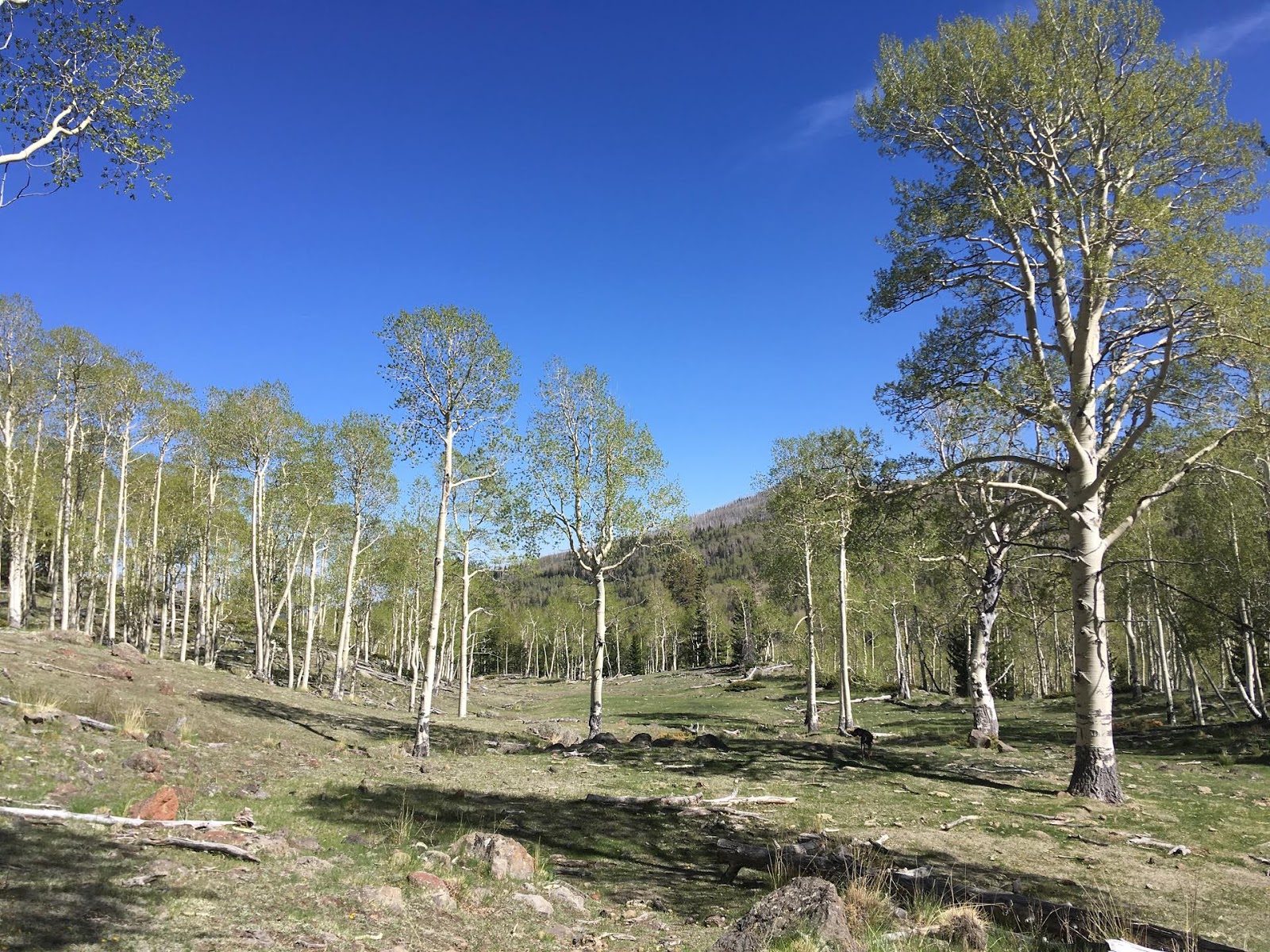 Hike by more meadows. Here, we saw lots of deer.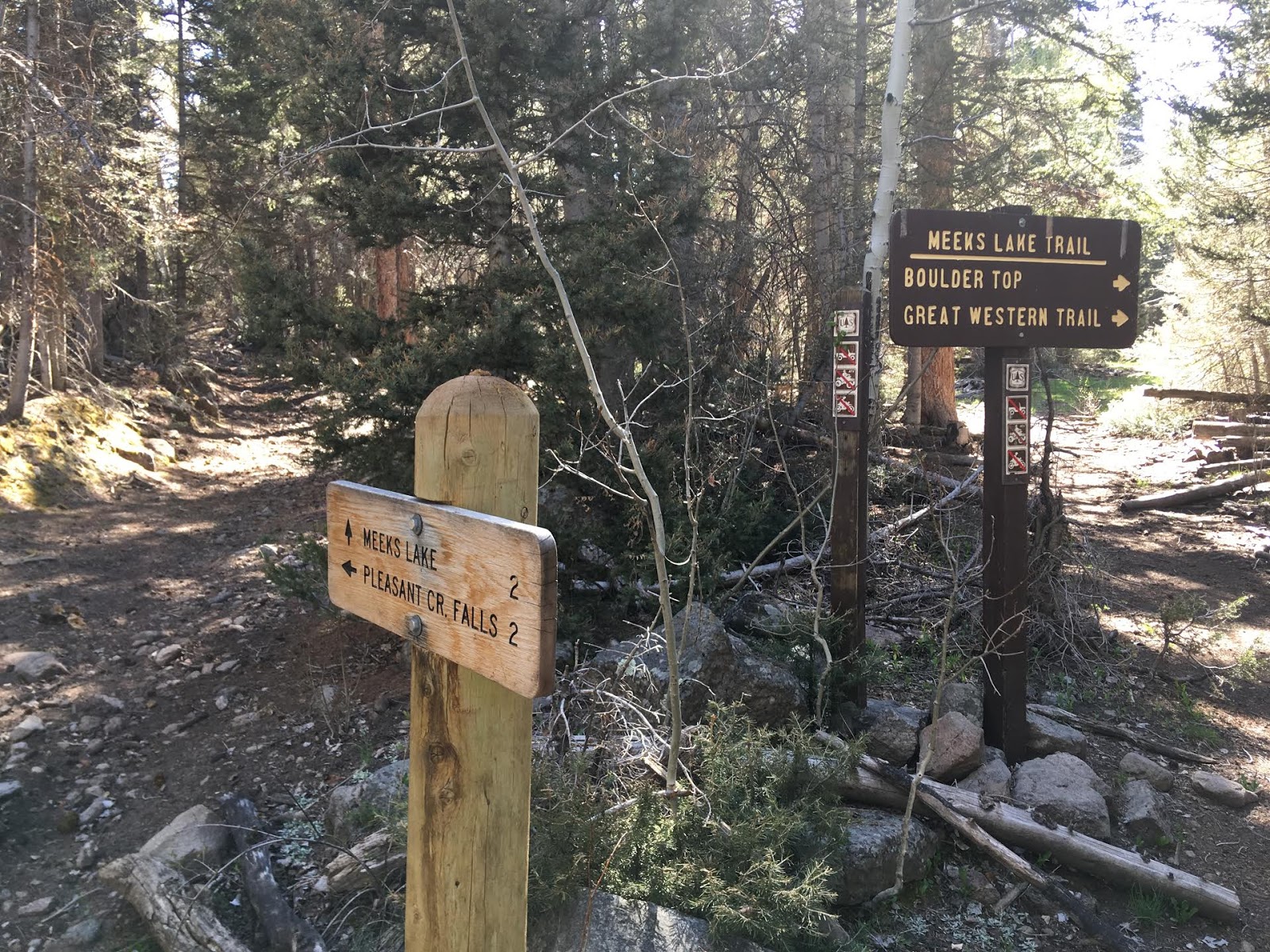 You'll come to another trail intersection. This is where you can catch the Pleasant Falls trail to the left. To get back to your car keep going straight, downhill.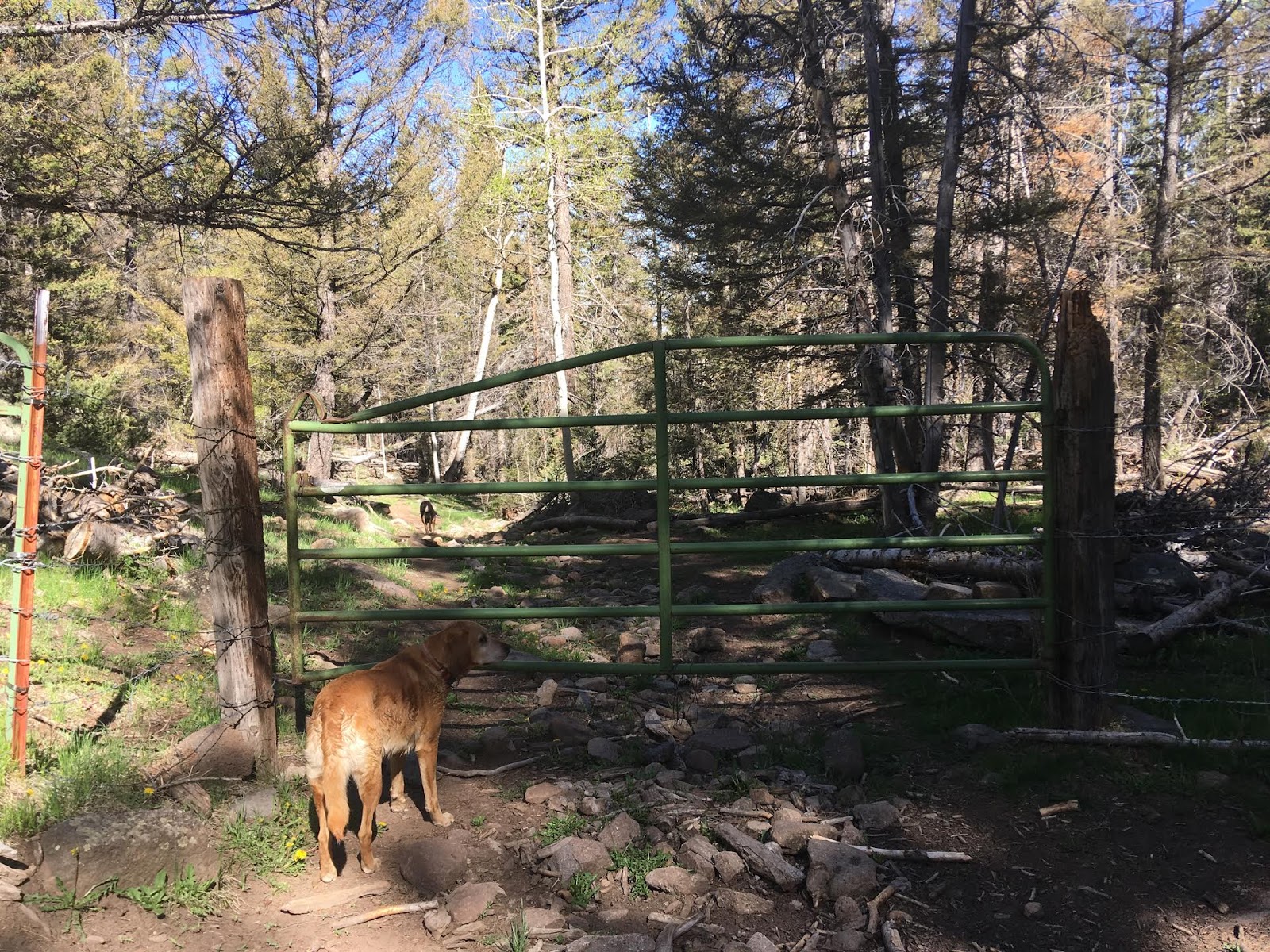 Pass a gate. You used to be able to ride your ATV up here, but now it's closed off to motorized traffic.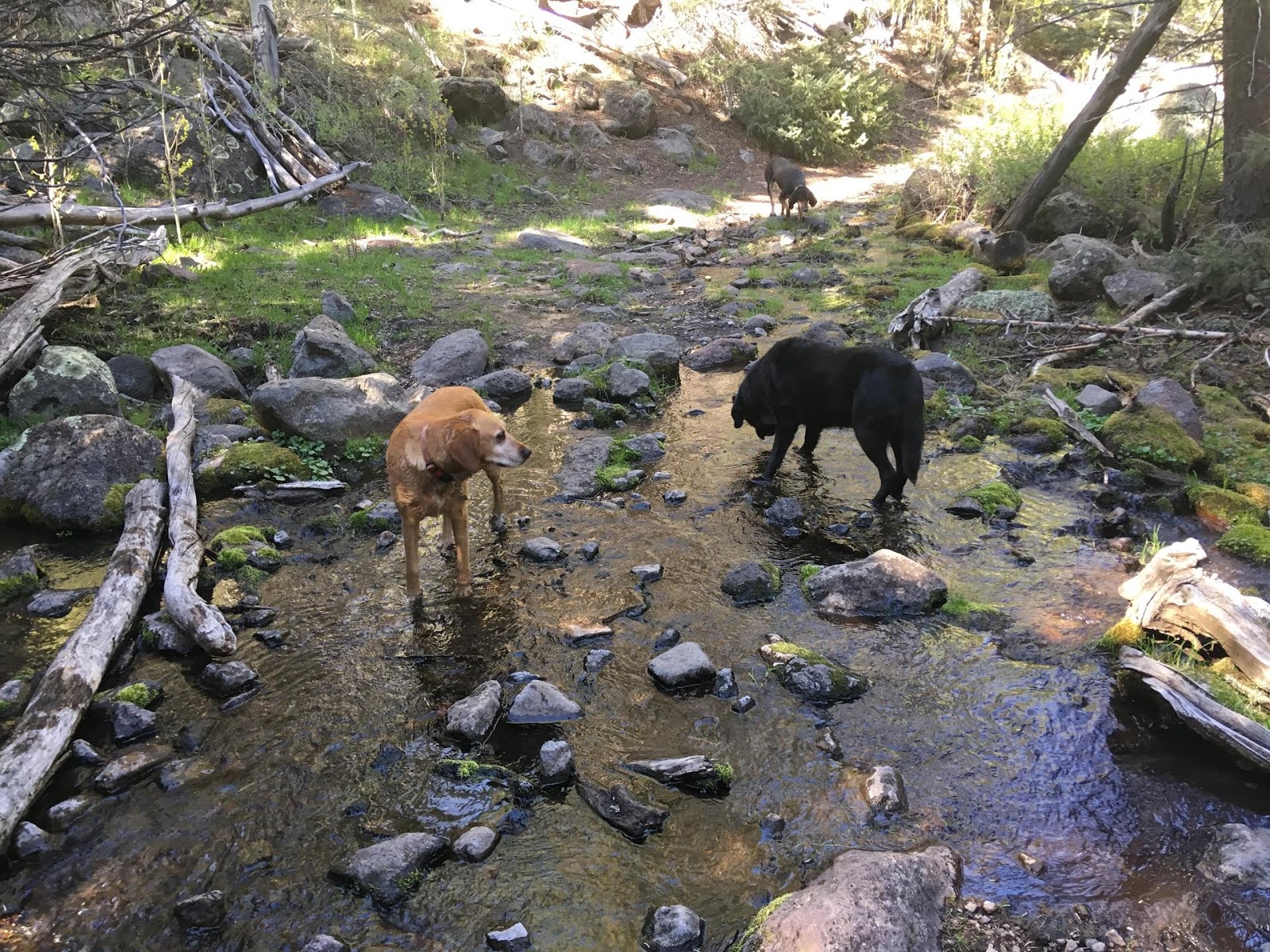 Cross one more creek, then make your way back to the car by follow the jeep road.
My track via Gaia GPS – the best tracking app! Get your app here for a discount.
Recommended Gear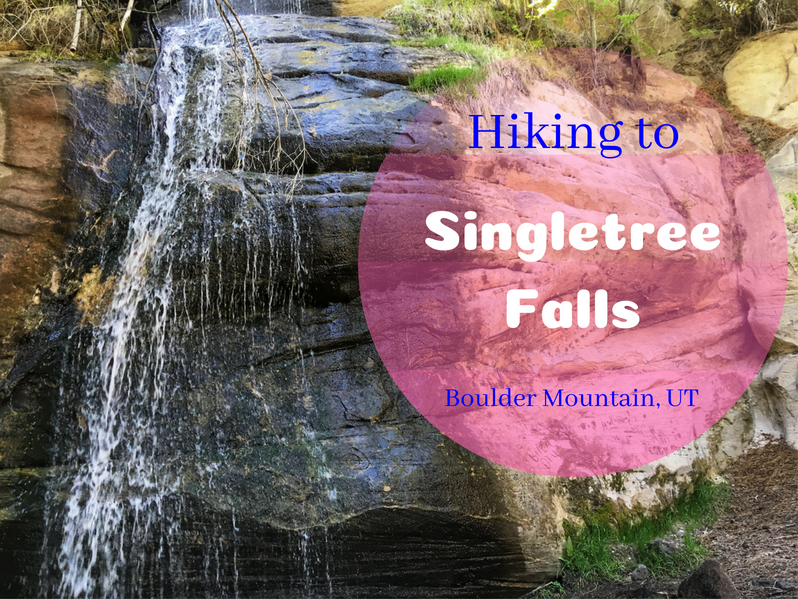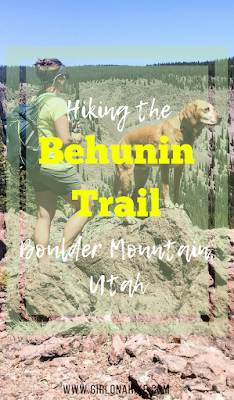 SaveSaveSaveSave
SaveSave
SaveSave
SaveSave