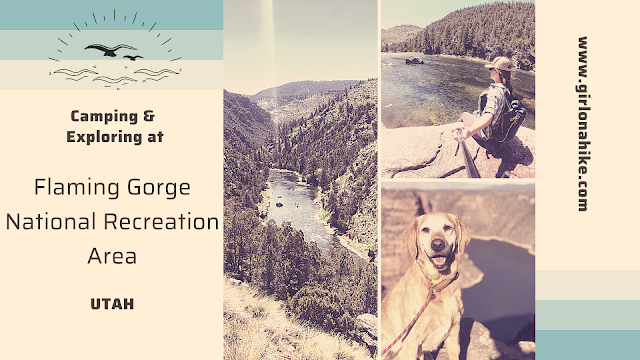 Camping & Exploring at Flaming Gorge National Rec Area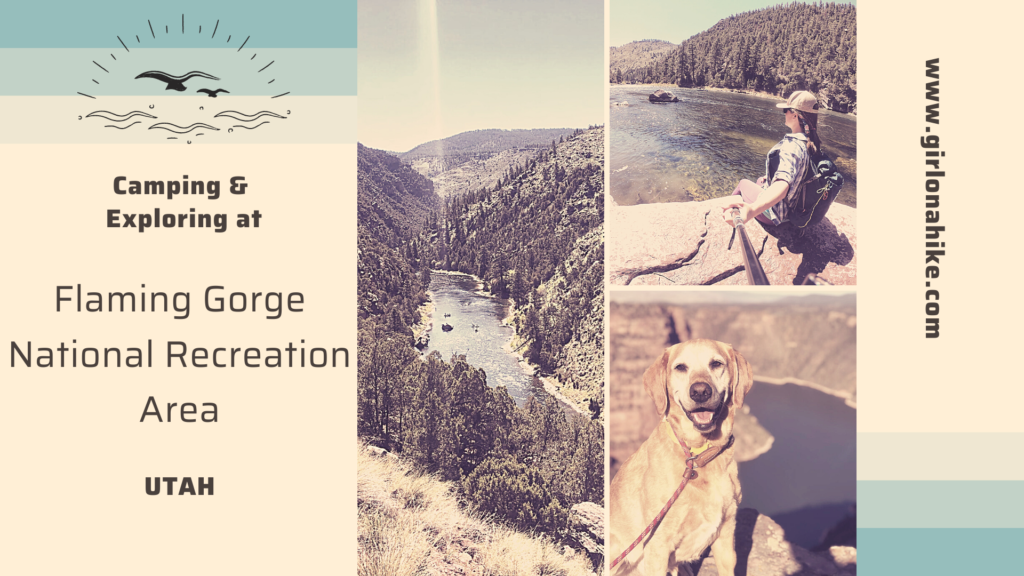 Flaming Gorge National Recreation Area is located in both Utah & Wyoming is home to 360 miles of shoreline, 43 campgrounds, 91 miles along the Green River, and endless trails to explore.
About
The Flaming Gorge Dam was completed in 1964, and produces hydroelectric power. The most popular reason people visit the Flaming Gorge is for both rafting and fly fishing. Because it's a National Rec Area, dogs area allowed but must be leashed on all trails and at campgrounds. This area is very kid friendly – as many of the trails are out and back and you can choose your distance. For weekend trip we explore the Little Hole Trail, several overlooks, the Ute Fire Tower, and drove the Sheep Creek scenic loop drive. Read below to learn about each location!
Trail Info
Little Hole Trail
Distance: 2+ miles RT (depends how far you want to go – Little Hole is 7 miles one way)
Elevation gain: -200ft descent to start, otherwise flat along the Green River
Time: 1 hour + RT
Dog friendly? Yes, ON leash
Kid friendly? Yes, but maybe only for a mile or so
Fees/Permits? None
Little Hole Trail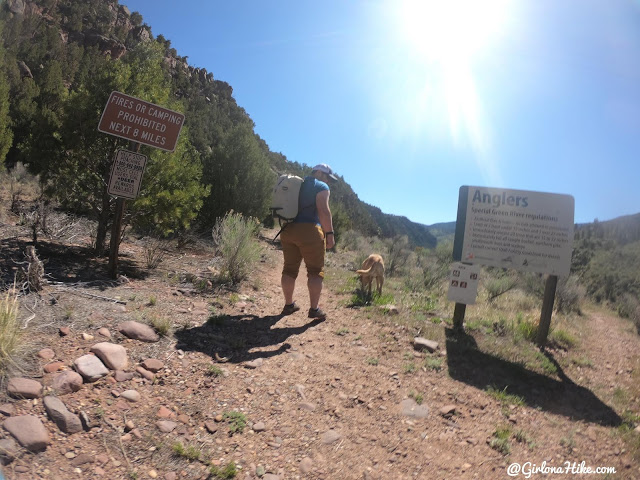 Start by parking at the Upper Parking Lot. As soon as you drive down the steep, curvy road you will see the sign.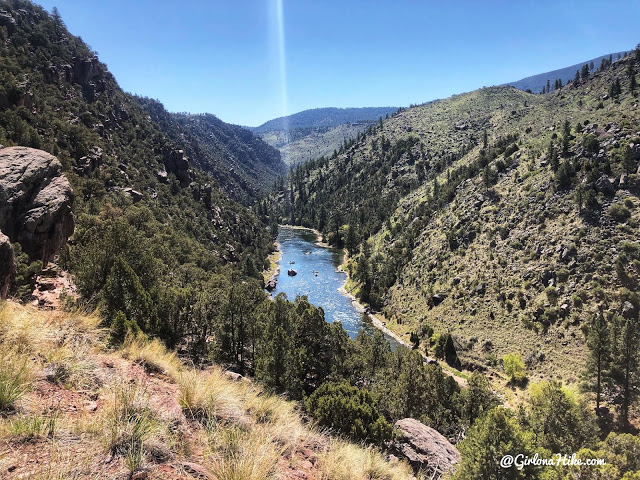 First look down to the river! So pretty!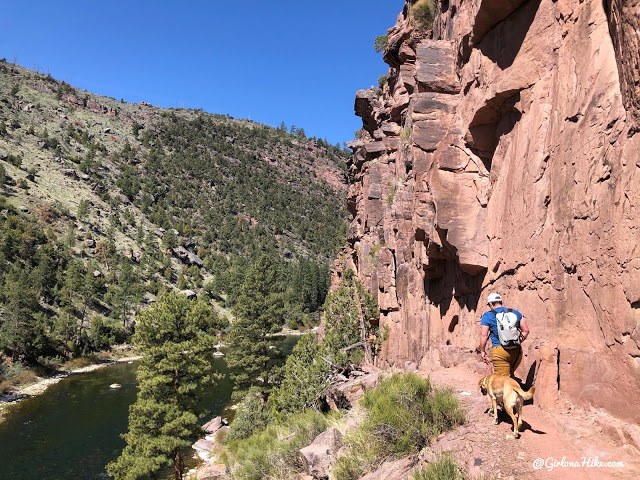 This trail is on-leash so we kept Charlie right by our side as we hiked down by this cliff wall. Just remember you have to hike up these switchbacks when you end your hike.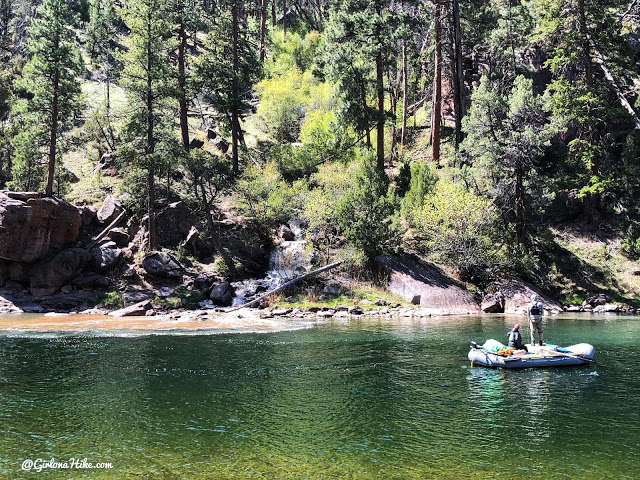 Now along the Green River, passing by lots of rafters, fisherman, and this cool waterfall coming out from the other side of the river!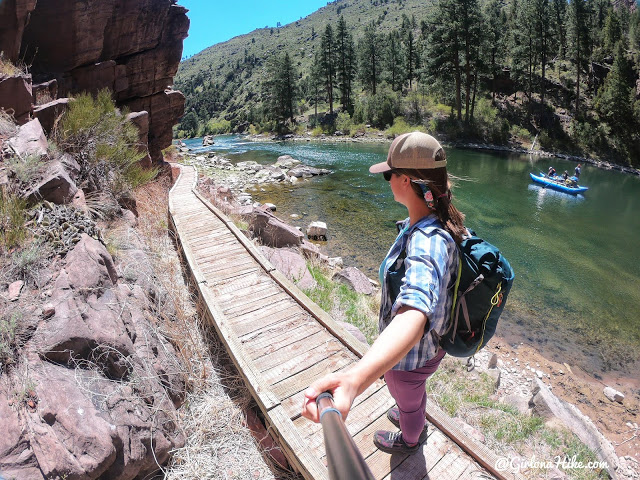 Lots of boardwalks to walk over, which is kind of fun!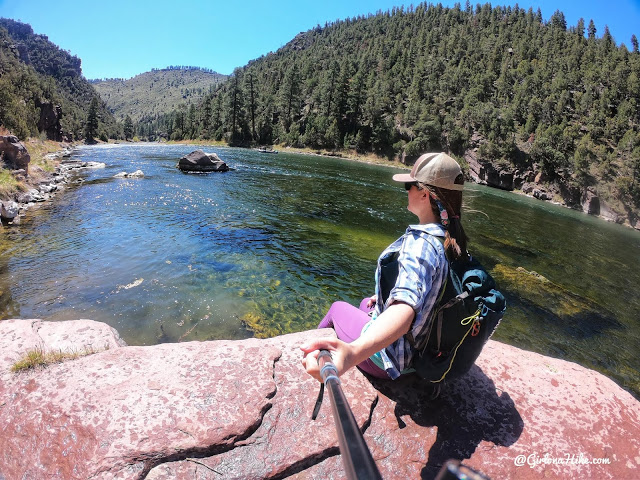 Ahh, so pretty and refreshing to be near a clear river!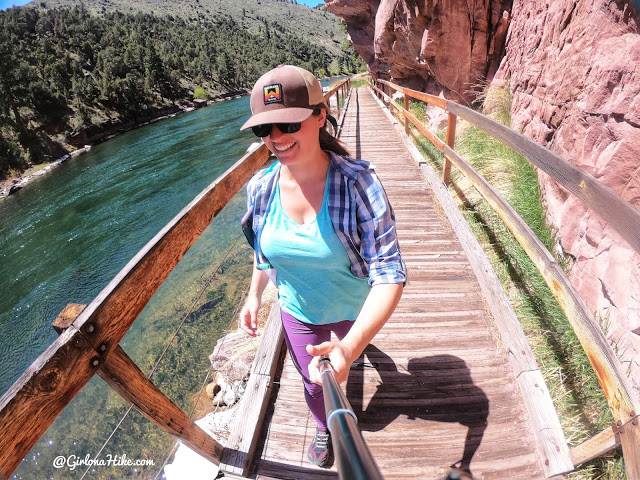 Around 2.6 miles you will walk on this bridge that has a heavy creosote smell – went a little further from here before turning around.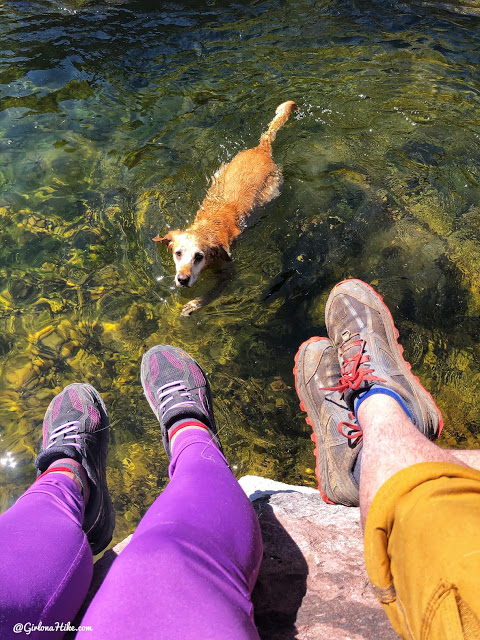 We were able to find a secluded area with no fisherman or rafts and let Charlie swim for a bit – he was in Lab heaven!
Red Canyon Campground & Overlook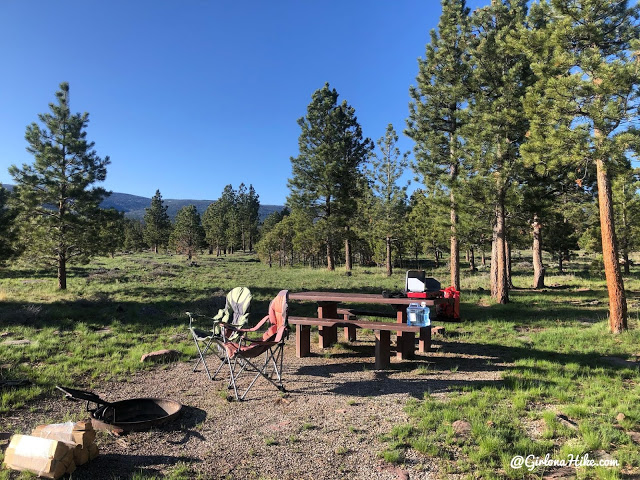 We found a campsite at Red Canyon Campground, which is right on the rim of Flaming Gorge. You only have to walk about 2 minutes to reach the rim, and then have amazing view. The first two weekends of May are first come, first serve campsites and are $22/night. They start taking reservations Memorial Day Weekend. If you can find a spot here, there are several campgrounds in the area that are just as good. Water is not accessible until June, so if you camp in May bring your own water. The pit toilets were open and clean. We loved camping here as there was plenty of shade for Charlie and very flat spots for camping.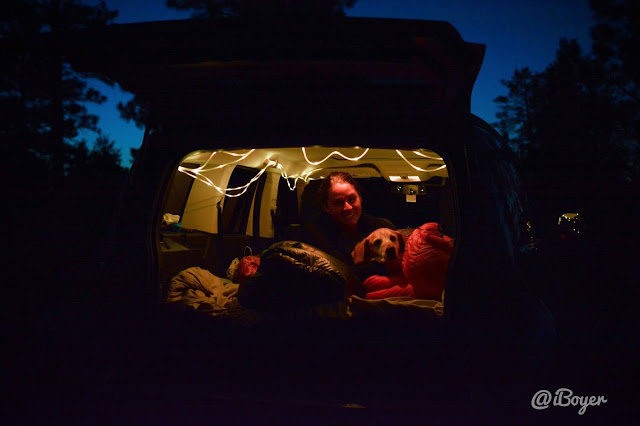 I have my car set up to camp in there, so we didn't use a tent this time. Loving my new light set-up!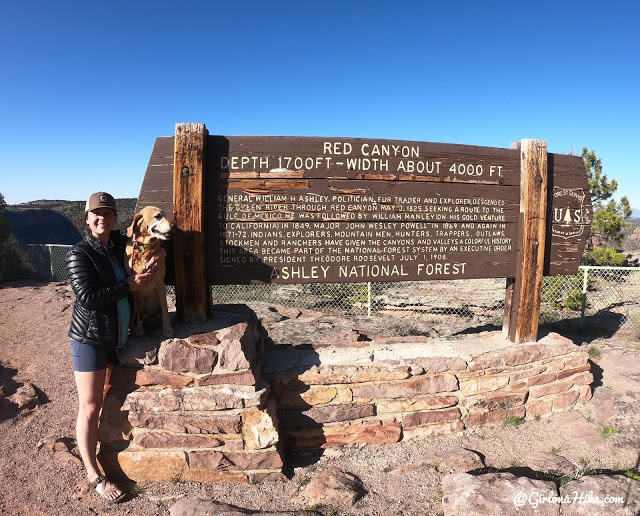 Make sure to stop by the Red Canyon Overlook – it's one of the best in the area! The Red Canyon Visitor center is only open Memorial Day through Labor Day, 10-5pm.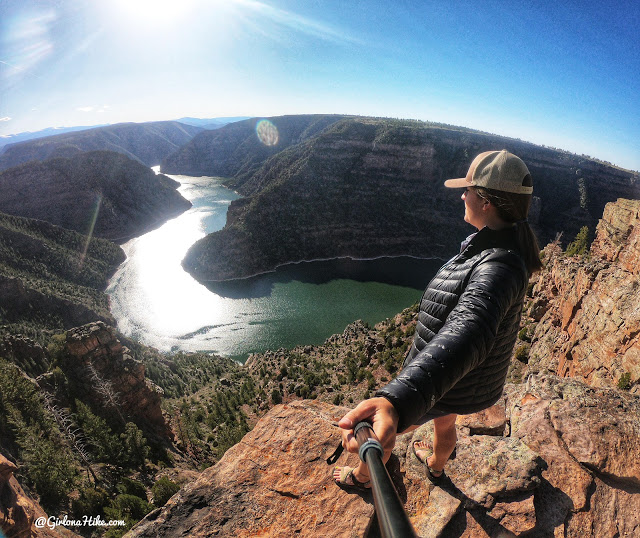 One of the best views in Utah!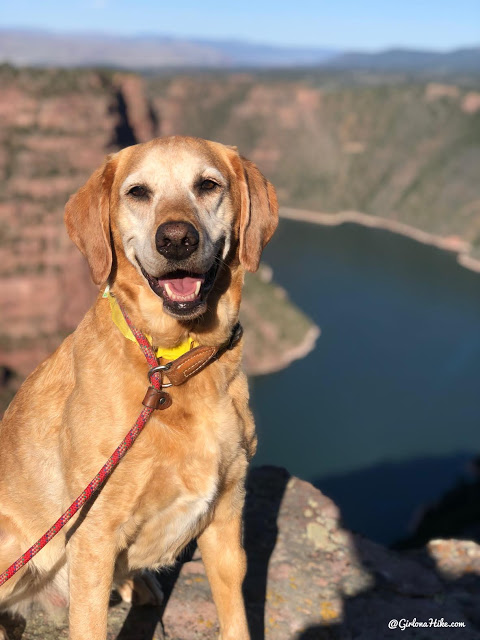 Charlie strikes a pose above Flaming Gorge! He was sad he had to be on-leash, but at least they allow dogs!
Exploring the rim trail.
Dowd Mountain Overlook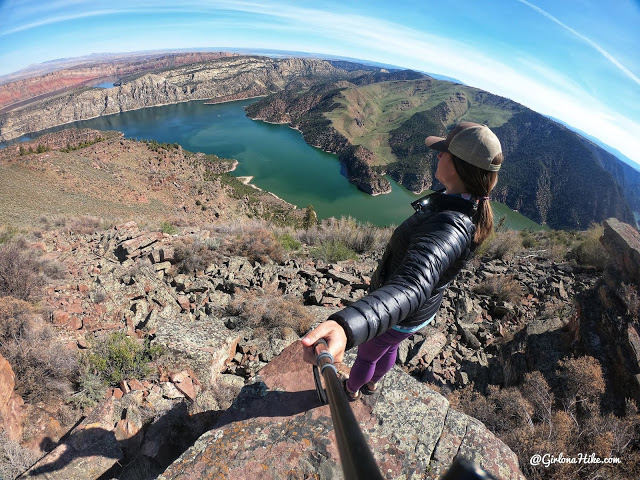 Next up was Dowd Mountain Overlook – another amazing view of the gorge also located in Flaming Gorge National Rec Area. The road to reach it doesn't require 4×4, but it was a little rough in spots.

So cool!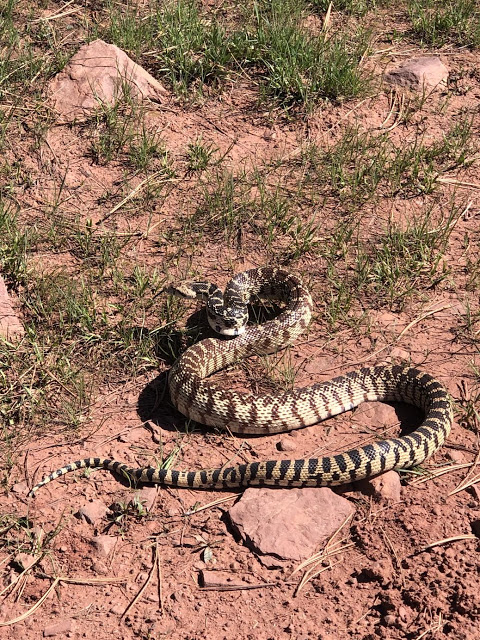 As we were leaving and driving out, I almost ran over this snake! I said to my partner, "Did you see that snake?!" He said no, so of course we had to get out and take a look. After doing some googling we found that this is called a Gopher snake.
Ute Mountain Fire Lookout Tower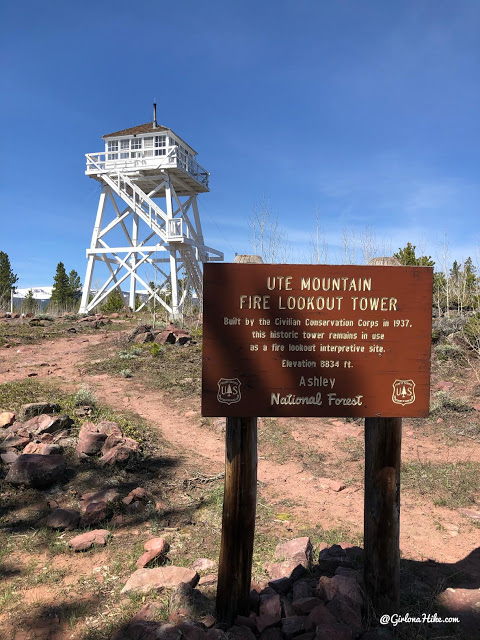 If you have time, definitely check out the Ute Mountain Fire Tower. The tower was closed when we went, and is only staffed June – Sept on Fridays and Saturdays 10:30-4pm, when a firefighter is not assigned to a fire. If you want to go to the top and learn more, call to make sure the lookout is staffed at 435-789-1191. The road to well-graded, but only opens typically around May – October. There is a trail that also begins here that takes you down to Browne's Lake, and is 2 miles one way. Sadly, we didn't have time for the hike.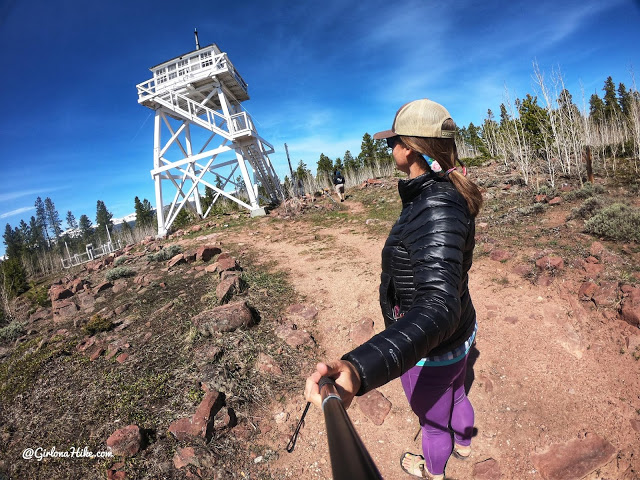 The Ute Fire tower is the only remaining fire tower in Utah, and was built by the CCC in 1937. This tower is listed on the National Register of Historic Places, and the National Historic Lookout Register.
Sheep Creek Geological Loop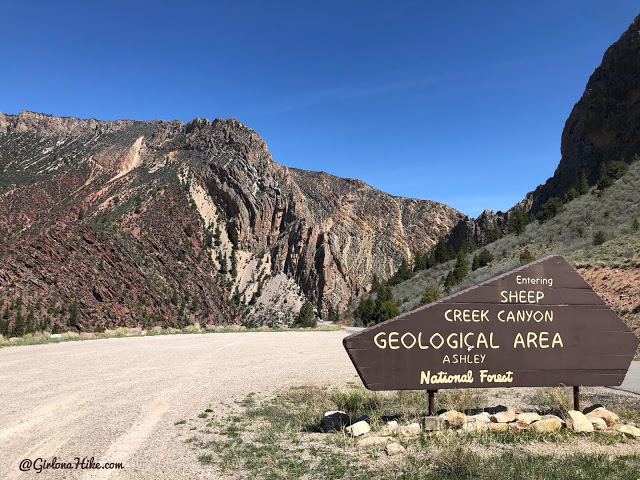 Lastly, definitely take the time for a scenic drive along Sheep Creek Canyon. I highly recommend driving this South to North as you can see the deep V in the canyon walls and colors better. This road is near the Ute Fire Tower, so it fits perfect if you plan to head home North and back to SLC. Backcountry camping is not allowed in this section except for the established campgrounds.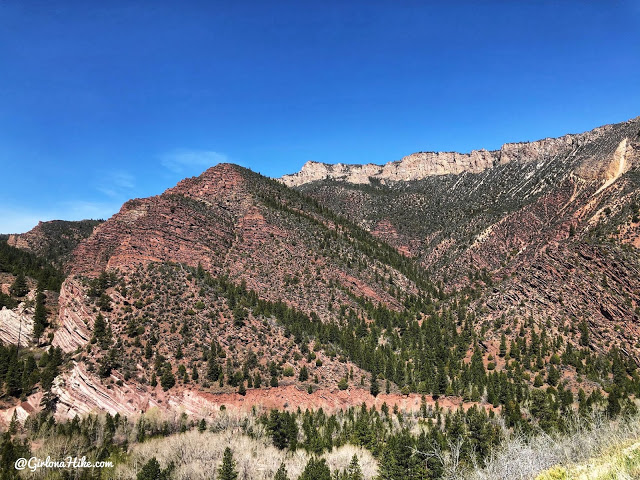 Beautiful red rock and sandstone.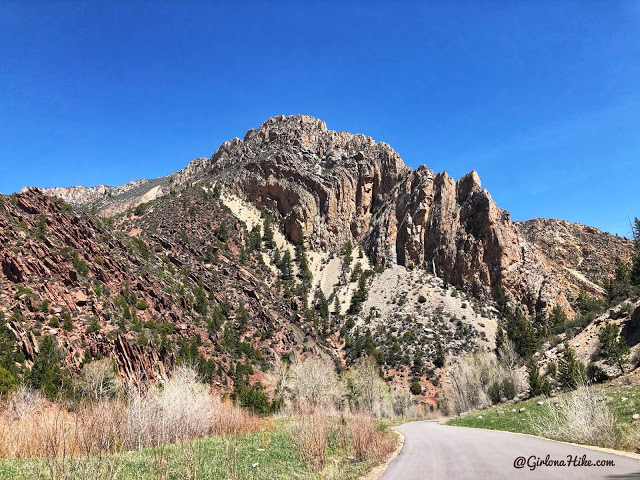 Jagged rock and interesting geology are the focus here. The Uinta Fault, which runs for more than 100 miles along the North Slope of the Uinta Mountains, is clearly visible in this extremely twisted rock.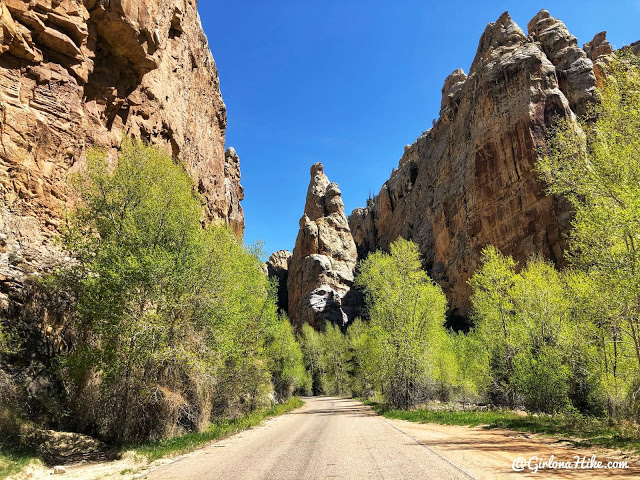 Tower Rock sticks out like a sore thumb right along the creek. So pretty!
Map with all these locations marked.
Recommended Gear
Nearby Hike
Stay at the Limber Flag Yurt in Winter!

Save me on Pinterest!