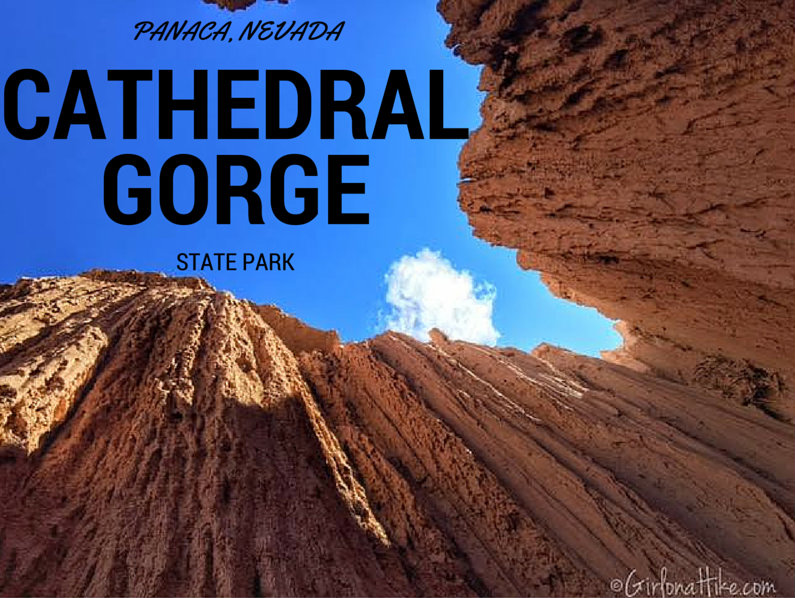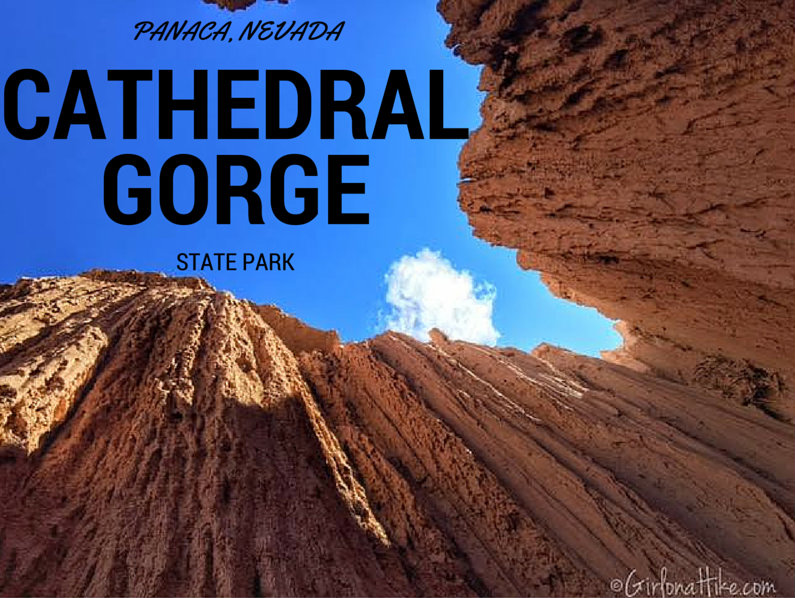 Cathedral Gorge State Park in Panaca, NV is a hidden gem in the heart of the Great Basin Desert. The Great Basin Desert is the largest US desert, which covers an arid expanse of about 190,000 square miles and is bordered by the Sierra Nevada Range to the West, and Rocky Mountains to the East. At the South East corner of Nevada sits Cathedral Gorge State Park, which exposes erosion that has carved unique patterns in the soft bentonite clay.
About
The clay has formed what look like large sandcastles or cathedrals, crumbling as you step upon them. Among these cathedrals are small slot canyons and caves. These slot canyons aren't the typical slot canyon, as they are only 1-30 ft in length, and don't exit on another side. Two overlooks, Miller and Eagle Point offer excellent views of the canyon. With close to 2,000 acres of park area, there is endless exploring for kids, dogs, families, and photographers. Most people visit Cathedral Gorge State Park to camp, do photography, and hike the 6 miles of

trails

the park has to offer. 
FAQs
Can I bring my dog? 
Yes, dogs are allowed and must be leashed. However, we talked to the ranger about dogs on trails and they said as long as no one was around we could have them off leash.
Is this a good park for kids?
Yes! There is a lot of exploring, and nothing dangerous to be aware of.
When is the best time to visit/camp here?
Spring and Fall are the best, when the temperatures aren't too hot.
Is it better to camp or do a day trip here?
Depends on where you are coming from and how much of the park you'd like to see. Since we drove from Salt Lake, it made sense to camp.
What do I need to know about camping here?
The single camp/RV sites are first come, first serve. The two group sites must be reserved by calling 775.728.4460. There are 22 sites, which can accommodate RVs up to 40 ft in length. Each site has a water spout, picnic table, fire ring, pavilion for shade, and grill. Electric hookups are available for RVs for an extra $10/night. Water flush restrooms and showers are open year round. The showers near the single sites are free; the showers near the group site uses quarters. Dogs must be leased at all times in the camp sites.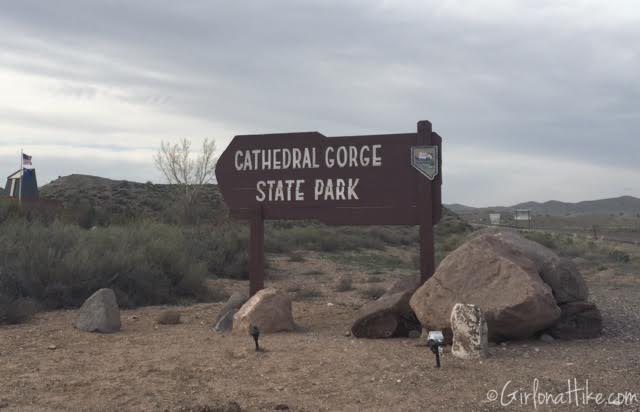 Official entrance sign.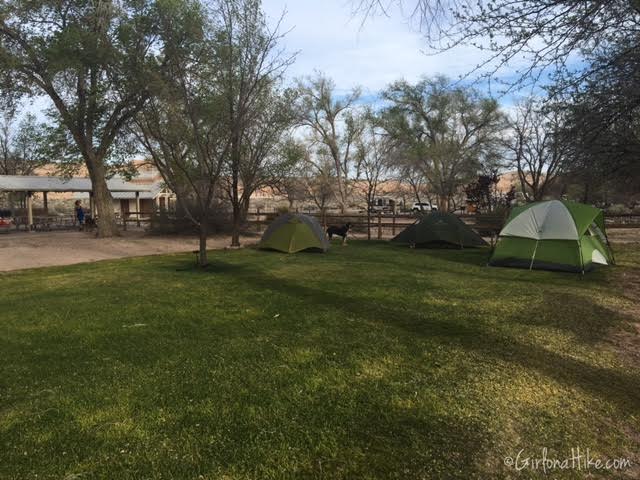 Our nice group camp site. We initially weren't planning on camping at this spot, but since all the other single sites were taken, we didn't have a choice. It ended up working out really well since we had 5 people and 6 dogs. The dogs had a little more freedom to wander here, rather than being tied up the whole time at a regular site next to RVs. Since we were away from the main campground, we didn't have to listened to RV generators or people. There was a group of loud kids, and we were thankful to have our own secluded spot.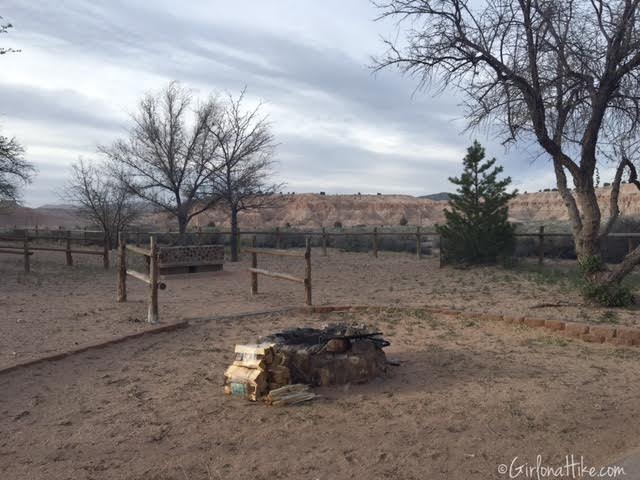 Group site fire pit.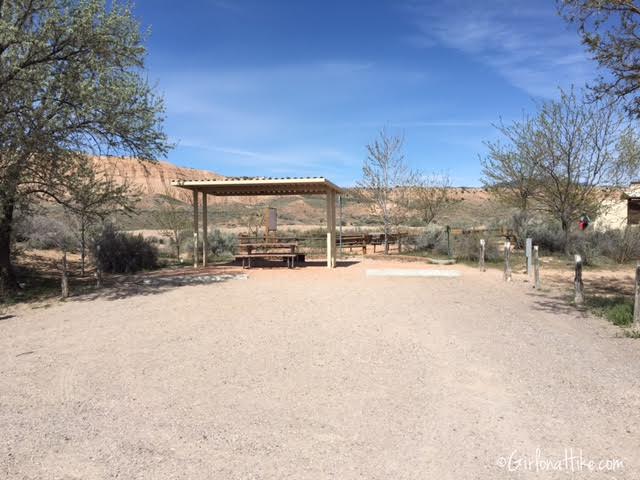 Photo of one of the single/RV sites.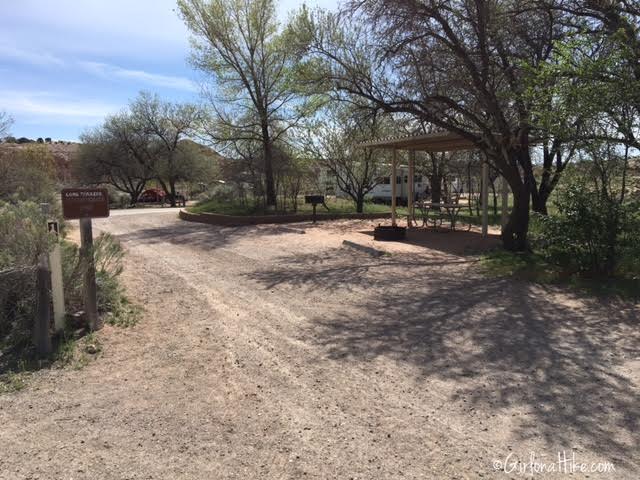 Photo of one of the single/RV sites.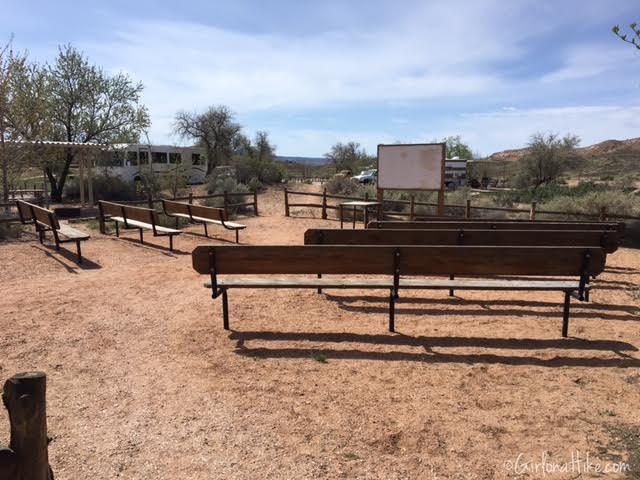 Amiptheater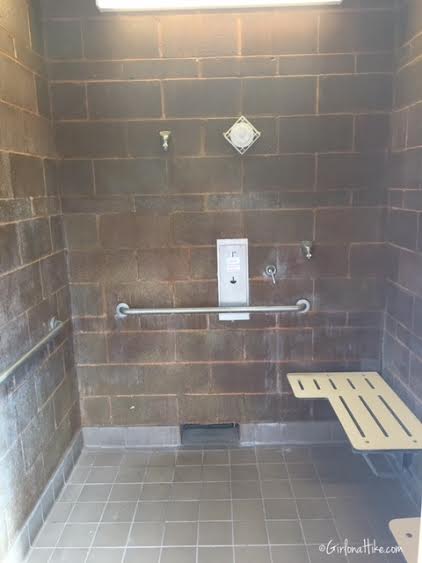 The pay-for shower. The free shower is located in the main restroom building.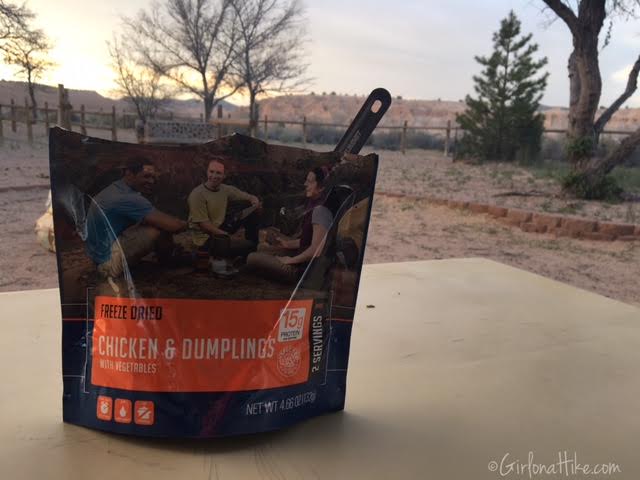 The first night we just went simple on our meals, and I made a Mountain House meal. These are so convenient and tasty!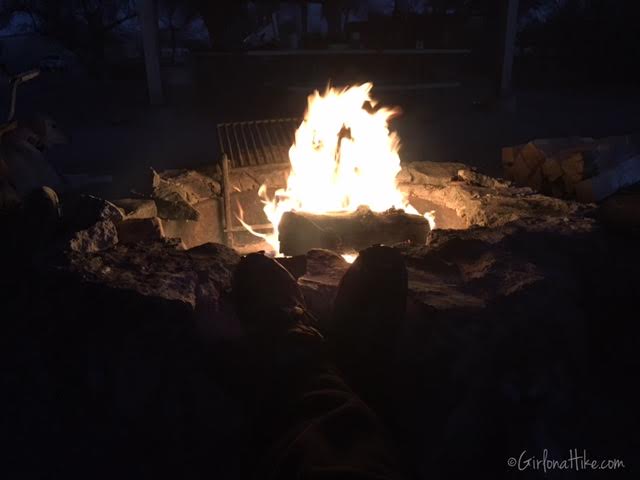 Hanging out by the fire. You can purchase firewood at the fee station, but I recommend bringing your own in case the park is out.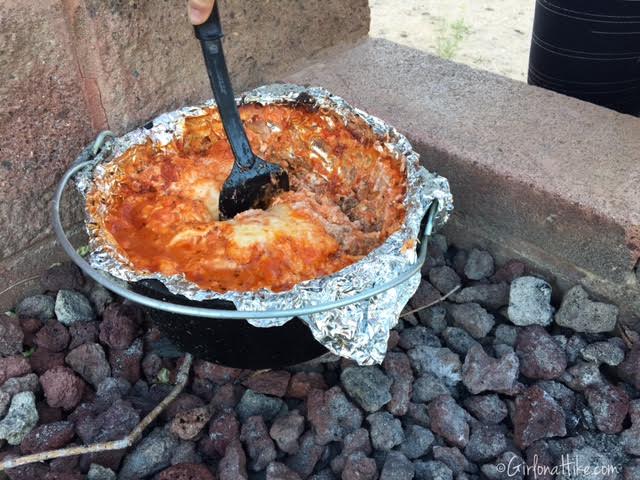 We made Dutch Oven Lasagna for dinner. This is my favorite meal to make while car camping – it's hot, filling, so tasty, easy to make, and can feed a crowd. To make it, just use your favorite lasagna recipe, using the Oven Ready Lasagna noodles. Line the dutch oven with non-stick foil first, then layer as you normally would for lasagna. Use heated coals/briquettes underneath and on top of the dutch oven, and cook for about 45 minutes to 1 hour.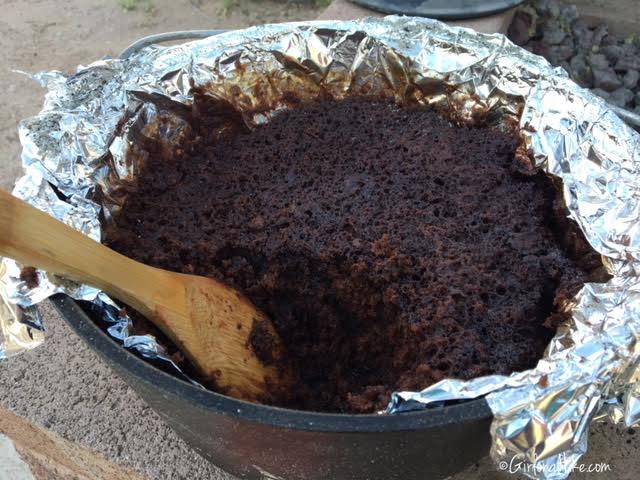 We also made Chocolate Lovers Delight in a separate dutch oven.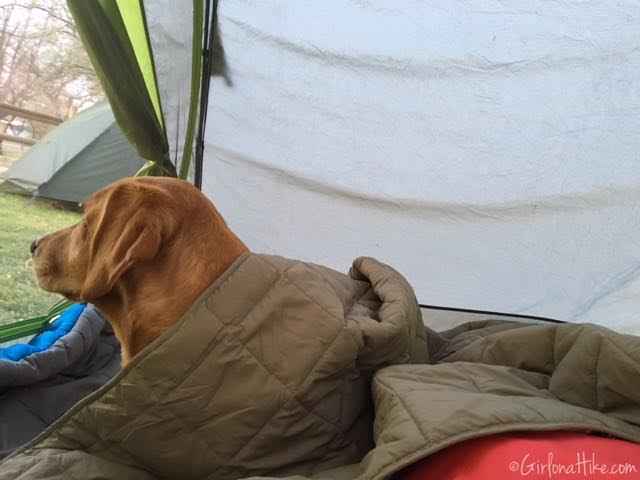 Charlie enjoys protecting the tent and looking at his surroundings.
Cathedral Caves
Our first area we checked out was the Cathedral Caves and CCC Day Use/Picnic Area. The CCC built this water tower in the 1930s, but is no longer in use.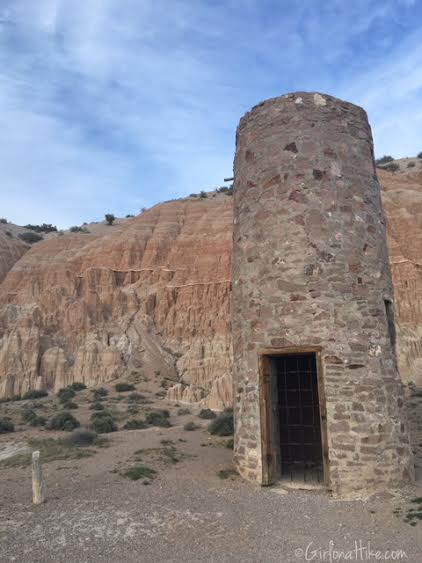 Charlie enjoys the "caves". Keep in mind that there not actually caves here, just canyons resembling slot canyons.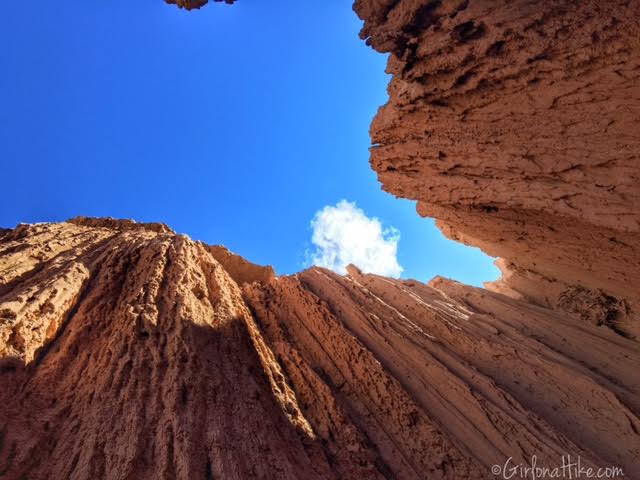 Looking up from the end of one of the "caves".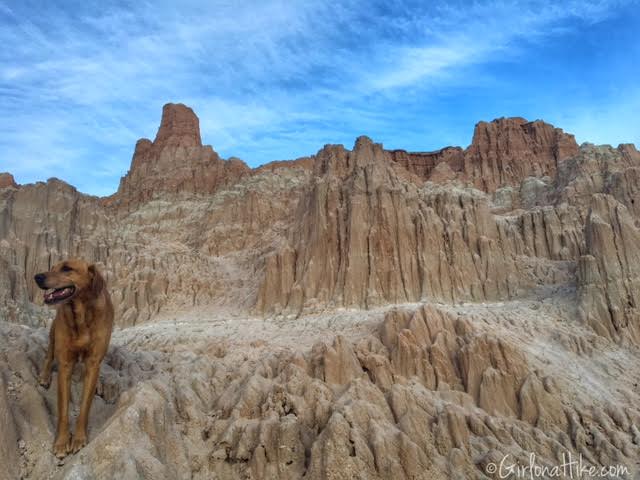 Exploring the outside portion of Cathedral Caves.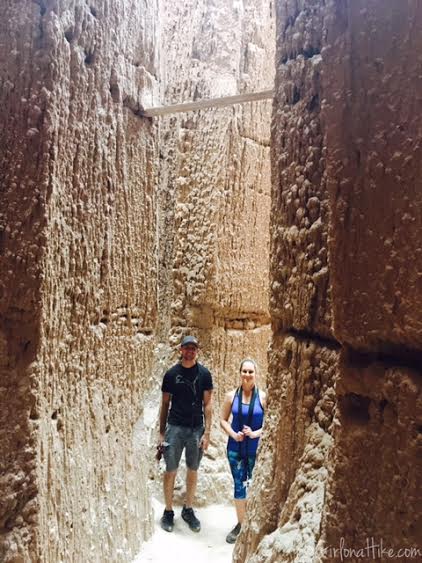 Exploring with friends!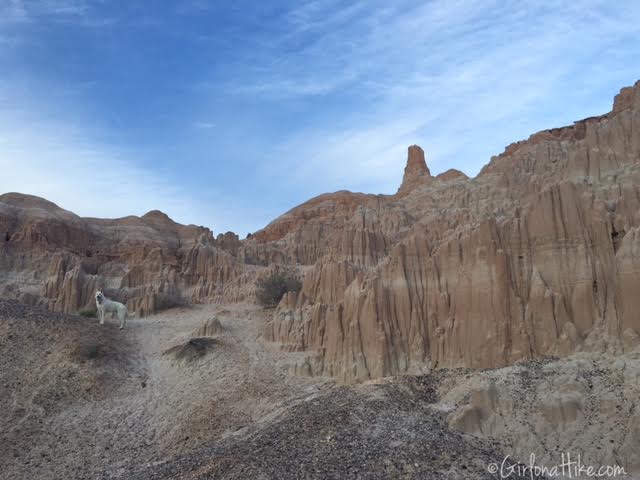 Chase strikes a pose!
Juniper Draw Trail
This trail is a 4 mile loop that lets you explore more of the "cathedrals". It starts behind the main restroom building, and ends back at the campground. We didn't see anyone else on this trail, so it was nice to let the dogs off leash for awhile. All trails in Cathedral Gorge are fully exposed to the sun and there's no water anywhere. Be sure to bring at least 3 liters of water on your hike. I brought 2 liters and ran out quickly and it wasn't even that hot (maybe 65F).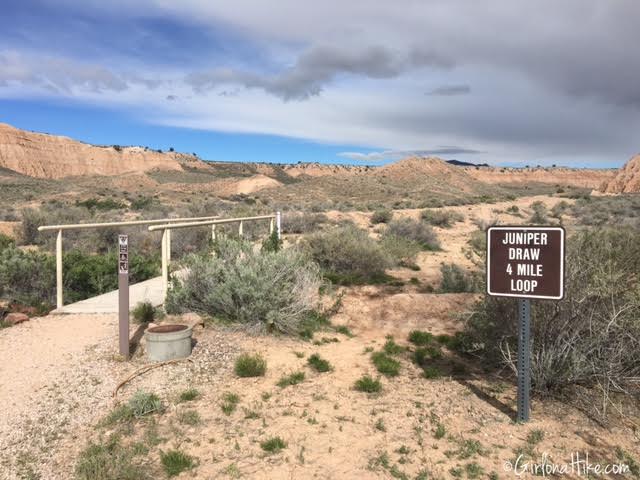 Start of the trail.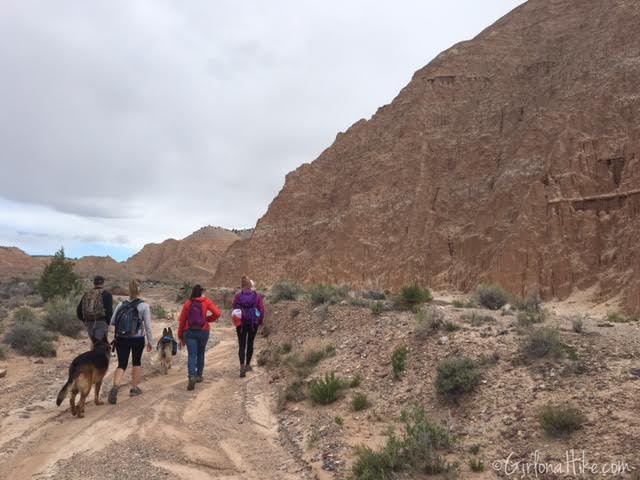 The trail mostly follows the wash.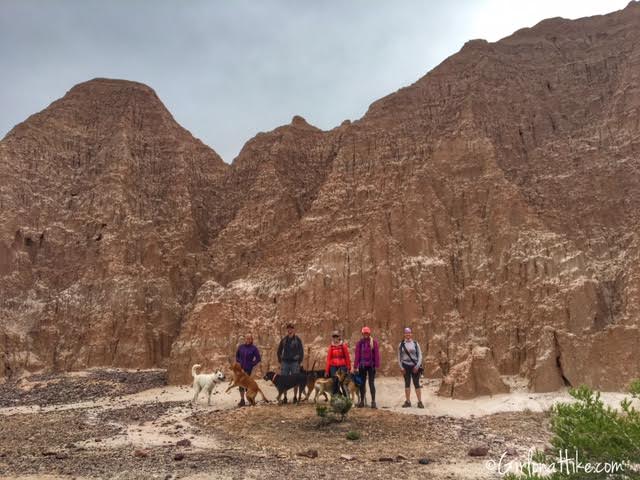 Group shot in front of the bigger cathedrals.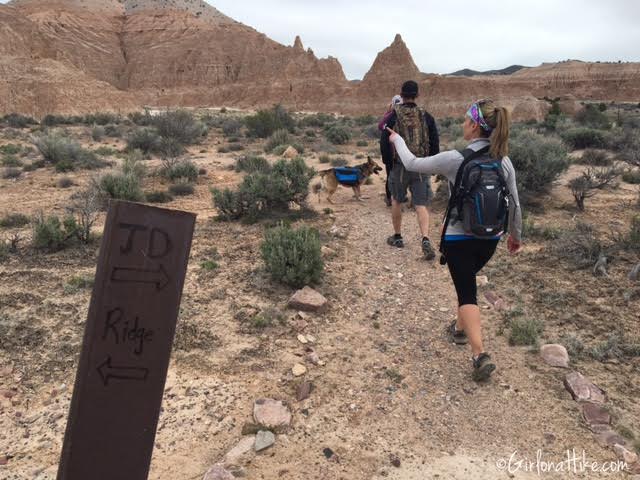 You will arrive at the first trail split. Keep right for the Juniper Draw Trail, to continue making a loop. If you want to hike up to the ridge, head left. We did the Ridge trail the 2nd day, and we didn't think it was that spectacular.

 Pano shot along the trail.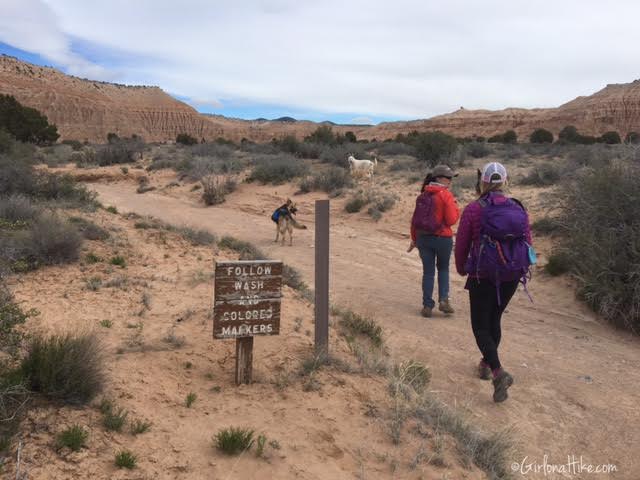 Follow the wash and large brown trail markers. It makes sense that they don't use cairns on this trail, since flash floods occur often.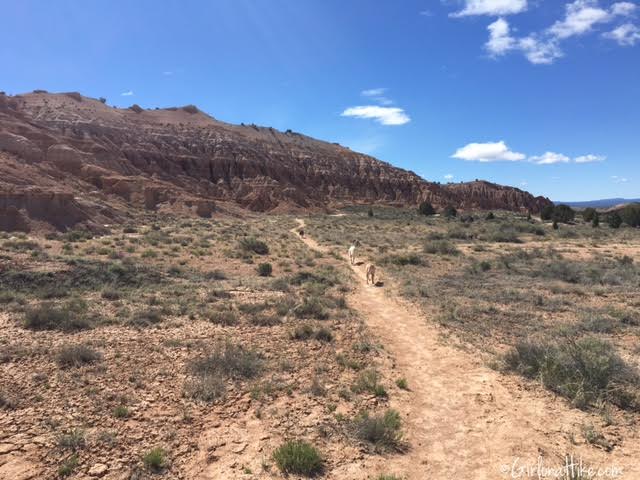 Making a loop back along the East side of the loop.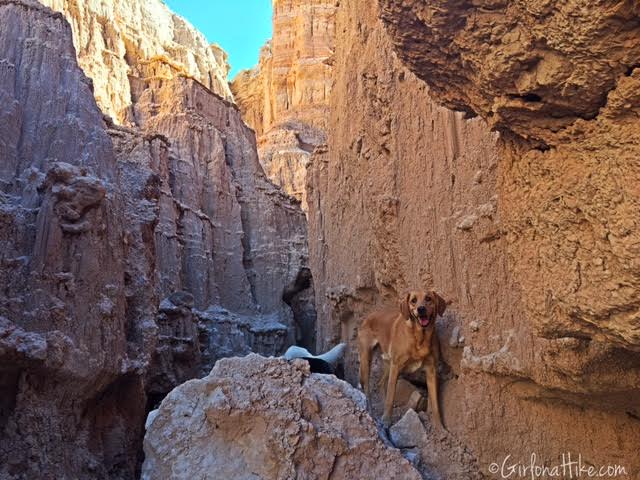 Along the Juniper Draw Trail, you can explore the cathedrals at any time. This may make your hike seem longer if you do a lot of exploring.
Miller Point Overlook Trail
If you hike along the Juniper Draw Trail clockwise, you will come to the intersection for the Miller Point Overlook trail.
 You can drive up to the top, then work your way down, but I highly recommend you take this detour by hiking it. This will make you hike North again, towards the overlook. From the Juniper Draw Trail split, it's only 1/4 mile to the overlook.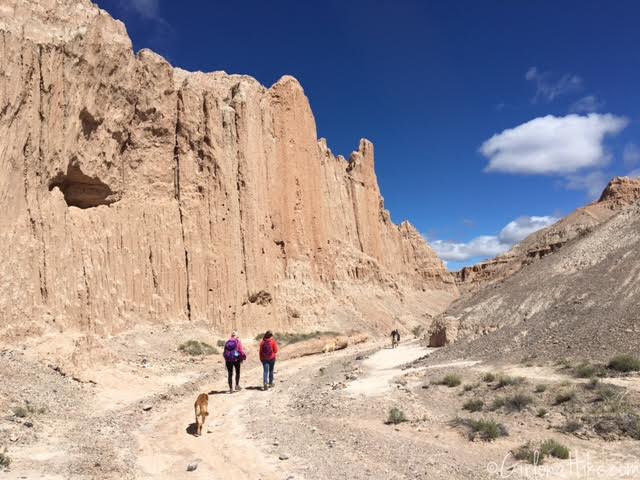 Walking in the wash. The canyon walls seemed tallest here.
 I really liked this part of the trail – it was really pretty!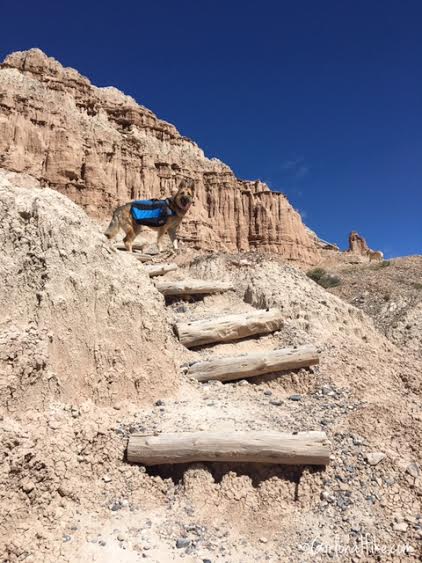 Cross a bridge, then hike up these steps.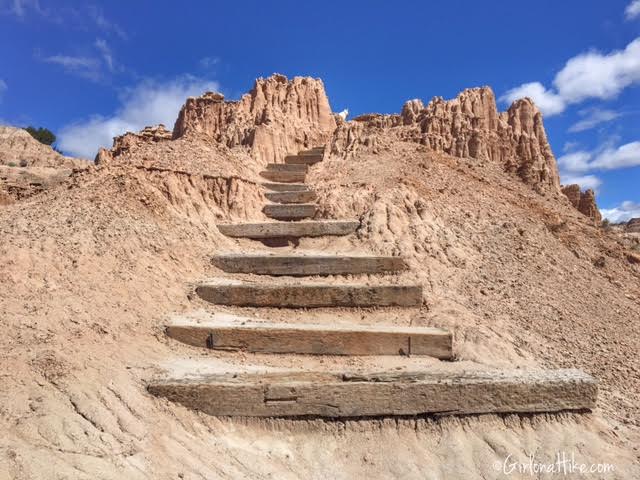 My favorite photo from our trip here. More steps leading up to Miller Point Overlook.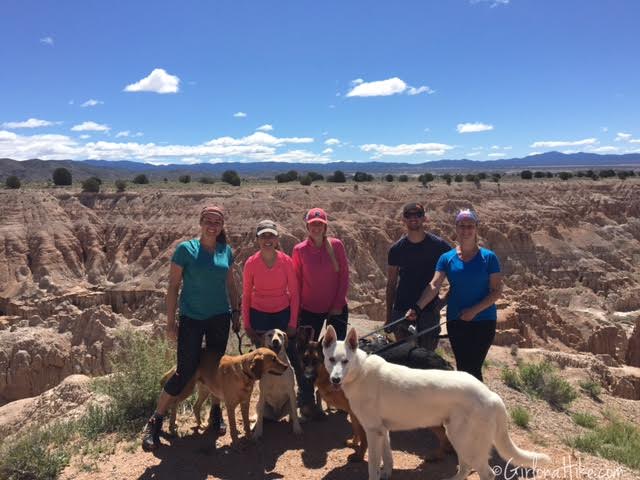 Group shot!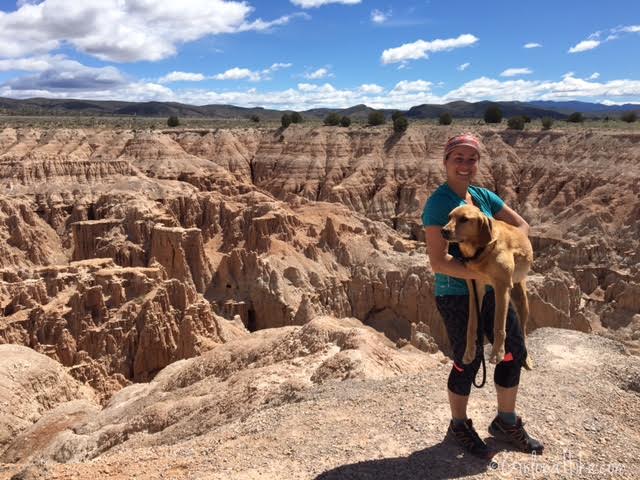 Me & Charlie at Miller Point Overlook.
Eagle Point Overlook Trail
Eagle Point is another fantastic overlook of the state park. We continued hiking from Miller Point Overlook, and had to walk down the paved road to the trail. It was only maybe 200 yards to the TH. Again, you can drive up to this spot, park, then get out and walk, but we like to hike everywhere. This trail is only 1/2 mile to the overlook.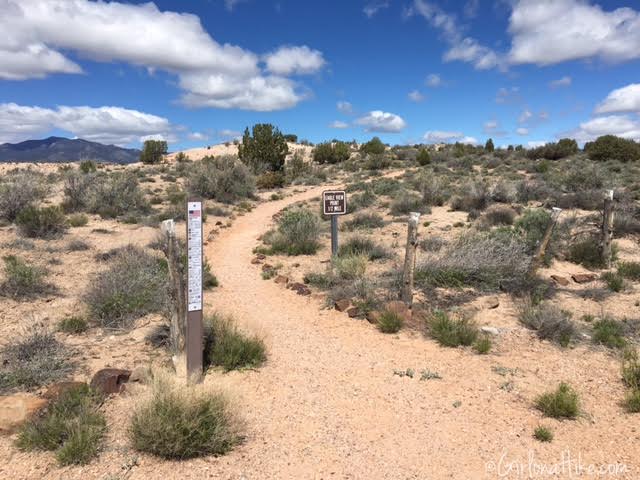 Eagle Point Trail entrance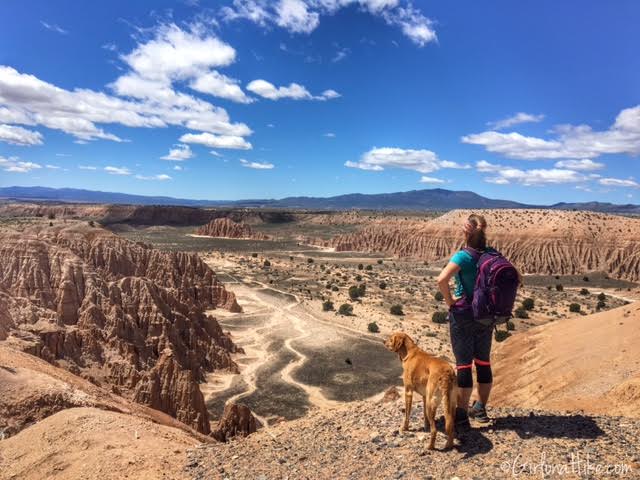 Halfway to the overlook, you will have fantastic views of the park and the Juniper Draw Trail.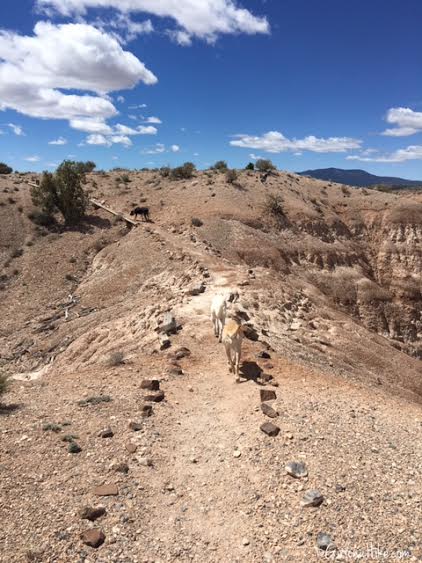 The Eagle Point trail crosses a narrow ridge.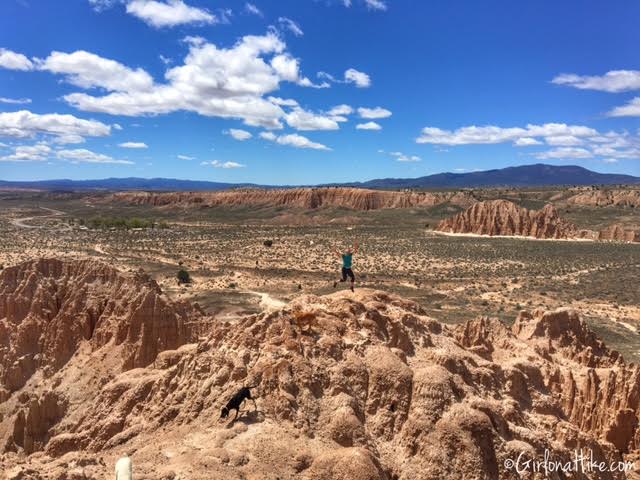 Jumping at Eagle Point!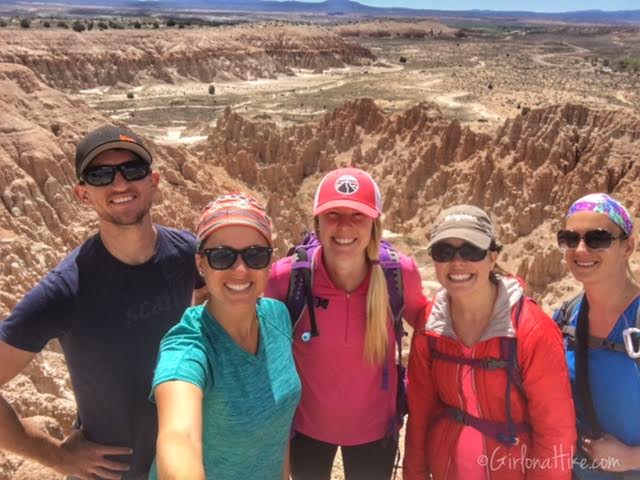 Group shot at Eagle Point Overlook.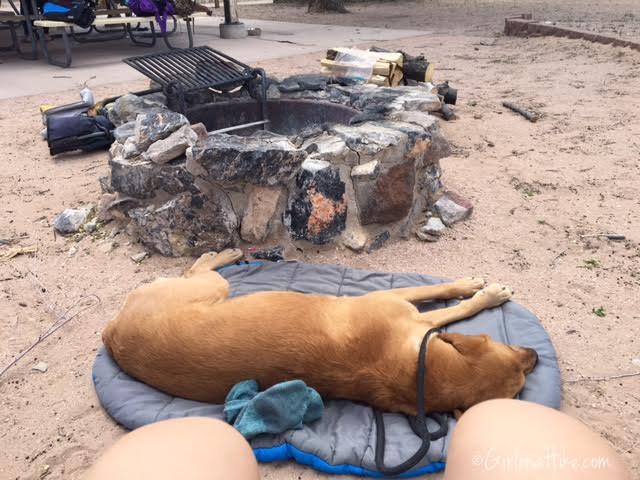 We made our way back to camp, and the dogs were super tired! Charlie rested on his ChuckIt! Travel Dog Bed. If I don't bring this while camping, Charlie will NOT lay down outside or in the tent. I swear this bed is one of the best $20 I have ever spent on him. It creates a nice padding and designated space for him to lay on, its machine washable, rolls up into a stuff sack, and is affordable.
Moon & Canyon Caves
These two areas are next to each other, and offer more exploring of the slot canyons. You can hike to them from the campground or just drive to them. If you are into photography, the best time to take photos at Cathedral Gorge State Park is the afternoon and late evening – most of the caves are west facing, so when the sun hits them, the lighting is really amazing.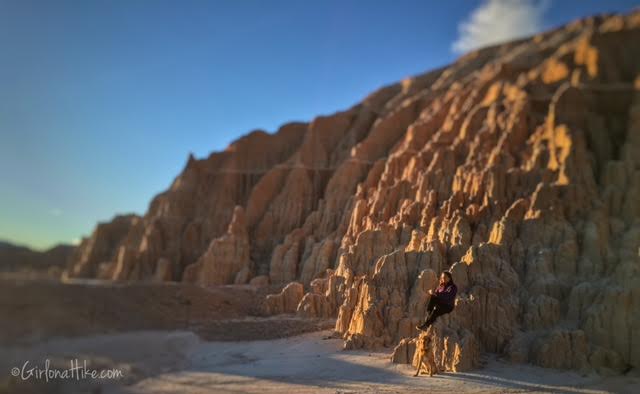 Sunset at Moon Caves.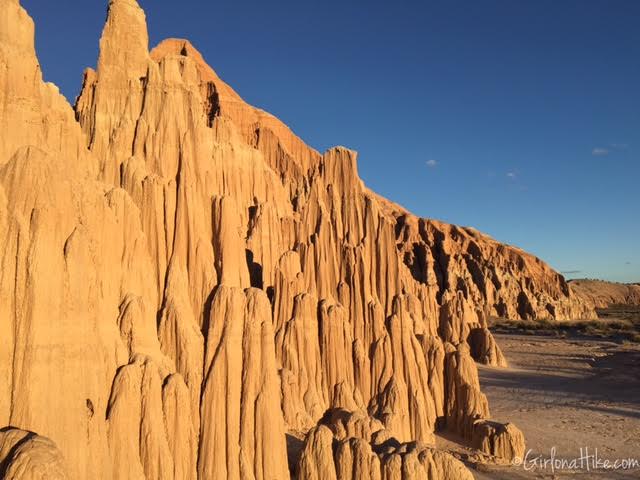 Evening light on the cathedrals.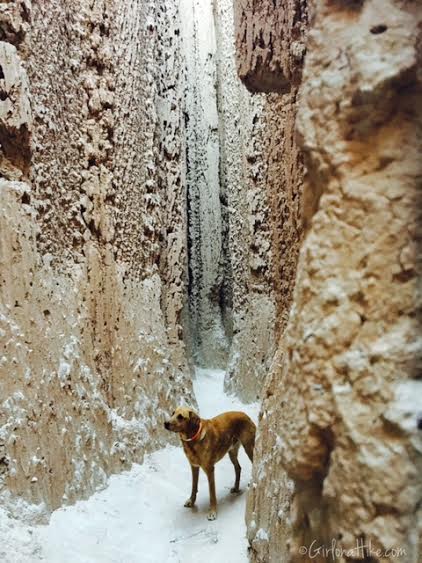 Charlie explores more slot canyons.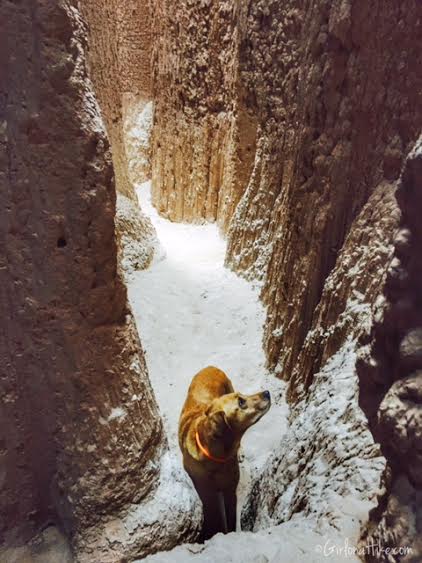 At the end of the slot canyon.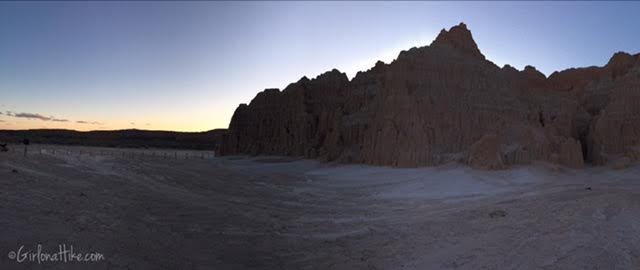 Moon Caves area at sunset.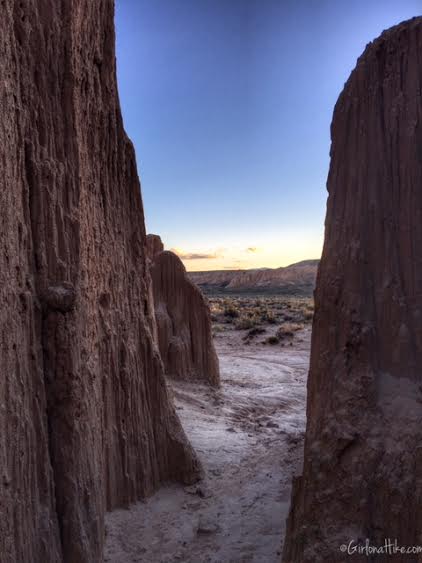 Canyon Caves at sunset.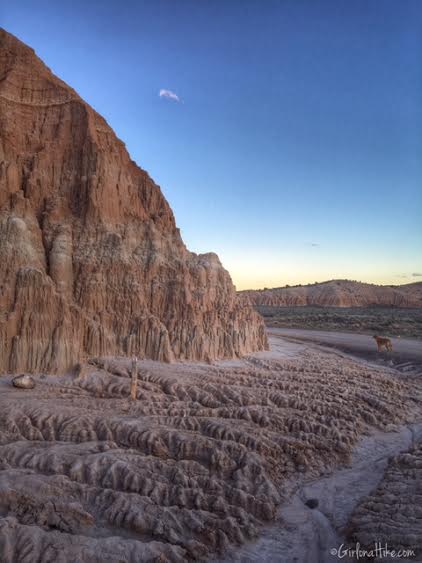 Near Canyon Caves.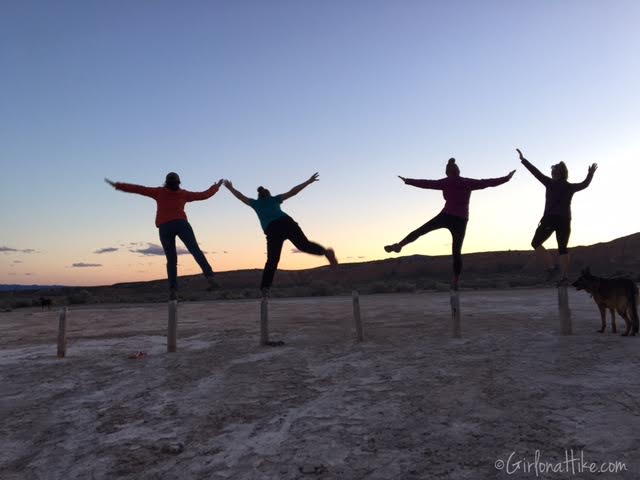 We aren't really yoga girls, but we thought we'd give it a try. Of course I am the one falling over!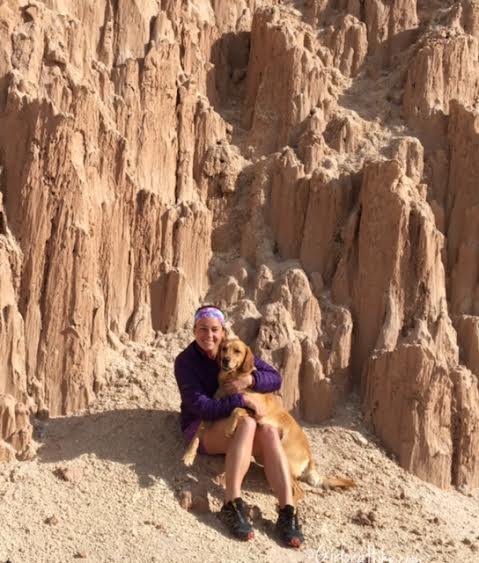 Charlie and I enjoyed our time here!
Trail Map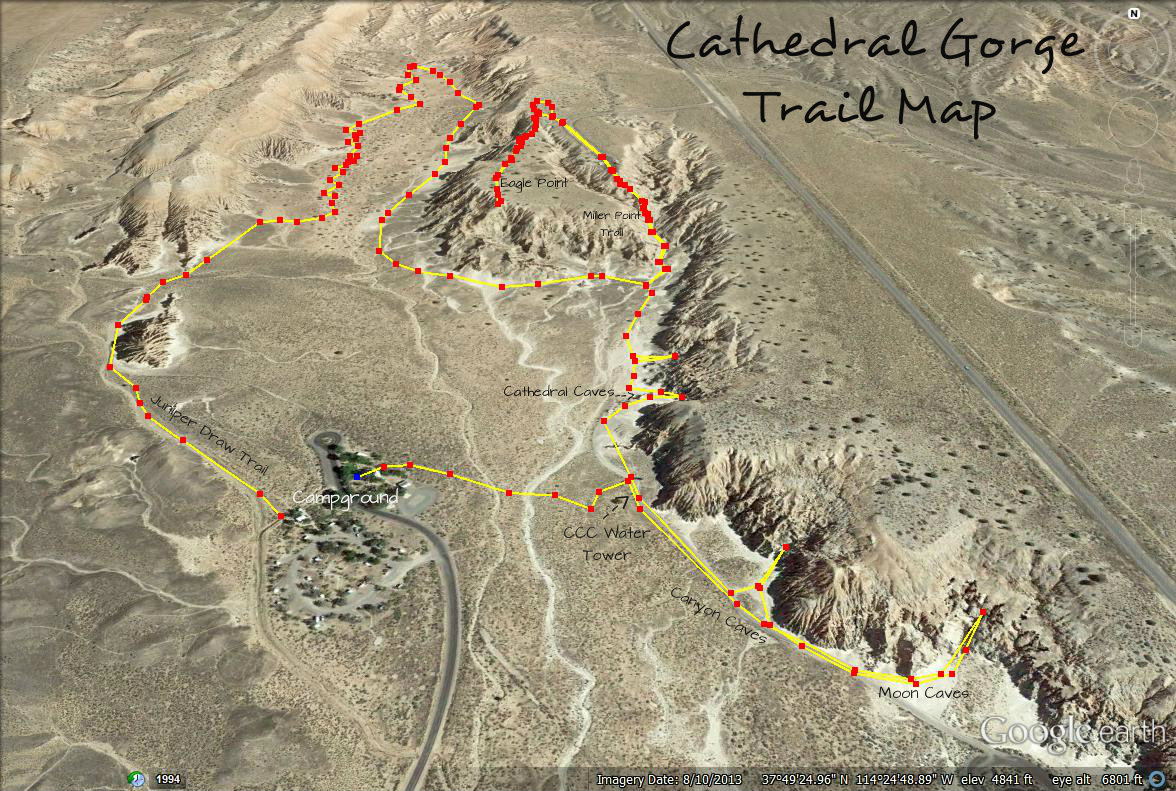 Save me on Pinterest!